Turns out that Thor isn't quite done with his hammer.
In one scene of this spin-off of the franchise that began more than two decades ago with original stars Will Smith and Tommy Lee Jones, Chris Hemsworth throws a conveniently-placed hammer at an alien. Things don't turn out well though, as the ugly creature from outer space catches the hammer effortlessly. That's a cute nod to the Hemsworth's role as Thor in the Marvel Cinematic Universe.
Fans of the good-looking actor would also be pleased that he is back in shape (although some guys would relate better to Fat Thor), as he goes shirtless in one scene to show off his ripped bod. This movie is also about how much the camera loves Hemsworth. You can expect numerous close-ups of the Melbourne-born actor as he delivers his lines. As one character aptly puts it, he has a "perfect little face".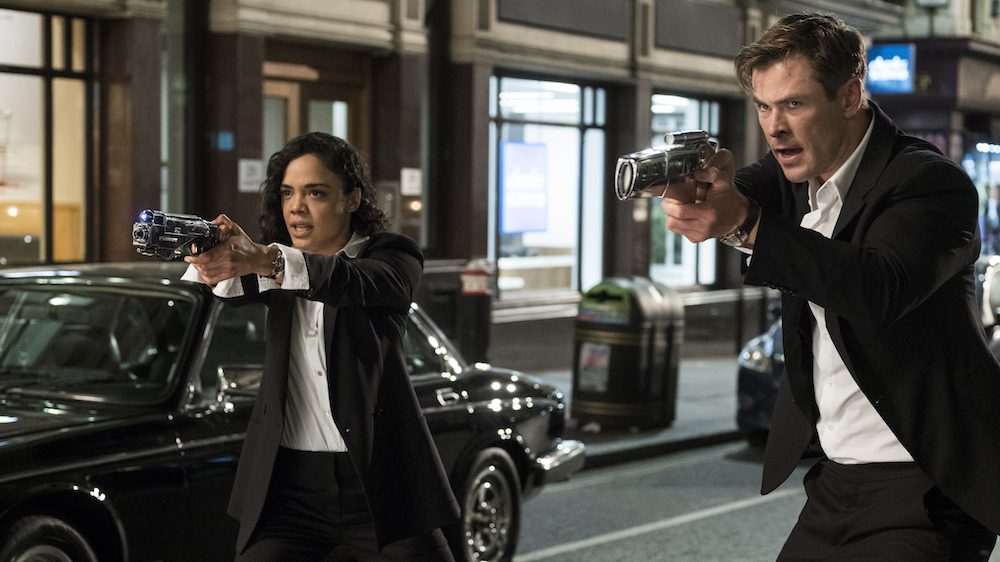 Another highlight of the movie is seeing the Revengers reunion of Thor and Valkyrie. Hemsworth plays Agent H, an arrogant top agent from the Men In Black's (MIB) London branch, who has to team up with Agent M, a rookie recruit portrayed by actress Tessa Thompson. The two display dynamic chemistry as they bring on the comedy and heart. Amidst their banters, the rapport is evident as the reckless senior agent and the rule-following junior take on the buddy cop genre.
And that's the best thing about this fourth instalment of the film series based on comic books of the same name. Some may wonder whether there is any merit in bringing back a franchise that has been dormant for seven years, and seeing how the movie does nothing extraordinary, there aren't really many reasons to continue. Self indulgent references and pairings of actors can only entertain to a limit, but MIB: International pretty much falls flat in pushing the franchise in a new direction.
The story's focus is still about suited agents hunting down aliens disguised as humans on Earth. This time round, the protagonists also have to find a mole in the MIB organisation. The problem is how everything seems oh-so-predictable. The character development goes by the book. The cars and gadgets are not mind-blowing in this day and age. The result is a typical action comedy that doesn't leave much of an impression.
There are a handful of moments when the pint-sized alien voiced by comedian Kumail Nanjiani (The Lego Ninjago Movie) attempts to inject some groove. Veterans Emma Thompson (Beauty and the Beast) and Liam Neeson (Widows) also help to lend some weight to the movie.
Director F. Gary Gray (Fast & Furious 8) tries his best to revive the nostalgia from the original movies. However, you can only expect so much with American writing duo Art Marcum and Matt Holloway, who also penned Transformers: The Last Knight. Yes, the mission is still to keep Earth's alien population a secret from humans. You also see plenty of neuralysers (the device which wipes people's memories if they see too much) being used in the movie. But you also just wish there is something more to elevate this by-the-numbers summer popcorn blockbuster.
More of Hemsworth's perfect bod and Thompson's kickass attitude, perhaps?

GEEK REVIEW SCORE
Summary
In an alternate MIB universe, we'd want to see Chris Hemsworth throw more hammers and Tessa Thompson fighting aliens on a winged horse.
Story -

6/10

Direction -

6.5/10

Characterisation -

6/10

Geek Satisfaction -

6.5/10