It has been a full decade since the first Mamma Mia! movie hit theatres, so naturally, not many of us were expecting, or really, needing a sequel to the jukebox musical based on the music of Swedish pop group ABBA.
But even though that 2008 remake of the stage musical received mostly mediocre reviews, it held the title of the highest-grossing live action musical until surpassed by Beauty and the Beast (2017), so folks at Universal must've known that had some potential Money, Money, Money on their hands.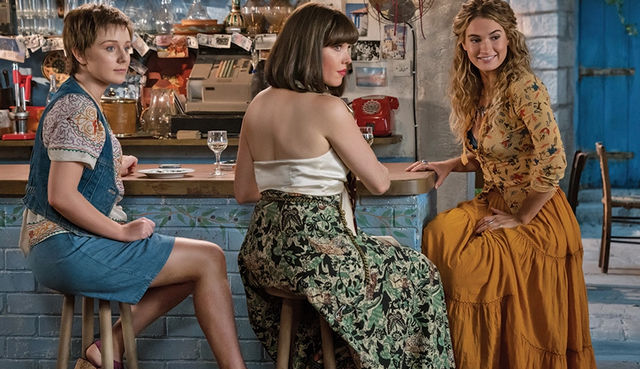 Cue Mamma Mia! Here We Go Again. While the first movie was adapted from the plot of the play, the sequel needed to tell a completely original story, so we're essentially stepping into fan-fiction territory. That writing task fell on the reliable shoulders of rom-com veteran Richard Curtis, who's penned the likes of Love Actually and Bridget Jones' Diary.
And it shows, as the movie – simultaneously a sequel and a prequel – manages to flow surprisingly well with the music as the story flips back and forth between events before and after the first film.
In the present, Sophie Sheridan (Amanda Seyfried) prepares for the grand reopening of her mother Donna's hotel on the idyllic Greek island of Kalokairi. She wants everything to be perfect to honour her mother, who passed away the year before, but at the same time, she's struggling to maintain her relationship with Sky who's far away in New York.
Circumstances of Donna's death remain mysterious and never discussed which seemed a little strange, and the iconic Meryl Streep's absence as Donna is definitely felt. But you'd soon forget once the beautiful Lily James (Cinderella, Baby Driver) takes to the screen as a young Donna, showing the character's youthful, frivolous days filled with summer romance(s).
We go back to 1979, where a young Donna rips off her gown at graduation to reveal a bright stripey costume and breaks into an upbeat rendition of When I Kissed The Teacher. Donna is restless, adventurous, and so sets off on a solo journey of self-discovery. But she doesn't remain alone for long, as along her travels she gets swept off her feet by three dashing young men – Bill, Harry, and Sam.
How do three guys fall for one girl in a one summer, and vice versa? We finally get to see what really happened in Donna's past, the whirlwind romances that were hinted at before, which led to her daughter Sophie's tricky triple-dad dilemma.
Kudos to the casting, as the fresh-faced Josh Dylan, Hugh Skinner, and Jeremy Irvine faithfully express the personalities of their older counterparts played once again by Stellan Skarsgard, Colin Firth, and Pierce Brosnan.
But amidst the younger cast, Donna's best friends Tanya (Jessica Keenan Wynn) and Rosie (Alexa Davies) are standouts. They are practically carbon copies of Christina Barowski and Julie Walters, who also return to reprise their roles, and their witty one-liners and physical comedy help inject plenty of humour into the film.
But at the end of the day, Mamma Mia! Here We Go Again is a movie-musical, so it's all about the music. I can't remember the number of times I felt like bursting out of my seat and dancing along to the ABBA hits, but I settled for mouthing along with the lyrics, often with a huge grin on my face.
The choreography and musical arrangements are fantastic, be it Dancing Queen on a fleet of sailboats or restaurant waiters dressed in French military costumes joining in for Waterloo. It's a stark improvement over the first movie, with director Ol Parker (The Best Exotic Marigold Hotel) maintaining the same energy and joyful vibe but somehow making the musical sequences transition more naturally over the first.
Doing a sequel must've been a challenge from the get-go, having to work with lesser-known songs from ABBA's vast repertoire such as Andante and Angel Eyes. Now missing the rich and robust tone of Meryl Streep, most of the songs are sung by the Disney Princess-esque voices of James and Seyfried – lovely soprano vocals that were energetic and pure.
Let's not forget the appearance by the goddess of pop herself either. Cher, who plays Sophie's grandmother, makes a grand entrance and belts Fernando to, well, a long-lost love named Fernando (Andy Garcia) in a bright blonde wig.
Call it cheesy, call it over-the-top, but Mamma Mia! is acutely self-aware – cobbling together a story based on the lyrics of ABBA is a ridiculous premise in itself. All the movie really wants to give you is two hours of unadulterated fun and it does so with flair.
Some music will never die, and Mamma Mia! Here We Go Again is a fun-loving sequel that celebrates some of the best of ABBA. Campy and cheesy at times, but who doesn't want to see A-list celebrities let loose, sing, and dance?
GEEK REVIEW SCORE
Summary
Over-the-top musical fun filled with ABBA's timeless hits – My, my, how can we resist that!
Story -

7/10

Direction -

8/10

Characterisation -

7.5/10

Geek Satisfaction -

9/10
---

Drop a Facebook comment below!