In space, everyone can hear you scream.
In relief that is. The king of TV reboots, Netflix, is at it again, this time with a modern reboot of the 50-year-old sci-fi classic, Lost in Space. And judging by the first 5 episodes of the 10-episode first season of the Robinson family, Netflix seems to have a winner on their hands.
While keeping the same premise of the original, creators Matt Sazama and Burk Sharpless (Gods of Egypt, The Last Witch Hunter) have updated the series for the 21st century, doing away with the campiness of the 1960s original, and the best-forgotten 1998 film remake.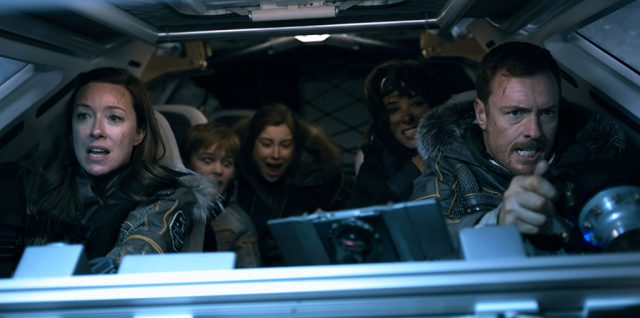 The story will be familiar to long-time sci-fi fans. Set 30 years in the future, planet Earth's soon-to-be uninhabitable state results in humanity's progress in making space colonization a reality.
The Robinsons family are among the few selected to start a new life on planet Alpha Centauri, but their ship, Jupiter 2, is mysteriously ripped off from the mothership during their journey, and the family is tossed onto a strange, unknown planet.
Yes, no so much lost in space, but lost somewhere on an unknown planet. Wait, maybe we should call this Robinson's Island instead?
Audiences follow the family as they struggle for survival in a harsh alien environment, and attempt to work together, despite their differences. (Come on. Name a family without any differences). With a slight alteration on show's premise, the series has also opted to make quite a few changes to the characters of the original, making them ever-so multi-dimensional.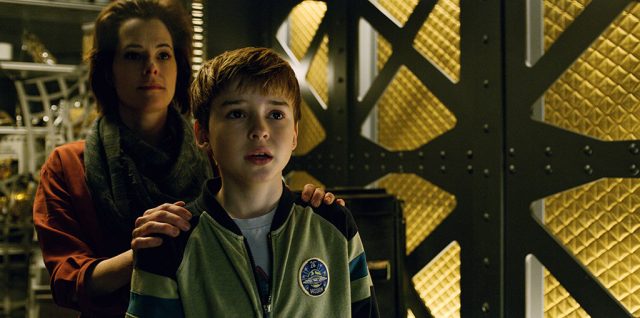 Toby Stephens (Black Sails, Die Another Day) stars as daddy John Robinson, an army veteran who is estranged from his family, and as a result suffered a strained relationship with them long before they left for the mission.
His wife, Maureen (Molly Parker, House of Cards, Deadwood), is a brilliant aerospace engineer who is inquisitive, responsible, and tirelessly goes the distance to keep her family safe.
As much as they want to leave behind their past and start afresh, they can't escape from their relationship issues, and carry much of the family drama and inner turmoil along into space. Like an unfolding space opera, the reasons behind the rocky relationships and conflicts are fleshed out in multiple flashbacks across episodes.
But the parts that really shine through all of this? The Robinsons kids, as each have such starkly different personalities and they really hold their own, much to the credit of the talented young cast. Judy (Taylor Russell, Falling Skies) tries her best to always maintain a strong, competent front as the eldest child, but Russell manages to subtly show a vulnerable and emotional side to the character that really showcases her excellent acting.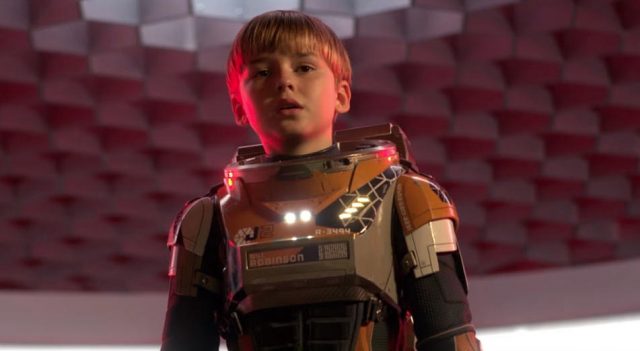 Mina Sundwall (Freeheld) never fails to crack audiences up with her humour as middle child Penny Robinson, always diffusing a tense situation with a funny one-liner, attempting to make light of a bad situation.
Like all siblings, the two sisters quarrel, but the love they have for one another is evident, and along with their mother, are excellent portrayals of strong, independent female characters.
The baby of the family, Will Robinson, is played by the fresh-faced Maxwell Jenkins (Sense8, Betrayal), and he's a show-stealer. Will is smart, but also fearful, and lacks confidence in himself and his place in this mission. Jenkins just makes Will so loveable, and every scene with him is a joy to watch, as audiences yearn for more of that innocent childlike wonder amidst the unforgiving environment.
Of course, it isn't Lost in Space without the iconic "Danger, Will Robinson!" quote, and the clunky Robot of the original has been given a snazzy upgrade, although its unfaltering bond with Will (and frequent warnings about danger) remains.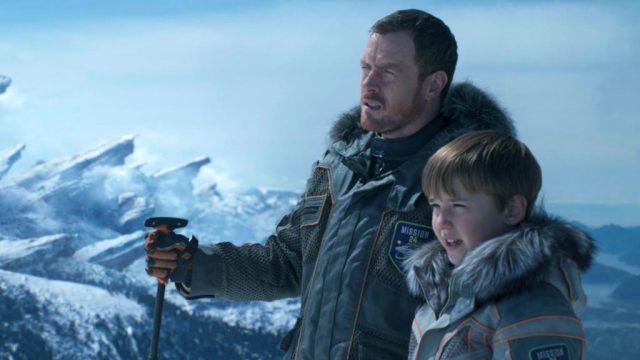 The Robot's origins are however shrouded in mystery, simultaneously making you feel safe yet suspicious about it, so audiences just need to wait and see its true motivations and past.
Other characters that have been changed include the cunning, gender-swapped Dr. Smith, played by Parker Posey (Cafe Society, Mascot). While she can be astonishingly manipulative of the Robinsons, her villainy falls flat at times (perhaps as intended), as she causes trouble mostly through her egocentric behaviour.
She crosses paths with pilot Don West, who is a Major no more, as this time his character is a roguish smuggler played by Ignacio Serricchio (Bones, The Wedding Ringer).
All the action plays out in the beautiful filming location of Vancouver, Canada, as audiences are greeted with sprawling snowy mountains and lush evergreen forests. The planet looks both familiar yet alien, and top-notch production quality on the space suits, spaceship, and the Robot adds to the overall immersion.
The Robinsons can't seem to catch a break though, with something new going wrong in every episode. But as they are forced to band together to overcome these challenges, audiences learn more and more about their complex pasts and personalities. The Robinsons are brave, smart, and daring, but still flawed, and there's something relatable in them for everyone.
Whether you've seen the 1960s Lost in Space or its 1998 movie adaptation really doesn't matter, as Netflix puts their own spin on the story of their reboot.
And if you are a fan of the original, then it's quite the pleasure to see the sci-fi classic made with the updated filmmaking technology of today while maintaining its essence.
This is a show that can be enjoyed with the whole family, or binge-watched in a single day because you can't tear your eyes away from the action. If this is what we're getting in the first 5 episodes, then we can't wait for the rest.
Look out for an updated review once the whole season is released on Netflix on April 13, 2018!
GEEK REVIEW SCORE
Summary
Now, this is the right way to reboot a classic – paying homage to the origins while reimagining the world with a focus on the family's story and characters that are believable and thoughtfully rewritten.
Story -

8/10

Direction -

8/10

Characterisation -

9/10

Geek Satisfaction -

8/10
---

Drop a Facebook comment below!