If there's one thing everyone learned from spending all this time at home, it's that we crave being out in public, whether it's to see and interact with others, or just to sit down someplace and enjoy a cup of coffee.
And now that we've grown so accustomed to working remotely, with all our devices around us, the one thing we do need when we head out, is connectivity. Sure, you can tether your laptop or iPad to your phone for that quick conference call or meeting, but if these 18 months have taught us anything, it's that a good connection can do wonders.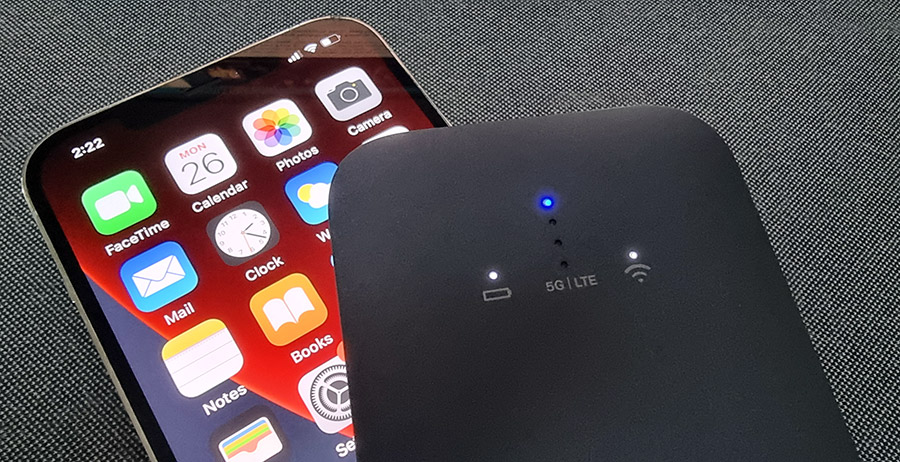 In comes Linksys with its latest 5G Mobile Hotspot device that taps onto the new 5G mobile network that all major telcos are now moving into these days. It's simple – sign up for a 5G data plan, slot the SIM card into this $799 palm-sized device, and connect all your devices to it, and you're good to go.
So what's the difference between this mobile hotspot device versus a regular 4G one, other than the boost in data speeds of a 5G device? Well, Linksys is also one of the leads in the new Wi-Fi 6 technology that not only supports more devices, it provides multi-band support at greater speeds. Of course, the caveat here is that while Wi-Fi 6 supports up to 1800 Mbps (600 Mbps on 2.5G band and 1200 Mbps on 5G), there are theoretical upper limits and real-world performance will always be much lower, due to factors including location, and the number of concurrent users.
But unlike Wi-Fi 5, or the current generation of Wi-Fi as we know it, which has limits to the number of concurrently connected devices supported, Wi-Fi 6 can manage more devices at any one time, and ensures smooth connectivity.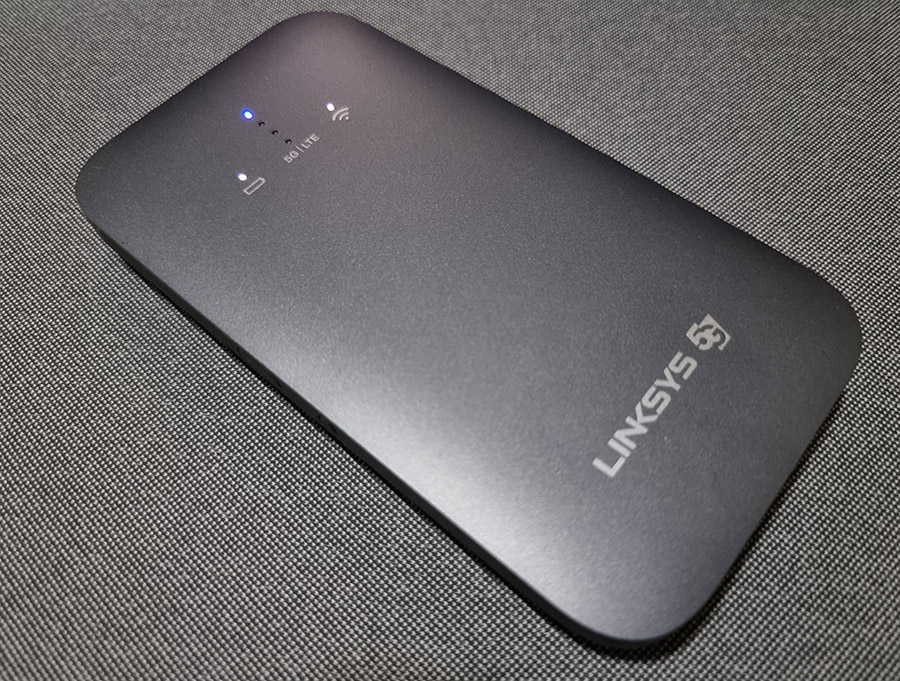 So instead of sharing and oftentimes, hogging your phone's bandwidth for that video conference call, or needing to connect multiple devices to your phone, the Linksys 5G Mobile Router can handle connections with the latest hardware devices that support Wi-Fi 6, and manage the load if need be.
The device has been designed to support up to 15 devices for one 5G connection and while we cannot fathom the need to support up to 15 devices while on the go, we did a few rounds of testing by having two laptops and the latest iPad Pro linked to it, and streaming 4K video across all three devices and everything was buttery smooth.
Of course, it wasn't just the hardware at work here, as the network is also equally important and we were testing this on the new 5G NSA (Non-Standalone) network from Singtel. But whether you're connecting from home, outdoors or from a cafe in a mall, do note that the 5G networks offered here, from Singtel, Starhub to M1, aren't running at full capacity. Your speeds depend on your location and current 5G NSA speeds work best if you're outdoors, or closer to open space. Your area of coverage is also important so be sure to check with your network provider if the area your frequent is adequately covered,
Singtel is only starting to roll-out indoor 5G, but in our areas of testing, from Northpoint in Yishun, nex in Serangoon and the Orchard Road area, the device did plenty of heavy lifting as long as the network was up and running. As noted though, the network is more efficient above ground and outdoors at this time, due to the continued roll-out of 5G outdoors, before indoors.
Over at Northpoint in Yishun, Speedtest recorded an average of 57 Mbps download and 15 Mbps upload speeds throughout the first to upper levels of the mall. At nex at Serangoon, indoor speeds at the first to upper levels were around 18 Mbps download and 2 Mbps uploads. While these might not be the rich speeds one would expect, Singtel identifies these areas as outdoor coverage, and the tests were conducted indoors. Alas, testing these speeds outdoors would not make sense as there aren't that many comfortable outdoor sitting areas for users to use this effectively.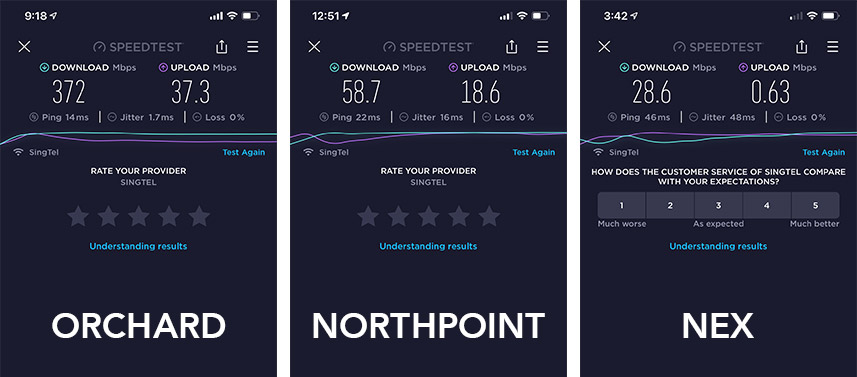 Outdoors, the Orchard Road area, which has more outdoor seats at cafes and restaurants, provided an exceptional experience, of around 400 Mbps download and 30 Mbps upload. Performance is set to improve, and the Linksys 5G Mobile Hotspot is the device you need as you head out.
The actual handheld device measures 140 x 75 x 15.5 mm, and weighs a mere 185g and comes with a simple display that shows battery life, and 5G LTE connectivity. There's a USB-C port for charging the device, a Power button and a SIM card slot. It takes about a minute to fire up the device when it is switched off, and connecting devices is simple, as the SSID and password is listed on the rear of the device.
For those who want their laptop to be tethered directly to 5G, you can opt to connect the device to the laptop using a USB-C cable, for a more stable performance and charging, while other devices connect wirelessly. If you hit 192.168.1.1 on your browser, you will be brought to a web dashboard interface where you can track monthly usage, the number of connected devices and also set the maximum number of users.
GEEK REVIEW SCORE
Summary
If there's one drawback, it's the S$799 you need to pay for just the unit alone. But if speed and capacity are key, the Linksys 5G Mobile Hotspot is how you and your devices all stay connected in the best possible way while on the move.
Aesthetics -

8/10

Build Quality -

8/10

Performance -

9/10

Value -

7/10

Geek Satisfaction -

8/10
---

Drop a Facebook comment below!