This is a much smaller set than the ones I've previously reviewed, but it might still be the most fun one I've done. I'm actually a huge fan of these starter sets that give you a few small builds and four minifigures because they're so versatile. They can be used in conjunction with so many sets, and not just the ones they're "supposed" to be a part of it. We'll talk more about this later.
Because this is a small set, I told my blue collar minifigures I would this project by myself. It was harder than I thought, so it's unlikely I'll ever tell them I can do a project by myself again.
Because the set is small, it came in a small box.
You can pretty much count all the pieces in this set, even with the minifigure pieces.
The minifigures all built up. Since I like naming them, I've given them all names. From left to right: Henry the pilot (holding a wrench), Stephanie the mailperson (with a handcart full of letters), Oliver the mechanic (carting around a fuel canister on his handcart), and Harold the airport worker (with lights to direct airport traffic).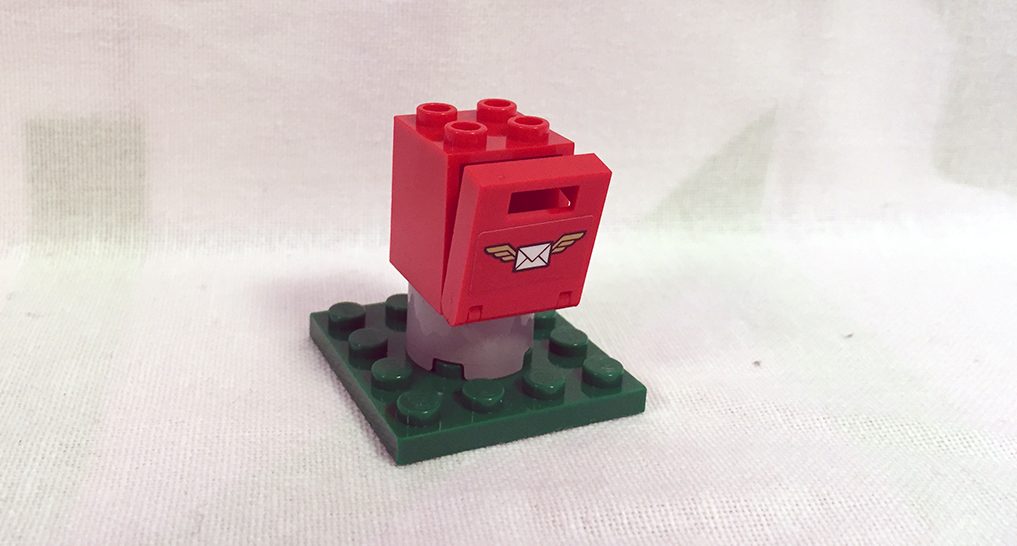 The first build (or second, if you count the fuel canister) is a small mailbox. And I mean small. This was only four pieces and a sticker (the fuel canister was five pieces 😛 ).
The mail helicopter is the largest build of the set. The two rotors spin, the two mailboxes on either side open and close, and of course the cockpit window opens and closes to let Henry in.
Everything and everyone all built up and together!
This a small, affordable, but most importantly, super fun set. Like I said at the top of the review, I love these starter sets because I can fit them in with all my other sets. I actually have a fair amount of starter sets (including construction workers, various police sets, various Star Wars battle packs, Chima tribe packs, and a bunch of random battle packs from various themes), and I love plugging them into whatever diorama I'm putting together next. There's tons and tons of play opportunities with this (and all) starter sets, which make them a great value for money.
Speaking of which, here are a few dioramas that I put together for this set! Enjoy!
Stephanie is getting a bunch of mail together to send off to a bunch of places, including some priority mail to Stark Industries.
The airport tower and the mail packages are from Marvel Super-Heroes set 76051 Super Hero Airport Battle, and the two letters to Stark Industries and Shamballa are from Marvel Super-Heroes set 76060 Doctor Strange's Sanctum Sanctorum.
Oliver has a bunch of aircraft to fuel up, but he's unsure which one to do first!
The private jet and pilot are from City Airport set 60102 Airport VIP Service, Green Lantern and the green and black starfighter are from DC Super-Heroes set 76025 Green Lantern vs. Sinestro, the Doctor is from the LEGO Dimensions set 71204 Doctor Who: The Doctor while the TARDIS is from IDEAS set 21304 Doctor Who, and the SR-71 Blackbird, Storm, and Cyclops are from Marvel Super-Heroes set 76022 X-Men vs. The Sentinel.
Finally, Harold is trying to make sure all the aircraft can take off safely, but is getting backed up. Henry sure is happy to have his mail helicopter at the head of the line.
Ant-Man and Ant-ony are from Marvel Super-Heroes set 76039 Ant-Man Final Battle, the policeman and the police helicopter are from LEGO City: Brickmaster book set, the SHIELD agent and SHIELD aircraft are from Marvel Super-Heroes set 76036 Carnage's SHIELD Sky Attack, Mia and the rescue helicopter are from Friends set 41036 Jungle Bridge Rescue, and Nick Fury and his flying SHIELD car are from Marvel Super-Heroes set 76004 Spider-Man: Spider-Cycle Chase.
Starter sets are very affordable and add four great minifigures and a few great small builds to your collection, and best of all, they can be mixed in with literally any sets you already own. So yes, starter sets equal oodles and oodles of fun.
---

Drop a Facebook comment below!