Think Samsonite and the first thing that comes to mind would be their super-durable range of carry-on and check-in luggage that have made them a leader in the travel category. As it turns out, it is actually also quite well-known for its everyday tech backpacks, which carry over that durable philosophy as seen in its luggage cases.
The new Samsonite Konnect-i Backpack is a testament to the sophisticated yet sturdy design philosophy that the American manufacturer prides itself on, and then some. This backpack fits laptops of up to 15.6 inches, which is the standard size for most backpacks in the market. It also comes in two variants, the Slim (S$300), and the Standard (S$330). We received the Standard as the review unit, and we can say it's anything but standard, as it comes with a slew of zippers and compartments that help to keep your personal effects organised — perfect for any content creator or tech-savvy consumer constantly on the go.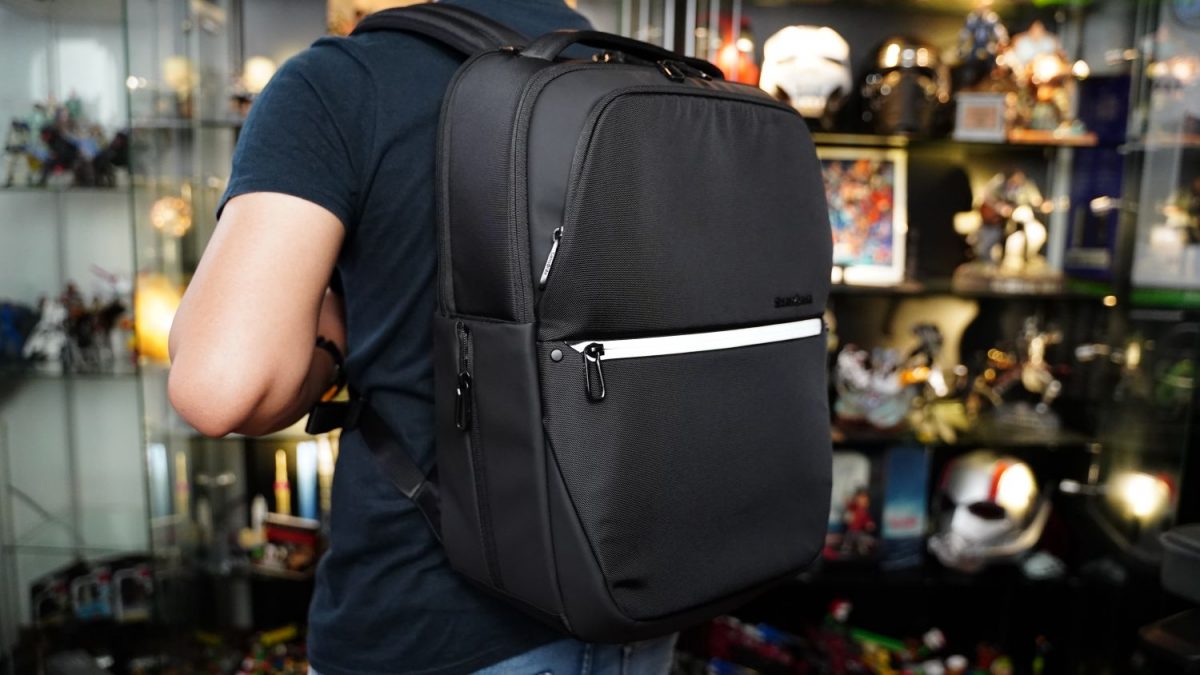 But what makes the Konnect-i stand out from other Samsonite backpacks, or even those by competitors, is that this is just one of two bags outfitted with a detachable Bluetooth transmitter as part of a collaboration with Jacquard by Google. Located on the left shoulder strap, this is where the Konnect-i earns its namesake, as it allows users to connect to it to their phones via the Jacquard by Google app. Just make sure to charge the transmitter first before heading out, though, which can be done via a micro-USB cable.
When synced, it lets you control certain aspects of your phone by using gestures on the left strap, so you don't have to take your phone out in case you're in a pinch. You can swipe along the strap from side to side to cycle between songs on your Spotify playlist, double-tap it to pick up calls (best used with a headset connected, of course), and hold your hand over it to silence calls or music, which is great in case you need to quickly speak to someone in front of you.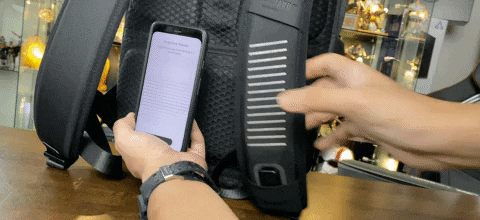 Gestures can be customised in the Jacquard by Google app for your convenience but you're only really limited to just four gestures (swipe up, swipe down, double tap, hold over), which means you have to be more shrewd with your gesture choices. This defeats the hands-free approach of this backpack, but hopefully Jacquard will add more gestures to the app in a future update.
While you might look a little silly from afar, frenetically swiping and tapping on the Konnect-i's shoulder strap, the connectivity is actually pretty solid and does come in handy, especially when your phone is stored in the backpack and you don't really want the hassle of taking it out to use those controls manually. And if you're a traveler who doesn't want to whip out your phone every so often in a foreign place, a simple non-descript gesture for navigation and other controls is a pretty useful feature.
From the onset, one can tell that the Samsonite Konnect-i is built to last. The backpack is made primarily of a hybrid of water-repellent polyester and fabric, which doesn't just feel premium, but is also quite weather-resistant. It's great for keeping your belongings intact and undamaged, especially in a tropical country such as Singapore where the weather tends to be a little temperamental at times. A single 3M reflective strip lines the front zipper that lets users be identified more easily at night, which is always good to have.
The shoulder straps are reinforced with a plush foam material that rests snugly on your shoulders. Complementing the comfy straps are several strips of padding on the underside of the backpack, which absorbs the weight pretty well. Even when fully loaded, the Konnect-i is able to offload the actual load on your back for long days of travel.
Speaking of packing, the Samsonite Konnect-i's classy, minimalist exterior belies the sheer utility it boasts. The front has two main compartments: a single horizontal zip that lets you store the likes of your wallet, keys and other small knick-knacks for easy access.The top half opens up into another compartment, which lets you store even more items such as your phone, cards, stationery and charger. Located near the top handle is another, smaller quick-access compartment to store your shades, phone and the like. Moving down to the sides, the left side pocket comes with a zipper which can be expanded to accommodate a water bottle, while the other side has a much smaller capacity — perfect for storing your phone or a charger in case you need to walk around while giving your device some juice.
The main compartment is where the packing fun of the Konnect-i begins. The main area is roomy enough to house a bevvy of items, including a large water bottle, a lunch box, a Nintendo Switch, headset, maybe some clothes, or even a camera. Not only that, users are greeted with a slew of little pockets with which to slot notebooks in. Naturally, it also contains a laptop/tablet compartment with extra padding, with a smaller tablet pocket below it so you can store both devices at the same time.
Slotting in a 15-inch ASUS laptop, we found there was a little more leeway in it, though we imagine a 17-inch laptop might be a little more snug. Zooming out, Samsonite has done quite a number on this backpack, ensuring that it is not just minimalist, but also accessible at the same time, and it has done a superb job of doing this balancing act of sorts. Plus, its uniform shape allows it to stand on its own even when empty, which is great for packing, especially when a laptop or tablet is included.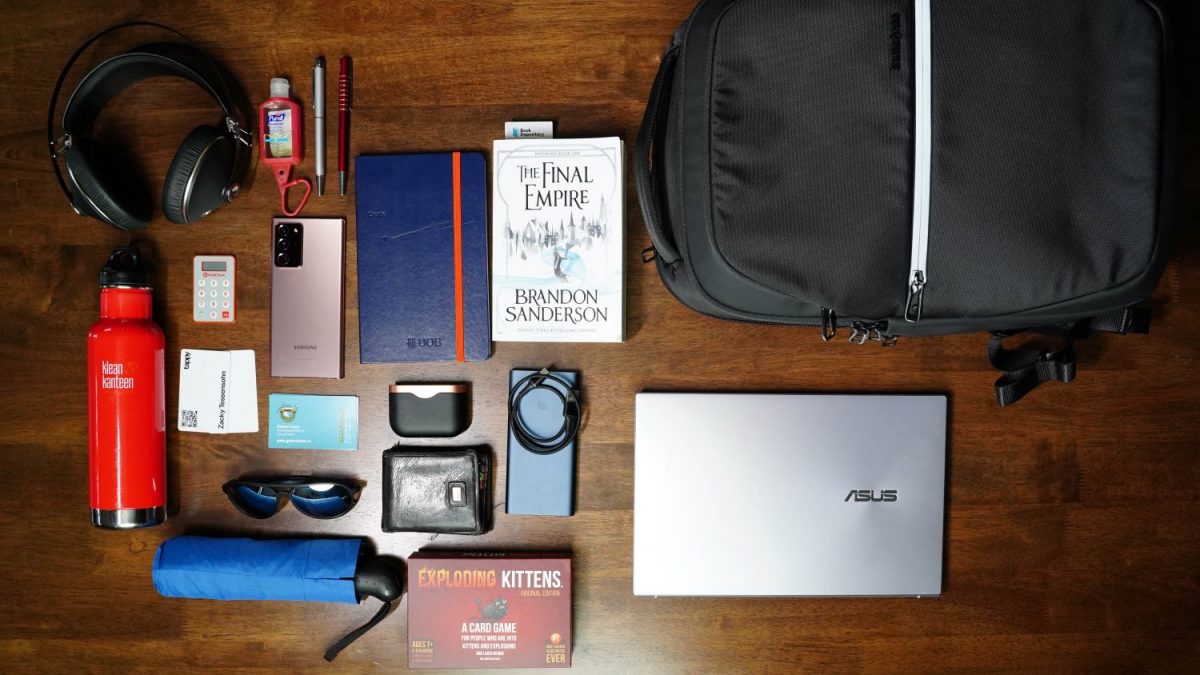 But while its shape is one of its strengths, it also happens to be a weakness. Even when empty, this is a rather bulky backpack, and bulky backpacks generally don't have the best track record of being the most wieldy when squeezing into tight spaces, such as a crowded subway during peak hour, or rushing into a cab on a rainy day. Again, it's a good thing that the Konnect-i is made with a sturdy polyester material, which prevents it (and your personal belongings, by extension) from being damaged too easily.
At S$300, the Samsonite Konnect-i backpack will certainly give you a literal run for your money. But hear us out: this is a solid everyday backpack that will last you years, even with rough handling. It truly has Samsonite DNA in it due to its durability, and brings a good amount of utility to the table. That said, its concept as a smart backpack with Bluetooth functionality is still very much a novelty, and leaves much to be desired in terms of what one can do on it.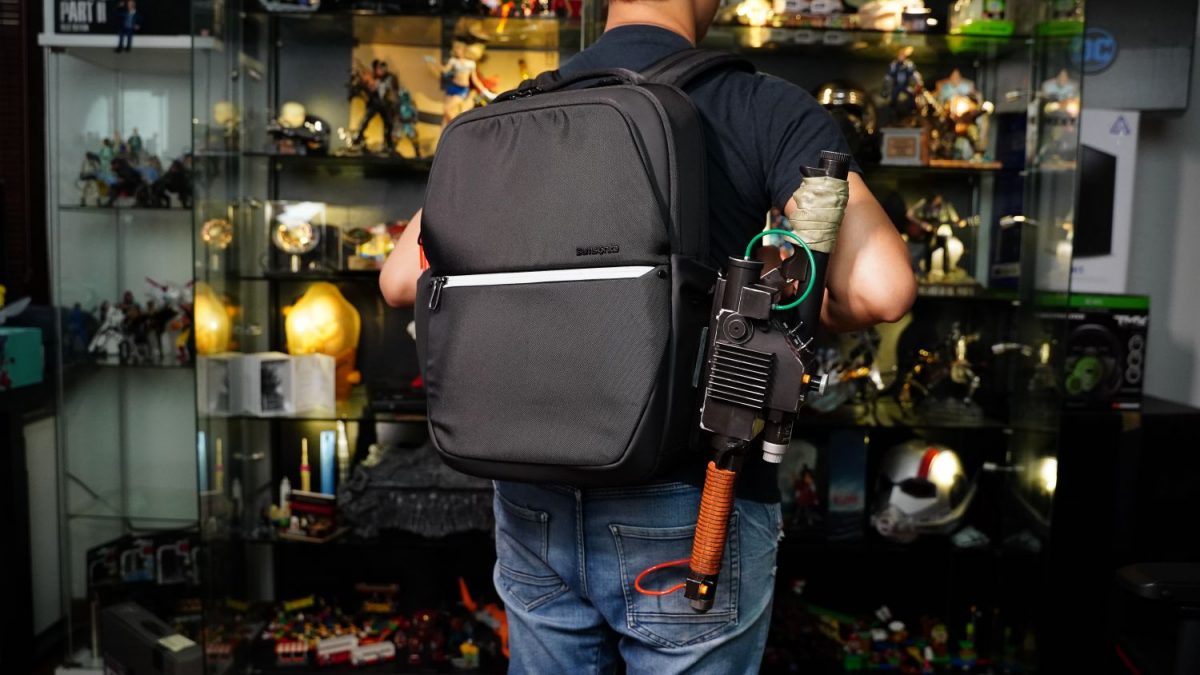 The Samsonite Konnect-i backpack is available in Singapore exclusively on Samsonite.com.sg and the Samsonite Flagship Store on Lazada.
GEEK REVIEW SCORE
Summary
Samsonite is making leaps forward with its tech backpacks, and it certainly shows in the Konnect-i. This will certainly see a lot of use among power users who integrate a ton of devices in their daily lives. If you can afford it, that is.
Aesthetics -

8/10

Build Quality -

9/10

Utility -

8.5/10

Value -

7.5/10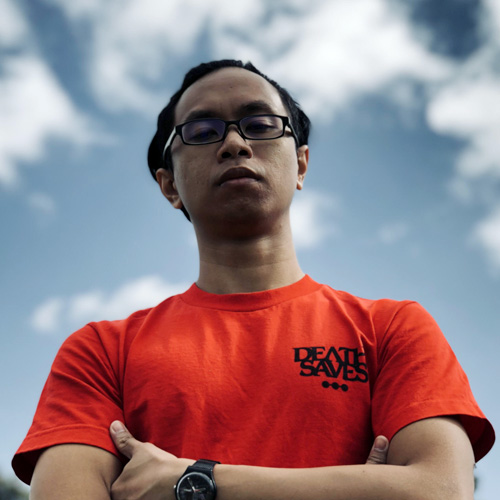 Marion has a serious RPG addiction. Sometimes it bleeds into real life; he forgets to sleep because he thinks he has a Witcher's body clock. Forgive him in advance if he suddenly blurts out terms such as "Mind Flayer" and "Magic Missile", because never once does he stop thinking about his next Dungeons & Dragons game.
---

Drop a Facebook comment below!