"Get away from her, you bitch!"
Any sci-fi fan will surely recall the iconic line by Ellen Ripley from Aliens (1986), as she faced off against the Xenomorph Alien Queen in the Power Loader suit, and this 1:1 scale wall sculpture by Hollywood Collectibles Group (HCG) pays homage to that scene.
Yes. You read that right. This is a 1:1 scale sculpture, which means that this Alien Queen needs one helluva big wall to be mounted on. We reviewed the Alien Reebok Stomper "Final Battle" previously, but owning alien queen sneakers just ain't enough, because nothing beats having her majestic beauty on the living room wall. With my wife's permission of course.
The alien queen sculpture measures in at 37″ tall, x 32″ wide and 20″ deep, and is constructed from fiberglass and mixed media. The entire sculpture comes in several pieces, which has to be assembled and each piece is individually hand-painted.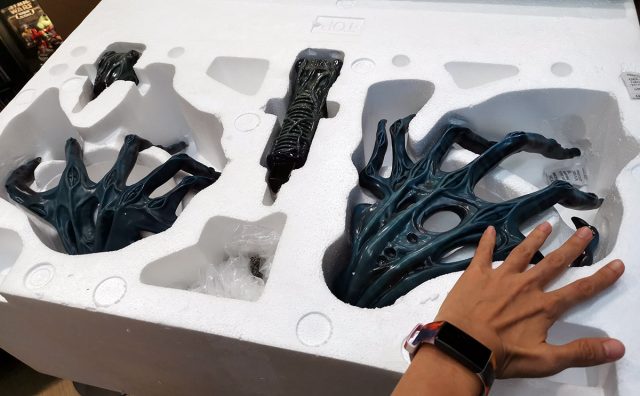 The workmanship for the sculpture itself is impeccable, down to the detailed individual translucent teeth of the Queen, the iconic ridges on the skeletal frame of the Xenomorph, to the metallic doors that she is breaking apart. Upon unboxing (watch our video above), one is presented with the queen's hands, the inner jaw, and an additional extended inner jaw, which in this case, is only available with the exclusive edition.
The paintwork is highly commendable, with the queen's blue accents standing out. The glossy gums gives her mouth a wet look, and you can just imagine the saliva dripping off. Sadly, that's also the only thing missing from this – detachable saliva. The weathering effects and bullet holes on the elevator doors maintain the same high level of colouring detail, which does its job well of making it seem as though the alien queen is trying her darnedest to squeeze out of the wall.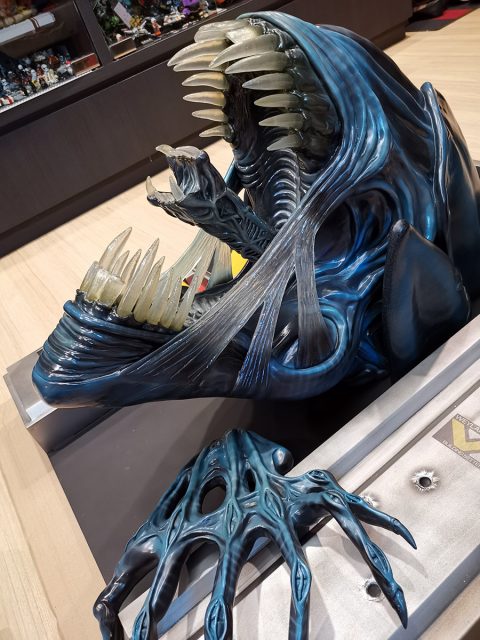 Now for a closer look at the inner jaws. As mentioned earlier, the exclusive version comes with two inner jaws, both of which are swappable. Due to the angle of the attachment, we were pretty worried at first that it may drop off easily, once it was mounted on the wall. However, it seems that the folks at HCG know what they're doing as the inner jaw manages to "snap" into place very securely. We're guessing it has to be the work of magnets, but unless we pry open the material, we cannot be sure.
But it doesn't matter what sorcery they use anyway, because what matters most is that collectors can rest easy knowing that the queen's inner jaw will not decide to slip off one day.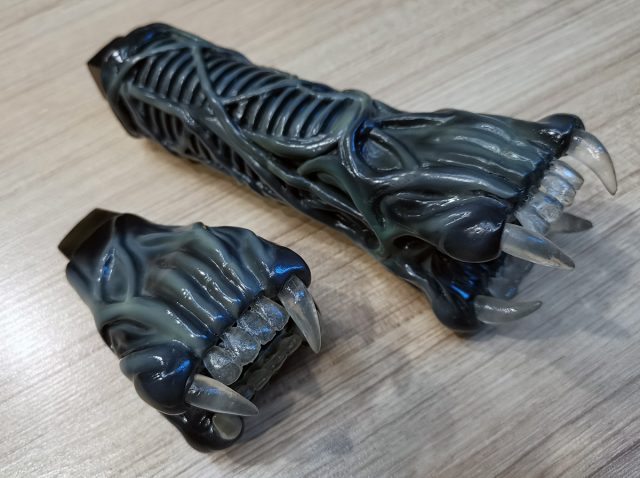 If you're itching to get one for your wall too, the exclusive edition will set you back US$1599.95 via HCG's website, and there are only 125 pieces available, globally. Once those are gone, there's still the regular edition of just 500 pieces, which doesn't have the extended inner jaw, and costs exactly the same price.
And here she is, mounted up on the living room wall, alongside other movie greats.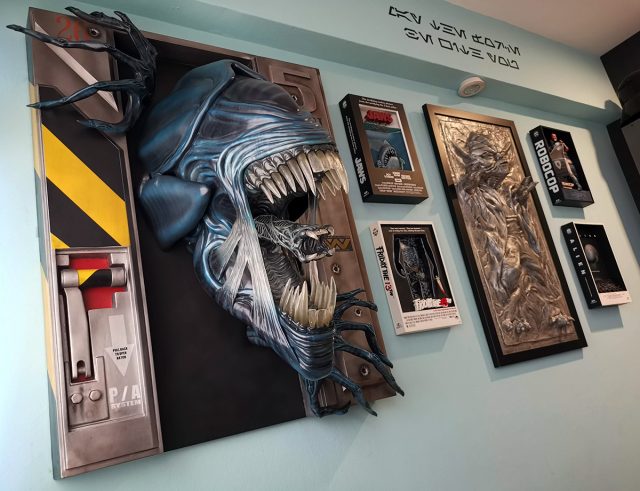 GEEK REVIEW SCORE
Summary
She's all mine, so get away from her, you bitch!
Overall
9.3/10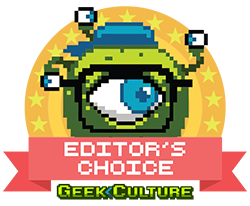 Aesthetics -

9.5/10

Build Quality -

9/10

Value -

9/10

Geek Satisfaction -

9.5/10
Yonk is a geek who is fortunate enough to have an equally geeky Star Wars fan for a wife, who owns a LEGO Millennium Falcon encased in a glass coffee table as their home's centre-piece.
---

Drop a Facebook comment below!

---