There was a time when a cordless vacuum basically referred to small, underpowered ones used in cars. But Dyson rewrote the rules when it launched its V series of vacuums, which produced the V8, the company's first cordless full-sized vacuum.
Small and compact, its allure was the lack of a body that users had to drag around. The vacuum's engine, as well as the nozzle, comes in one light handheld unit. The company's new Cyclone V10 improves on the efficiency and quality of the previous model, boasting improvements from the V8 to make this the Ultimate Vacuum Cleaner.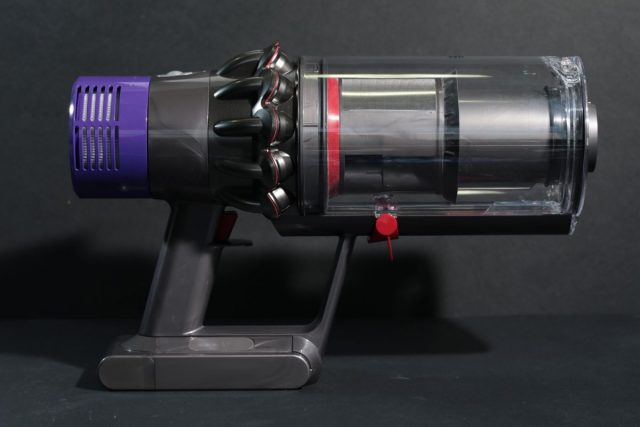 This time, we tested it in our office, which unlike most homes, is mostly carpeted and also stars a lovely cat who sheds fur everywhere. The V10 continues the cordless trend, and is a lighter, sleeker version of the V8, which is a welcome update. Key improvements include a stronger suction power, a battery life of up to 60 minutes (for non motorized attachments), and the bin-emptying mechanism to save you the trouble of bagging all the dirt. The new model features the fastest digital motor ever, linear airflow for greater efficiency, and air filtration for the exhaust.
The V10 maintains the trigger mechanism from the V8, which coupled with the updated design makes you feel less like you're performing a mundane household chore and more like you're shooting a high-powered blaster in a galaxy far, far away.
The large barrel shape of the V8 is replaced with a more top-heavy, tube-shaped design. Did we mention that the vacuum cleaner makes blaster noises when you pull the trigger quickly? Secretly just the geekiest thing ever.
Instead of the typical deep roaring motor sounds produced by those heavy vacuum cleaners, the Dyson vacuum is much quieter. Still loud, but less groany and more breezy. It was definitely much less disruptive in our tiny office – far less grating on the ears.
The V10 replaces the soft roller cleaner head from the V8 with the torque drive cleaner head for cleaning carpets. It's not so different on the surface, but it's meant to clean carpets more deeply and thoroughly. That's perfect for our office setting, especially with all the cat fur.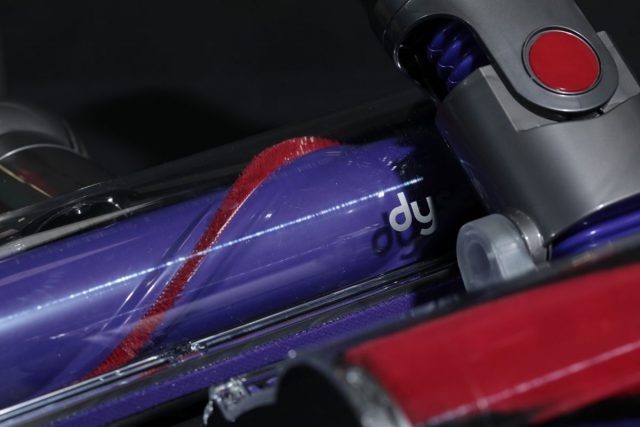 Plus, the cordless technology means less plugging and unplugging to move the vacuum cleaner around the room. The variety of swappable heads make the vacuum cleaner effective for both hard and carpeted surfaces, cleaning up tight corners, and navigating narrow spaces. The fact that it has a super small handheld motor while still possessing the power to work as a large vertical vacuum means that you don't need to spend extra money on a car vacuum or a smaller one.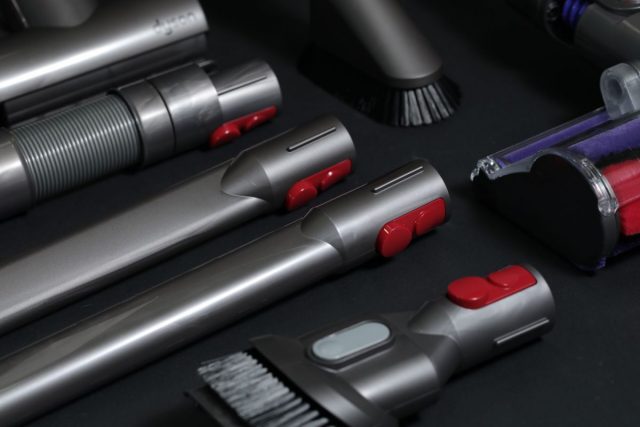 Speaking of the motor, it's supposedly significantly stronger and more effective than the previous model, with better suction power, but it's not such a big difference that you'd really notice it, yet it works smoothly.
On that note, slightly damaging to the sleek, sci-fi look of this vacuum is the horrifying visual that you get of the dirt swirling around in the barrel. You get a real sense of how much dirt is in your home. But what better incentive to continue cleaning your home than to see the products of your labour? Equal parts gross and satisfying.
After you're done though, the V10 does users a solid with its point-and-shoot mechanism for emptying the barrel, so you don't have to waste time bagging and emptying your vacuum cleaner after you're done. On the flipside, the lack of a bag means that the particles get stuck on the sides, which you'll have to clean up anyway. But nevertheless, it adds to the overall theme of this model, which seems to be greater convenience.
On the negative side, the battery seemed to run out fairly quickly when we used it, even though it started on full charge. We tested this again, this time leaving it continuously on max power, starting at full charge, and it lasted all of 7 minutes.
On low, it ran for about 50 minutes straight using the fluffy head, which is 10 minutes above the V8, but 10 minutes below how long the V10 is supposed to last. With the new torque drive cleaner head, which is effective for cleaning carpets, it only lasts 35 minutes. So that's a major let-down, but it's up to you to decide if you can manage to get your house clean in that amount of time.
Frankly, the battery might be the tipping point, because if you have to keep stopping to charge your vacuum cleaner when it's on max power, it's honestly not worth it to splurge on this fancy cordless vacuum cleaner. But aside from that, it's an impressive machine, and if this is the rate of improvements we're looking at from Dyson, we're definitely eager to see what this company has next.
The Dyson Cyclone V10 comes in three sets, starting at S$899, with the 'Absolute' set (inclusive of all vacuum cleaner heads, hose extension and tool bag) at S$1,199.
GEEK REVIEW SCORE
Summary
This is some cool, nerdy piece of tech for your home. It boasts some sweet improvements from the V8, and it's impressive how much it's improved in just one upgrade. But it's up to you if you're willing to fork out the extra cash for these improvements.
Aesthetics -

9/10

Build Quality -

8/10

Performance -

7/10

Value -

7/10

Geek Satisfaction -

8/10
You could call Jeanne a dabbler – anything she isn't yet a fan of, she will be eventually. The list of things she's into is only rivalled by the things she plans on getting into. Overanalysing makes everything fun.
---

Drop a Facebook comment below!