The year was 1989. Joe Johnston (who would go on to make Jumanji and The Rocketeer) made his directorial debut with Honey, I Shrunk the Kids. The Rick Moranis-led comedy told the story of an inventor who accidentally well, shrunk his and his neighbour's kids to a quarter of an inch, and threw them out with the thrash into the backyard. What followed was a frighteningly fun adventure where the kids tried to return home while fending off insects and other obstacles.
That classic, which made $222 million worldwide and spawned several sequels, was a geek favourite because of its wacky visuals and innovation.
More than 25 years later, Alexander Payne directs a movie with a similar concept. A couple decides to undergo a newly-invented shrinking procedure, and start a new life in an experimental community where everything has been downsized.
The state of the world has, of course, changed a lot over the two decades and movie plots are expected to evolve as well. Viewers will no longer be satisfied with simple, straightforward and fun stories. That is probably why Payne's latest work attempts to deal with worldly issues such as population control, environmentalism, human activism and alternate living spaces.
Proving that he can seamlessly switch between slapstick comedies (Stuck on You), serious dramas (Invictus) and action movies (Jason Bourne), Matt Damon takes on the lead role in this satire. He plays an occupational therapist who used to have ambitious dreams, but is weighed down by the realities of life. Together with his wife (played by the underrated Kirsten Wigg), they sign up to be downsized.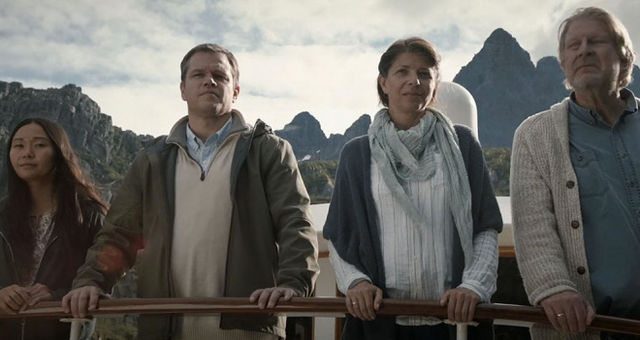 Alas, she backs out at the very last minute and the poor dude has to navigate the unfamiliar downsized world all by his tiny, lonesome self. He makes friends with two playboys (played by the always reliable Christoph Waltz and German actor Udo Kier) and their Vietnamese housecleaner (played by the surprisingly good Hong Chau, who was nominated for a Best Supporting Actress at the 75th Golden Globe Awards for her arresting performance), and they travel to Norway, where they meet the inventor of the downsizing procedure and visit the site of the first small community.
There are many ideas worth exploring in Payne and Jim Taylor's original screenplay. Is there a sustainable solution to the scarcity of resources? Do downsized people have the same set of privileges as normal human beings? Will global warming get the better of us and wipe out the entire human race?
But although the movie lasts over two hours, at 135 minutes, not much screen time is devoted to developing most of these ideas. Instead, you get a romance between Damon and Chau that feels neither here nor there, and an ending that feels awkwardly out of place.
In its entirety, the movie is still a noteworthy effort from Payne, who has given us gems like Sideways (2004), The Descendants (2011) and Nebraska (2013). There are amusing moments (especially in the first half) when viewers are given a glimpse of how the downsizing procedure is carried out. There are cameo appearances by fan favourites like Jason Sudeikis (The Angry Birds Movie), Neil Patrick Harris (Gone Girl) and Laura Dern (Star Wars: The Last Jedi).
What you won't get though, is the wonderment of seeing downsized human beings trying to adapt to their new surroundings. The world has changed, and the same sense of amazement you had while watching Honey, I Shrunk the Kids would no longer apply here.
GEEK REVIEW SCORE
Summary
Honey, someone shrunk Matt Damon and a whole slew of other big, serious ideas!
Story -

7/10

Direction -

7/10

Characterisation -

6/10

Geek Satisfaction -

6/10