PC and console gamers looking for a big screen monitor have a wide range of options in 2022. With OLED pushing the forefront as the reigning king of display technology, many gamers are making the switch from TV to big screen monitors for various reasons – higher refresh rates that can go up to 144Hz, HDMI 2.1 and DisplayPort-ready capabilities, and support for third-party services like AMD FreeSync Premium Pro.
Top the list off with other accessories and features, and it's easy to pick out the many benefits of owning a big screen monitor, even if it also fetches a higher price. The BenQ MOBIUZ EX480UZ 4K OLED Gaming Monitor proves the premium is worth paying, though its S$2,999 price tag puts it in a disadvantageous position when compared to similar builds like the ROG PG48UQ OLED Gaming Monitor (S$2,749) and the Alienware 34-inch (AW3423DW) QD-OLED Gaming Monitor (S$2,429).
Despite its TV-like size, the MOBIUZ EX480UZ is a gaming monitor first. Like its 27-inch sibling, the EX270QM, it sports a low-profile, no-frills look that takes the form of a textured bottom panel, wedge-shaped legs, a wide neck, and slim bezels. The rear, playing host to a faux metal finish, is where the gamer aesthetic comes to life, with different lighting options bleeding through four stylish slits.
On the left lies a generous spread of ports, both commonly found ones or otherwise. Apart from two USB 3.0 slots, a 90W USB-C port, two HDMI 2.1 ports, a DisplayPort 1.4 outlet, and a 3.5mm headphone jack, the monitor offers an additional USB-B port and S/PDIF jack, alongside two more USB-A ports at the back for a more streamlined mouse-and-keyboard connection. The wide selection is especially handy for building an all-in-one battlestation, where users can hook the EX480UZ up to their PC, Nintendo Switch, and other consoles all at once.
This range of connectivity options means something's got to give, however. The monitor cuts a thick and unwieldy figure, which means the setup process will be more cumbersome than most are used to. It may also be tricky to place it in an ideal viewing position, as there are limited ergonomic adjustments for the stand. Coupled with the legs that take up more room than the standard rectangular base, the monitor won't be a good fit for those seeking a more space-efficient or a flat-looking option.
For users who are willing to take these caveats in their stride, the EX480UZ promises an enjoyable experience with its solid build quality, straightforward installation, and convenience. It doesn't yield to any flex, ships with a 200 x 200mm VESA mount, and ditches the need for a bulky charging brick, but its greatest appeal lies in delivering complete gaming immersion.
With 4K resolution, a 0.1-millisecond response time, and a 120Hz refresh rate, the graphical prowess in titles like God of War Ragnarok, Horizon Forbidden West, Call of Duty: Modern Warfare II, and Forza Horizon 5 is a sight to behold. Environments are crisply detailed, while scenic landscapes paint a breathtaking, vibrant image. During high-intensity moments, the action is extremely fluid with minimal hints of motion blur and screen tearing, with the focus in detail carrying over to the characters themselves – in God of War Ragnarok, for instance, the veins in Kratos' arm and the freckles on Atreus' face are all mapped out very clearly.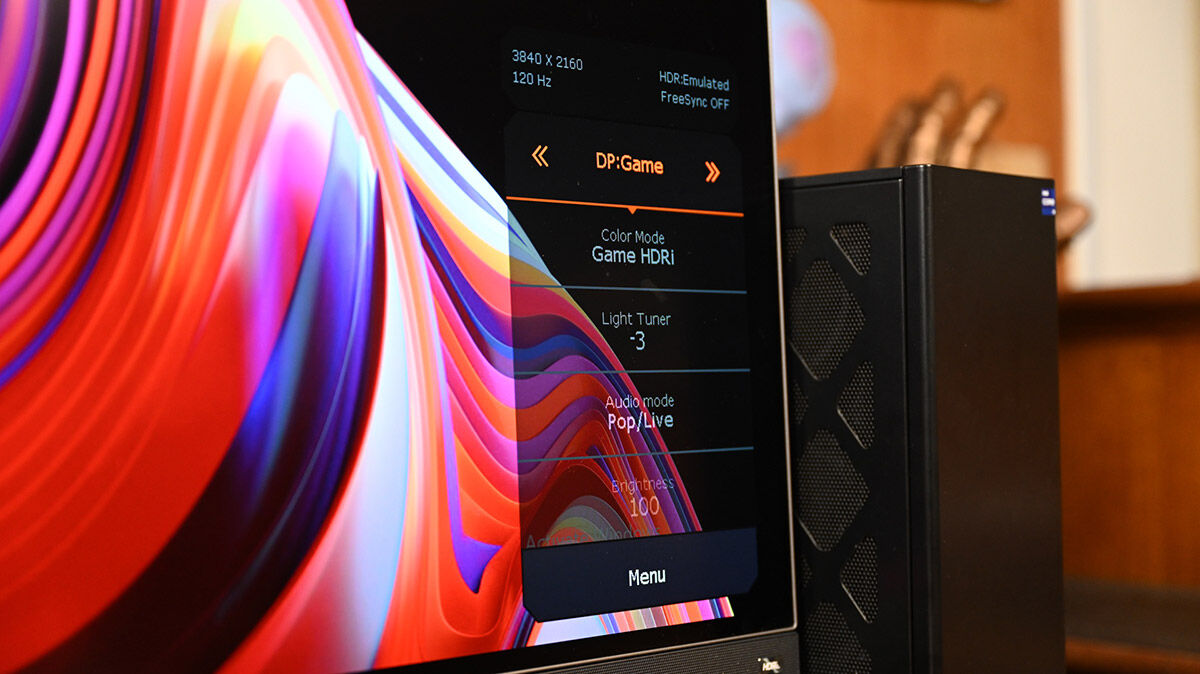 The MOBIUZ EX480UZ also works to deliver low-input lag for a responsive gaming action that's free of connection issues – an experience that's further accentuated with AMD FreeSync Premium support. On paper, its 120Hz refresh rate trails behind the EX270QM's 240Hz but the difference in smoothness won't be picked up by the casual user, and proves sufficient for general use. Outside of gaming, the extra real estate comes highly recommended for multi-tasking as well.
Colour performance is also equally competent, with the monitor offering 98 percent coverage of the DCI-P3 gamut, with great colour accuracy and contrast, resulting in vivid visuals in games with colourful presentation like Apex Legends, Overwatch, or Hades. For an added touch of convenience, BenQ has included various preset colour modes that can quickly adjust screen brightness and overall details, allowing for a nifty switch in a pinch.
Where some OLED monitors tend to over-emphasise HDR, the technology is well-balanced here. Vibrancy and tones are elevated, but they remain natural-looking and don't come across as too off-putting, even in the various game presets. RPG Mode, for example, brings out more of the natural colours, whereas FPS Mode lifts shadows and deepens contrast to make it easier for players to spot enemies.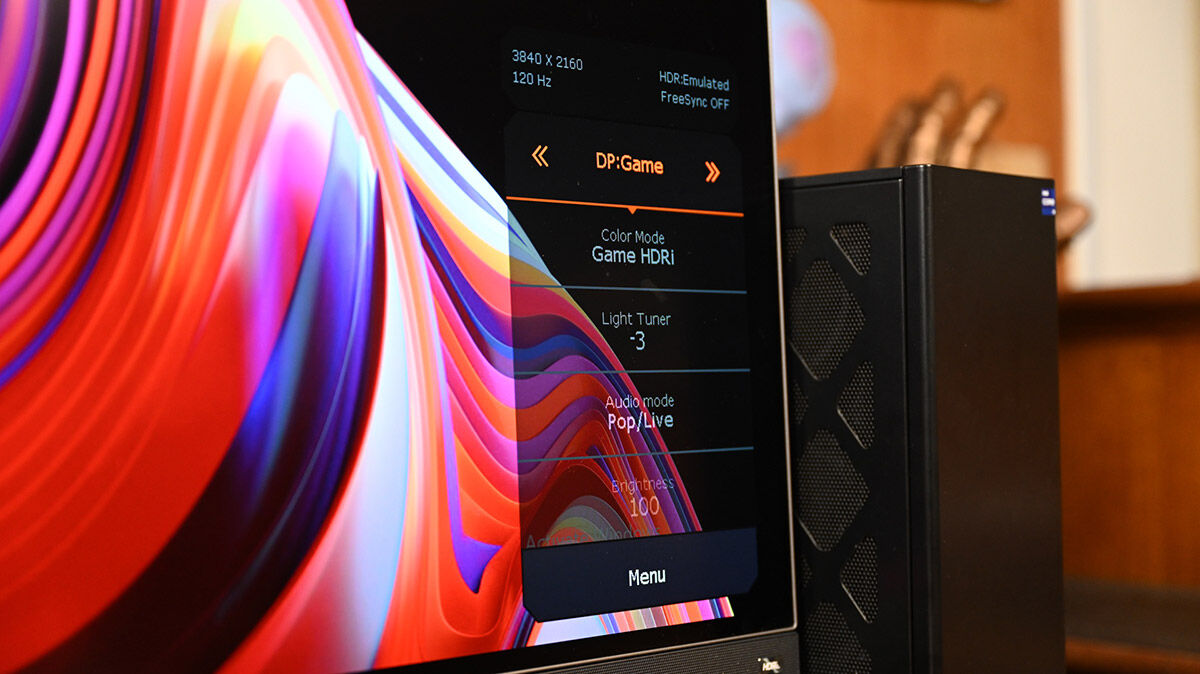 Switching between them is a fuss-free affair, too. It's possible to adjust the settings via a joystick-like button on the base of the monitor panel, but the EX480UZ reduces the hassle through the use of a remote control, which grants easy access to controls like brightness and audio levels with straightforward navigation. Say no more to pressing the wrong buttons, and to hunching over and locating them.
It's in the audio department that the monitor leaves a strong mark. As with the rest of BenQ's monitor models, it comes equipped with the brand's proprietary treVolo technology that tailors sound according to the game type. Sports Mode bumps up the speaking volume of the casters, while Racing Mode brings out more of the engine revs, and such differences are keenly felt when switching over from the default state.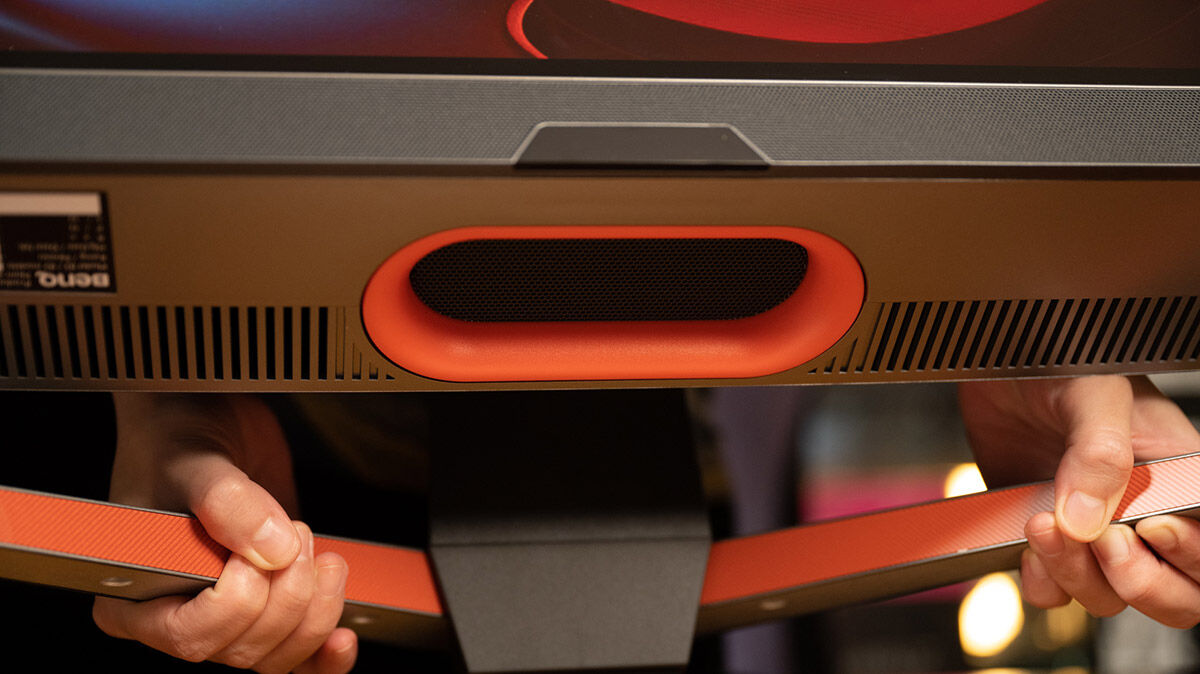 But even alone, the treVolo speakers can more than hold their own. Taking the form of a 2.1-channel speaker and 10W built-in subwoofer, they are able to deliver rich and crisp audio, dialogue, and special effect sounds. The speakers are also impressively loud, laying themselves out as a good pick for easy listening and RPG games, though bass heads may find that its thumps are lacking.
Still, all the perks do little to change the fact that a 48-inch monitor is too much of a niche device. It's too big for most console setups and desks, with an extended real estate that isn't ideal for edge-to-edge movements in games. Additionally, viewing distance can be off-putting if the EX480UZ is being used close-up, resulting in eye discomfort over long periods of time. The biggest issue here, though, is the lack of text clarity, as the scaling will cause small interface elements or fine fonts to appear pixellated and blurry.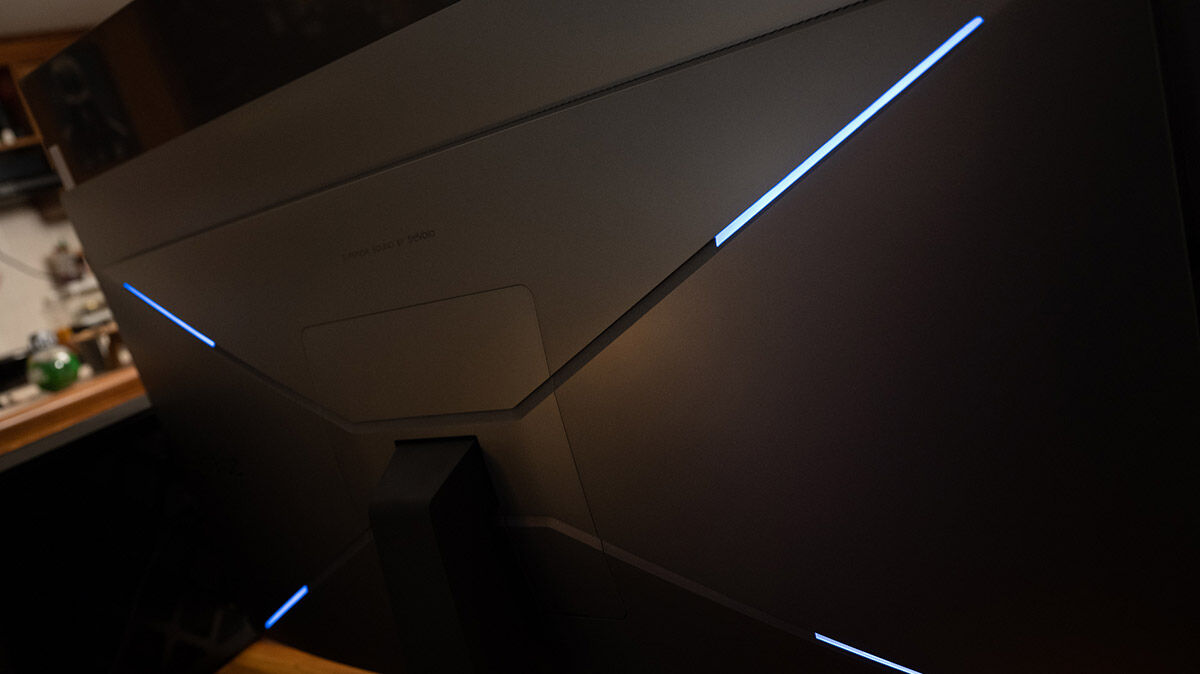 At S$2,999, the BenQ MOBIUZ EX480UZ is one heck of an investment that's best reserved for PC gamers and console owners who relish the big screen gaming experience. With its slew of port options and gaming-focused features like a high refresh rate and breakneck response time, the monitor is built to give users an edge in fast-paced and competitive games. It leans too much into the niche market to appeal to the general crowd, but this form of entertainment is right up your alley, this monitor makes a good choice – if you can afford it.
GEEK REVIEW SCORE
Summary
A powerhouse that performs impressively well in all the areas that matter, the EX480UZ's biggest misstep lies in being a niche product at too high a price.
Aesthetics -

7.5/10

Build Quality -

8/10

Performance -

8/10

Value -

6.5/10

Geek Satisfaction -

8/10