For some time now, OLED display technology has been divided into two camps. On the mobile side, AMOLED displays are regarded as the best, and offered by brands on flagship devices. When it comes to monitors and TVs though, its appearance has been less common, as large OLED screens are considered to be a premium that few would pay for. In recent years though, that restriction has eased up a great deal, with OLED displays now making a splash across more devices, including laptops and monitors, and consumers, especially gamers are starting to see more screens featuring low latency and high refresh rates.
If you have the cash to burn, you might even consider picking up a small OLED TV, such as a previous generation 48-inch LG C1, to double as a monitor, but if you want something more magnificent and gaming-centric, there's the ROG PG48UQ OLED gaming monitor.
Purpose-built for gaming enthusiasts, the ROG PG48UQ 48-inch OLED gaming monitor delivers on the trifecta that gamers need to stay ahead – DisplayPort 1.4, high refresh rates, and a low response time. By simply implementing these features, ROG has made itself one of the rare few manufacturers which are catering to the gaming market for OLED panels of this size.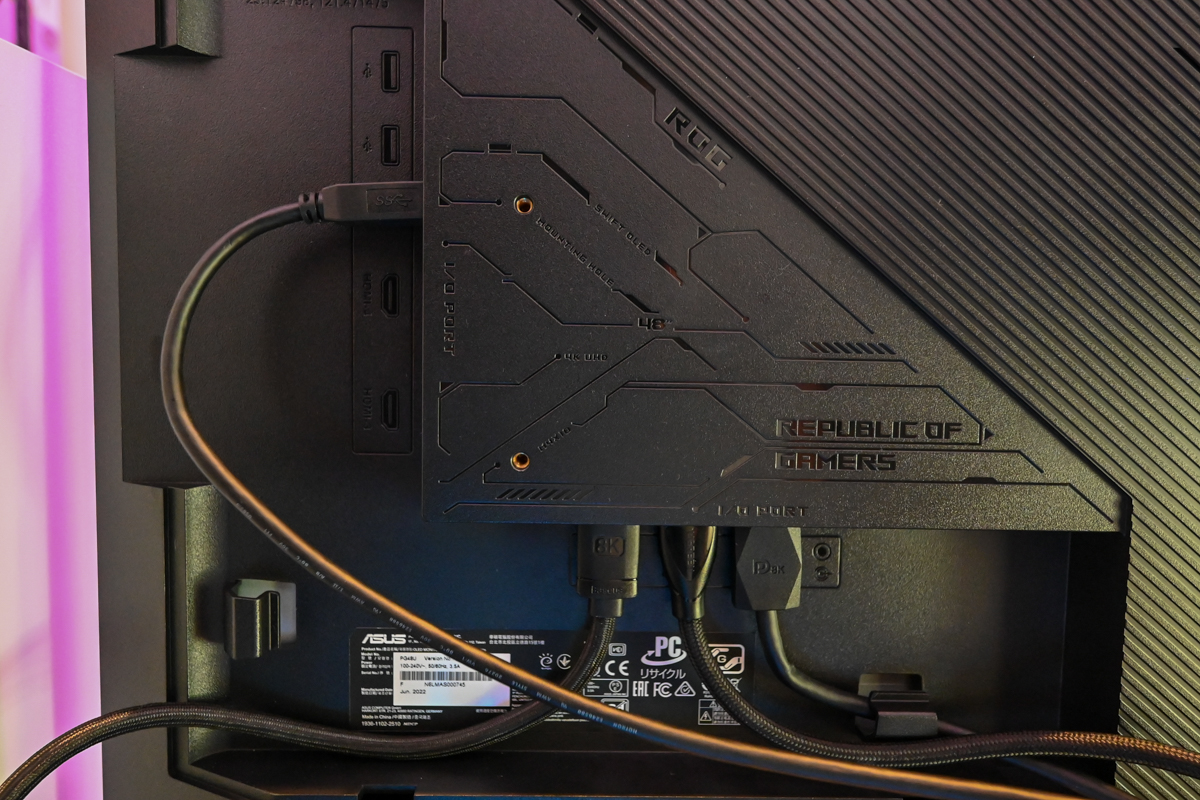 Featuring the conventional design wisdom of most premium displays in the market, the ROG PG48UQ offers slim bezels, measuring 1068 x 686 x 266 mm (WxHxD) and actually takes a bit of space on the desk given the stand the monitor rests on. Instead of a clean rectangular bar that most displays offer, we have a stand that extends outwards, to support the weight of the monitor that's 16.2kg with the stand. The legs themselves have a depth of 290 mm and extend as far out as 750mm, so be sure that your desk can accommodate these dimensions. Connectivity-wise, the unit comes with 1 X DisplayPort 1.4, 2 X HDMI 2.1, and 2 X HDMI 2.0 ports, which pretty much has you covered if you also want to plug this into your game console as well. Along with these come 4 X USB 3.2 Gen 1 Type-A ports as well, but in an oddity, two are located on the top of the monitor.
Combine all of these ports with a max refresh rate of 138Hz, this feature is not enabled out of the box by default, so you'd need to navigate to the menus to turn it on manually. In addition, the display also offers a few options as well if you'd like to go from a 4K display to an ultra-wide in the form of a 34" 21:9 aspect ratio. Featuring both NVIDIA GSYNC and Freesync support, users will be covered no matter which GPU camp they're supporting. On paper, the monitor features a 0.1ms response time as well which will serve one's pro gaming ambitions well.
Given that OLED panels do generate a bit of heat, ROG has added a custom heatsink at the rear, to help reduce temperatures during extensive gameplay, and is fanless by design to keep the display quiet. It's a nice addition though at this point, though results will only bear fruit over time how having a heatsink keeps the display cool and reduce potential OLED burn-in.
When it comes to getting the best out of the OLED display, the PG48UQ quickly hits its mark. Parent company ASUS has a good track record when it comes to displays, and ROG has certainly taken notes. Featuring a 98% rating in the DCI-P3 and 133% in the sRGB colour space, anyone getting this monitor for PC use can expect the richest visuals ever, now available in the rich colours and intense blacks that OLED offers. If you want to drive performance, you will need to tweak the setting as by default, the display only goes up to 450 nits, which is not really that bright.
Once you go into the menus and change the colour temperature to 10,000K, you will be able to hit 872 nits peak brightness. From the menus, you're able to get a few options for access to gaming, cinema, and console HDR presets, but there's little discernible difference between the different modes. Be sure to test out the various presets to see what suits your tastes and the content best. Overall the colours on this display look great, and if you're looking to use this professionally and would like to ensure that your edits look great across multiple displays. We would imagine that creative folks might look at this display if you'd like to mix work and play into a single display.
From our tests, it would appear that the early unit we've received does struggle as the scene rapidly changes to display pure blacks. Given how close one would be sitting while using this monitor, users can see the OLED panel's pattern during these transitions. We've found that this issue is particularly prevalent when Windows HDR is turned on. Hence, for best results, we recommend turning off this feature for now.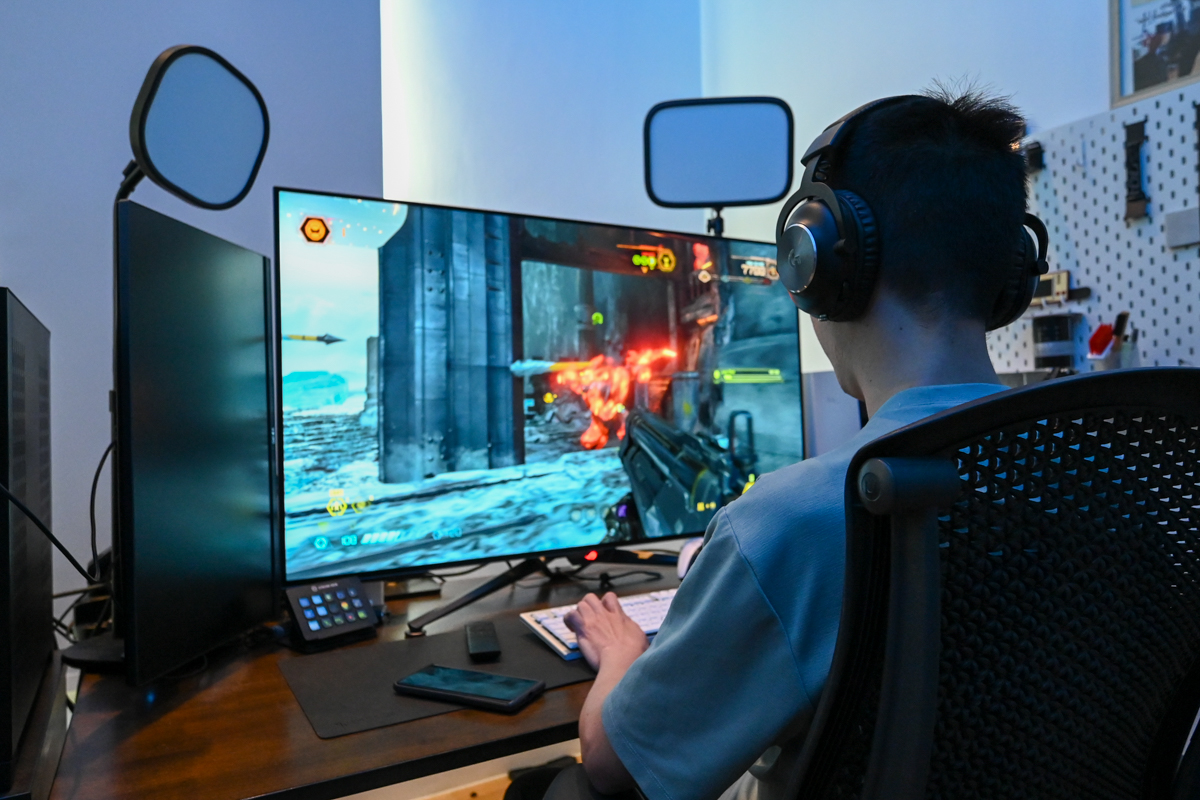 Perhaps this particular display mode is not well known but another glaring issue we found is that natively, popular streaming services like Disney+ and Netflix do not seem to recognize this display, despite it being able to project in 4K or HDR10. Hence, the best solution is to grab a media box like an Apple TV and hook it up to the display. As far as OLED panels go, there's a lot more ROG could have done to give potential users more reason to grab this display. For any user investing into OLEDs, it might come down to a toss-up between getting an LG TV and the ROG. The display comes with a fairly simple remote that opens up a rudimentary UI which we see with pretty much all ROG displays out there.
When the OLED alternatives come with a proper interface and functionality, ROG might need to step up more to show greater value in the product's overall experience outside of just hardware. At the moment, the display has the monopoly in being one of the rare OLED displays that come supplied with DisplayPort 1.4 and are native for PC users to make full use of. In addition, from time to time there's a pop-up that appears to remind users to run a pixel refresh. Having followed the prompt, it still pops up again and again which can get irritating.
However, if you're clear of the limitations which come with ROG's maiden attempt at an OLED display, the PG48UQ does what it sets out to do really well in the realm of gaming. With PC gaming pretty much covered, HDMI 2.1 ports for your PS5 and XBOX Series X means console fans are not left out. Being one of the few OLED displays in the market that support GSYNC, you're assured that you'd be able to get the best out of this 3840 x 2160 4K display to enjoy HDR10 in its full glory for gaming. The only real improvement we can suggest would be for all ports to be changed to HDMI 2.1 instead of a mix for future-proofing.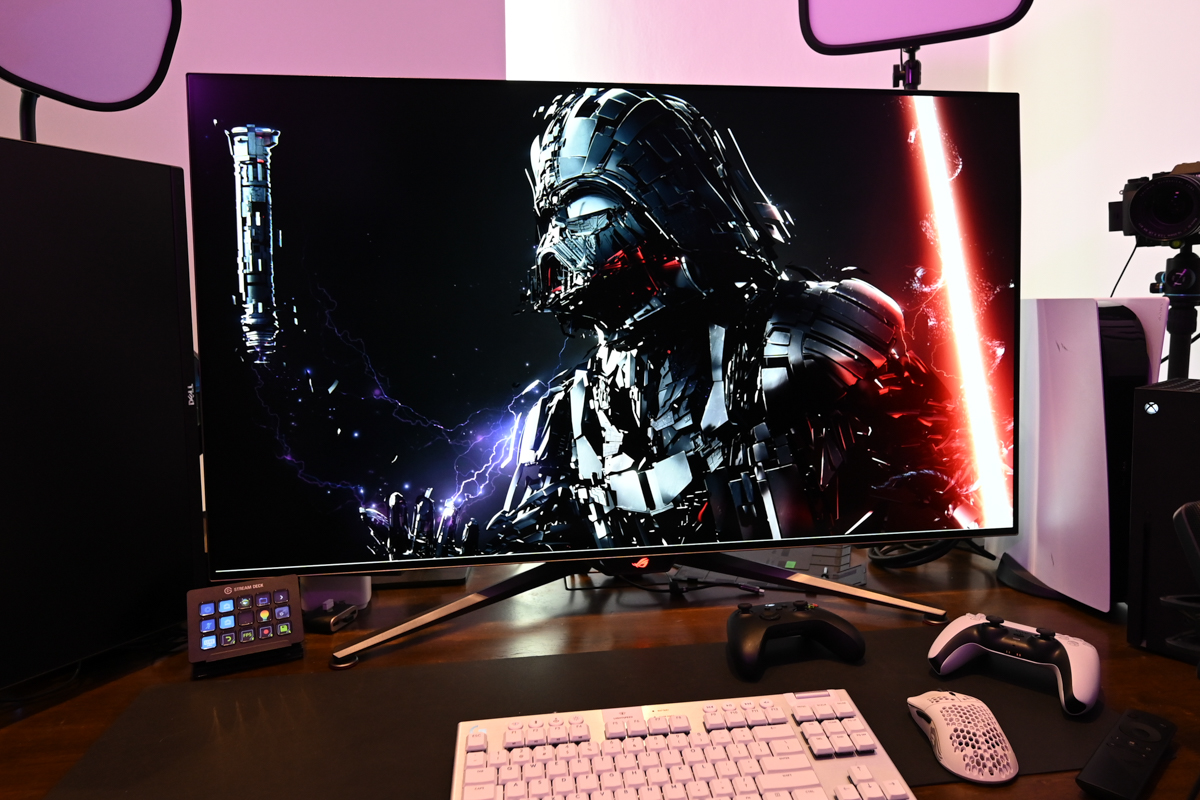 Priced at S$2749, the ROG PG48UQ will not be an immediate buy for some considering the competition out there. There are some areas which do need work in order for the display to be considered a complete package as opposed just to being a beautiful panel at this price point.
On one hand, the ROG PG48UQ faces competition from a focused monitor in the form of the Alienware AW3423DW. The ultra-wide, QD-OLED monitor has certainly impressed out of the box with its panel quality but suffers from the same issues that concern the PG48UQ when it comes to use cases outside of just gaming. On the other hand, the LG C1 / C2 TVs are strong picks as well. While the lack of a Displayport 1.4 might be an issue for some, these TVs perform as well as a monitor and are able to handle all your streaming services without having to add on an additional piece of hardware. The drawback here is that these TVs tend to come at an increased price point over the PG48UQ.
If you're comfortable with colour work and gaming then the ROG PQ48UQ is perfect for your needs. Given the potential of OLED tech and how it has already achieved some level of maturity, we would have loved to see how ROG could have pushed the design to the next level as opposed to keeping it safe. Regardless, the ROG PQ48UQ can be considered a worthy upgrade but there are many fine alternatives out there that users have access to as well.
GEEK REVIEW SCORE
Summary
Alternatives are always welcome as OLED tech expands into the hands of other manufacturers, but there's more to delivering a great visual experience than just relying on a beautiful display these days. As far as the ROG PG48UQ goes, it's a good first attempt but there needs to be more effort given the premium price tag.
Aesthetics -

8/10

Build Quality -

8/10

Performance -

7.5/10

Value -

7/10

Geek Satisfaction -

7/10
Gerald currently straddles between his love of video games and board gaming. There's nothing that interests him more than trying out the newest and fanciest gadget in town as well. He dreams of publishing a board game sometime in the future!