Monitors are an important part of a desktop setup as while the PC is the heart that pumps life into the machine, the display acts as visual proof of this culminated life force, offering a mix of colour technology, moving images, and the like.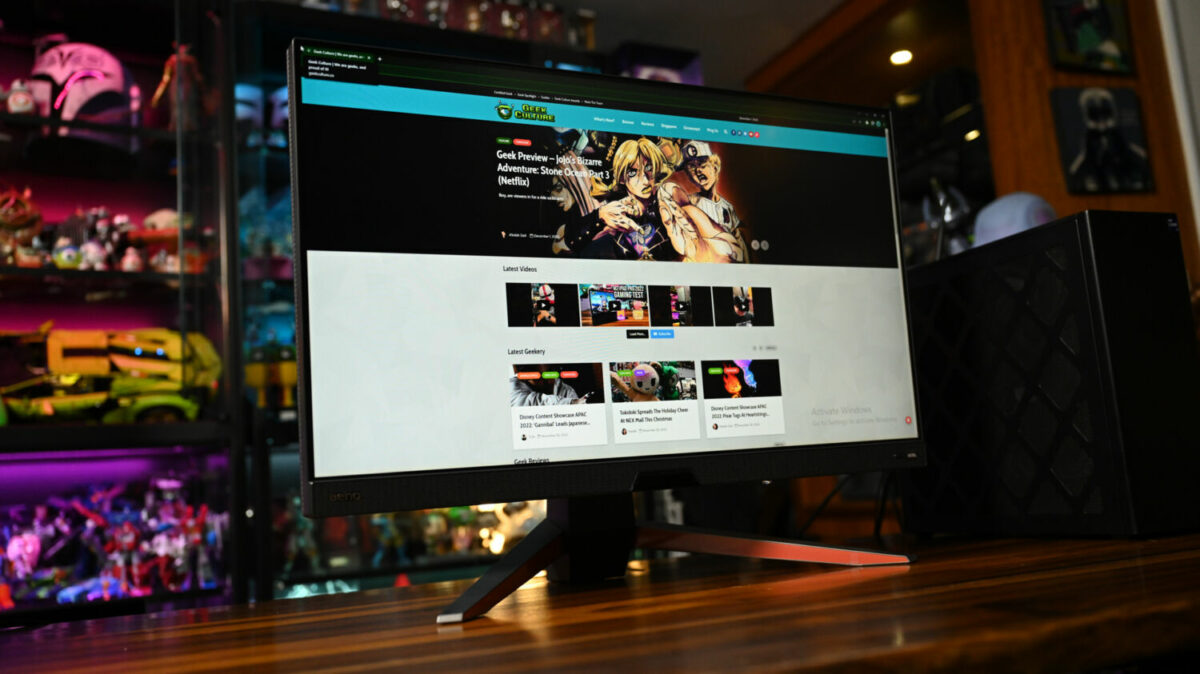 On the gaming front, there are often bonus elements added to the standard formula to account for better response times and higher refresh rates – an area that BenQ's roster of MOBIUZ gaming monitors are more than well-acquainted with. The EX270QM is no exception to the rule, establishing itself as a worthy member of the family with a competent, if niche, showing in the field.
It all starts from having a solid chassis. Right out of the box, the 27-inch monitor cuts a modest, stealthy figure, with a textured bottom panel held up by thin bezels on the sides. The rear, with its faux metal finish and wide neck, adds a premium touch into the overall build, which is supported by a stable stand.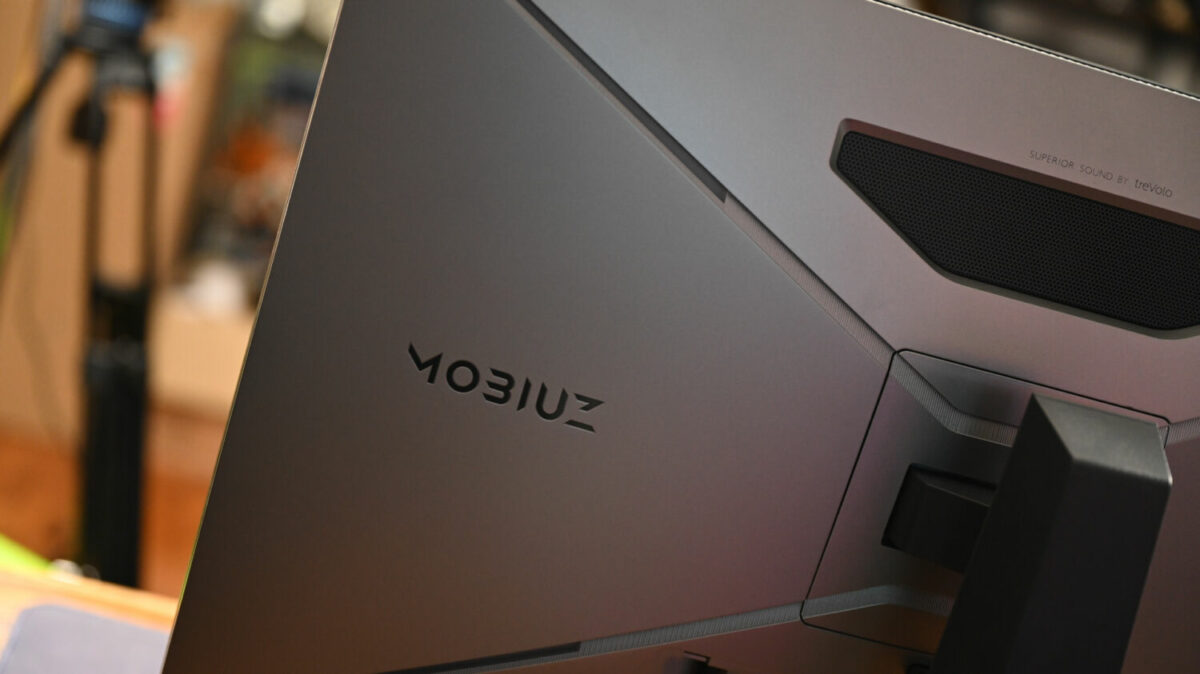 Depending on personal preference, some may find the wedge-shaped legs less than ideal, since they take up more space than a flat rectangular base. They are strongly-built, however, and don't cave in easily to flex or warp, so at least high quality is assured here.
BenQ has also added an option for bells and whistles, with the LED strips on the back of the EX270QM offering nine color options and six different lighting modes. The design strikes a good balance between being decorative and subtle, illuminating softly in a modestly-lit setting, and devoid of the overwhelming gaudiness in the dark.
Housed within the groove underneath the monitor base is a healthy offering of ports and buttons, boasting 1 X DisplayPort 1.4 slot, 2 X HDMI 2.1 ports, and a USB-B upstream port that passes through to two USB-A 3.0 ports, but lacks a USB-C slot. It shouldn't affect casual users much, but those seeking even smoother performance – USB-C ports are able to carry DisplayPort and deliver high refresh rates – might be a little disappointed.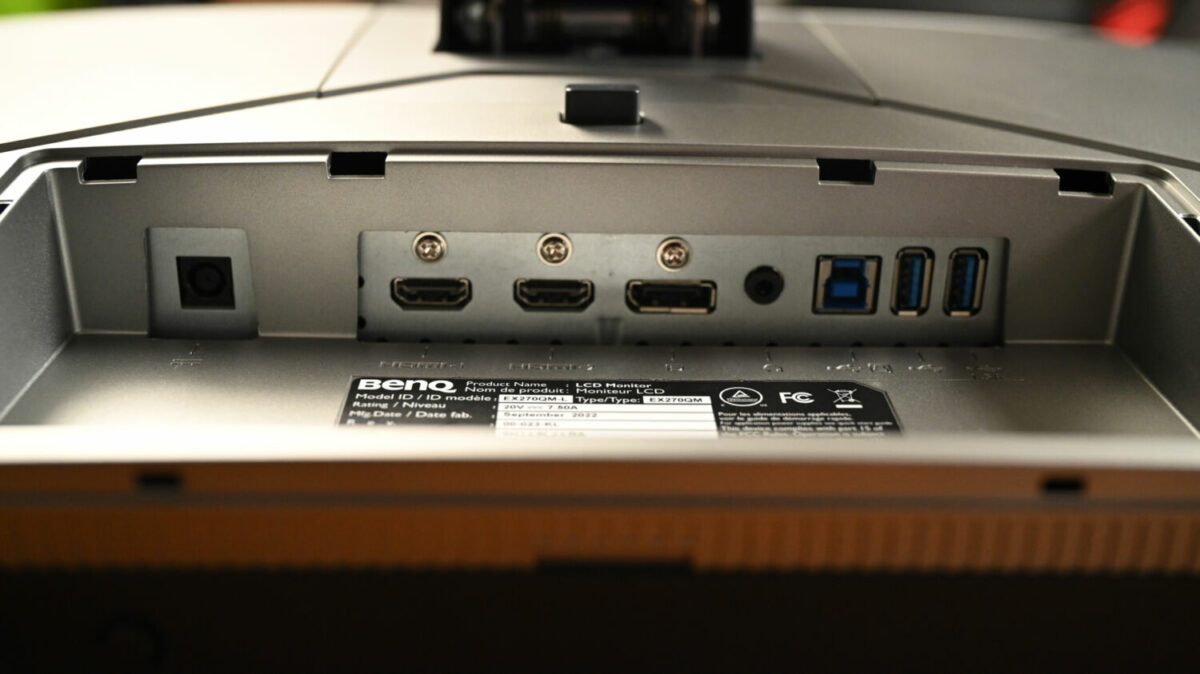 What sets the monitor apart from the competition, however, is the HDMI 2.1 support. The technology represents an upgrade over HDMI 2.0, the standard adopted by most of the industry, offering a higher bandwidth, standardised variable fresh rate support, and auto low latency mode. Essentially, all of these features work to keep latency to the minimum, which in turn, delivers a competitive edge in fast-paced games.
Manual adjustment of various settings via the buttons and joystick, meanwhile, can be tricky. As they are located out of the usual line of sight, users will have to hunch over and locate them, which gets uncomfortable quickly if they don't know their way around. The positions of the buttons also make them prone to misclicks, so there may be moments when the display turns off instead of bringing up the menu.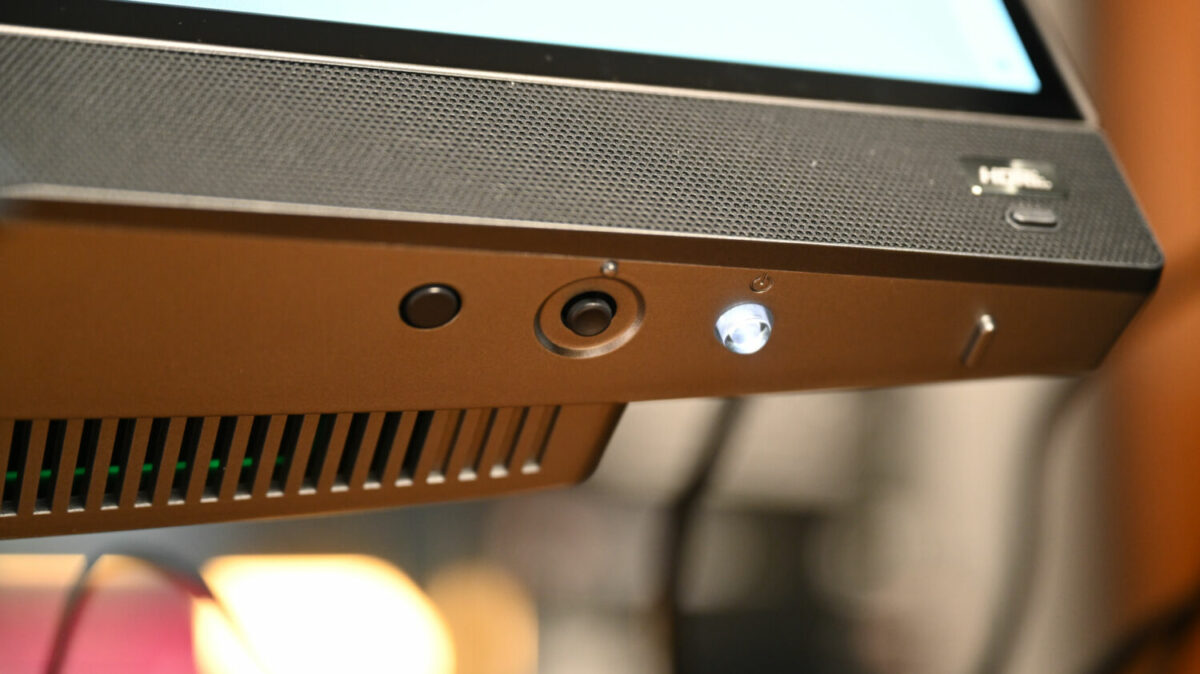 Fortunately, the fuss is easily resolved with a convenient, user-friendly remote control. Included as part of the package, it grants easy access to controls like brightness and audio levels, as well as various colour presets for different genres. Navigation is straightforward with no evident lag in registering inputs, even if some features are only available in the quick menu and not accessible through the main menu. The EX270QM's physical state, too, can be adjusted to the user's needs, allowing for height adjustment of 100mm, a tilt angle of -5 to 15 degrees, and a 15-degree swivel.
More notably, the monitor's combination of a 240Hz refresh rate, a quoted one-millisecond gray-to-gray response time, and AMD FreeSync Premium support finds its greatest edge in motion clarity. First-person shooters like Apex Legends, Overwatch 2, and Call of Duty: Modern Warfare II retain significant detail even in the heat of the action, with no hint of screen tearing at higher frame rates.
On that note, titles that encourage high frame rate gameplay, such as Cyberpunk 2077, showed similar performance. Driving and combat-heavy sequences run smoothly with minimal motion blur, and it's not an experience that's limited to just one platform. BenQ's EX270QM is both PC and console-ready, so PlayStation 5 owners will also be able to enjoy all the buttery axe-swinging action in God of War Ragnarok. The Quick On-Screen Display and Scenario Mapping features further facilitate this multi-platform compatibility, allowing users to easily switch between different input sources, without having to manually change the settings each time.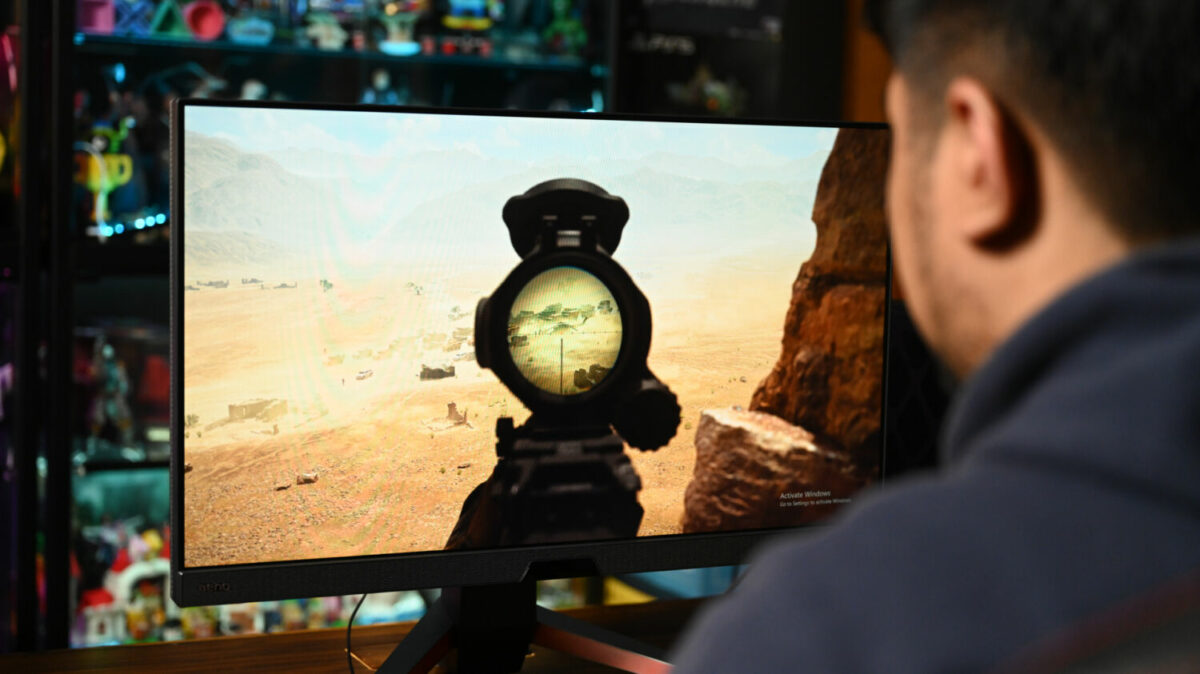 Because it ships with an IPS panel, the monitor doesn't offer the best contrast. It's decent and relatively standard compared to similar builds on the market, but those who are used to OLED technology may find the blacks to be less deep and hazier, especially in the darker settings of games like Gotham Knights, Stray, or Diablo II: Resurrected. Turning on Game HDRi, BenQ's proprietary HDR technology, does make the overall presentation slightly better, though it still isn't able to bring out the full extent of the eye-popping OLED contrast.
The wide colour gamut, meanwhile, is a pleasant spectacle. On the FHD display (1920 x 1080), images are vivid and bright, especially in titles with colourful presentation such as Overwatch and Apex Legends, even if the saturation can be a little high for some. Switching between the different game presets yields slight changes in the hues – FPS Mode, for instance, offers greater contrast over the others, and makes it easier for players to spot enemies.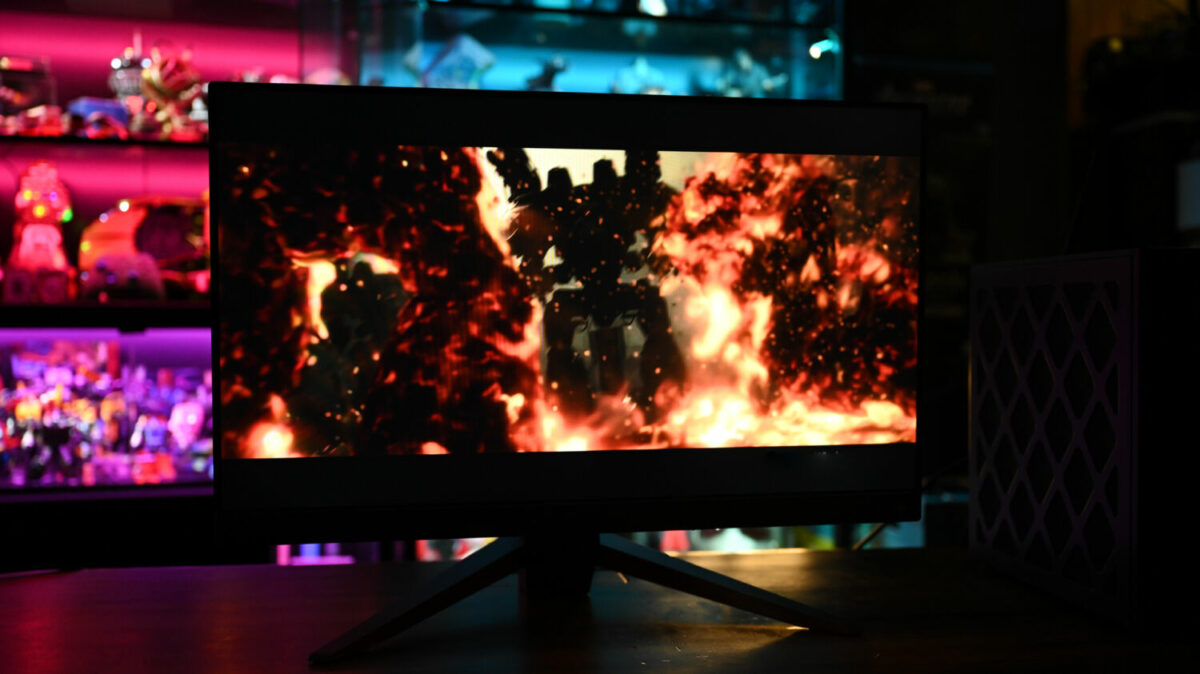 It's in the audio quality that these genre differences are further accentuated as with the rest of BenQ's monitor models, the EX270QM comes equipped with the brand's proprietary treVolo technology, which tailors sound according to the game type. Sports Mode will, as such, bump up the speaking volume of the casters, while Racing Mode brings out more of the engine revs. In practice, the boost does bring more immersion to gameplay, and this distinction is very keenly felt when switching to the default state.
On their own, the treVolo speakers are nothing to scoff at, too. They are as competent as built-in speakers can get, delivering rich and loud audio, as well as crisp dialogue and special effect sounds.
One of the few issues about the monitor is its limited resolution clarity. It boasts a pixel density of 108 ppi (pixels per inch) at 1440p that works well in most situations, but small interface elements or fine fonts may appear pixellated or blurry. Coupled with dedicated HDMI 2.1 support and a host of gaming-specific features, it positions itself more as a niche gaming offering than a consumer device.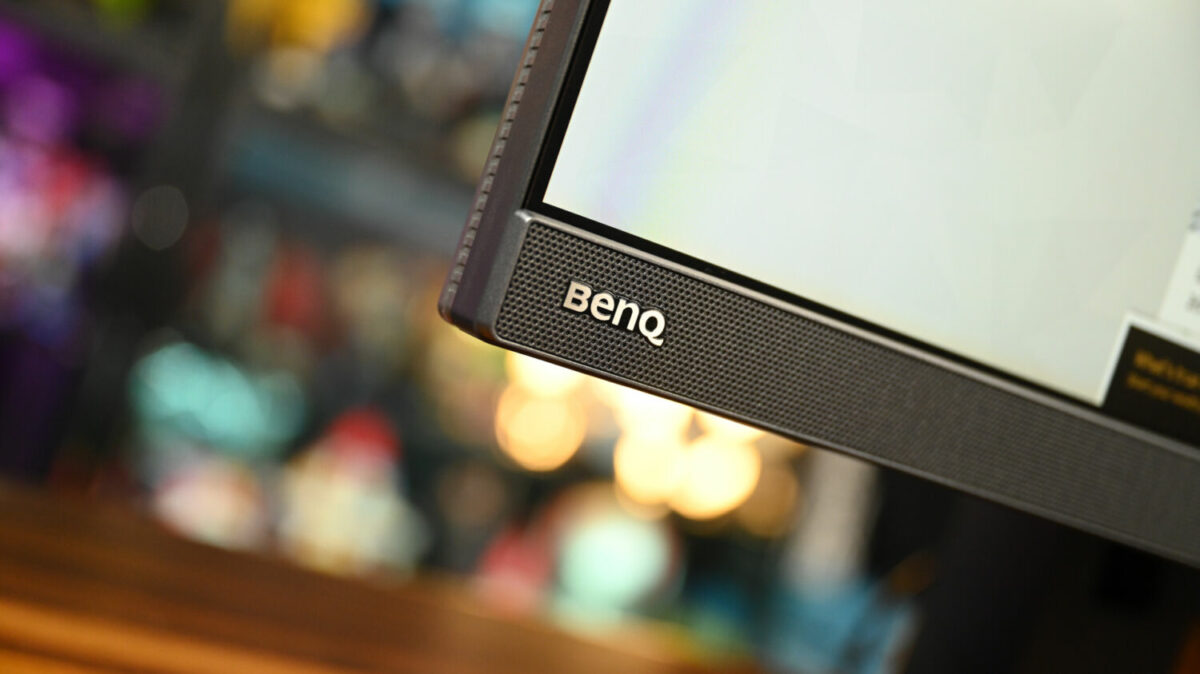 At S$1,199, the BenQ MOBIUZ EX270QM is a premium offering that packs in some nifty, top-of-the-line features. It looks good enough and plays well, finding its strength in motion clarity and built-in audio. The biggest letdown here would be its adequate-but-not-great image quality, especially for a build of this price, though competitive players might prioritise its overall utility above everything else. 
GEEK REVIEW SCORE
Summary
A competent 27-incher that performs to the best of its ability, the EX270QM falls short of achieving its full gaming potential due to some niggling issues.
Aesthetics -

8/10

Build Quality -

8.5/10

Performance -

8.5/10

Value -

7.5/10

Geek Satisfaction -

8/10