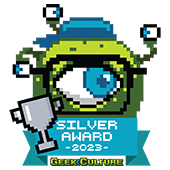 The ASUS ROG Zephyrus G14 (2022) is the latest iteration of the Taiwanese tech giant's 14-inch gaming laptop first released in 2020. Combining style and substance, the 2020 G14 was a powerhouse that managed to squeeze impressive specs in a thin and light chassis, and this 2022 version is no different. It brings incremental improvements to keep the ROG Zephyrus G14 competitive, and a prime choice in the field of highly portable gaming laptops.
Powered by an AMD Ryzen 7 6800HS CPU and 8GB AMD Radeon RX 6800S GPU, the ROG Zephyrus G14's performance leaves absolutely little to be desired. As is the norm for gaming laptops, when it comes to general use, creative, and productivity purposes, this laptop is able to hold its own comfortably. Our device, which runs on Windows 11 Home, handles the tasks of web browsing, movie-watching, and moderate Photoshop use with little to no issue.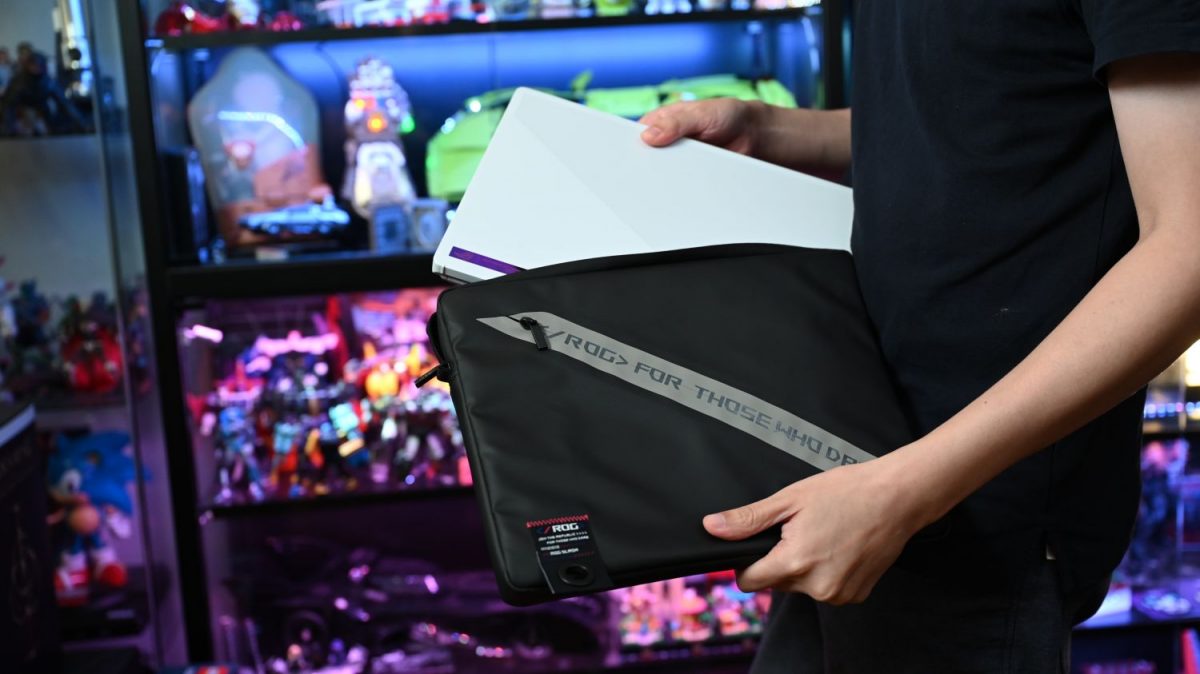 When it comes to gaming, the device is able to run Disco Elysium, Dragon Quest XI, and Apex Legends at the highest settings with close to no trouble at all while plugged in. Even the temperature, while it does get pretty hot after a couple of hours of gaming, never gets unreasonably so. The ErgoLift hinge also lifts up the bottom of the laptop for more ventilation. Besides, a gamer who is gaming on a 14-inch laptop, which is honestly a rather small size for a screen, is likely not looking to run the most demanding games on the highest settings. Due to the laptop's ability to handle both work and play well, this is a great device for those who find themselves wanting to switch between working and playing seamlessly on a single laptop.
This is one machine that performs solidly, and is able to handle most demands with ease. It, quite simply, works well.
Measuring in at 31.2 x 22.7 x 1.95cm and weighing in at 1.72kg, the ROG Zephyrus G14 also has a form factor that's easy to carry around, which is unlike some gaming laptops that may have the looks of a laptop, but are too hefty and bulky to comfortably carry around. After all, a 14-inch laptop is at a size where portability is of utmost importance, and in that aspect, the ROG Zephyrus G14 delivers. Its chassis is made up of aluminium, magnesium alloy, and polycarbonate, which means that it's built to be durable, and able to withstand being out and about often. One slight flaw with the material of the laptop is that due to the coating, the keyboard can feel a bit plasticky, but that of course is a minor point, and takes nothing away from the quality of the chassis.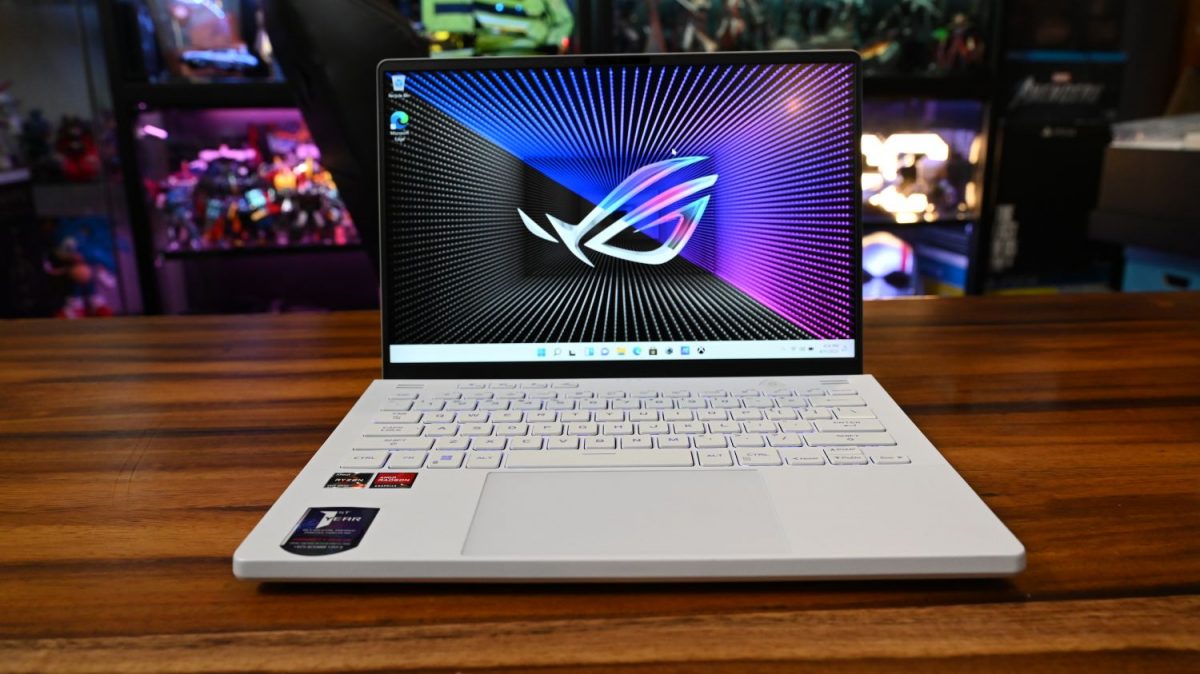 It is genuinely surprising how ASUS managed to pack this level of performance in such a slim form factor without compromising on battery life. The laptop easily lasts at least six to seven hours with moderate non-gaming use, and can last even longer if the GPU is toggled off with the MUX switch, and the RGB lightning of the keyboard is turned off. While gaming, it lasts at least 2.5 to 3.5 hours on a full charge. Battery life is usually the Achilles heel of gaming laptops, but the ROG Zephyrus G14 has overcome that weakness. The next frontier for gaming laptops will partly be extending the battery life until one no longer has to think about rationing it before bringing the device out for a full day.
As for the display itself, the 14-inch WUXGA (1920 x 1200) IPS panel has an aspect ratio of 16:10 and a 144Hz refresh rate with Dolby Vision support and Pantone Validated certification. The move from 16:9 to 16:10 in aspect ratio means that there will be thicker black borders when you watch widescreen movies, but it also means that it is easier to browse webpages since less scrolling will be needed, and browser tabs won't become overcrowded as quickly, which is a welcome quality-of-life improvement for a 14-inch laptop. It may not have the sharp visuals of an OLED panel, but it is definitely no slouch, and some users will prefer the anti-glare matte display. Being Pantone Validated also means that this can be a good choice for digital artists, since colour accuracy is an important consideration for them.
The audio is more than decent, with Dolby Atmos, AI noise-canceling technology, built-in three-microphone array, and a four-speaker system. It's not going to beat a dedicated headset, but as far as built-in audio systems go, it works reliably well.
While the fingerprint reader that's present in the 2020 version is removed, this new ROG Zephyrus G14 has added a 720p webcam which comes with facial recognition that works well, even when masked. Sure, the quality of the webcam isn't phenomenal, but it's more than sufficient and a much appreciated inclusion in a world where video conferencing has become much more common.
Ports-wise, the ROG Zephyrus G14 sports one 3.5mm audio jack, one HDMI 2.0 port, two USB-C 3.2 DisplayPorts, two USB-A 3.2 ports, and one microSD card reader.
All of the above makes the ROG Zephyrus G14 a really good gaming laptop. What makes it special is the AniMe Matrix LED display on the lid, which is essentially a customisable animated LED-based decal for users to show off a little. It can be customised through the ROG Armoury Crate app, and the display can show images from the user's gallery converted into 8-bit graphics. There are other options too, such as rolling text or unique images that change based on the app the user is using. There is, in all honesty, no real practical value in this stylish display. However, for those who enjoy the unique aesthetic potential and like to make their laptop uniquely theirs in a clear and open manner, this is definitely the feature for you.
For S$3,298, the ROG Zephyrus G14 is a great choice for a portable daily workhorse that can handle both work and games well with a robust battery life. The AniMe Matrix display also gives users room for personalisation, a feature that speaks to the highly personal nature of laptops nowadays. While primarily a gaming laptop, this is a device that managed to shed the main weaknesses associated with gaming laptops, and is more like a jack-of-all-trades that shapes future expectations for gaming laptops.
GEEK REVIEW SCORE
Summary
The ROG Zephyrus G14 is a great choice for a portable daily workhorse that can handle both work and games well with a robust battery life. The AniMe Matrix display also gives users room for personalisation, a feature that speaks to the highly personal nature of laptops nowadays. This is a device that will shape future expectations for gaming laptops.
Aesthetics -

8.5/10

Build Quality -

9/10

Performance -

9/10

Value -

8.5/10

Geek Satisfaction -

9/10