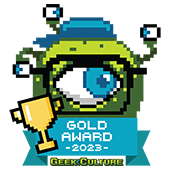 When it comes to notebooks, practicality always trumps aesthetics but in an era when most notebooks are able to cater to productivity and even gaming needs easily, it's all the extra qualitative pushes that make a notebook stand out from the rest, and this is especially true for high-end notebooks like the ASUS Zenbook 14X OLED Space Edition (UX5401ZAS).
Why the fancy name? The Space Edition commemorates the 25th anniversary of the first ASUS laptop sent into space way back when, offering a stunning space-themed design on the lid and keyboard, with a smaller 3.5-inch OLED display on the lid that shows personalized notifications. Think of it as a spruced up version of the regular edition, minus ASUS' proprietary ScreenPad 2.0 which uses the trackpad as a second screen. As with the name, the unit sports the visually stunning 14-inch 2.8K OLED HDR touchscreen display, which has a 16:10 aspect ratio and a native resolution of 2880 x 1800.
Visuals are sharp and vivid, with phenomenal colour accuracy that got the notebook a Pantone Validated certification. Using the Zenbook 14X OLED Space Edition to watch shows, be it animation like Bubble or live-action spectacles like Moon Knight, or even reading comics, is a joy especially with the thin bezels that achieve a 92% screen-to-body ratio. The experience is further enhanced by the 90Hz refresh rate (which can be set to 60Hz to preserve power) and the touchscreen, making navigation highly convenient. The visuals, along with the touch controls, make for a device that is effective for digital artists who demand accurate colours and intuitive controls.
There is also a fingerprint sensor integrated into the power button, positioned at the upper right corner of the keyboard, and it is more comfortable to use compared to notebooks with power buttons positioned along the left or right edge, as there is no need to worry about accidentally turning the notebook on. The Space Edition also did away with an IR-capable camera, instead sticking with a standard 720p HD camera. One feature that we wish it would have is a physical privacy shutter, simply due to the extra feeling of security that would give for a productivity-focused notebook.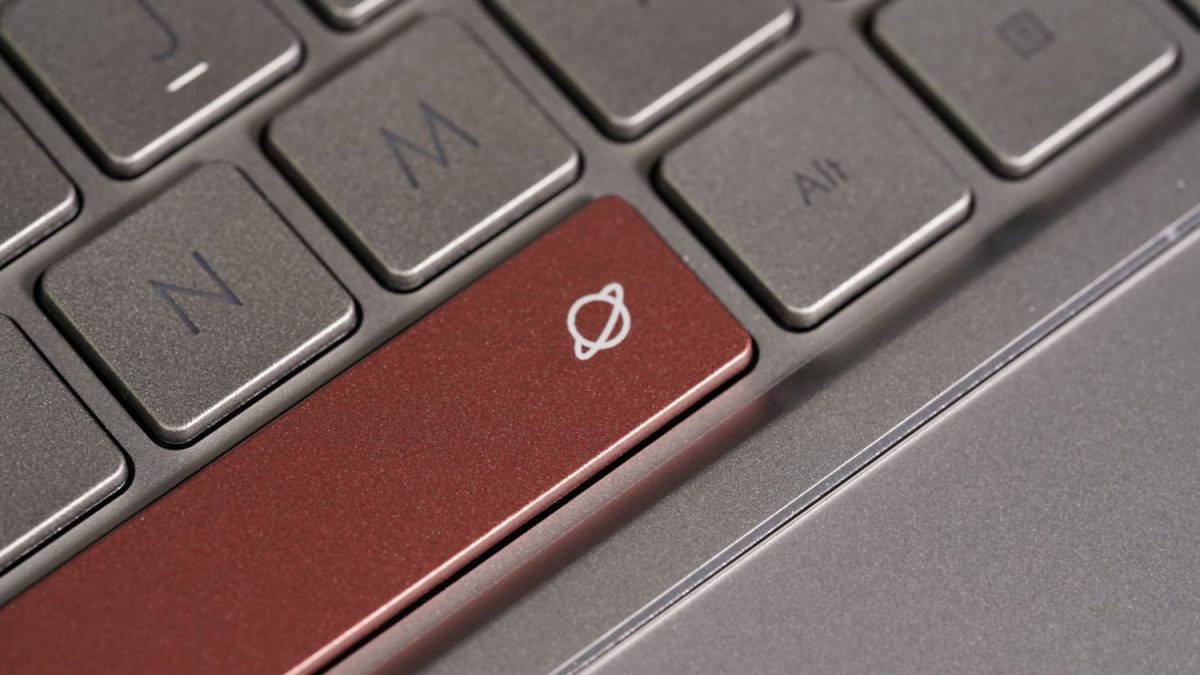 Our review model runs Windows 11 Home operating system, powered by a 12th Gen Intel Core i7-12700H 2.3GHz CPU and the Intel Iris Xe GPU. It is an excellent workhorse that has no problem handling web browsing, watching videos, office-related applications, and editing on Photoshop. The PCMark 10 benchmark test places the Zenbook 14X OLED Space Edition at 5,474 overall (10,097 for essentials, 6,811 for productivity, and 6,473 for digital content creation), which is above the average of 5,100. It's safe to say that general performance is robust, and our user experience over the course of two weeks corroborates that.
As for the GPU benchmark, it has a score of 5,669 on 3DMark Fire Strike which is average for a device of this type, and actual gameplay experience on the Zenbook 14X OLED Space Edition is generally smooth, running games including Disco Elysium and Dragon Quest XI well. One thing to note is that battery life takes a hit, from six to seven hours with light to moderate use, to two to three hours with those games running on the highest settings. Also, while gaming, the notebook does heat up to rather uncomfortable temperatures, but non-graphics intensive games generally do not have this issue. Thus, for those who want to enjoy the OLED visuals on lighter games, this is a notebook that actually delivers surprisingly well.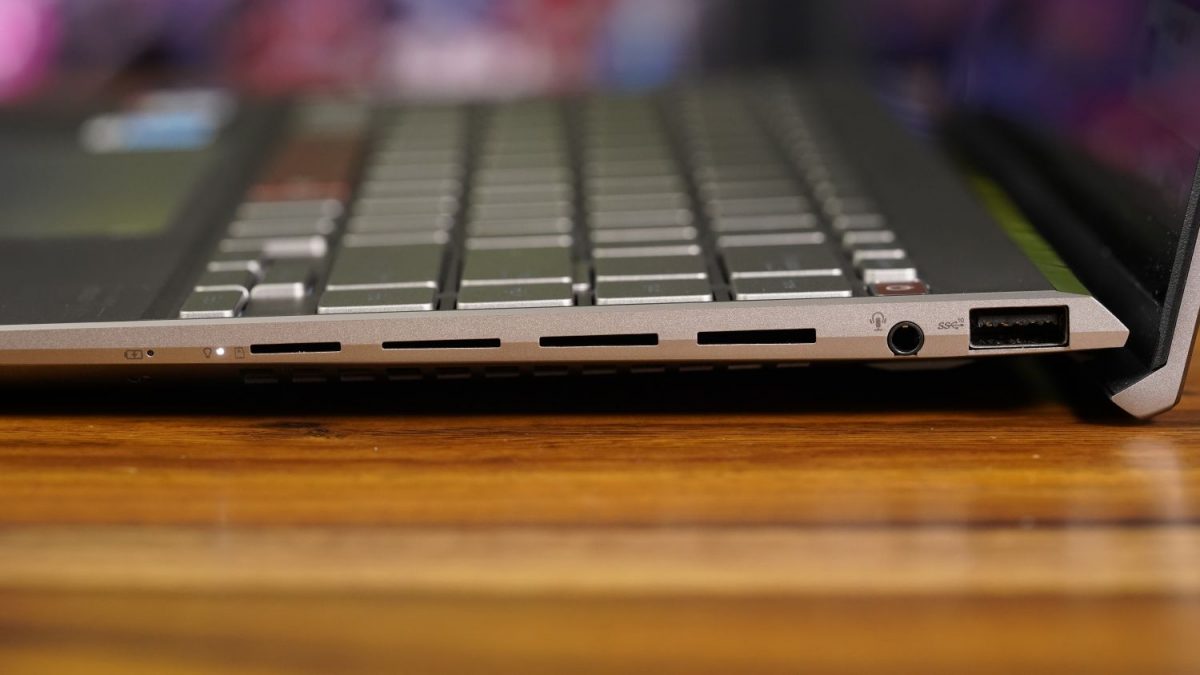 Other than with intensive gaming, the cooling system is generally good, aided by the Ergolift hinge that lifts the bottom of the notebook up a bit when the screen is opened, for both better ergonomics and ventilation. The IO and hot air exhausts are placed along the left and right edges, which dissipates heat consistently and well, and while sometimes the hand using the mouse can feel the hot air coming out, it's never too hot for concern, and it keeps the notebook at a stable temperature.
The audio, by Harmon Kardon, is surprisingly good. The stereo speakers are blasted out of grills along the underside of the notebook, and due to the Ergolift Hinge plus the angled shape of the D-Panel, sound bounces off the table well and while on one's lap. The notebook is capable of blasting audio at a decently high volume, but parts of the audio will be crushed when it's too loud. Sure, it can't beat a dedicated pair of speakers or proper headphones, but for a highly portable 14-inch notebook, this is probably as good as it gets.
Ports-wise, there is one USB-A 3.2 port, two USB-C 3.2 with Thunderbolt 4 ports, one HDMI port, a microSD card reader, and a 3.5mm audio jack. It's a standard set of ports one would expect from a notebook. It is also WiFi 6E ready, so there's futureproofing in that regard.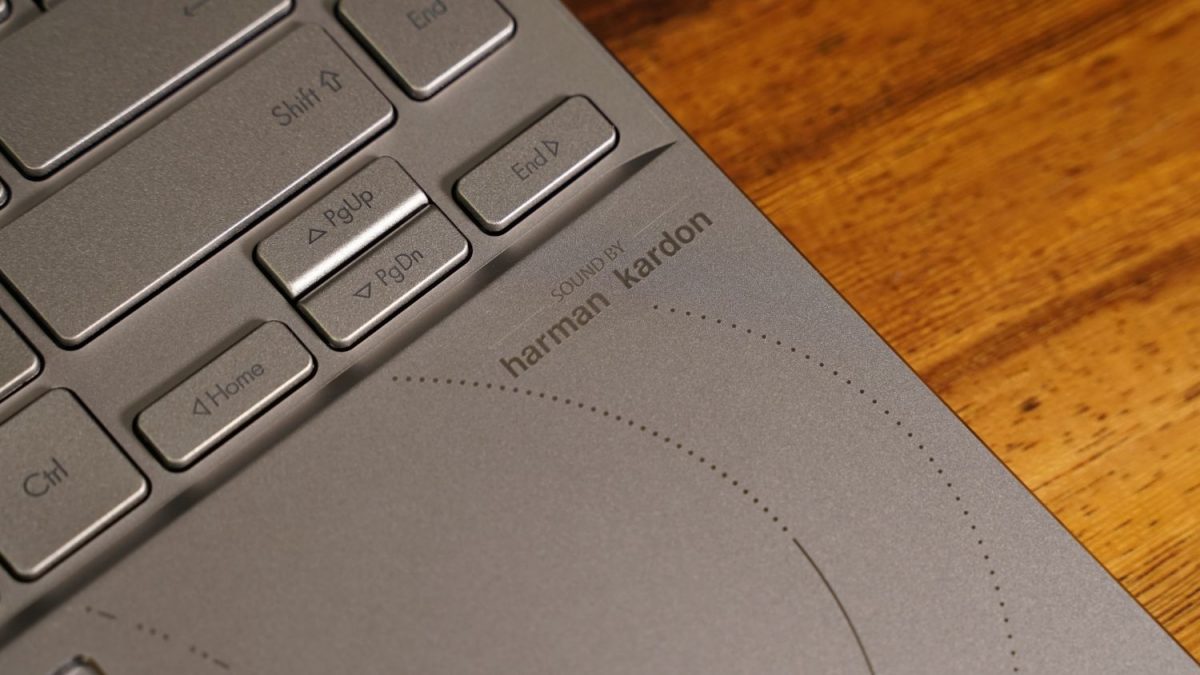 With a 16GB LPDDR5-4800 MHz memory and 1 TB PCIe 4.0 x4 NVMe M.2 SSD, the hardware is definitely more than enough for most purposes. Portability is also excellent here, with the notebook weighing a mere 1.4kg, wrapped by a sturdy and durable aluminium alloy chassis with a matte texture that doesn't smudge easily and is easy to grip. There is little flexing if at all, and ASUS claims that the Zenbook 14X OLED Space Edition has space-grade durability, which means it's able to be operational in the harsh conditions of space. Well, we definitely cannot test that but the unit is capable of withstanding temperatures ranging from -24 to 61 degrees Celsius and vibrations of between 20 to 20,000 Hz. While we are not going to subject ourselves to extreme temperatures to test out the claim, the build and design of the notebook do inspire confidence, and we don't feel like this is a notebook we need to baby when we are out and about.
One big difference between the Space Edition and the regular one though, is that instead of the ScreenPad 2.0, the Space Edition sports the NumberPad, which is built into the trackpad itself. While one would expect that this overlapping functionality would be clunky, that's really not the case at all. Sure, it'll take some getting used to, but once one gets used to the way it works, the NumberPad actually detects user intent well, and seldom inputs a number instead of a click or vice versa unintentionally. This is one feature that will be useful for someone who frequently fills in spreadsheets with numbers while on the go.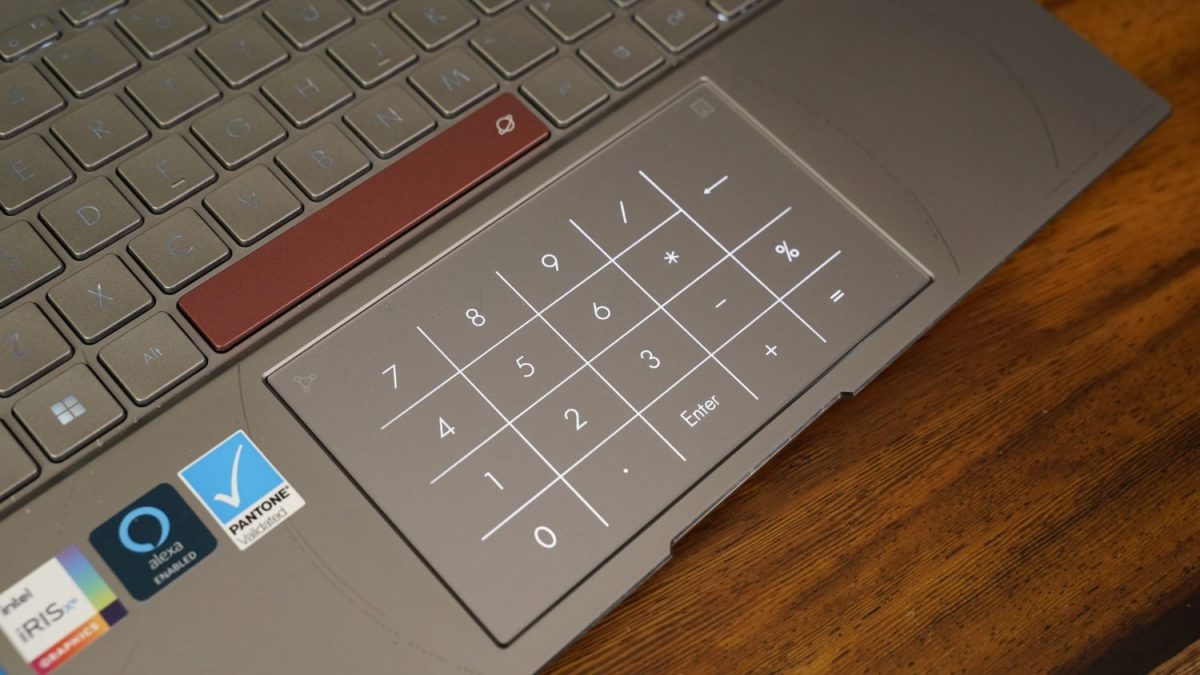 Finally, let's talk about all the interesting extras, starting with the 3.5-inch OLED ZenVision display panel, which supports 256 x 64 resolution. It is an extra display on the back of the main display which can be customised on the MyASUS software to show an animation, a business card, custom QR code, the date and time, or a custom message. Honestly, there isn't much practicality to this display. It is almost purely for the unique eye-catching aesthetic, much like having a fancy smartphone case. Once that excitement is over, it merely brings a smile to our faces knowing that there's an adorable astronaut floating around in outer space on the lid of our notebook.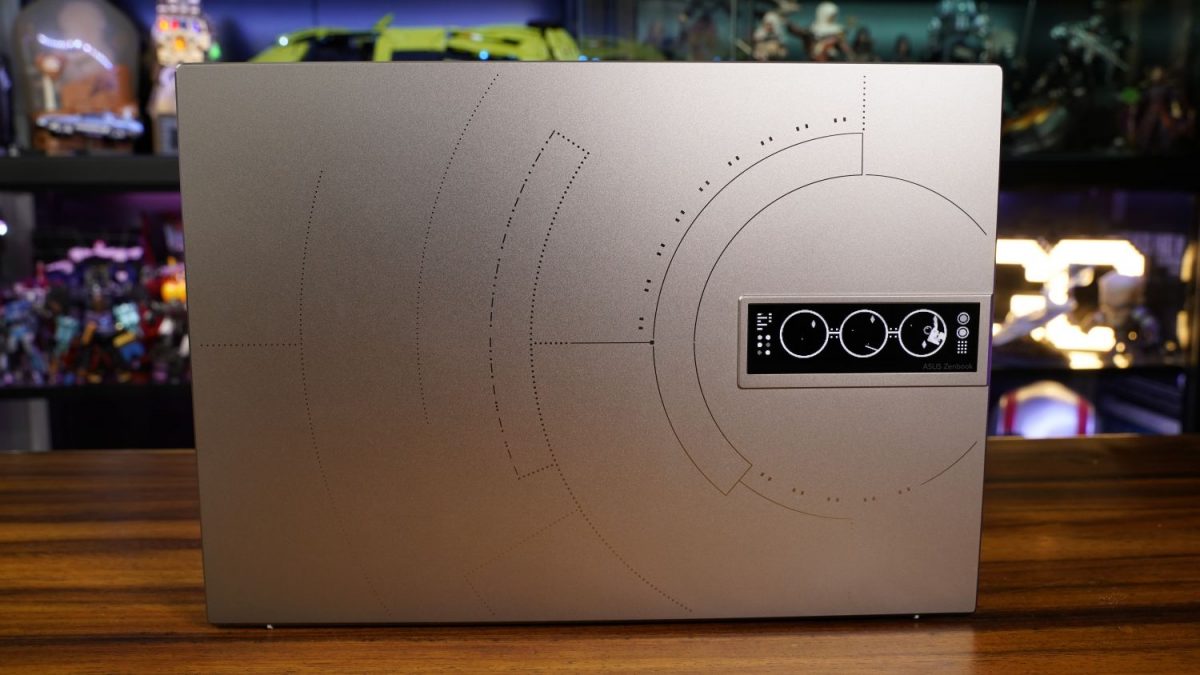 There are various space-themed accents and design elements all over the chassis, with a bit of morse code that spells out "ad astra per aspera", which means "through hardships to the stars". These design elements are more than welcome, and do make using the notebook feel like a premium experience. The only bit of flaw is with the accent to the left of the NumberPad, which could be mistaken for a strand of hair when seen from one's peripheral vision, leading to quite a few moments of suspicion that one is going through hair loss.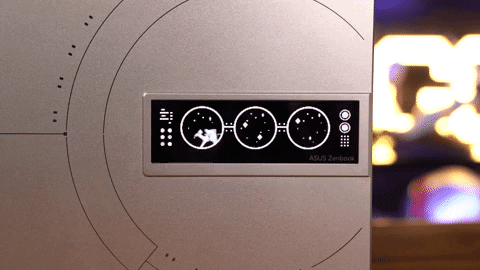 At S$2,698, what it ultimately boils down to is if you are willing to fork over an extra S$300 for aesthetics and incremental improvements, since the regular Zenbook 14X OLED retails at S$2,398. This notebook isn't going to cut it for hardcore gamers, but for those who find themselves wanting a durable, highly portable notebook for everyday use, and derive a certain experiential pleasure from owning and using pretty things, this is definitely a notebook worth considering.
GEEK REVIEW SCORE
Summary
What the Zenbook 14X OLED Space Edition ultimately boils down to, is whether one is willing to fork out an extra S$300 for aesthetics and incremental improvements. For those who find themselves wanting a durable, highly portable notebook, and derive a certain experiential pleasure from owning and using pretty things, this is definitely a notebook worth considering.
Overall
9.2/10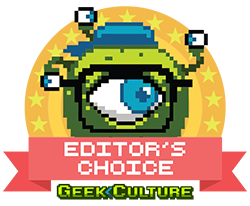 Aesthetics -

10/10

Build Quality -

10/10

Performance -

8/10

Value -

8/10

Geek Satisfaction -

10/10