What's the point of touting an ultrathin portable that lacks any sort of power? That's the question Taiwan tech giant Asus hopes to solve, with the ROG Strix GL502VS. This latest thin and light laptop boldly ventures into the gaming notebook territory, and weighs in at just 2.24kg.
This is deceivingly light for a 15.6-inch laptop, and comes in at a ridiculously thin 23.5mm. Talk about compact.
Keeping with the ROG spirit, the most recognisable thing about this line of machines are the retina-searing orange accents, which complements the black brushed aluminum finish of the top lid. It also features the Republic of Gamers branding engraved onto the flat edge of the top lid. The top lid is made of metal with a brushed finish, thereby giving it a premium and quality feel.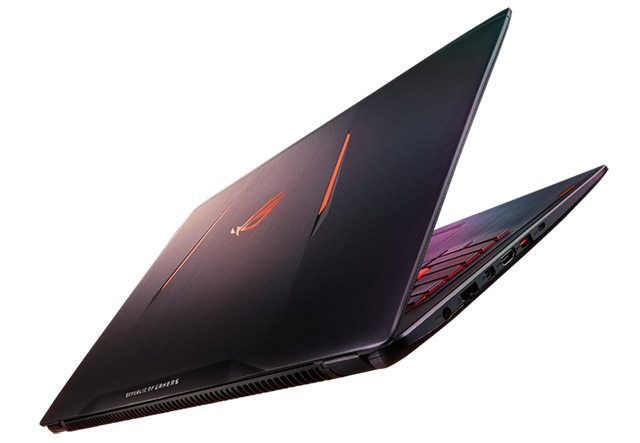 The rest of the laptop's chassis is made of plastic though, but I suspect that instead of seeing it as a cost cutting measure, Asus did it more as a weight reduction feature. This allows the gaming laptop to maintain its lightweight profile.
Unlike most thin laptops that stack the ports in the rear, the rear here is reserved for both massive heating vents, which also carry an orange accent around them. On the left of the laptop, users will find the AC power in, Gigabit Ethernet, a mini DisplayPort, HDMI 2.0, USB 3.1 Type C and a USB 3.0 Type A with AI charger. This particular port charges connected devices even when the laptop is off.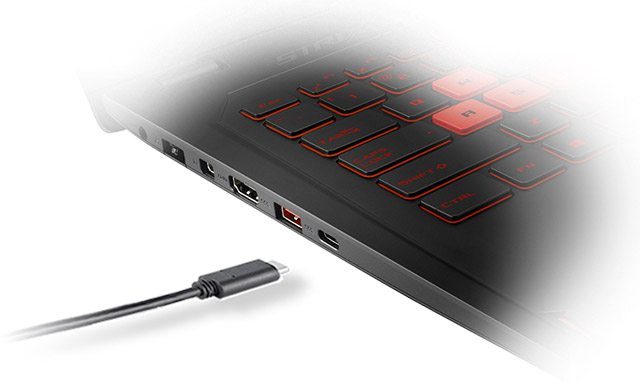 On the right side, users will find a Kensington lock port, a 2-in-1-card reader, 2 more USB 3.0 Type-A ports, as well as under the lid is a full sized Chiclet style, backlit keyboard with number pads, but now with the WASD keys in the same retina-searing orange, as well as a slightly depressed touchpad area.
Coupled with its specs, this might just be the most portable gaming laptop we've reviewed so far.
Benchmarks and Testing
We placed this machine through its paces, using synthetic benchmarks such as Unigine Heaven Benchmark and CineBench, as well as real-life benchmarks such as DOTA 2 and Overwatch.
CineBench
– Open GL Score: 58.73 FSP
– CPU Score: 659CB
Ungine's Heaven Benchmark (Full Screen, Ultra Presets)
– FPS: 58.0
– Score: 1462
– Min FPS: 8.7
– Max FPS: 63.0
DOTA 2 (Patch 7.00) Maxed Settings
– Average FPS: 59
– Min FPS: 56
– Max FPS: 63
OverWatch Epic Settings
– Average FPS: 57.1
– Min FPS: 56
– Max FPS: 60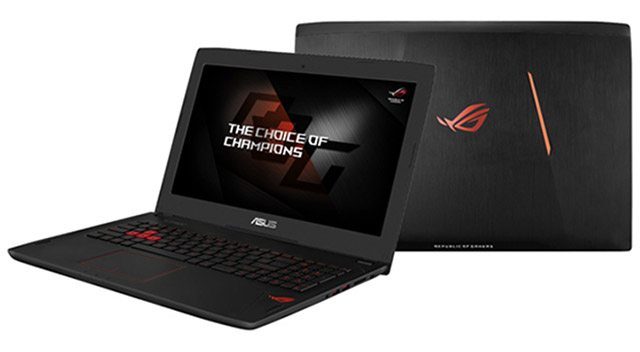 The Pros
Gaming on the GL502 is quite enjoyable, all thanks to the NVIDIA GTX 1070 which produced silky smooth graphics, whether it was on Overwatch or DOTA 2. In fact, I found that I was hitting the monitor's max refresh rate of 60Hz constantly, even during big team fights and clashes. While some might quibble over a Full High Definition screen used here, I think Asus made a good choice in having a 1080 resolution display, as it allows the graphics card to operate optimally, instead of being heavily taxed if it were to be used on a higher resolution screen, such as 1440P or even 4K.
The speakers on this machine is much better than on previous Asus laptops, due to the more forward facing speaker grills, which allows the sound to be directed at the user, making it sound less muffled than before.
The Cons
The thinness comes with a price and while there is plenty of ventilation, the laptop does get pretty toasty during gaming or any CPU intensive task, with temperatures shooting up to 97ºC.
The other con is that the display, which is G-sync enabled but capped at 60Hz, is quite a waste, considering that the GTX1070 can easily push out more frames on this. Lastly, the smaller than usual left shift key would need some getting used to, as it is half the size of regular shift keys. I found myself mistakenly hitting the Z key a couple of times, and had to constantly remind myself of the smaller than usual shift key.
The Verdict
The Asus ROG Strix GL502 is an interesting laptop. It shows how far gaming laptop makers have come, when the very definition of a gaming laptop creates the notion of a 17.3-inch, 5kg beast of a laptop containing a marginally performing graphics card that also doubles as a heater.
Then we have the GL502, a thin, 2.25kg laptop that has a GTX1070 graphics card, which itself is just a tier below the flagship GTX 1080 range. With CPU and GPU technology getting more advanced, we would love to see a 14-inch model in future iterations, and Asus seems well equipped to someday produce that.
The ASUS GL502 Strix is now available at all authorized resellers. Prices start from S$2,498.
Specifications
Intel Core I7 6700HQ Processor (6M Cache, up to 3.50 GHz)

15.6" (1920 x 1080) HD 60Hz Matte, reflection-free IPS panel with G-sync

32GB Samsung DDR4 2133MHz RAM (16GB*2, expandable up to 64GB)

NVIDIA GTX 1070 8GB DDR5 Graphics Card

Custom full-size backlit keyboard with 1.6mm key travel and 30KRO

256GB SANDisk M.2 Drive

1TB HGST 2.5" Laptop Drive

Dual 18mm 2W speakers

Intel 8260 802.11ac dual-band Wi-Fi + Bluetooth 4.1 + Wi-Di
---

Drop a Facebook comment below!