Gone are the days of hefty, rectangular-cut gaming desktops. That conventional design is a thing of the past, paving the way to more lightweight, compact builds that sport a sleeker, and at times, quirker aesthetic.
Chinese tech giant Lenovo recently incorporated a cuboid desktop design for its upcoming C530 and C730 models, in the name of portability. Just like many DIY machines that have popped up, the focus is with on-the-go convenience and a slimmer cut, together with retaining the element of symmetry.
The ASUS ROG Huracan (G21), however, does away with that. Sporting a subtly bold design, ASUS' new desktop offering comes in an asymmetrical build, with one side protruding higher than the other, with a dip at the top that slenders into a small 'V' indent. Those who have been keeping an eye out for existing ROG rigs will find the signature Mayan-inspired styling a familiar sight, which also falls in line with the naming convention, considering how Huracan is the god of wind, storm, and fire as dictated by Mayan mythology.
One of the more eye-catching characteristics of the compact rig is its crisp, angular features that try to spell out the theme of cyberpunk. Coupled with a two-toned surface shine, the otherwise minimalistic design boasts a dash of sophistication and personality, with sharp, pointy edges abound, so users may want to exercise caution when reaching for the corners, or areas near them, such as the power button.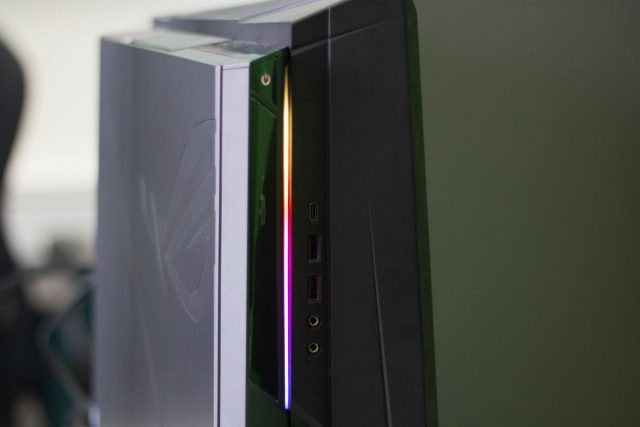 Accompanying that is a bevy of I/O ports on both the front and back panels. Armed with one USB 3.1 (Gen 1) Type C, two USB 3.1 (Gen 2) Type A, and a solo two-in-one-audio port in the front, followed by the additional rear boost of a three-in-one audio jack, two USB 3.1 (Gen 2) Type A, four USB 3.1 (Gen 1) Type A, two DC input jacks, one S/PDIF, and one RJ45 LAN port, there are plenty of file transfer options to go around, and more than enough room to hook up to external monitors.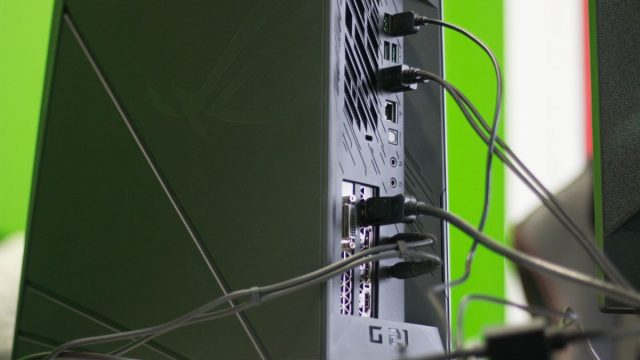 Wire tangle, in this case, is naturally inevitable, but the extra outlets do make for a handy addition outside of gaming, especially with the rarely-seen front-residing optical drive in tow.
The standout feature of the Huracan, however, is the magnetic flap on the side. Unlike the transparent, see-through surface found in typical gaming rigs, this one allows users to fold it up for improved airflow and to activate the Aura Sync lighting effects. It's a neat little touch that's not without its flaws – the metal bars hidden beneath the cover obstruct the viewing of the insides in its entirety, and the dulled multi-colour lighting means that a toned-down RGB experience is in store, though the latter may be more of a boon than a weakness, depending on one's preference for lighting intensity.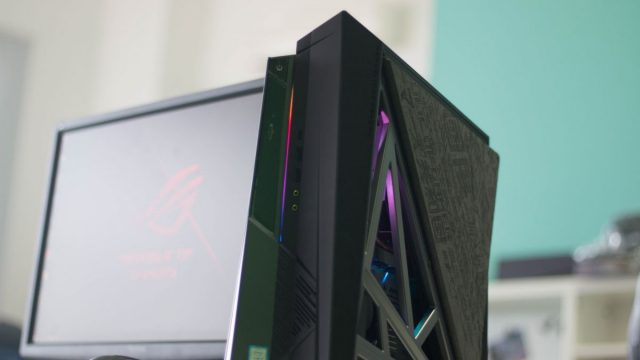 Built with customisation in mind, the aforementioned metal frame can actually be manually taken out. The issue at hand, thus, is not about its implementation, but more so on its method of removal: having it nailed into place with a handful of screws makes it a hassle to be detached, more so for newcomers to the DIY culture. And prior to this, a sort-of black cardboard sheet has to be removed first so unfortunately, user convenience takes a hit here.
Weighing in at 8.3kg, the 13-litre gaming desktop may not be as lightweight but its chassis is still sufficiently portable to be easily lifted up, though, with a metallic imprint of the ROG logo on the other panel serving as a polished finish to the whole package.
As a whole, setup is relatively simple, although the process could also be more fuss-free. Apart from the effort needed to pry open the metal casing, sliding off the panel housing the hardware components wasn't as slick as expected, too, which makes the build-it-yourself experience slightly less smooth.
Running on a combination of an i7 Intel Core hexa-core processor and NVIDIA GeForce GTX 1080 graphics card, ASUS has managed to pack a hard punch into a more compact unit. But with huge power comes huge electricity consumption, and the Huracan requires two 180W adapters to be fitted for operational purposes. In other words, the power brick would need to be plugged into two ports to work; coupled with monitor, the entire setup will take up a total of three power outlets. It's more than a little inconvenient, and the hefty extra weight is certainly not helping matters. This is a common issue across all smaller-form desktops, however, so it's only expected that ASUS' offering is suffering from the same fate.
Thankfully, the Huracan's exceptional performance compensates for these flaws. Taking the beast of a rig for a spin yielded the following impressive benchmark results:
Cinebench R15
Open CL Score: 121.90fps
CPU Score: 1163 CB
Unigine Heaven 4.0 (Full Screen, Ultra Presets)
FPS: 160.9
Score: 4052
Min FPS:35.5
Max FPS: 298.9
The above numbers are translated into a rich experience when carried over to select test titles, such as Doom, Overwatch, and Rise of the Tomb Raider. All three ran buttery smooth at 60 fps on Ultra and max settings, with zero lag and stutter observed, even as the heat temperature went up. Frame rates clocked in solid and consistent readings, and overheating was never a problem for the desktop.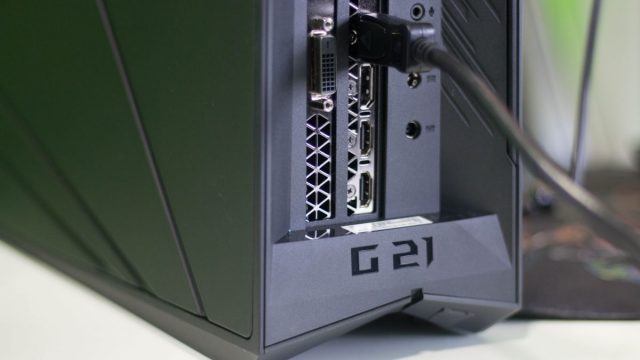 Having said that, there were times where the fans can get rather loud, especially when the Huracan was subjected to the benchmark tests. Between lifting up the magnetic sleeve and keeping it in place, little disparity was spotted, though the ROG Gaming Centre app did note some slight differences in the form of numbers, such as the cooling rate of the CPU, fan noise, and the maintenance of temperature levels over time.
It's to be noted that every test mentioned here was operated on the following hardware specifications:
8th Intel Core i7-8700 hex-core processor
NVIDIA GeForce GTX 1070 graphics card
16GB RAM
2TB SATA HDD
256GB SSD
Tagged with the hefty price of S$2,798 – or S$3,298 for the upgraded GTX 1080 and 32GB RAM variant –, the ASUS ROG Huracan (G21) gaming desktop may be little costly, but comes with the promise of quality in tow. Elegant aesthetics, remarkable performance, a smaller, lighter form factor, and the bringer of ports, it easily meets the needs of both the casual and more hardcore audience of the gaming community.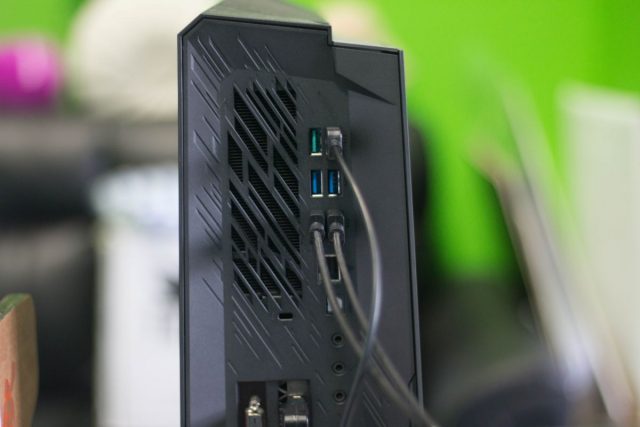 For those willing to throw their money into the pit, this would definitely be a viable choice and quite the worthy investment – if a blind eye can be turned to the minor setup and power brick flaws.
GEEK REVIEW SCORE
Summary
Unlike its namesake, the ASUS ROG Huracan (G21) is not quite of god-tier status, although it has the mix of all the right elements to become a near model of it. Brought down by minor flaws, the sleek, powerful, and slim desktop model is more than well-equipped to serve gamers, albeit with a high starting price to consider.
Aesthetics -

8/10

Build Quality -

8/10

Performance -

9/10

Value -

8/10

Geek Satisfaction -

8.5/10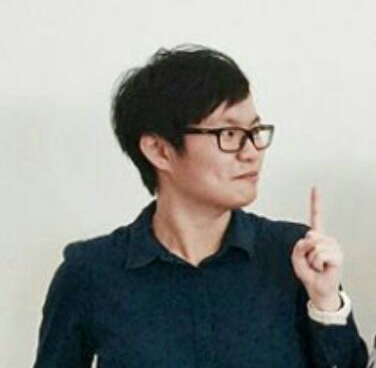 Si Jia is a casual geek at heart – or as casual as someone with Sephiroth's theme on her Spotify playlist can get. A fan of movies, games, and Japanese culture, Si Jia's greatest weakness is the Steam Summer Sale. Or any Steam sale, really.
---

Drop a Facebook comment below!