The latest iteration of ASUS's unique water-cooled laptop, the GX800 is the direct successor to the company's first water-cooled laptop, the GX700. You don't remember the GX700? It's so massive, it actually comes with its own suitcase, to house the laptop, charger and its watercooling dock.
Let's take a look at what has changed, and more importantly, what hasn't.
The exterior design is similar to the GX700, from the ROG logo with the orange light bars that run parallel to it, to the titanium plasma color scheme that ASUS is currently using in most of its ROG line of laptops and desktops.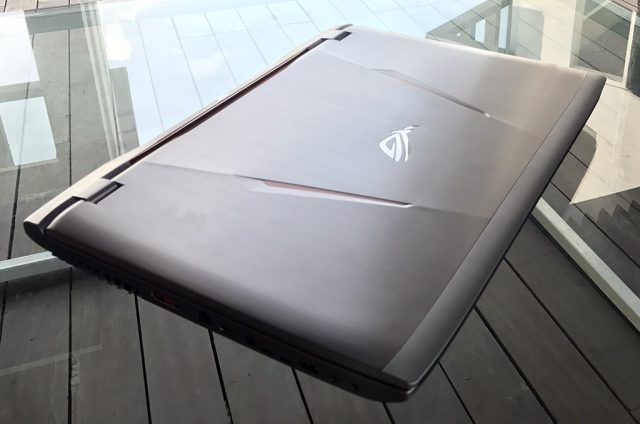 Wait, what about their massive Hydro Overclocking Dock? Well, the bad news is, it's still here. The good news? There's no visible change to that as well, which is well and good, as to why fix something that isn't broken.
Lifting up the lid, users will immediately notice the first change that ASUS has made – the keyboard. Gone is the chic-let style keyboard, which has been replaced with ASUS's new MechTAG Keyboard, a newly designed mechanical keyboard that provides the feel of a mechanical keyboard, but is smaller so it doesn't make the GX800 any larger than it already is.
The new keyboard is also individually backlit, with RGB effects to keep up with the ongoing RGB craze. The new keyboard is quite interesting as ASUS is using its proprietary switches, which appears to have a lower profile than the traditional cherry MX switches. Typing on the keyboard feels very different from the traditional cherry MX switches, as it feels less responsive and lacks the firmness of the cherry MX switches. Some users would need some time to get used to this.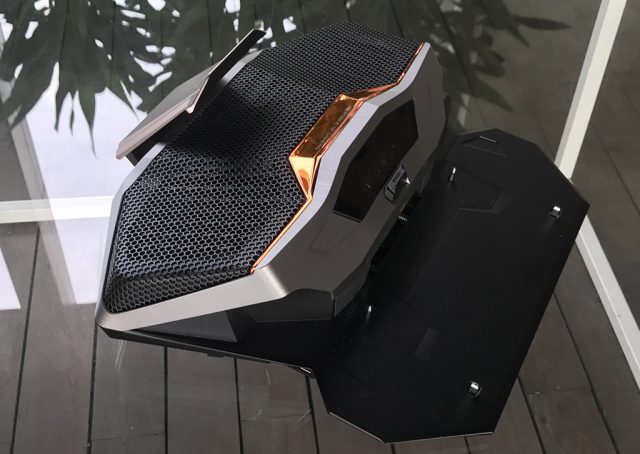 But the biggest thing about the GX800 is still the suitcase, but there is a catch this time. This time around, you cannot pack the GX800 into it, as it's way too big. This means that you have to pack the laptop into the backpack, and lug this 5.7kg behemoth separately, along with the included 330W power brick, which weighs about 1kg on its own.
Under the hood, the new GX800 spots larger muscles than its predecessor and part of the new changes include a newer generation of overclock-able laptop processor, the new I7 7820HK that supports 2 x GTX1080s in SLI mode.
Yes, you're reading this correctly – 2 GTX1080s in SLI in a single laptop. The GX800 also comes with 64GB of DDR4 RAMs, and 3 NVMe SSDs in RAID 0 giving it a combined storage of 1.5TB.
Here's what our review unit offered in terms of hardware:
18.4-inch (16:9) 4K UHD (3840 x 2160 pixels) Anti Glare IPS LED panel with G-Sync
Intel Core i7-6820HK Processor 2.7Ghz (8M Cache up to 3.6Ghz Turbo) Unlocked for up to 4.1Ghz (We understand that the retail unit will ship with Intel Core I7-7820HK Processor 2.9Ghz (8M Cache up to 3.9Ghz Turbo) Unlocked for up to 4.1Ghz
64 GB DDR4 2133Mhz RAM
2x NVIDIA GTX1080 with 8GB VRAM in SLI
Custom RGB LED backlit full-size Mechanical keyboard with 30 Key Rollover and ROG AURA Sync
3x NVMe M.2 PCIe 512GB SSD Raid 0
3x USB 3.0 ports
1x USB 3.1 Type C port
1x USB 3.1 Type C with Thunderbolt
1x Microphone Jack
1x Headphone Jack
1x RJ45 LAN port
1x HDMI
1x Mini Display Port
1x SD Card Reader
1x External WIFI Antenna
Performance (Undocked)
Running Cinebench R15, the undocked GX800 demonstrates how its able to hold its own against a desktop I7 7700, by coming in at a respectable 839cb vs 90cb in the CPU benchmark. This is a truly impressive feat, considering it's a laptop processor.
In our graphics test using Unigines' Heaven Benchmarks, the GX800 absolutely crushed the scores of the GX700, with a score of 1226 vs 584, which is a 200% increase in performance. This is largely due to its 2 X GTX 1080s in SLI.
Performance (Docked)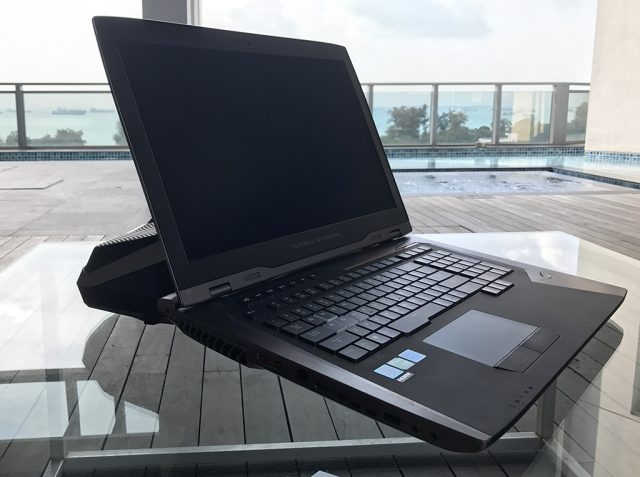 Repeating the Cinebench R15 test, the performance of the docked GX800 is closer to our desktop counterparts, at 863cb vs 901cb. Users should take note that while docked, the GX800 is automatically overclocked, thus yielding better results. Advanced users might still be able to squeeze more performance out of it, if they apply a slightly more aggressive overclock, however, your mileage may vary.
In the graphics test, the GX800 shows an even bigger jump nearly, tripling its own undocked scores, coming in at an insane 3139. This score is even higher than some of the other desktop GTX1080 scores out there. This is a very impressive feat considering laptop graphics cards are usually perceived to be slowly than their desktop counterparts.
Audio
Speakers on this bad boy are decent, with the speakers located at the front of the laptop towards the user allowing for less muffled sounds. It is however lacking in the bass department, with bass rich music such as hip-hop sounding a bit light, which might also affect gaming experiences such as gun sounds and explosions. Users might have a better experience using their own headphones pairing them with ASUS's ESS Sabre DACs, which boast high Dynamic Ranges, improved bass delivery and less noise.
Conclusion
The GX800, like the GX700, is quite an interesting laptop, as it defies the traditional laptop design. If the GX700 is a proof of concept, then the GX800 very definition of what is possible, packed in a massive suitcase, that ironically, won't fit everything. Everything from the 2 massive power bricks, the liquid cooling dock, the 2 GTX 1080s and the external WIFI antenna, are there just to prove that ASUS has the engineering expertise to do it.
The GX800 is very similar to a Bentley – unbelievably huge, exceptionally fast and insanely expensive, and only for those who can afford this, If you bring this to a LAN party, it's akin to bringing a tank to a knife fight. But the GX800 truly shines when it docked, during which it can unleash its full arsenal on its enemies.
Those of you who are thinking of getting your hands on one better act fast, as there is limited number of units available. The ASUS ROG GX800 is priced at S$9,498 and is available at all ASUS Authorized Resellers.