The more things change, the more they remain the same. Security cameras have come a long way, from the days of tedious pairings and rather complicated set-ups, to cheap systems that you can easily pick up for less than $100. But Arlo, with its wide range of security cameras for both outdoors and indoors, shows why its S$399 camera is still one of the better ones in the market.
The first thing that sets the Arlo Pro 4 apart from the earlier models? This unit connects directly to your Wi-Fi network, without the need for a hub. And without the need for a complicated set-up that involves your router, smartphone, camera and the hub, connecting the Pro 4 to my home network was a breeze. All you need to do is download the Arlo app, follow the instructions and pair the unit directly.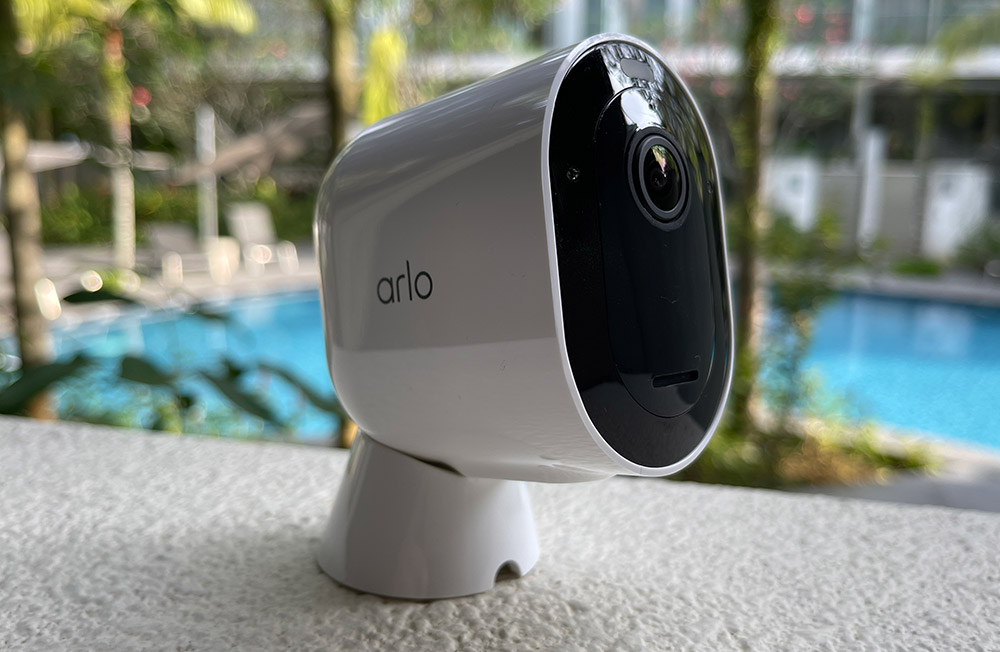 Each Arlo camera comes with several pieces that you need to piece together, like an entry level LEGO set. Out of the single camera box, there's a camera unit with a removable shell, which looks identical to the Arlo Pro 3. The palm-sized unit comes with a 160-degree wide angle camera that you can select to use, and a 3.85V 4800mAh 18.48Wh rechargeable lithium polymer battery. Simply pop open the shell from the unit, slot in the battery and reattach the shell. On the front, a blinking blue light indicates that the camera is ready for pairing.
Along with the unit comes a small magnetic mount, and a proprietary charging cable. The mount is for you to attach to a wall, to hold the Arlo Pro 4. The great thing about a magnetic mount is that you can tweak the camera's position ever so slightly, to always grab that perfect angle, and even if you have no intention of mounting it with screws on the side of the wall or at the top of your door frame, the mount can rest on a flat surface, to 'stand' the Arlo Pro 4 if you place it on a shelf or inside a glass display cabinet, to remain inconspicuous.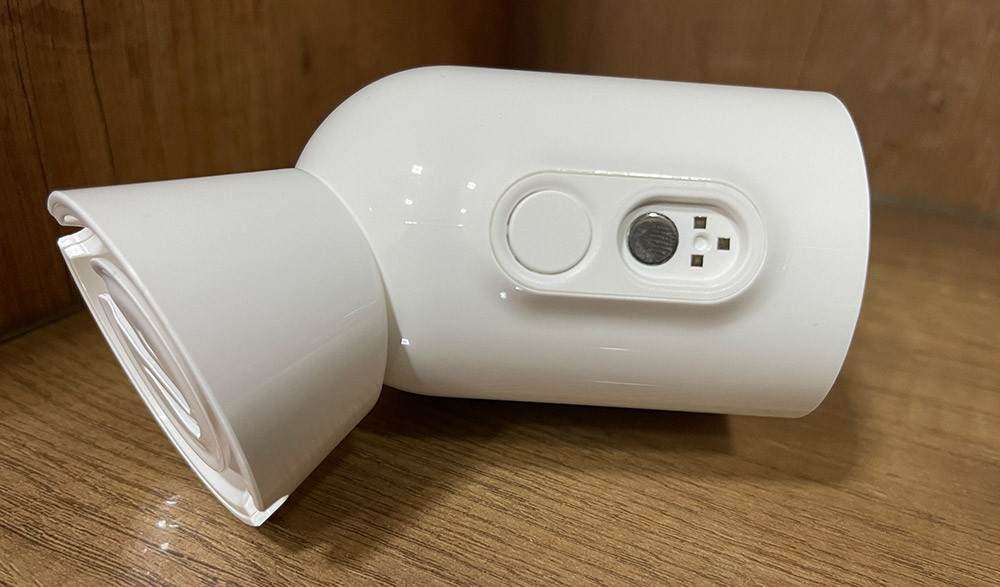 The prowess of this camera is its versatility. The waterproof device can be used inside the home, or placed outside, whether mounted on a door overlooking the entrance, even outside the balcony facing the main gate, or on a tree overlooking the garden. Its capabilities are dependent on a strong Wi-Fi signal, and since it runs on a battery, there is no need to connect it to a power source.
From the app, you can choose the video quality, up to 2K recording, brightness levels and low light settings, as well as auto zoom and tracking. Since this is in some ways, a stationary camera, the tracking is more of a software element, where if you opt to cover a 160-degree wide angle view, you can track movements that can trigger the camera to start recording when something cuts into its path.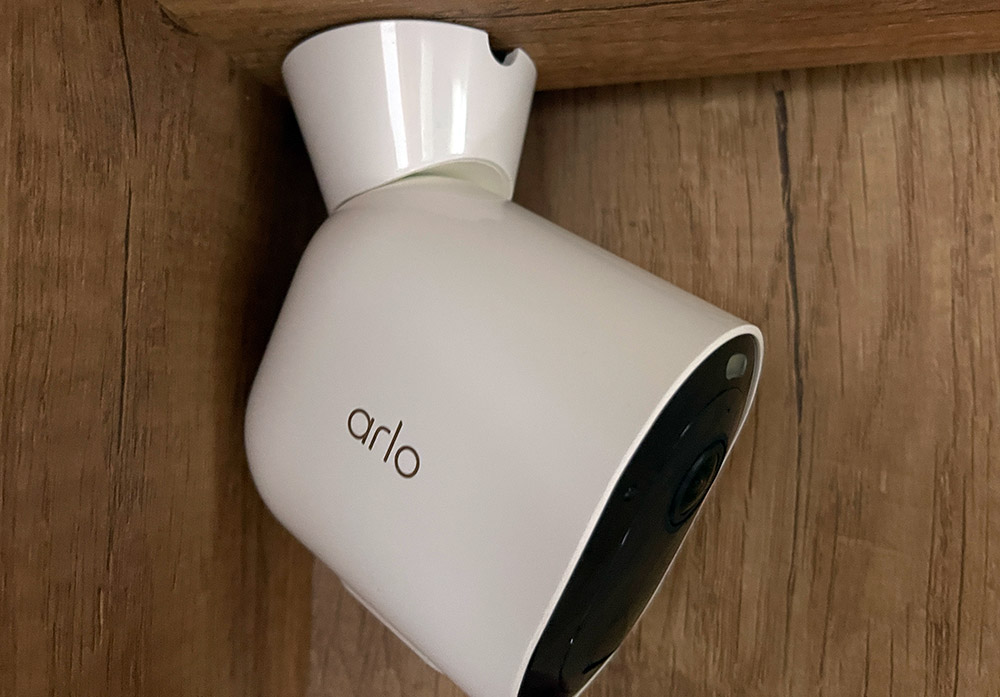 It also comes with a strong two-way audio feature, allowing users on the app to communicate with those in front of the camera. When used indoors, you can use it to speak to anyone at home (you can trigger a flash of light to notify anyone in view that the camera is being used), or when placed outdoors, use it to communicate with guests at your front door, or delivery folks waiting to drop items. Like using a walkie talking, you can point them to place the item in your shoe cabinet, or if you own an igloohome smart lock, hand them a one-time PIN to open your door and placed the item in your home. You have cameras remember, and can monitor their movements once they open the door.
It's not instantaneous communication the likes of a phone, but it's good enough for both parties to hear each other, for simple communications. There's even a full-color night vision mode, for you to keep tabs on your main door at night, though if there is little ambient light, the Pro 4 only offers black and white video footage. There's even a siren mode that you can trigger, which is helpful if you spot suspicious characters near your home, and you want to scare them off, or alert your neighbours that something strange is in the neighbourhood.
In fact, the Arlo Pro 4 is so easy to set-up, use and position that it could easily be a top option to recommend, if not for its pricing, and we're not talking about the slightly steep entrance fee. That's right because the purchase price is merely an entry fee to more features, as everything noteworthy after the hardware is based on a subscription-based software service that offers cloud recordings, event history, smart alerts and other features that, in all honesty, should come standard with such devices.
The most obvious is with local storage, or rather, lack of it. There is no SD card so if you get the Pro 4, you're left with a live monitoring device with a communication feature, and that's it. Remember how we said that this unit doesn't require an Arlo Hub? Well, if you do want local storage, a hub offers it with recordings saved onto an external drive, so in a sense, the Arlo Pro 4 is more nimble in functions, but also lacks it in some ways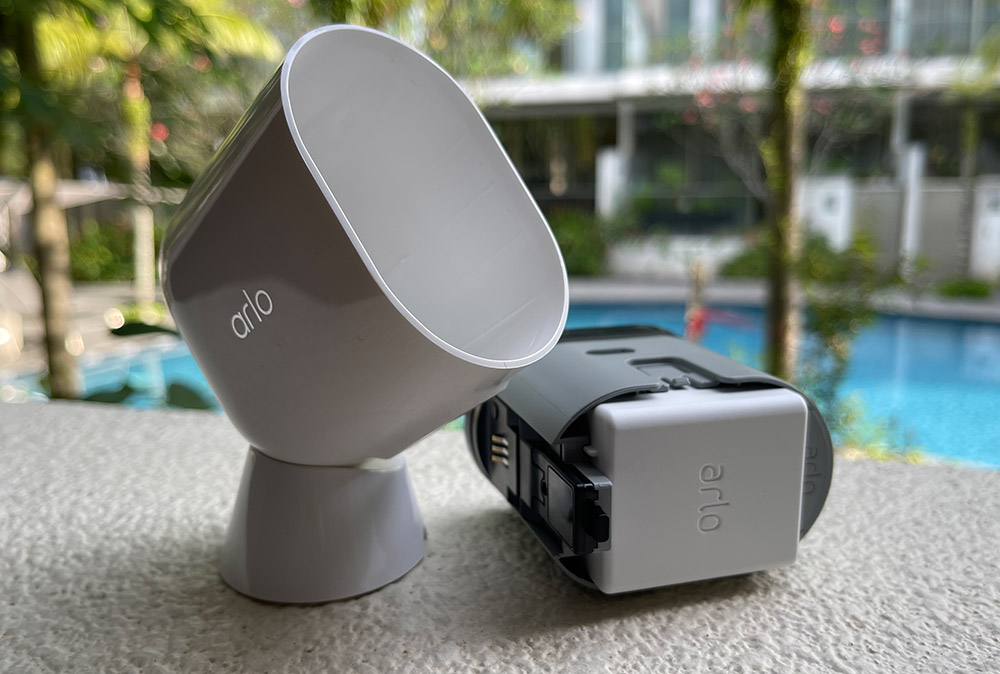 Hardware-wise, the Pro 4 and Pro 3 are virtually similar, with 2K Video with HDR, a 160-degree viewing angle, a strong integrated spotlight, built-in siren, night vision and two-way audio. 
The good news is that the Pro 4 is compatible with your existing Pro 3 set-up, so adding a device to the hub offers you just that – local storage. In fact, that's the recommended use here – deploying Pro 3 cameras for when want local storage, for say, monitoring your front door for when your kids return from school or when deliveries are made, and Pro 4 for if you simply want live monitoring, to receive alerts when a motion is detected, or to keep tabs of things at home.
GEEK REVIEW SCORE
Summary
The Arlo Pro 4 is a nimble, new generation security camera that can be used without a hub, unless you want local storage, or are willing and able to store recordings on a subscription-based cloud service.
Aesthetics -

8.5/10

Build Quality -

10/10

Performance -

8/10

Value -

8/10

Geek Satisfaction -

8.5/10