Not all workspaces are created equal, and we have Omnidesk to thank for that.
The shift towards work-from-home arrangements has pushed workspaces into the limelight, with individuals paying more attention to various factors including ergonomics, value, and aesthetics. But finding or building that right setup isn't as straightforward as it seems, as there are certain considerations, such as a person's height or budgeting constraints, that can influence the decision-making process.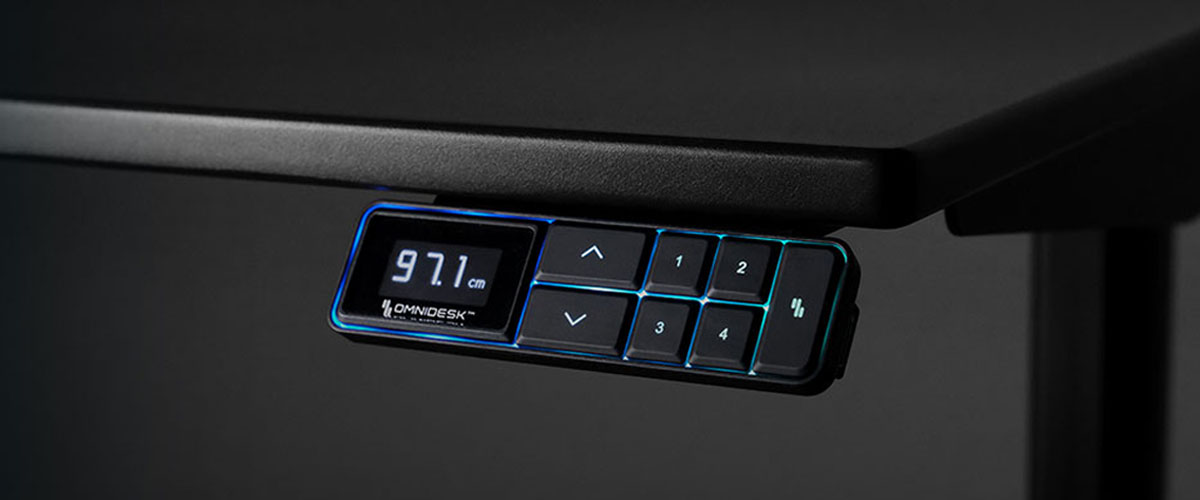 This is where Omnidesk comes in to plug the gap, as Singapore's leading standing desk specialist presents an array of desk offerings, modelled after three main principles to make ergonomics accessible to the masses – quality, affordability, and customisation. Yes, not all workspaces are created equal, but the brand ensures that there's always a desk for everyone, regardless of their preference for smaller tabletops, premium finishes, or even eco-friendliness.
Here's a list of recommended picks to help you get started on levelling up your work and play spaces.
---
An upgrade from the base Omnidesk model, the Ascent is a sturdier, smarter, and prettier piece of furniture that allows for quicker on-the-fly height adjustments, due to its improved mechanism. For an added touch of convenience, the Omnidesk Life app, which is specifically designed for the Ascent, offers basic customisation options and controls that can be tweaked from a distance. There's even a health-tracking feature, which is pretty nifty.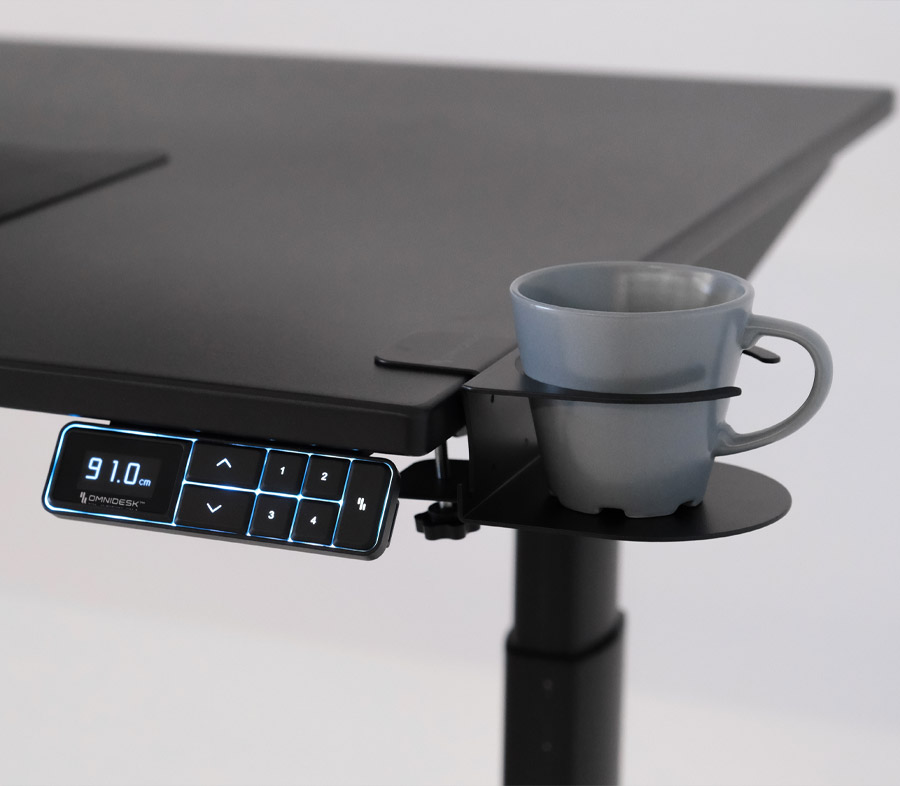 Available in black and white, the desk comes highly recommended for those seeking a mix of minimalist aesthetics and functionality. It comes in 48-inch (small), 60-inch (large), and 72-inch (XL) variations, so users can pick the size that best suits their space from S$850.
Configure your Omnidesk Ascent right now, the options are bountiful!
---
If there's a standing desk equivalent of a smooth operator, the Ascent Wildwood+ Pheasantwood would (or 'wood,' if you prefer) be the one. Part of the Wildwood collection, it brings the zen of nature's touch to the standard Ascent models, with every table sporting a different design from shade to shape – a phenomenon brought on by the natural occurring patterns of pheasantwood.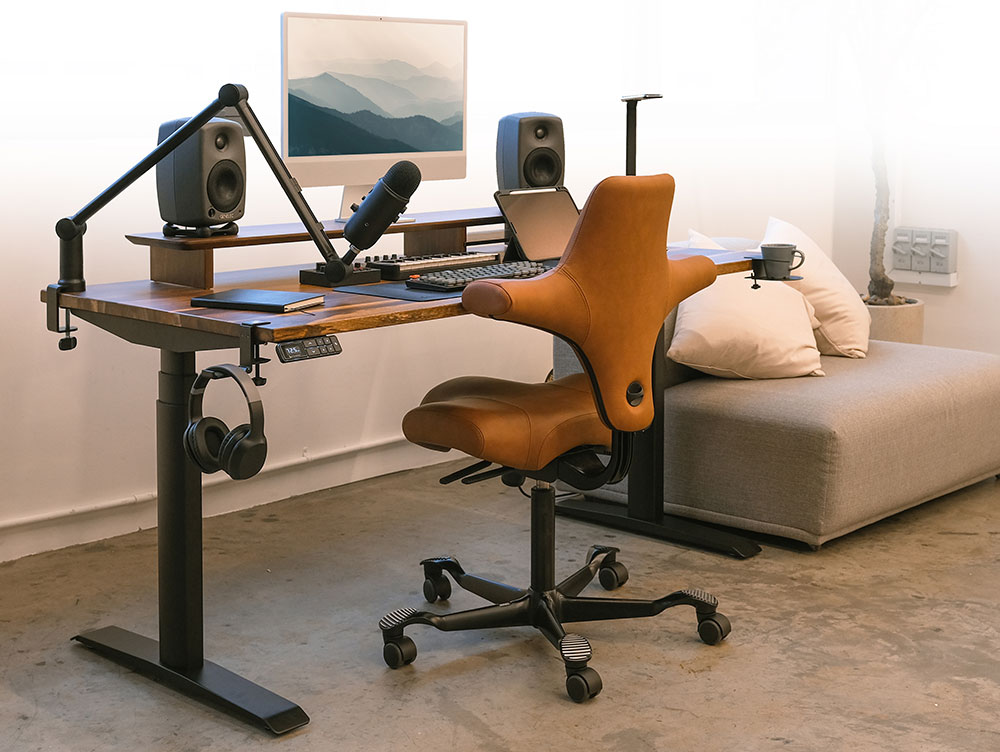 As for the legs, users can choose between black and white versions, with 48 inches being the default tabletop sizing (included within the S$1,149 price tag). Those who prefer larger tabletops, however, can upgrade to large or XL for a small cost.
Configure your Omnidesk Ascent Wildwood+ right now, there's actually quite a big to consider especially the tabletops.
---
The inspiration for the aforementioned Wildwood collection, the Omnidesk Kawa (川) celebrates nature's beauty in style. Decked out in teak, known for its strength, durability, and elemental resistance, the desk's greatest appeal lies in the wide blue strip that cuts down the middle, which creates the illusion of a river running across its length. The resin has also been designed in a way that allows light to filter through, resulting in a crystalline shine. Similar to its Ascent Pheasantwood counterpart, every Kawa build will boast different tabletop patterns from one another, making its design truly one of a kind.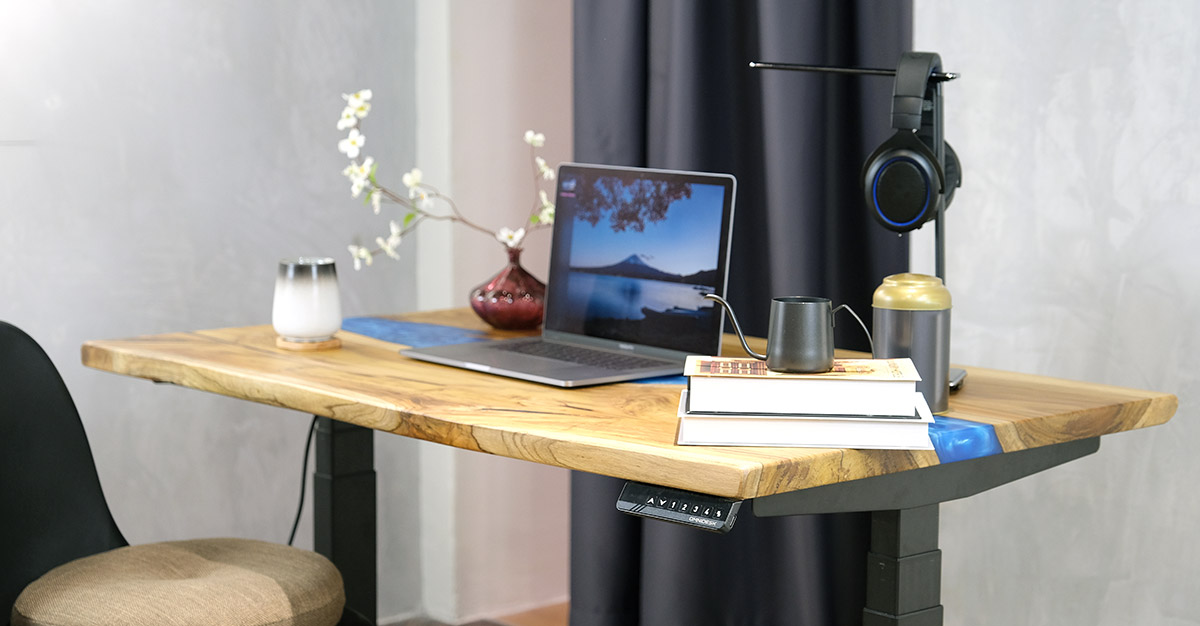 The desk is available in small (S$2,200), large (S$2,500), and XL (S$2,900) but there's a catch. Due to the unique shape of each piece of wood, as well as the resin design, it cannot be purchased like any other Omnidesk models. Instead, a dedicated service is reserved for potential customers, who will have to indicate the size they are planning to purchase, and set an appointment date to select their desired wood top at the showroom, before customisation begins.
For a more naturalistic or minimal aesthetic, the Omnidesk Ame (雨) presents itself as a non-resin alternative. It features a juxtaposition of warm golden sapwood against the rich darkness of heartwood, and offers resistance to water, fungus, bacteria, and even mould. This looker comes in small (S$1,650), large (S$1,800), and XL (S$1,950).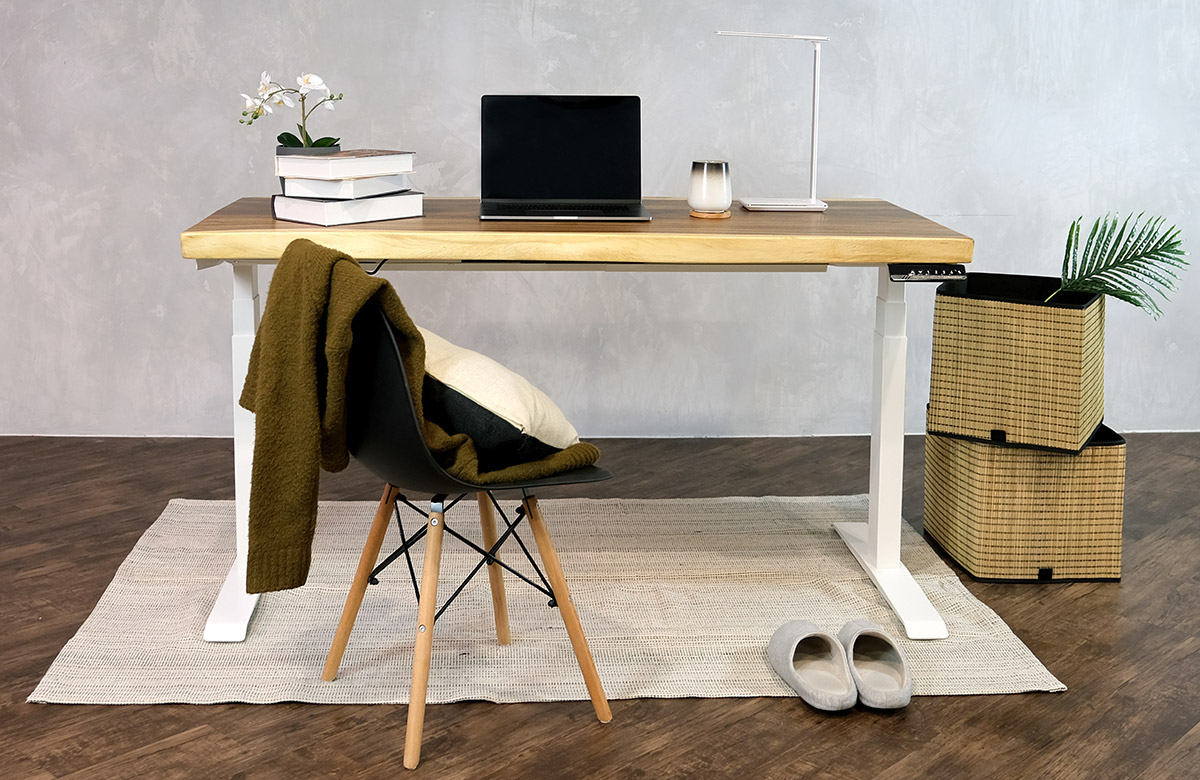 It's critical to have a look at the Omnidesk Ichi Collection Kawa Standing Desk in person so make an appointment to check out the beauty.
---
This one's for the eco-friendly peeps. A collaboration with sustainable furniture maker ChopValue, the Ascent Eco Collection turns chopsticks into desks as part of an upcycling effort. This is done by collecting chopsticks from sources like restaurants, hospitals, and offices, disinfecting and coating them in toxin-free resin, and compressing them into highly densified tiles by a hydraulic presser. The result is a unique design that features different wood grains and tonal streaks for each desk, which will retail from S$979.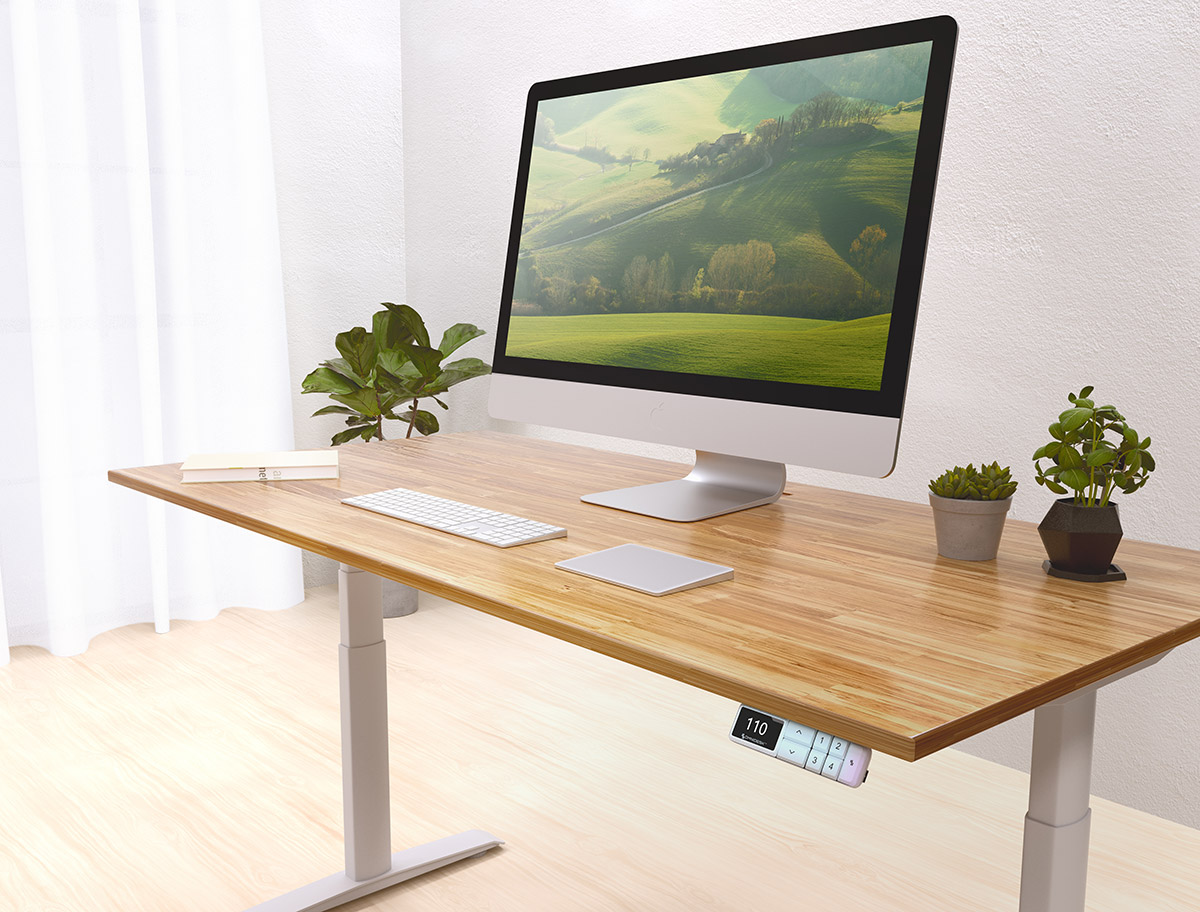 Sustainability is possible even with furniture, and your Ascent Eco is as customizable as with the rest of Omnidesk's offerings.
---
If a regular, rectangular desk isn't enough to meet your demands for space, the Verge Pro 2020 has got you covered. Measuring 2.03m x 1.19m, the L-corner table offers more real estate for users, alongside the choice of a left or right orientation. What sets it apart from the rest of the pack is its micro-textured powder coat surface for mouse tracking, which essentially transforms it into a giant mouse pad.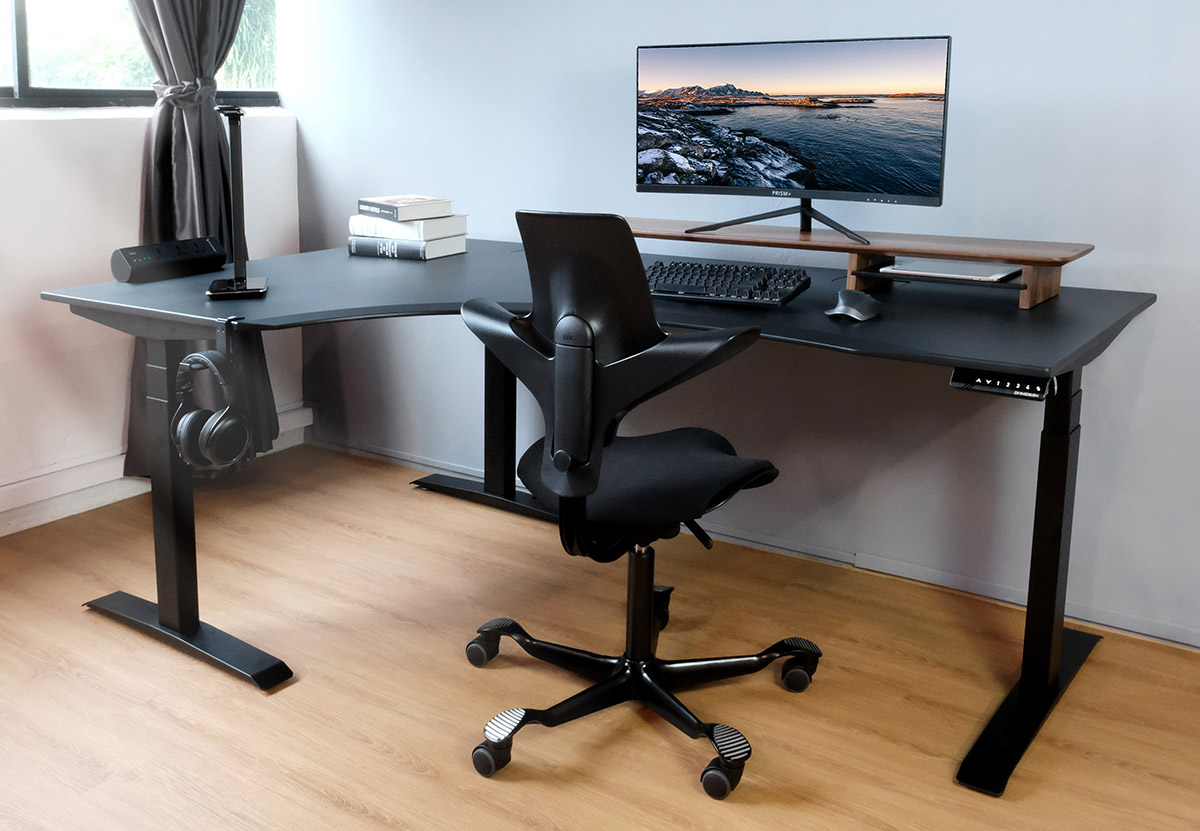 Apart from standard Omnidesk features like cable management and height adjustment, the desk also comes with an ergonomic curve that provides comfortable arm support over long hours of use. S$1,560 is the starting price to pay for increased real estate.
Make sure to get the measurements right with this and once you do the Verge Pro 2020 is the perfect corner companion.
---
Unlike its height-adjustable counterparts, the Omnidesk Kenshi is fixed at an optimal 75.5cm, and comes highly recommended for gaming enthusiasts. Its frills-free design ships with a built-in cable management system that bids farewell to tangled wires, and can be personalised with various magnetic add-ons for the desktop. Similar to the Verge, the S$349 desk boasts the same micro-textured powder coat surface and ergonomic curve, allowing for a more comfortable and seamless gaming experience.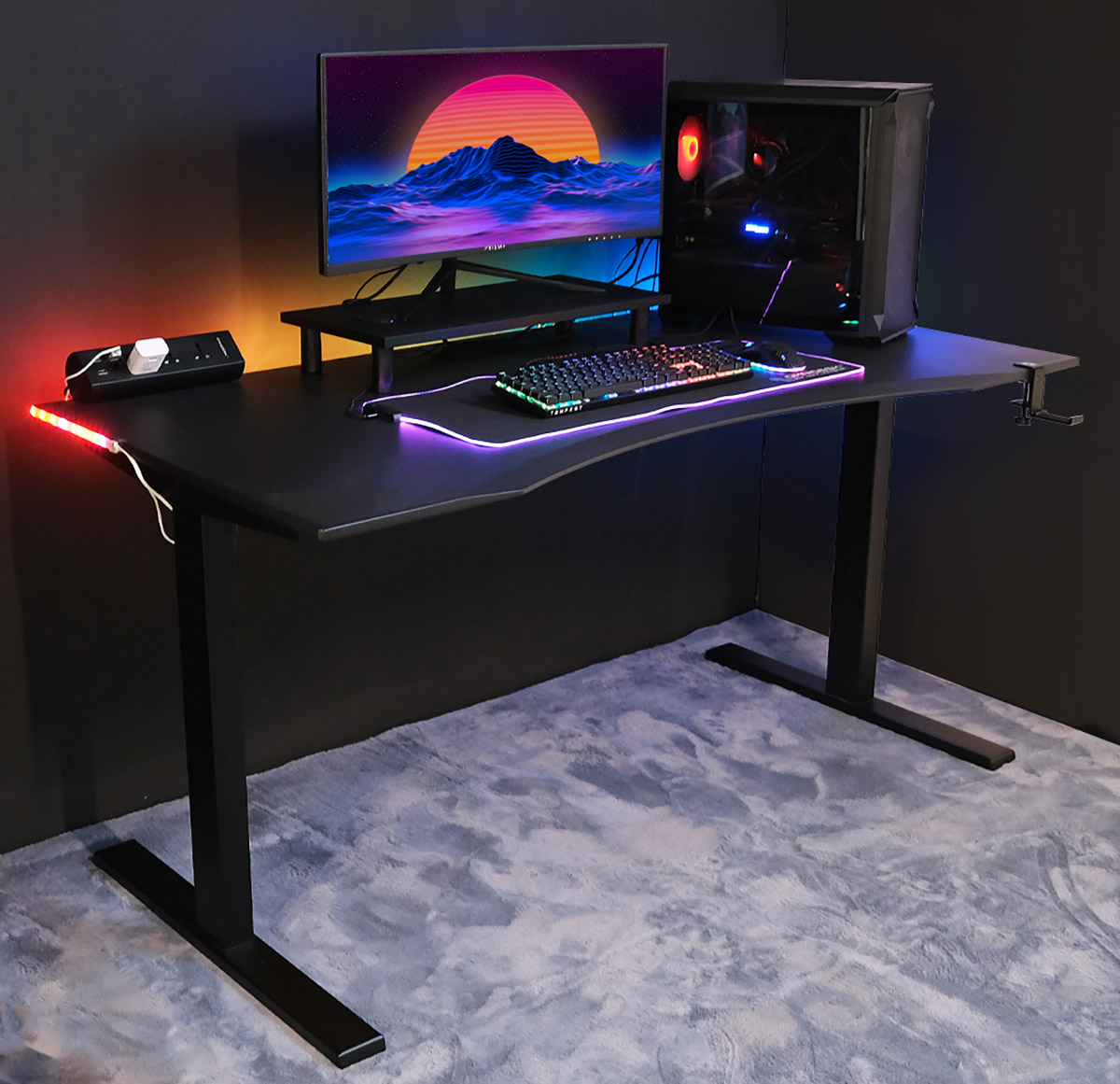 A fixed desk does not mean a lack of options so check out how you can make the Omnidesk Kenshi unique to your needs.
---
Don't be misled by its name – the Excelsa Bourbon isn't an alcoholic beverage. Instead, it is a spacious storage coffee table/drawer that combines form and function, as a height-adjustable furniture piece with elegant walnut-toned accents and a faux leather surface. Finding yourself craning your neck every time you have a meal? Simply push a button, and you'll be able to elevate it to your optimal height.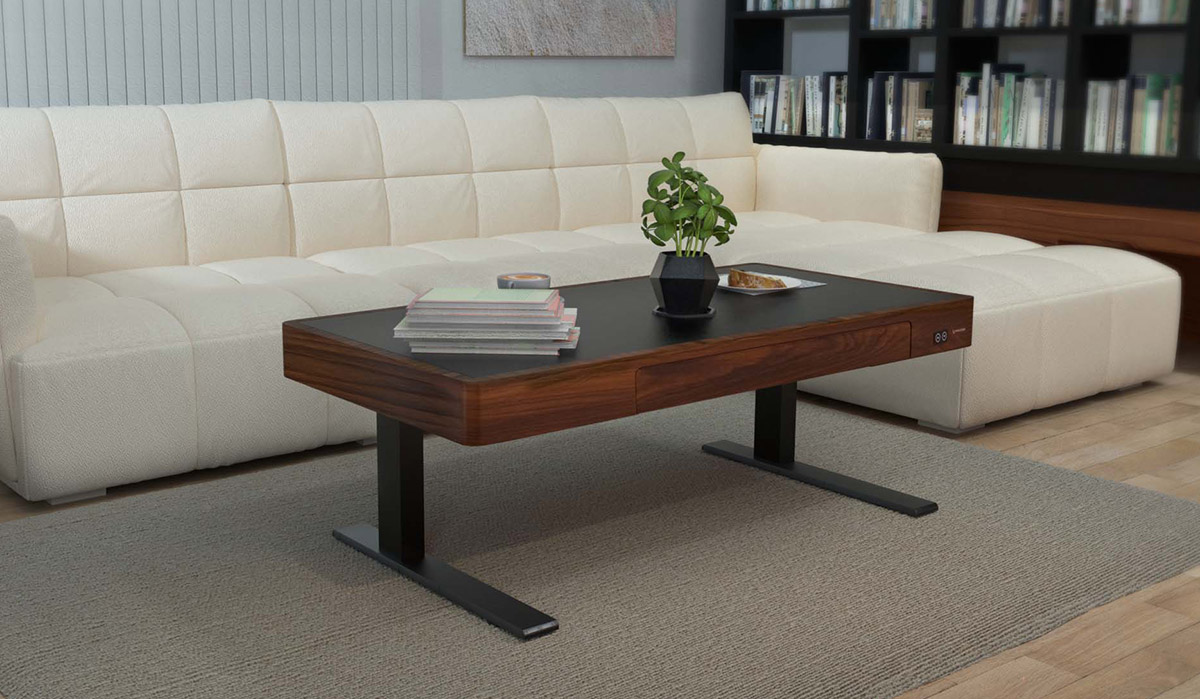 For those who prefer a wire-free set-up, the Wireless Power Pack swaps out the default three-pin plug for a rechargeable battery pack, which can last through months of use on a full charge. The upgrade to a sleeker living space will set you back by S$399.
---
The Omnidesk experience isn't complete without accessory add-ons, however. These additional offerings enhance the user's quality of life by bringing even more convenience and ergonomic function into the mix, with the best-selling picks.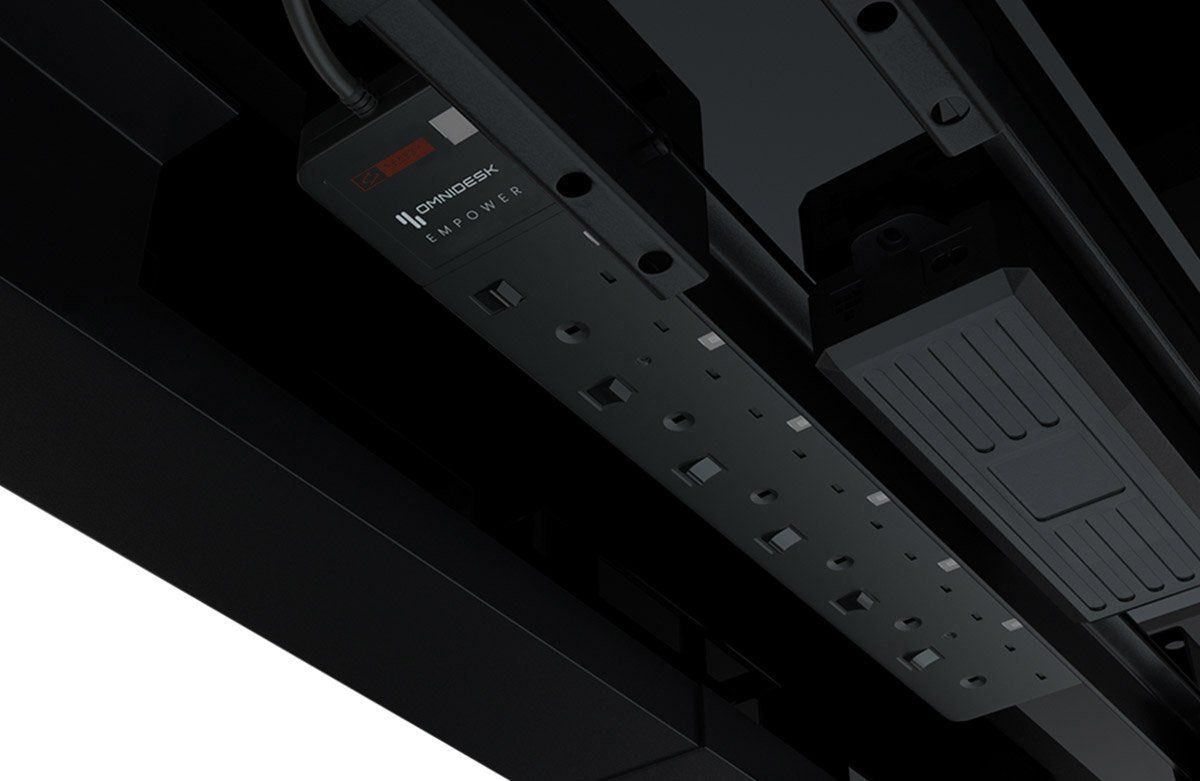 For full customisation, there's the Omnidesk Empower, a six-socket extension cord that can be mounted underneath the desk. Those looking at some level of mobility can opt for custom-made castors (S$69) that attach themselves to the feet of the desk, while anyone keen on actually standing for extended periods can opt for the anti-fatigue standing mat Atlas (S$129). Other accessories include the premium desk mat Titus (S$59), cup and headphone holder Anchor (S$69), the Arka desk riser (S$199), the Advanced Cable Management Bar (S$89), and the Sheva Pedestal Cabinet (S$499).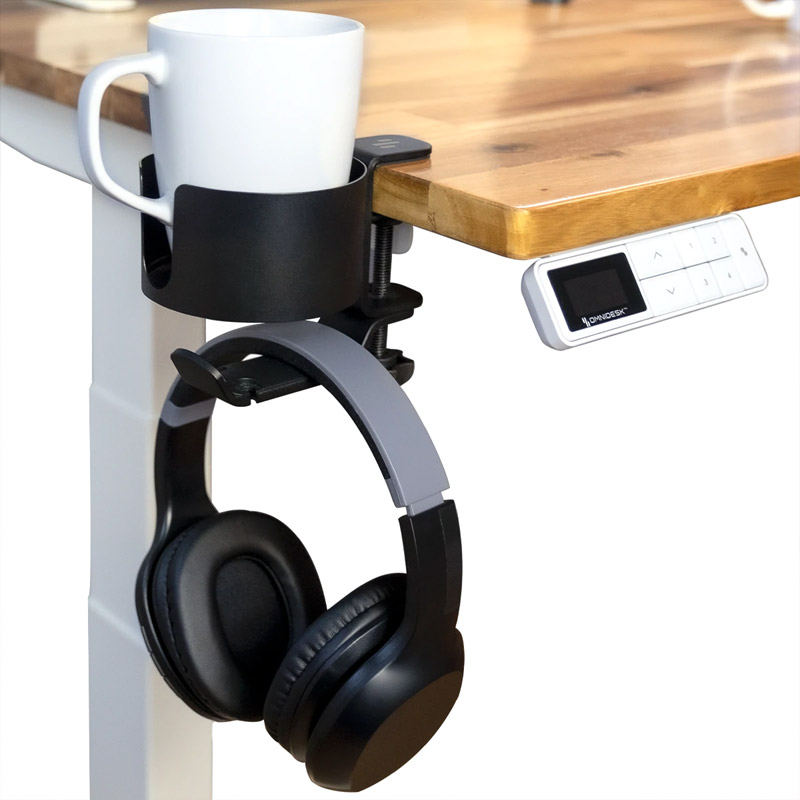 With the advent of new technology, standing desks have evolved from niche pieces of furniture in tech offices into a lifestyle product – a transformation that Omnidesk has ushered in almost single-handedly over the course of four short years. As the brand seeks to continue its pursuit of ergonomic excellence and innovation, both newcomers and existing users are invited to strap in for the ride, and upgrade their work and play spaces with little to no fuss. Convenience, after all, is a core part of the brand's identity, and things can only pick up for here.
---
This article is brought to you together with Omnidesk.