What's so special about the Arlo?
That was the go-to line each time the Arlo was recommended over the cheaper Xiaomi, Starlink or Brand X equivalent of home video camera systems in the market. For one thing, an Arlo set-up can cost three to five times more than a standalone home camera system, and who really needs anything more than a 1080p camera system just to keep tabs on things at home?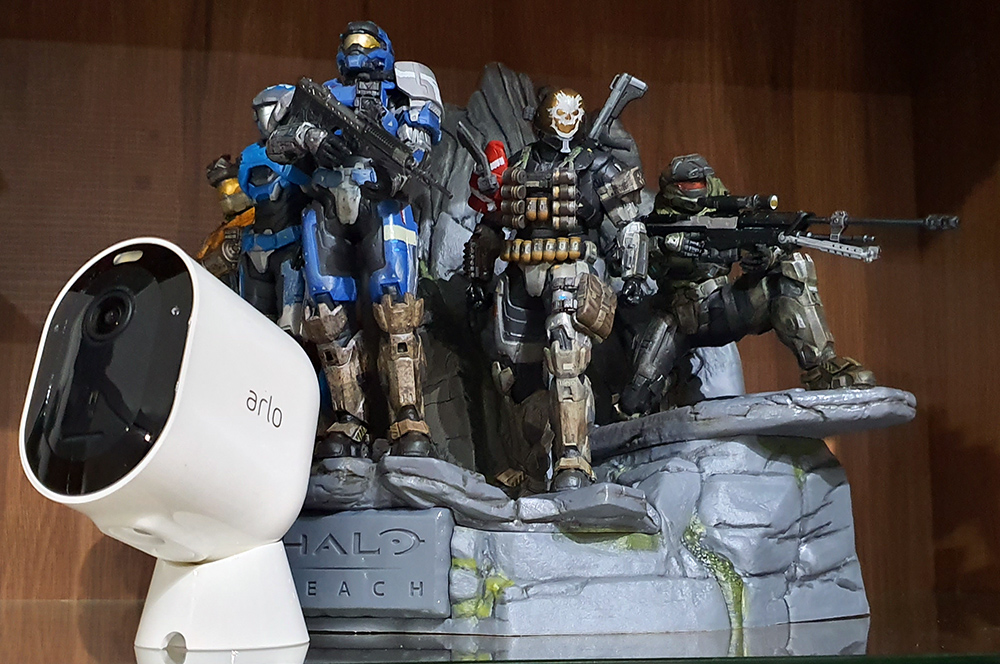 But over the years, the eventual failure of standalone cameras that constantly get disconnected from the home Wi-Fi network, or plain refuse to work, just became too much of a hindrance. And with an influx of package deliveries that failed despite claims that someone rang the doorbell but no one opened the door even though someone was home, there was a new desire to install a camera outside the front door that could be motion-triggered, to track all visitors, if any at all.
Even if some of these standalone units had motion detection, few were wireless. And once you factor in the price of these wireless cameras, the two-cameras S$899 Arlo Pro 3 system seems like a good investment.
Unlike the Arlo Ultra 4K, the Arlo Pro 3 comes with 2K video quality, but with all the other bells and whistles that the Ultra 4K system offers, and then some. The dual camera package comes with two cameras and two mounts – one magnetic, and the other, a traditional screw-on type. The funny thing is that both mounts require screws to be wall-mounted, before the camera can be attached.
With support for multi cameras, each Arlo system comes with a SmartHub that you connect via a LAN cable to your router. After that, you download the app and installation of each camera is a breeze. Once connected, users can name each camera and even share the feed with other members of the family, allowing multiple users to view the camera set-up.
In this case, I simply added my wife to the feed via her email and she now has access to the same feed as me.
Now, the rule, for those living in HDB, is that permission from the town council is needed before a camera can be installed outside the home. For those living in condominiums, it depends on the individual estate's management committee. On the other hand, the Arlo camera is actually slim enough to fit in the small gap between your main door and main gate, and because it is wireless, it's actually small enough to fit unobtrusively and be noticed.
Because it's only screwed in, the fear of having an Arlo stolen is always a possibility, but a wired camera can also be easily disrupted by spray paint or a stick. The mount can be placed in a position where the grills of the gate block it from being seen, and the camera is small enough to not be easily spotted.
The power of the Arlo system is in its functions. Each camera comes with a spotlight and infra-red capabilities, allowing users the record and track activities in all types of conditions. Each unit is also weatherproof, and that's because the dome-like camera acts as a housing that encapsulates the battery within, preventing rain and dust from entering.
Arlo says that each battery can power a camera for up to six months, and that's fairly accurate, up to a point. With the outdoor camera, the settings on my app were made such that each time motion is detected, it will start recording and send notifications to the phone. With the frequency that a normal resident would have leaving their home on a daily basis, together with cleaners who sweep the floor daily, the front camera in my home was triggered an average of 15 times a day, and all of these actions deplete the battery.
The initial charge for the Arlo on the main door lasted for about five weeks, but it also meant being able to keep tabs on visitors, or knowing when family members enter or leave the home. With the two-way audio system, it also allowed me the chance to say goodbye to my children as they leave for school, or a simple hello when they return.
On the other hand, the second camera placed indoors with no alerts is still running strong at the two-month mark, without the need for a recharge.
While the need for a battery recharge is spread out, be mindful to keep the charging cable in a safe place. Arlo uses a proprietary charging connector to charge their devices, which means you can't charge both units at the same time and if you lose the cable, there's no way to charge the battery unless you buy a replacement from Arlo.
For motion alerts, the motion detection can also be tweaked such that certain zones that the camera is facing are designated as notification areas. For example, the camera can be facing the open area outside your home but if an area overlaps with that of a neighbour's doorway, simply create a new zone without that overlap and anytime your neighbour leaves or returns home, the Arlo will not be triggered.
The camera can also be tweaked to turn on HDR, spotlight, as well as low-light mode, which is actually pretty neat. For about two weeks, the camera positioned at the main door would automatically switch over to low light mode when it got dark and only through playing around with the different lighting modes was I able to have it such that colour is still an option under the very specific lighting conditions of my common corridor.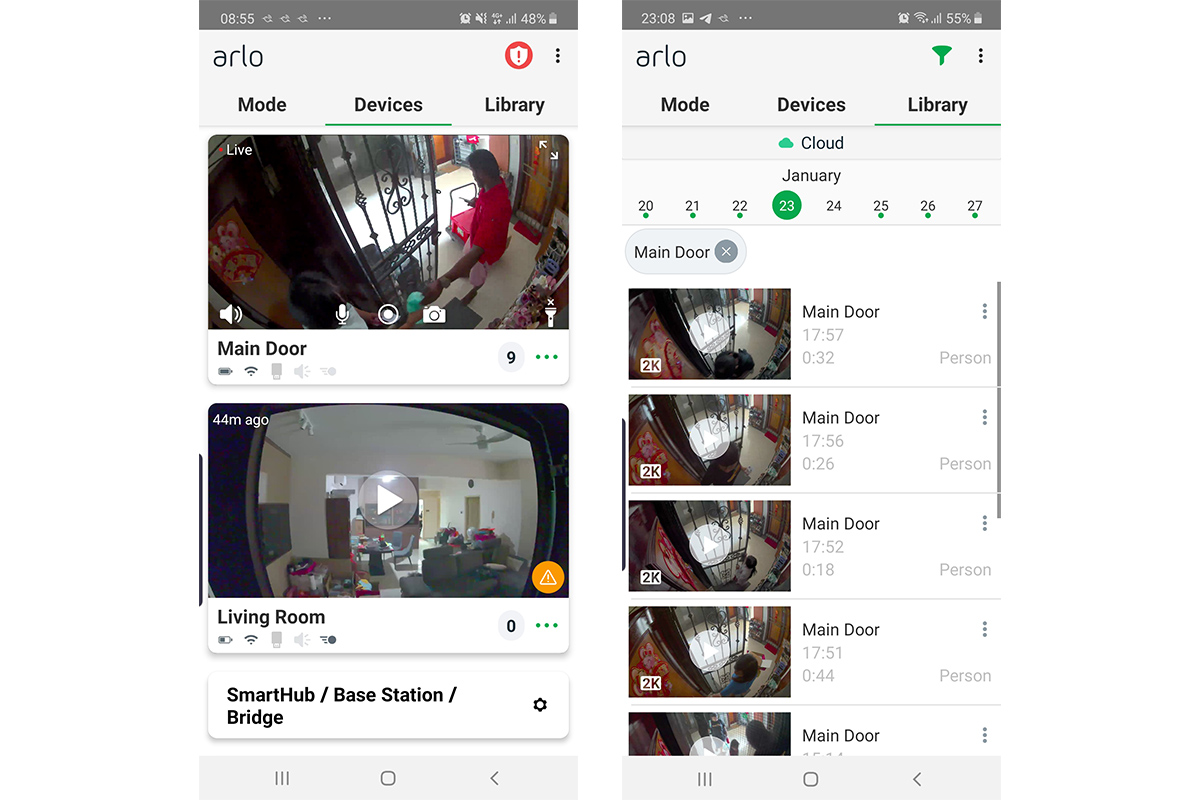 That said, some of these features are only available via an additional monthly subscription. The unit comes with three months of free trial, which includes 30-day video history and activity zones, among others, and until the trial ends, there's no way to fully determine which features are optional, and which come with the unit. That said, it is likely that motion detection is a paid feature, so if it is a requirement, be prepared to pay a monthly fee to have it up and running.
It would seem disingenuous to offer such great features, only to roll them back after the trial is over, but even then, the normal recording video function, with its clear audio recording, also works better than most generic camera brands.
All in all, the Arlo Pro 3 delivers on its promise of a reliable system of cameras that offers two way communications and a selection of (paid) features. Maybe it's more pricey than generic standalone systems, but the peace of mind and functionality it has provided these past two months is worth that little premium.
The Arlo Pro 3 Wire-free Security Camera System is available on Amazon and Lazada.
GEEK REVIEW SCORE
Summary
Easy to use, simple to set up and painless to maintain – the Arlo Pro 3 sets a new standard in wireless and effective home camera system.
Aesthetics -

9/10

Build Quality -

10/10

Performance -

8/10

Value -

8/10

Geek Satisfaction -

9/10
---

Drop a Facebook comment below!