When it comes to home security cameras, the Arlo Pro 2 is considered to be part of a few top models available in the market, but it comes at no small cost. After all, with a large variety of low-cost smart cameras for the home available, one could easily argue why the need for a premium device such as the Arlo Pro 2.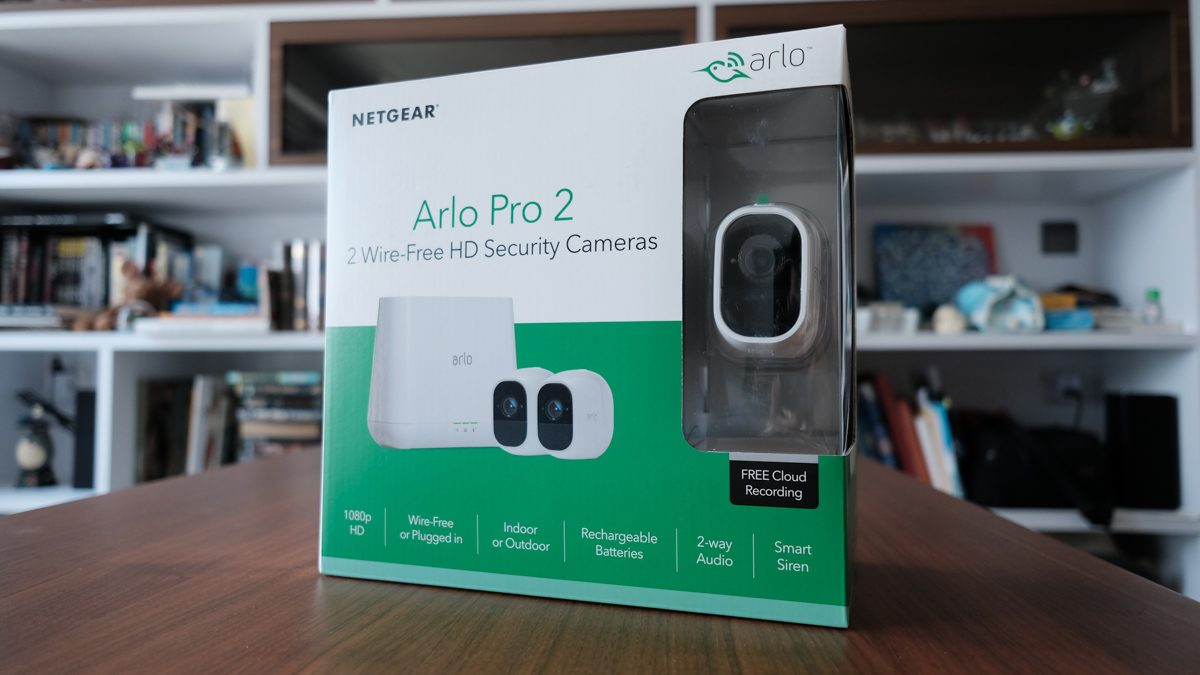 Priced at S$899, the Arlo Pro 2 comes with just 2 cameras, but one could argue if you could really put a price to peace of mind and security.
Right out of the box, there is plenty of unpacking, though thankfully, setup is a breeze.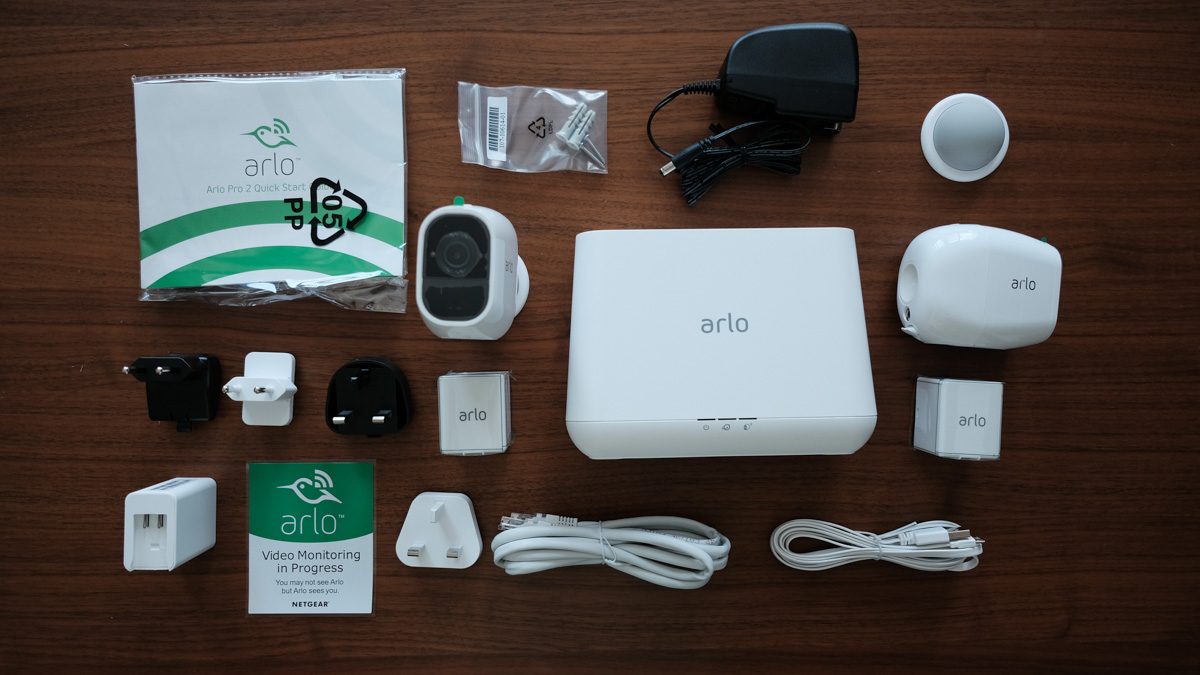 All you would need to get started can be found within the base box. Most importantly, we've got a –
Arlo Base Station
2 Arlo Cameras
Magnetic mounting stands
1 charging adapter for the cameras (take note, we will come back to this later)
While it might look like there are accessories aplenty, it's all extremely simple to put it all together. As we've seen with recent iterations of smart home devices, such gadgets can be setup with your smartphone. The Arlo Pro 2 system and its cameras are no different.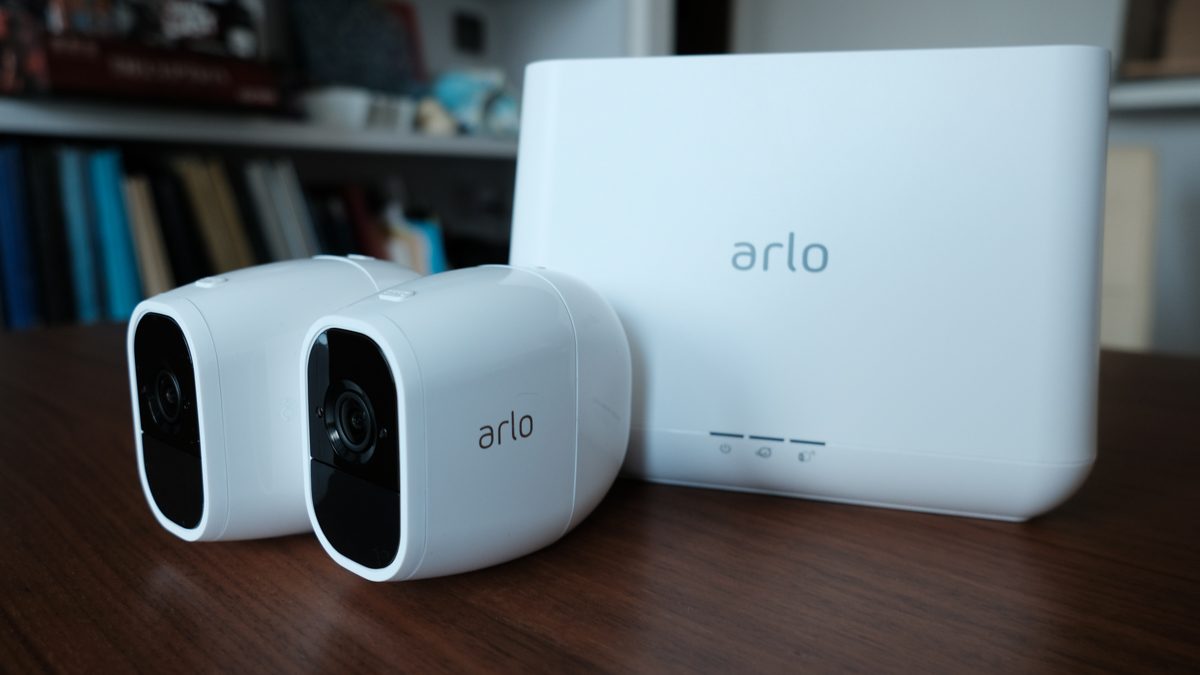 The first thing one would need to consider before purchasing the system would be to ensure that the Arlo Pro 2's base station has a space near your home's router, as well as a spare ethernet port. As the base station operates purely via a wired connection, users might find it a challenge to find an appropriate placement for the base station to communicate with the wireless cameras, unless they are open to having a LAN cable travelling around the living room.
The more walls and greater distance affects the performance of the system. For my apartment, the base station was tucked in a covered shelf as it was the only location in the home which afforded access to an ethernet port. It was not ideal but thankfully, it still works.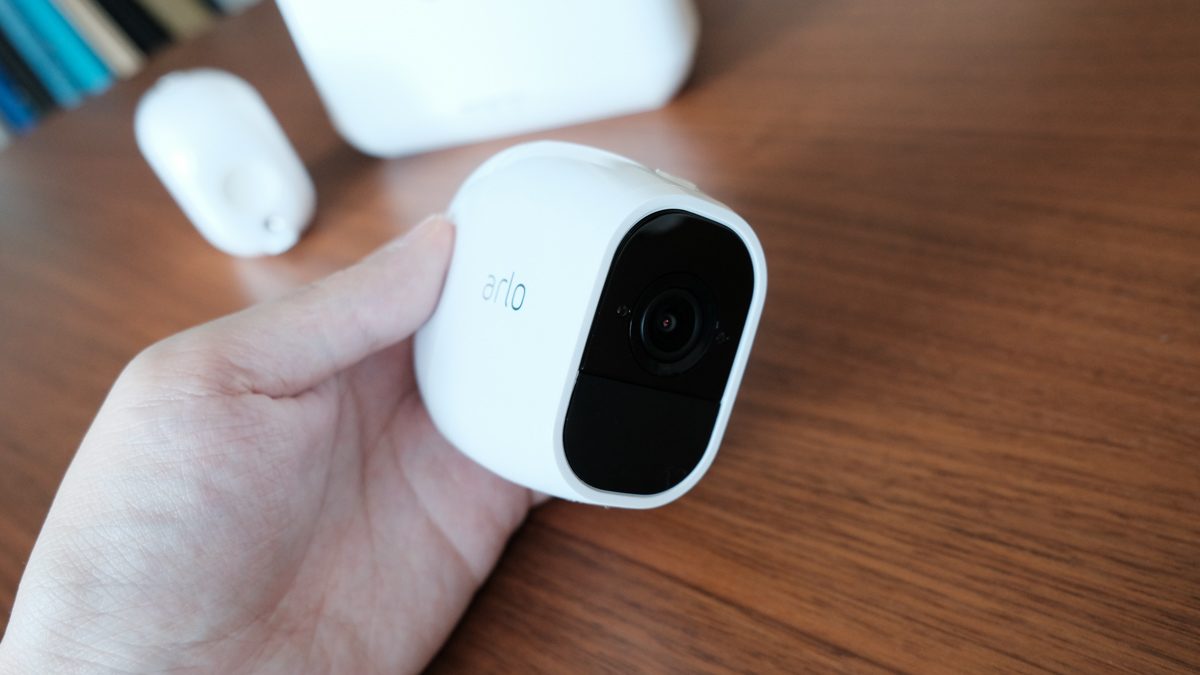 From here on, all setup happens via the mobile app, and if you have an email, password on standby, that's pretty much all you need. If you've set up a Bluetooth mouse or headphones, the process is similar with each additional camera. Press the base station's and camera's sync button and that's pretty much it.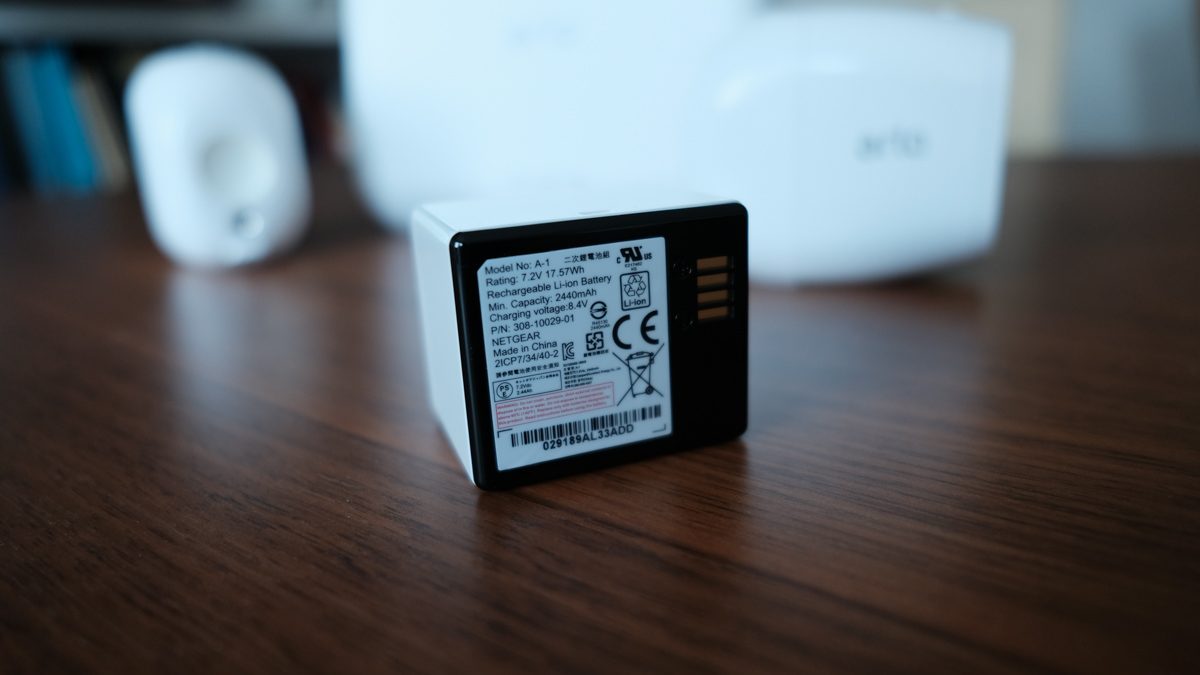 Each camera has a powered battery pack ready to go. The small diminutive size of the camera means that it can pretty much be placed anywhere if desired. With a field of view of 135 degrees and video recording up to 1,920 x 1,080 pixels, you're able to capture footage and audio which is triggered the moment the camera senses motion or audio.
While the Arlo Pro 2 camera can rest nicely on a variety of surfaces, it comes paired with a magnetic mount which helps you easily adjust the camera to your preferred camera angle. Otherwise, there are a good variety of mounts available from Arlo themselves.
In our tests, we've noticed there is a small delay between when the camera is triggered and when one gets an alert via the mobile app. If you choose to do so, all activity detected by the camera will be sent to your phone, or you could have it fire off based on specific areas demarcated within the camera's field of view.
Even at night, the camera is able to capture clear enough footage in complete darkness, so you're able to visually comprehend if someone is up and about for a midnight snack or (hopefully not) an intruder in the home.
All of these recordings, by default, will be stored in the cloud, up to 7 days at a time, for free. If your needs far exceed the amount of storage needed, there are additional paid plans available, which largely is meant for more cameras in the home while recording is expanded up to 30 days. Within the base station itself, you're able to pop in your own memory card to record any additional footage if needed.
In day to day tests, we counted at least 117 recordings, some lasting a few seconds per day. At this run rate, the Arlo's cameras would require charging every 2 weeks. And while the camera itself charges via a micro USB port, they actually only charge only via the supplied power adapter, which is a rather big drawback.
This is one of the biggest dealbreakers right here. If you're looking for a wireless security camera system, this is by far the biggest caveat when investing in the Arlo Pro 2. With this in mind, it would appear that all the additional features offered by the company come across as an effort to reduce the amount of instances a user needs to charge their cameras.
An option the Arlo Pro 2 system comes enabled by default is the ability to geofence the camera system. The moment the base station knows you're home via the mobile app, all manner of recording and notifications will cease until you leave home helping save precious camera battery. Alternatively, there are schedules which can be set to ensure coverage during certain times of day or night.
The main advantage of the system is that the cameras can be placed outside of your home. The camera itself is wireless and weatherproof, so it can be placed by the corridor, or if you live in a landed home, placed pointing at your main gate or main/back door.
At this juncture, you might wonder what might happen if the wireless camera was stolen. Apparently, once paired to a base station, the associated cameras will not be able to be de-synced at any point of time. But, that remains to be seen. After all, with one camera costing close to S$400, the system itself might find a good aftermarket if thieves do crack the code.
In the event of a theft in progress (or something less malicious taking place), the camera also comes packed with a speaker and mic which allows you to scream with the individual in the frame to piss off. If all else fails, there's an alarm which you could manually trigger which emanates from the base station itself.
If cost is not an issue, the system starts to glimmer slightly if you're willing to pony up an additional S$11.99 for a monthly subscription. This is where even more functions of the camera start to unlock.
At the most basic paid tier, the Arlo Pro 2's paid plans will allow support to up to 10 cameras and 30 days rolling recording which might be overkill considering the cost of one standalone camera. To soften the blow, all paid plans will upgrade your app's notifications from simply "motion detected" to smart notifications to identify between persons, animals, and vehicles. Depending on how these cameras are employed, most apartment dwellers might find the person and animal functions the best for their needs while landed homes will find the vehicles useful to detect trespassing. Once again, all notifications can be toggled to suit your needs so each specific camera will provide alerts based on how it has been set up.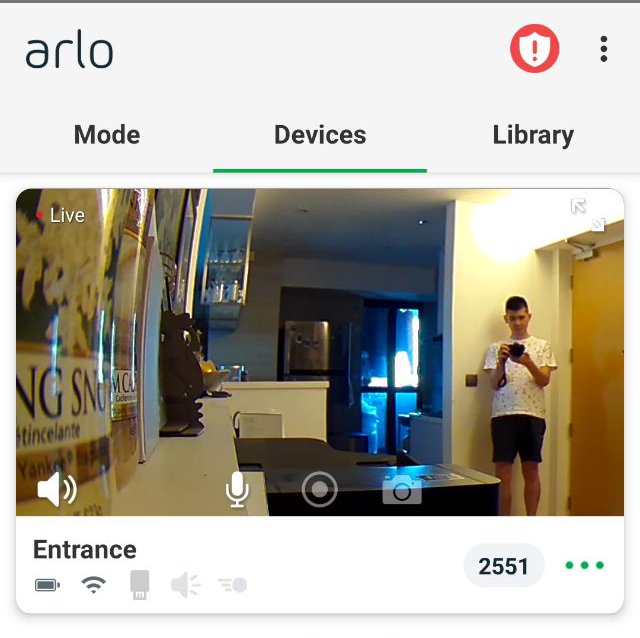 With 2 cameras pointed at the front door inside and at the corridor outside my home, the camera placed on the outside has a significant amount of delay when accessing the camera for live footage. This could possibly be attributed by thick walls and distance between camera and base station. So there are certain technical limitations to consider when buying this product. Otherwise, based on our tests, the camera has no issues picking up motion when someone pops by the front door.
Once again, the question pops up once more, would you want to pay a premium to access a wireless system or reduce the cost significantly with a wired camera?
If you're looking to build out a smart home, the Arlo Pro 2 is supported by Google Home and integration is straightforward as well. It's a cool trick to ask the Google Assistant to show you the front door but there's a significant delay when I tried it on my Google Home Hub. The fastest way to is to access the camera via the app in pretty much all instances.
When it comes to hardware and software wise, the Arlo Pro 2 system has pretty much thought out a variety of scenarios one might need in a wireless security system and covered it. From the moment of unboxing to setup and operationalizing the system, Arlo makes every step a breeze for even the layman.
With a clean interface accessible via web and app, there's always a way to keep an eye on your home if you're gone for a long stretch of time. Thus it comes as no surprise, the Arlo Pro 2 actually commands such a high price for a product you can grab off the shelf. All things considered, we'd actually say that this product might be worth every single penny spent.
However, if you're looking to expand the system with more cameras and extended recording those numbers might add up quite significantly.
Unfortunately, as much as we've listed and run through all the various perks the camera affords to justify the cost, it's something that's up for great debate.
The Arlo Pro 2 camera system can be matched by a wide variety of wireless security cameras made by Chinese manufacturers. While most might baulk at the lack of security found with the Chinese, there are a good number of people in this part of the world (Asia) who are more price sensitive than the folks Arlo might be marketing to. When a two camera system costs S$899 compared to a similar option found via online stores 1/13 of the cost with all the features listed above, it's hard to justify the cost when put into context. Make the system wired and the cost goes down even more.
There's no doubt the Arlo Pro 2 is at the peak of its game but there are many factors to weigh. Would you want a system where you'd have to charge the batteries on a regular basis and maintain the aesthetics of the home? Cloud storage versus local SD recording with wireless connectivity? With many considerations to manage, the Arlo Pro 2 is a great device and comes also at great cost.
GEEK REVIEW SCORE
Summary
The Arlo Pro 2 is one of the best wireless home security cameras money can buy at the moment. Its ease of setup combined with a deep set of features will make every penny spent totally worth it.
Aesthetics -

9/10

Build Quality -

9/10

Performance -

9/10

Value -

6.5/10

Geek Satisfaction -

7/10
Gerald currently straddles between his love of video games and board gaming. There's nothing that interests him more than trying out the newest and fanciest gadget in town as well. He dreams of publishing a board game sometime in the future!
---

Drop a Facebook comment below!