[UPDATE 5 July 2017: Winner Announcement! Congratulations to Ang Wee Meng and Phyllis Bah! Please check your emails for prize redemption details.]
E3 has just barely settled (check out our extensive coverage), and the slew of new video game announcements will no doubt be making your wallet quiver with fear. Yet, the bargain-hunting gamer is always on the look out for good deals, and when it comes to Xbox One games, the Xbox Game Pass is the way to go! With a catalogue of ever expanding games ready to be downloaded straight into your HDD and discounted prices for some of the latest titles, it is a no-brainer decision (especially when you get that sweet Xbox One X).
However, with so many games awaiting you, the paltry 1TB/500GB drive in your Xbox One is not up to the task. Thanks to our friends over at Seagate, we have just the remedies for you – introducing the Game Drive Hub for Xbox (8TB) and the Game Drive -GamePass Edition (2TB)!
The Game Drive Hub (S$509) is a beast with 8TB of storage, and has been tested by Microsoft's own Xbox team, so no worries there. With two front-facing USB 3.0 ports and an easy plug-and-play setup, this is the best external HDD out there!
The smaller cousin of the Game Drive Hub, is a special GamePass Edition Game Drive (S$169) can hold up to 2TB worth of media, with the same easy plug-and-play system and a compact form factor. Plus, it comes with a 1-month Xbox Game Pass membership! There is also a 4TB version that will set you back S$239 with a 2-month Xbox Game Pass membership.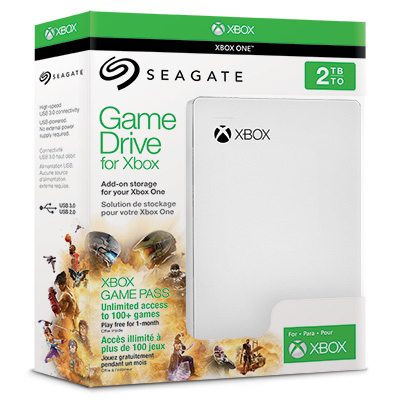 Don't own an Xbox One console? No worries, both drives work with PCs just fine too.
---
ENTER NOW TO WIN
If you are looking to win either the Game Drive Hub 8TB (worth S$509) or the Game Drive – GamePass Edition 2TB (worth S$169), simply watch the video above and follow the steps below, it's that easy!
SHARE THIS POST and TAG a friend you would like to share your loot with. ->
Fill in the form below.
Give us a LIKE below if you haven't done so yet, so you won't miss out on future similar giveaways!
[GIVEAWAY HAS CLOSED]
The giveaway is open to all residents of Singapore. Contest closes on 2 July 2017 @ 23:59hrs (GMT+8). 2 lucky winners with the correct answers will be picked at random. The winners will be announced here and be notified via email by 5 July 2017. Good luck!