Gears of War is the critically acclaimed military sci-fi third person shooter franchise which was first developed by Epic Games, exclusively for Xbox 360. The first Gears title, launched in 2006, was considered to be the flagship title for Microsoft's new Xbox 360 console and since then, there have been two sequels and one spin-off.
Developed by Vancouver-based The Coalition, Gears of War 4 is slated to be released exclusively for the Xbox One platform on 11 October 2016. We recently got the chance to participate in the early access of its multiplayer beta, and I can see myself playing the heck out of the multiplayer when the game comes out.
While I did not delve much into the multiplayer mode for the Gears of War franchise when it was on the Xbox 360, although I did finish all of the three main single player campaigns and enjoyed them immensely. (I skipped Gears of War Judgement after I sold off my Xbox 360.)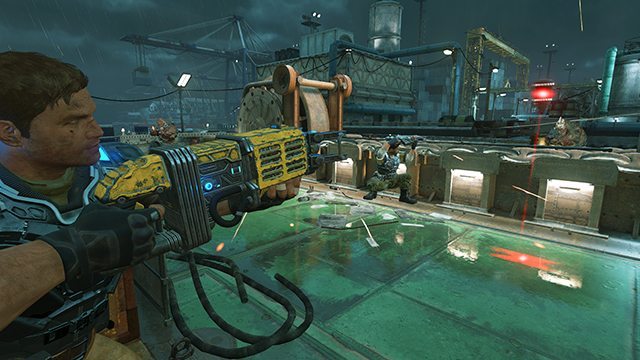 Team Death Match Feels Like Home
The moment I managed to get into a session of the new Beta's Team Death Match and started playing, I felt like I was home. The tight yet restrained movement controls, the active reload mini-game, and the snappy cover mechanics are back and it was then that I realized what I had been missed since the last time I played as Marcus Fenix, back in 2011.
The signature roadie run is also here, as well as its issue of occasionally going into accidental cover at the end of a roadie run. This time, the process got me yanked and shanked, which is a new mechanic that allows players to pull opponents at the other side of a cover over, and perform an instant kill using a knife.
Powered by Unreal Engine 4, the visuals of the Gears of War 4 Beta is mighty impressive, especially its environment art, which look great and near photo-realistic, all while supporting the intended fiction and theme of the level. It's the small things that matter and plenty of detail has been paid to keeping each level as accurate as possible.
However, I couldn't help but notice that each half of the maps are a mirror of the other half. This is not exactly a minus point as it might be a deliberate level design philosophy by The Coalition, to produce the authentic Gears of War multiplayer experience.
This is where the map layout is simple enough, allowing players to focus on the actual combat encounters, rather than throwing players complex map designs.
To that end, the overall map layout feels just right, with covers placements that allows players to move around freely whilst still providing enough variation in distance, where players are required to gauge if one is safe enough to make a move to the next cover.
I had to learn the hard way when I roadie-ran towards a cover, without realizing that I was totally exposed to a rain of bullets from a couple of opponents, who clearly thought that I was a total noob for trying to cross the distance safely, gung-ho style. But such moment paid off as it made me learn my lesson and allowed me to strategize my next cover-to-cover moves.
Beta Game Modes
For the beta, there are three game modes available: Team Death Match, Dodgeball and Team Death Match against Hardcore AI. Dodgeball is particularly interesting where each player starts only with one life.. Once a player is dead, he would only be respawned once his teammates kill an opponent. It is like playing dodgeball in real life except that to survive, you need to avoid getting killed instead of getting hit by a ball. And similar to actual dodgeball experience, it did feel deeply satisfying when I managed to 'give life' back to my teammate. In particularly, I performed yank-and-shank to an opponent which enabled one teammate to respawn and 'revived' me in return shortly after.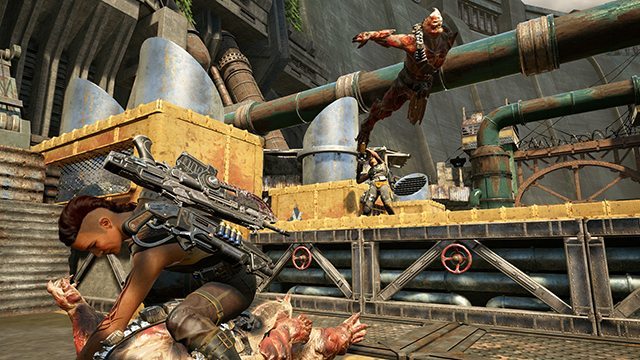 But the momentum may swing drastically. For instance, there was a moment where my team managed to kill all but one opponent and we all rushed to ambush him to end the match. Instead, the last man standing expertly manoeuvred around us to gain a Boomshot (Gears' version of grenade launcher), which he used killed two of us and respawned two of his teammates who ended up wiping us in less than a minute.
Overall, I had good fun playing the Beta, especially Dodgeball mode and I am glad that The Coalition is trying to reintroduce the true Gears of War's uniquely gritty shooting and melee mechanics, without reinventing the wheel. I cannot wait to play the launch version, where the overall experience should be more varied, polished, and balanced. Until then, I would need to practice more and accept the fact that the Gnasher Shotgun is too damn OP.
---
GET YOUR EARLY ACCESS BETA KEYS!
If you're an Xbox One owner, a crazy Gears of War fan, and can't wait till 25th April 2016 for the commencement of the Open Beta, you're in luck! We have a handful of Early Access Beta Keys to giveaway, courtesy of Xbox Singapore. Simply follow these steps:
SHARE THIS POST and TAG a friend or more you would like to play the beta with. ->
Fill up the form below with your details and Gamertag.
This giveaway is open to all and closes on  23 April 2016 @ 23:59hrs. Codes will be sent twice a day from now till 23 April while stocks last, on a first-come-first-served basis.
[GIVEAWAY HAS CLOSED]
Ian loves medium rare steak, grilled cheese sandwich, pepperoni pizza and char kway teow.
---

Drop a Facebook comment below!