It's Day 1 of GameStart 2019! By now, you would have prepared your ticket and you're raring to go. Whether you're a GameStart veteran or a newbie, you might get overwhelmed in all the hustle and bustle of the region's biggest gaming convention.
The right strategy is key to ensure that you fully utilised your precious time. Here are some of the highlights at GameStart 2019 to work your schedule around.
---
Games, Games and More Games
It wouldn't be GameStart without being able to try out the latest and greatest titles that are coming in the next few months. Attendees will be one of the first few audiences in Southeast Asia to test out Marvel Super War, Marvel's Avengers and the Final Fantasy VII Remake.
Also, be the first in Asia to check out the exclusive new gameplay footage for Cyberpunk 2077, where you'll get to see 23 minutes of different playstyles and skills. Be sure to check out the other game such as Just Dance 2020 and ONINAKI, available at the GameStart Demo Zone.
---
Play a Real-Life RPG
If immersion is something you're looking for, look no further than The Castle, a themed adventure room game experience exclusive to GameStart 2019. In this massive abandoned castle, you and three teammates will embark on one of two paths. Depending on the path you choose, your mission will either be to seal the demon away to protect the world or attempt to harness its power and make it your own. Each successful task will aid in the final challenge and successful players will receive a prize at the end of their journey.
---
Play and Win at RETRO CITY!
NAJ Arcade is back once again this year with a spanking new retro showcase. It is touted as the ultimate throwback experience – RETRO CITY! Check them out at Booth MH21. They will be giving out awesome retro gaming prizes EVERY HOUR across both days.
---
Even More Games (Tabletop Zone)
According to the inaugural gaming survey by GameStart Asia, 60% of players prefer playing with their friends. And what better way to do that than with some good old tabletop games. This year the tagline for the Tabletop Zone is "No EXP, No Friends, No Problem". The games featured over the weekend will be available for purchase but be warned, there are only a limited number of sets and these games are relatively hard to come by. So make sure to grab them while you can.
---
Competitive Gaming
If you love the heart-pumping adrenaline of esports, then head over to SEA Major 2019 or MyRepublic Gamer where competitors from around the region will gather for a spot at the top in various tournaments like the SOULCALIBUR Asia League Finals or the League of Legends Grand Finals.
---
The Main Stage
This is where the magic happens. Make sure you get your hands on a GameStart 2019 pamphlet as it tells you exactly what you can expect. You wouldn't want to miss the special guest appearances by pianist V.K., violinist and cosplay idol Luna Lorrain and Square Enix producer, Takashi Tokita.
---
Founders Base
Indie lovers gather 'round as the Founders Base is where you'll be able to touch base with the regions' best developers and entrepreneurs. Try out new games or see what these indie developers are creating to better your gaming experience.
---
Bonus! Visit the Sweet (And Delicious) Sanctuary
After a long day walking around the entire GameStart 2019 hall, rest your feet at the GameStart Sanctuary where you can chow down on some grub or enjoy a cool refreshing mead from the local lads at Lion City Meadery and more. Once your lives are restored, you're ready to venture out and explore the show floor again.
---
Here's the floorplan for planning out your weekend: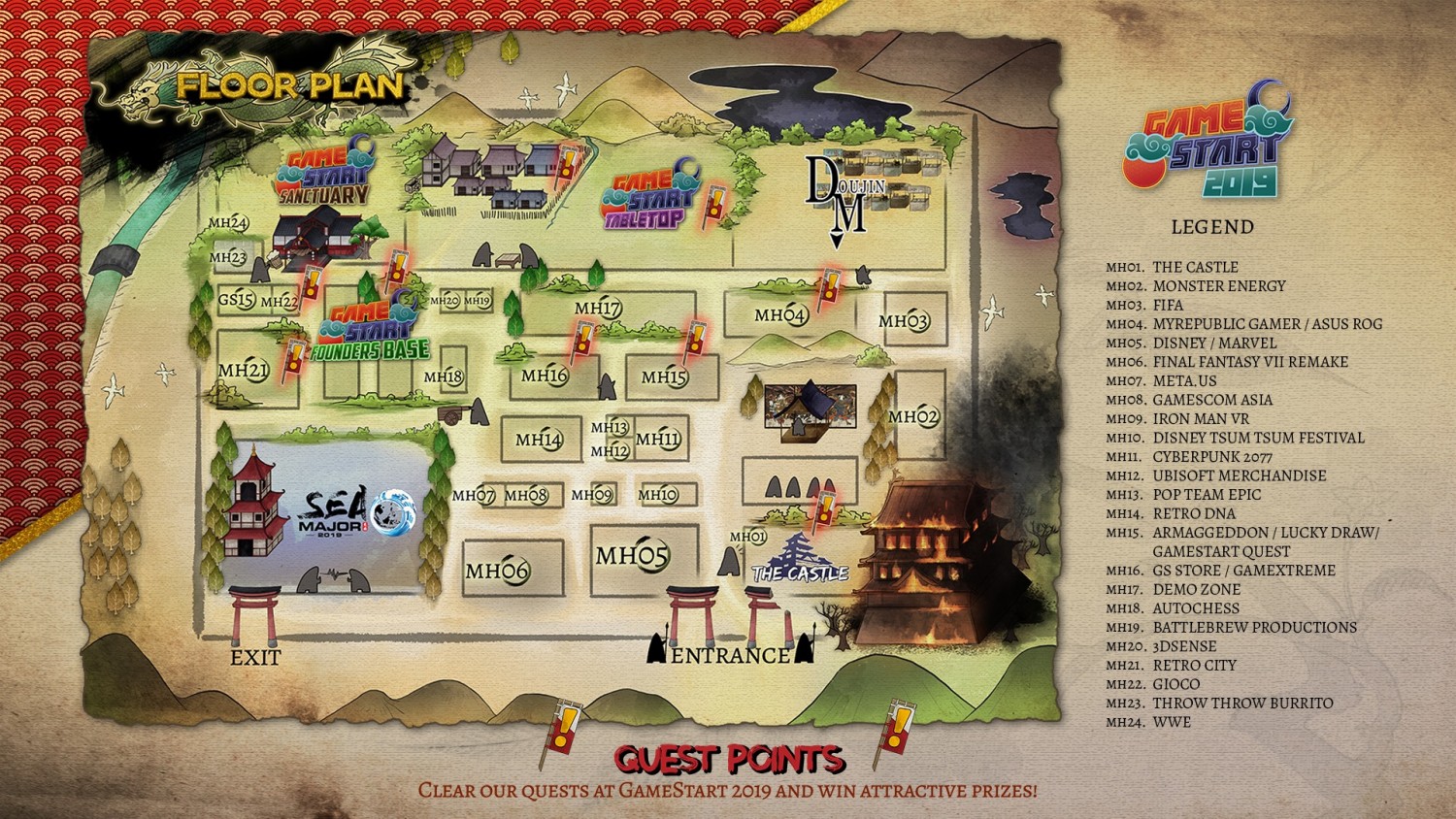 ---

Drop a Facebook comment below!