Thanos may have the almighty Infinity Gauntlet on hand, but even that isn't enough to prepare the Mad Titan for the newest item on the block.
With Avengers: Infinity War releasing in theatres on April 25, 2018, the hype for Marvel's most ambitious title yet is on an all-time high. Riding upon the hype wave are the many Avengers- and Thanos-themed products on the market, ranging from a glow-in-the-dark Thor Funko Pop, to Hasbro's faithful 1:1 replication of the Infinity Gauntlet.
The latest addition to the family, it seems, would be the Avengers: Infinity War Infinity Gauntlet 59Fifty Fitted New Era hat, which is extremely over-the-top, yet quirky in its own way. Built from the finest of golden polyesters, it sports an embroidered Infinity War movie logo, with the word "Infinity" lying vertically along the 'A'.
Flip it to the underside, and more details await. The bill features bright, golden patterns that spiral out into long-forgotten cosmic runes and an illustration of the iconic gauntlet underneath. Of course, the Stones have to make an appearance, and all of them are laid out neatly across six quadrants, each represented by their respective colour, with the character who had discovered, held, or handled their power included.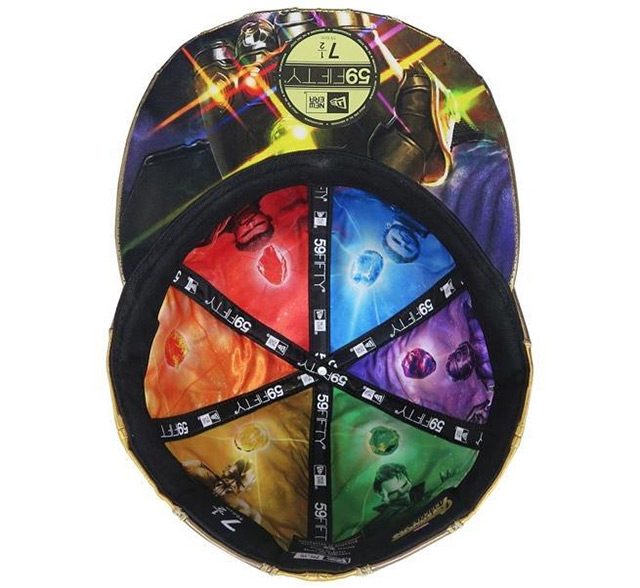 Those who are well-versed with the lore should recognise the familiar faces. The Reality Stone has Thor in the backdrop, while the Space Stone (Tesseract) shows Captain America. Meanwhile, a Nova Corps troop is depicted against the Power Stone, with Dr. Strange following for the Time Stone, and Vision for the Mind Stone.
Sticking to MCU canon, the Soul Stone spot is left empty, revealing nothing, and leaving much to the imagination. It's nice to know that there's no spoiler on the inside of the cap.
With a ridiculously hefty price tag of US$99.99, this cap is certainly the ultimate proclamation of one's love for all things Infinity Gauntlet (check out our 10 Infinity Gauntlet products to buy list), especially with an additional six gems adorning the top of the hat. But hey, some may find it a small sum for the power of turning heads when it's worn.
After all, it does feel pretty good to be noticed on the streets! Pity we'd have to wait till June for its release, but you can pre-order it now. Perhaps the Soul Stone quadrant will be updated by then too.
---

Drop a Facebook comment below!