As the name suggests, Thanos' mighty Infinity Gauntlet wields unlimited power, and so naturally provides similarly infinite merchandising opportunities as well. Infinity Gauntlet-themed products of all sorts began popping up in stores as soon as images of Thanos flaunting the golden glove surfaced, with even more replicas slated for release later in the year.
Fear not, us at Geek Culture have scoured the Internet for the best Infinity Gauntlet products out there and compiled them into a handy list, and lucky for us, these gauntlets come with all the Infinity Stones already attached!
---
WEARABLE GAUNTLETS: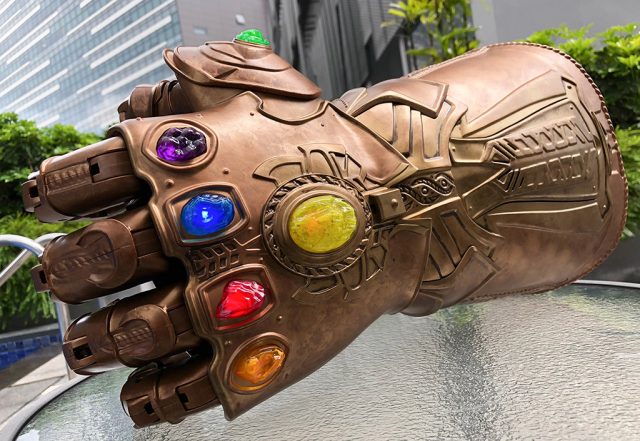 We liked the look of this one so much that we had to try it out for ourselves (read our review), and safe to say, it is guaranteed geek satisfaction. This bronzed beauty features articulated fingers that can be moved and locked into place for all sorts of creative poses. Every movement triggers movie-like clanking sound effects, and the gems pulsate with lights. A must-have for any authentic Avengers: Infinity War collection.
---
Since the Marvel Legends Infinity Gauntlet above was designed for adults, Hasbro has kindly released a wearable version for kids as well. This gauntlet is made smaller to fit most kids' hand sizes, and pushing the centre button lights up the gems and produces sound effects. It doesn't have articulated fingers, so kids role-playing as Thanos with this will always have their fists clenched, ready to go on a punching spree!
Retails at US$19.99 / S$39.99.
---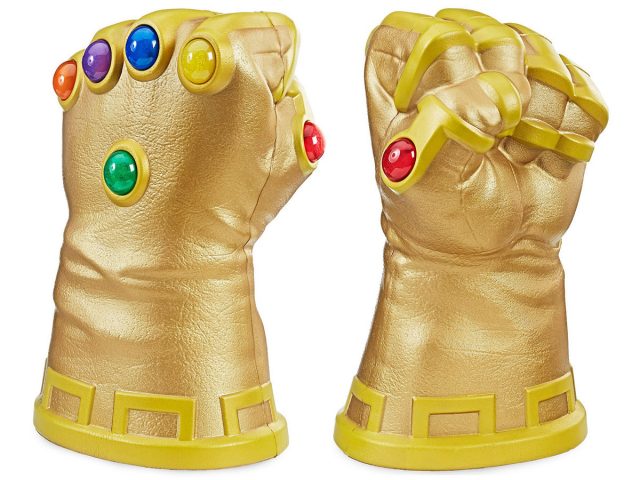 Here's another wearable one for kids, but this one's designed to look more like the comic book gauntlet rather than the one in the movie. No flashy lights or sounds, but this bright golden fist goes old school with its smooth, comfortable foam material and comic book gem colourings.
---
MUGS: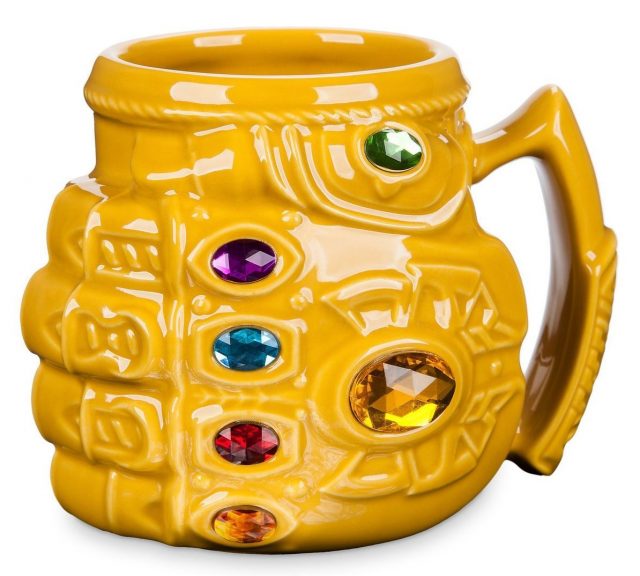 Sometimes, to get him ready for a day of using the Avengers as a punching bag, Thanos just needs a good strong cuppa. This ceramic 16-ounce mug with a sculpted Infinity Gauntlet design lets you start your mornings of world domination right.
---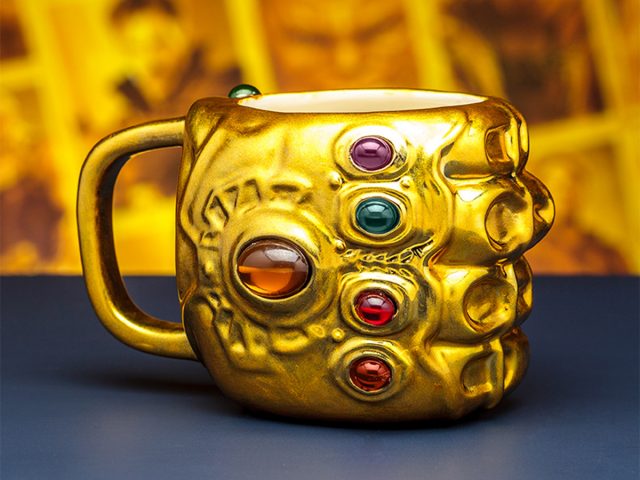 Did you think there would only be one Infinity Gauntlet mug design in stores? Nope, there's plenty, but here's another worth adding to the cart. This mug from Merchoid will have you feeling on top of the world with its bright golden sheen and regal look.
---
PROP REPLICAS: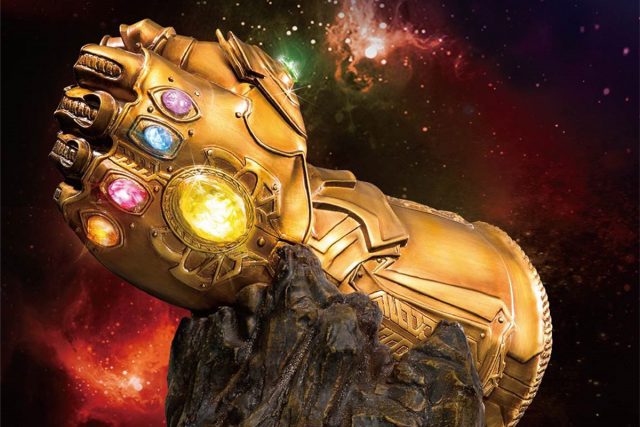 This stunner by Beast Kingdom is a 1:1.5 scale replica of the Infinity Gauntlet with detailed sculpting, a special metallic coating, and weathering process applied to produce an authentic appearance. The Infinity Stones also have built-in LED lights which pulsate at a breathing rhythm. With a unique sculpted base, this limited edition piece would be the perfect centerpiece of any Marvel collection.
---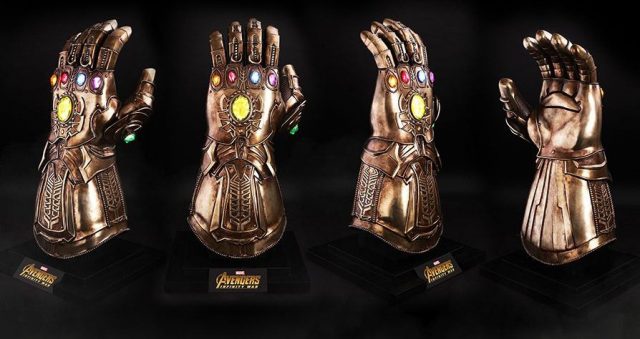 This magnificent collectible by Hot Toys is movie-accurate with its size and details, standing tall at 68 cm. The LED lights in the Infinity Stones are battery-operated and feature general and breathing light effects. This replica is priced on the higher side, but considering the craftsmanship involved, it's well worth it for the holy grail of your collection.
---
ACCESSORIES: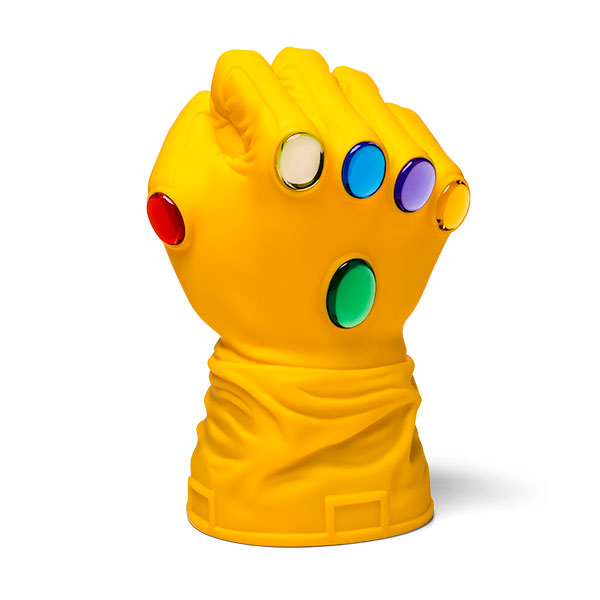 After spending all that money on the previous gauntlets, now what you need is a coin bank to store the remaining spare change. This Infinity Gauntlet bank by Monogram is perfect for the job, holding plenty of your hard-earned coin in this righteous and powerful 30cm-tall fist.
---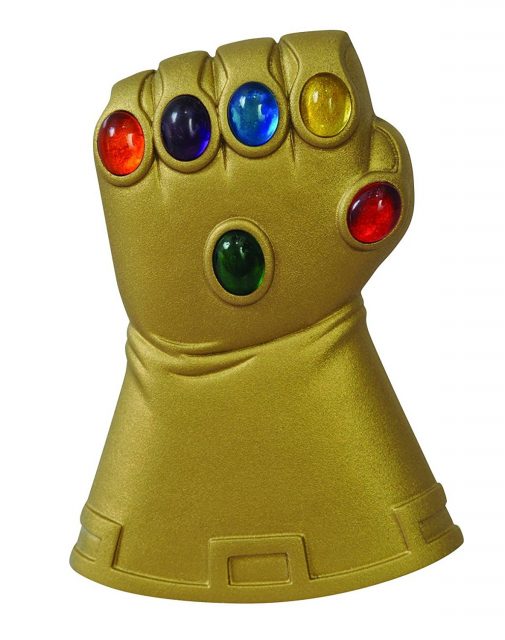 After a long hard day collecting Infinity Stones, Thanos just needs to relax and crack open a cold one with the boys, Corvus Glaive and Cull Obsidian. This Infinity Gauntlet bottle opener should do the trick! Made of durable metal and with a gold chrome finish, it even has magnets on the back to mount it on your fridge.
---
Two gauntlets? Two sets of Infinity Stones?! "Blasphemy!" you might say, but no doubt they look good. Made of surgical-grade stainless steel, these earrings are the most powerful in the universe, letting you complete your look with two little Infinity Gauntlets punching out from your ear lobes.
---
BONUS!
A ThinkGeek exclusive from the Marvel x ThinkGeek Gear Up Collection, complete with repeating Infinity Gauntlet patterns scattered with Infinity Stones. The gold foil print on each gauntlet adds that extra touch to the otherwise subtle design.
The LEGO Infinity Gauntlet will take quite a bit of effort and money since one would need to buy 6 separate LEGO sets to collect all 6 Infinity Stones.
---
Hopefully this helps you stock up on all your Infinity Gauntlet paraphernalia just in time for Avengers: Infinity War, out in theatres on April 25, 2018 in Singapore!
---

Drop a Facebook comment below!