Century Square reopened on Wednesday, June 6th after undergoing a 9-month renovation, and with it also comes the opening of a new Filmgarde cineplex.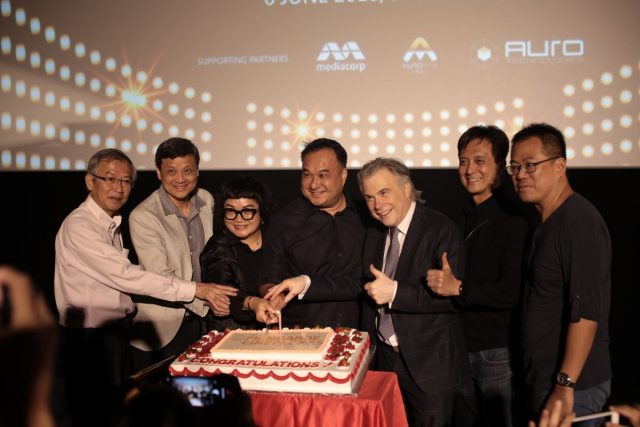 Working with Mediacorp and Barco, the 6 new cinema halls at Filmgarde Century Square will be the first in Asia to incorporate AuroMax sound technology. AuroMax by Barco, which is a competitor to Dolby's Atmos system, is an immersive sound system designed to provide a natural 3D listening experience. The AuroMax audio system works with three levels of speakers, and aims to deliver a larger audio sweet spot, as compared to conventional speaker set-ups, where the optimal listening area in the cinema is quite restricted.
Based on the screening of Jurassic World: Fallen Kingdom which we had in the media preview, I could not discern any difference between the new AuroMax audio system as compared to other cinemas I have been to. Perhaps there is still some calibration to be done, and the speakers need to break in, before any judgement can be fairly made.
Filmgarde will not be increasing or charging more for its ticket prices despite the upgrade, and there are plans to slowly upgrade all Filmgarde complexes to the AuroMax system by the end of 2019.
Apart from an audio upgrade, Filmgarde is aiming to reach a wider viewer base, by increasing accessibility in how audiences can buy tickets to catch their favourite movies. The cinema operator has given its website a complete overhaul, making the booking process a more painless one, also adding a feature that allows the user to toggle between English and Chinese. This revamp is long overdue, with the aging website finally updated.
This bilingual platform is also seen on Filmgarde's new self-ticketing kiosks, which allows for cashless and hassle-free purchases of movie passes.
This move is primed towards the mature and silver generation, which Filmgarde hopes that the bilingual platform would make buying movie tickets online more accessible to.
Filmgarde is also launching a new mobile application and membership program. Apart from usual functionality of movie schedules and ticket booking, the membership program is integrated with live data analytics, to proactively engage with members. It will recommend you a new movie release based on your movie history and favourite genre (kinda like how Netflix does it). What would we do without you, AI? And of course, the app would be available in English and Chinese as well.
As the youngest cinema operator in Singapore, it is essential for the company to constantly improve and keep up with the bigger, more mature competitors, and through its new initiatives it seems to be heading in the right direction.
---

Drop a Facebook comment below!