Bandai Tmall has just announced a collaboration with McDonald's China to roll out an exclusive Big Mac-themed Entry Grade 1/144 RX-78-2 "McGundam" plastic model kit (Gunpla). The Gunpla will be sold for ¥129 (US$19) from 26 April to 23 May, and will be limited to 50,000 pieces.
Although it's not quite the McDonald's x Mobile Suit Gundam collaboration as imagined by this awesome custom build back in 2020, it's still going to be highly sought after for sure, based purely on its Big Mac colour scheme, packaging, and the McDonald's logo on the RX-78-2's left chest.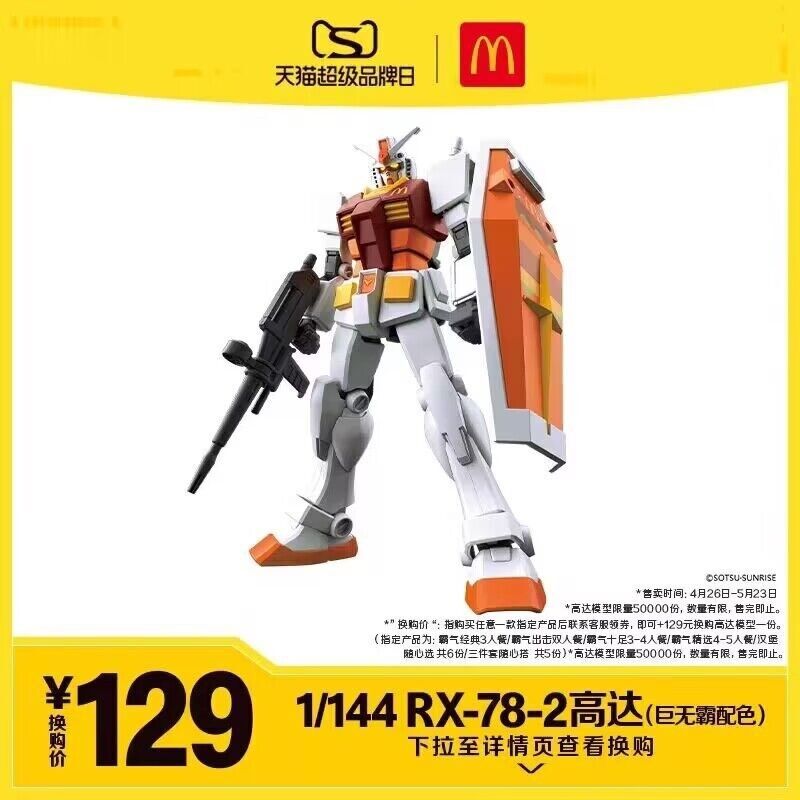 Starting from 22 April, consumers can purchase designated Big Mac e-vouchers at McDonald's Tmall flagship stores to be the first to get the opportunity to purchase RX-78-2 Gundam limited model kit.
A specially designed RX-78-2 image will be on the packaging of McDonald's classic products, including Big Mac burger boxes, beverage paper cups, dinner plate liners and more. Starting 26 April, consumers who purchase any Big Mac or meal at McDonald's will receive a limited-edition physical card of the Gundam licensed mobile game "Battle Showdown". There are 26 cards in the set.
In order to create a more immersive linkage experience for consumers, from 26 April to 23 May, five Gundam statues will be placed at designated McDonald's Gundam-themed restaurants nationwide for a limited time. Among them are the Shanghai Longteng Avenue Restaurant and Shenzhen Happy Coast Drive-thru Restaurant which will be "transformed" into Gundam-themed flagship restaurants. During the event, both flagship restaurants will become Gundam's "fan bases", bringing a series of limited-time experiences such as Gundam-themed exhibitions, inviting all fans of Gundam and Big Macs alike.
McDonald's China will serve its value meals with Gundam RX-78-2 theming during the promotional period too. We'll definitely be keeping our eyes peeled on our up and coming trips to China!
Find out more, as well as the full list of Gundam-themed McDonald's restaurants in China here.