Microsoft spent a bit of time talking about its upcoming console, the Xbox One X, but buried in its E3 showcase was a library of games establishing what the company has planned for its fans.
We had a private tour of the Xbox Showcase at E3, and here are 5 hot exclusives coming soon to the Xbox One and Windows 10. Special thanks to Xbox Singapore for making this possible!
---
Forza Motorsport 7
Launch: 3 October 2017, Xbox One and Windows 10
The first time I saw Forza Motorsport 7 at Microsoft's E3 press conference, a huge wave of relief overcame me. There was nary a mention of anything remotely VR, which is a big plus in my books because there are just somethings that do not go together.
VR and racing games is one of them.
Being able to focus on a straight up racing game, developers Turn 10 Studios have created the most beautiful Forza game ever, and this runs at native 4K, at a constant 60fps (frames-per-second). If anything, Forza Motorsport 7 shows off how much graphical potential the Xbox One X is able to output.
There are two firsts a Forza game in the upcoming instalment. First off is the ability to customise your driver avatar, with over 300+ suits to be exact. The game now features a 7-year partnership with Porsche, and this means you can park yourself behind the wheel of the new Porsche 9/11 GT2RS. The total car roster clocks in at a whopping 700 plus!
---
Crackdown 3
Launch: 7 November 2017, Xbox One and Windows 10
Terry Crews + big guns + even bigger explosions. Never had I wanted to be a supercop more than when I was playing Crackdown 3. The trailer shown during the conference did not do justice to the majesty of this open-world game. The large-scale destruction and excellent maneuverability of your character made for some amazing sequences of wanton destruction and near-death escapes. In terms of its size, the game will be 2.5 times that of the original blockbuster.
If there were any arguments about needing the added power of the Xbox One X, Crackdown 3 makes the best case for it in terms of the sheer amount of activity happening on-screen at any given time. In multiplayer mode, the game even makes use of Microsoft's Azure cloud servers, to provide the horsepower necessary to facilitate a procedural 100% destructible environment!
Take that Godzilla! Releasing on the same day as the new Xbox One X, Crackdown 3 should be the game you get to put your new console through its paces and enjoy this fun-filled playground.
I also did manage to get an extra juicy tip from the developers. Remember those sweet upgradable vehicles from the original Crackdown? Get this, the vehicles in Crackdown 3 will be TRANSFORMABLE. This would definitely make for some crazy vehicular/robot mayhem.
That's right, you heard it here first!
---
Sea of Thieves
Launch: Spring 2018, Xbox One and Windows 10
There's just something magical about being a pirate, and it's a genre that has been tapped on time and time again. In the past, being a pirate was a relatively straightforward affair, with games being mostly on rails apart from the seafaring bit. But with Sea of Thieves, developer Rare has been able to make something magical happen.
From what I've seen and played so far, Sea of Thieves has pretty much EVERYTHING you're looking out for in a pirate simulator. You get to go treasure hunting on the high seas with 3 other friends, plunder other players' ships and loot them, bring your loot back to port to trade for money, get drunk with grog and back to pirating again.
Although the maps aren't procedurally generated, Rare promises to constantly update the game with more content and places to discover to keep players busy. The only thing missing probably might be the romance options we've seen in the past with Sid Meier's Pirates!
The game looks almost ready to ship and if Rare delays any longer, Ubisoft's Skull & Bones is waiting patiently to plunder any remaining gamers who are torn between which title to buy.
---
State of Decay 2
Launch: Spring 2018, Xbox One and Windows 10
Set 15 months after the events of the first title, the world hasn't gotten much better, and things will soon become even more complicated. Once again, players will find themselves in the thick of the action trying to survive from one day to the next.
In order to tackle new challenges presented in the sequel, the skills system within the game has been greatly expanded. This allows for even more options and avenues for role-playing. On top of the expanded skill system, players will now earn perks as they upgrade their core abilities. This allows for greater benefits to help tackle the ever present zombie horde.
The biggest addition for State of Decay 2 would be online multiplayer with up to 4 survivors teaming up to tackle the zombie threat. With the world map said to be three times bigger than the original, you're gonna be needing all the help your friends can offer.
State of Decay 2 still follows the same drumbeat when it comes to skills and base building, which is frankly the most awesome part of the first game.
---
Cuphead
Launch: 29 September 2017, Xbox One and Windows 10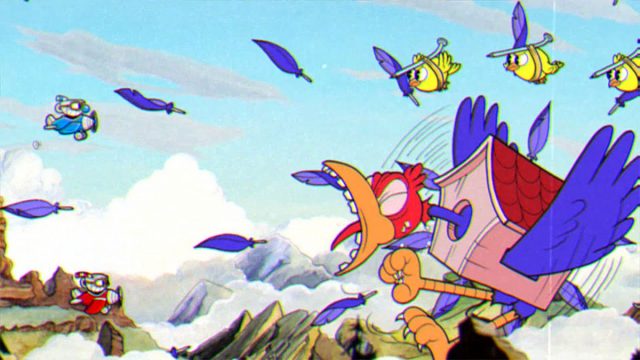 When Cuphead made its first debut in 2014, I was won over by its unmistakable art style. Heralding old school cartoons from the 1930s, Cuphead's strong visuals will cast a spell of deception over you. I went in expecting a game along the lines of Mickey Mania for the Super Nintendo, but walked away bruised and battered.
Studio MDHR's maiden title has you battling with all sorts of weird enemies from boxing frogs, angry birds to not-so-little mermaids. The moment you take your eyes off to admire these hand drawn works of art is where you get pummeled into the ground.
Cuphead is tough, extremely tough. Think of it as the platforming of Gunstar Heroes combined with, my all time favourite bullet-hell game, Ikagura. Fans of shoot-em-up and bullet-hell games will be right at home here.
All it takes is X hits before you keel over and die.
They simply don't make games like Cuphead anymore in terms of challenge and this is definitely one title that is great to watch on a livestream.
---

Drop a Facebook comment below!