It is now much easier to plan that next Super Mario-themed party! Nintendo has announced a new line of Super Mario Home and Party goods that will be released in Japan early next month, perfect for those among us planning our upcoming Christmas or New Year's party. Some of these items also deserve a permanent spot in our house so check out the highlights from this new collection. 
#1 Paper Plate Sets (¥1300 per set, S$15.75)
Dining is an important aspect of any party so make it fun with these placemats and their matching paper plates that also brings back your earliest memories of Super Mario. They are sold in a set of 10 with 5 of each design and you can choose between the 8-bit gameplay set (above) or the Mario party set (below).
---
#2 Ice Cube and Popsicle trays (¥2800 each, S$34)
Invent your own drinking game with these ice cubes trays! The yellow silicon tray allows you to create your bonus items (coins, mushroom and stars) and has two muddlers to mix them in your cocktails. The brown silicon mold comes with six Mario sticks which you can also use to prepare popsicles or chocolates.
---
#3 Mini-Blankets (¥6000 yen each, S$72.70)
These mini-blankets – choose between the pipe or the mushroom – are perfect for when we want to curl up on the sofa or for movie marathons with friends. Better yet, they can be folded up into a cushion when not in use so it's really two items for the price of one!
---
#4 Tissue Roll Holder (¥2800 each, S$34)
These Bullet Bill and Bob-omb tissue roll holders will ensure that you would always have tissues (or toilet roll) within easy reach… as long as you grab them before your big sneeze.
---
#5 Item Box Floor Mat (¥6000, S$72.70) / Piranha Plant Slippers (3800 yen, S$46.05)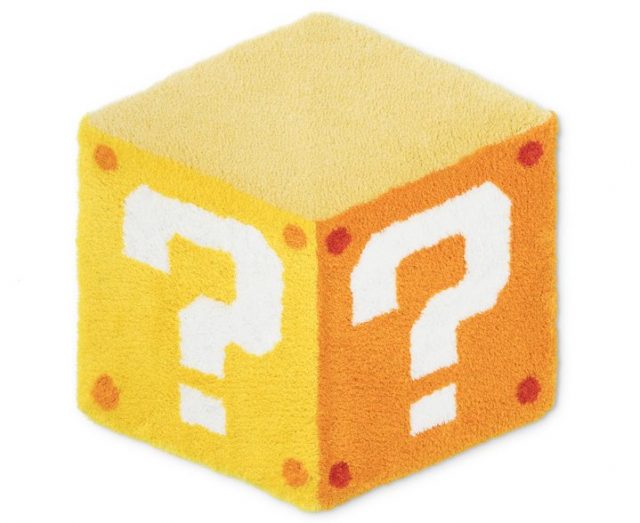 Stay warm and cosy with the Piranha Plant Slippers (store them in the pipe when they are not in use) while the floor mat looks great whether it's your front door or bathroom.
---
#7 Rubber Keychains
(¥700 each, S$8.50 or ¥1800, S$21.80 for a set of 3)
Never forget your keys again with these brightly colored rubber keychains. There are a total of 9 characters available, including Bullet Bill, Gesso, Kuribo/Goomba, Boo, Chain Chomp, Super Mushroom and Fire Flower. You can even use them as decorations for your Christmas trees or as Secret Santa gifts.
---
#8 Party Garland (¥1300 yen, S$15.75) 
Decorate your walls with the Mario party garland for that final touch.
The Nintendo Super Mario Home and Party line would be available in Japan from early December at major online retailers as well as household goods and electronic stores.
---

Drop a Facebook comment below!