When it rains, it pours! Batman's 80th anniversary has garnered a lot of good news for fans of the world's greatest detective. Firstly, the Batman and Fortnite crossover. Next, the six free Batman games from Epic Games.
Now there is more good news! On Batman day, Warner Bros. Games Montréal, developers of Batman: Arkham Origins ended their 4-year hiatus from Twitter with a 30-second clip of the bat signal projected onto a high-rise building, teasing the possibility of a new Batman game.
So what is the big deal? The video also showed viewers four cryptic symbols as glitches spanning the entire video. Creepy.
Fans immediately emulated their favourite superhero and began investigating and speculating the meaning behind the symbols. The first one to be seemingly solved resembles a demon's head. This could point to Ra's al Ghul, otherwise known as Head of the Demon.
Another guess from fans points to the Court of Owls, an underground organisation that secretly controls Gotham while training assassins. This guess turned out to be more than speculation as Scott Synder, co-creator of the Court of Owls replied to the initial tweet with the hashtag "beware the court of owls". Since then, he has taken down his tweet.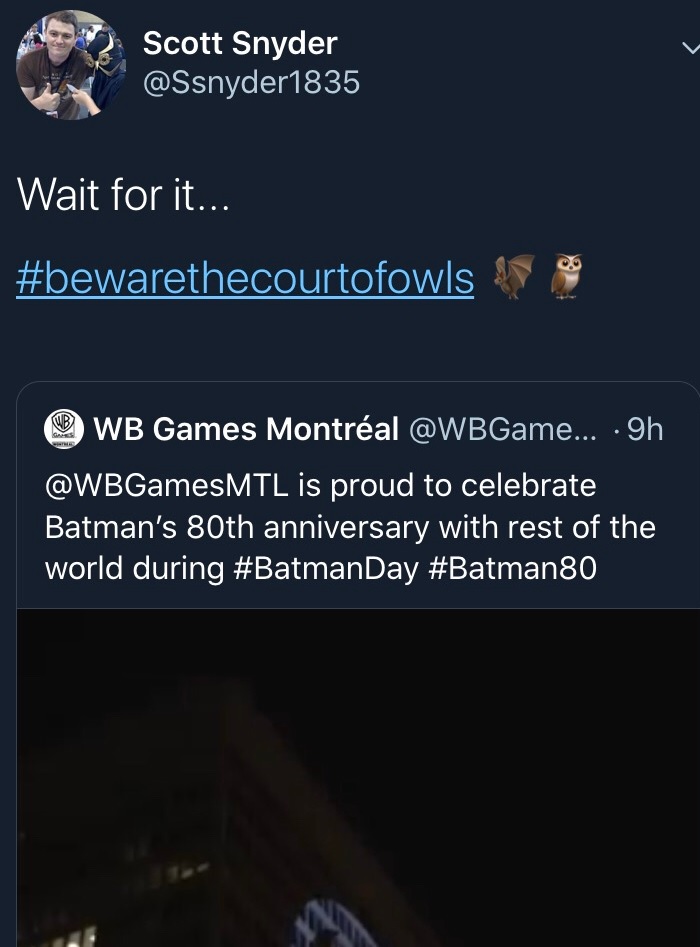 If this game really does get published, it would be the fifth instalment to the series. Arkham Asylum (2009) and Arkham City (2011) were developed by Rocksteady Studios before Warner Bros. Games Montréal jumped into the ring with Arkham Origins (2013). Rocksteady took back control of the series with Arkham Knight in 2015.
Fans were so focused on Rocksteady that Warner Bros. Games Montréal's involvement leads us to wonder if something bigger is brewing. This announcement came out just days before the PlayStation State of Play happening tomorrow. Fingers crossed that they reveal what these secrets are all about!