Amazon Prime Now SG certainly had a pretty rough week. The changes that the American online retailer has made in regards to Singapore and her shoppers basically meant the end of an era of access to a wide variety of goods.
Tl;dr: Amazon cut Global Free Shipping for shoppers in Singapore, but if you sign up for Amazon Prime via the Amazon Prime Now app, you can ship some items from Amazon US directly to your home, for free (if you hit S$60).
It all seemed fine and dandy, as it appeared that shoppers in Singapore had access to more items, and at potentially better prices as well. Well, if you're willing to pay for the new Amazon Prime membership, that is.
Since we are avid Amazon shoppers, we ploughed through the Prime Now app (which is terrible UI-wise, and your menu system is low res btw, Amazon), and discovered some deals that actually made sense to geeks in Singapore.
Availability and pricing might have changed depending on when you're reading this article. All items mentioned here were accurate at the time of reporting.
---
HyperX Cloud Stinger
For some reason, we're pretty sure Amazon lists the item they know has an unbeatable price on the top of every category. The first that we found on the top of the Video Games section is the HyperX Cloud Stinger.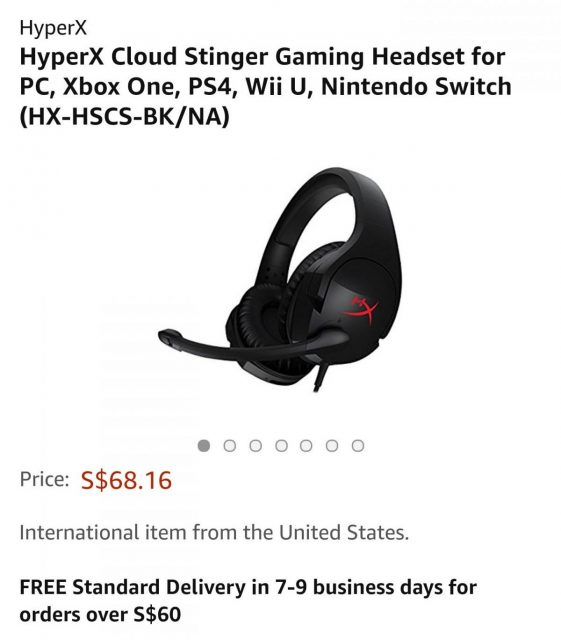 Compared to local pricing on Lazada which is going for S$79, the headphones could be bought for S$68.16.
Cheaper and available from the international store, and already eligible for free shipping, the top listing in the video games section meant that Amazon was spot on when it came to price and variety.
---
GeForce GTX 1080 Ti
Buying a graphics card is tricky business, as depending on the manufacturer, the same model of graphics card might perform differently. But that's a story for another day.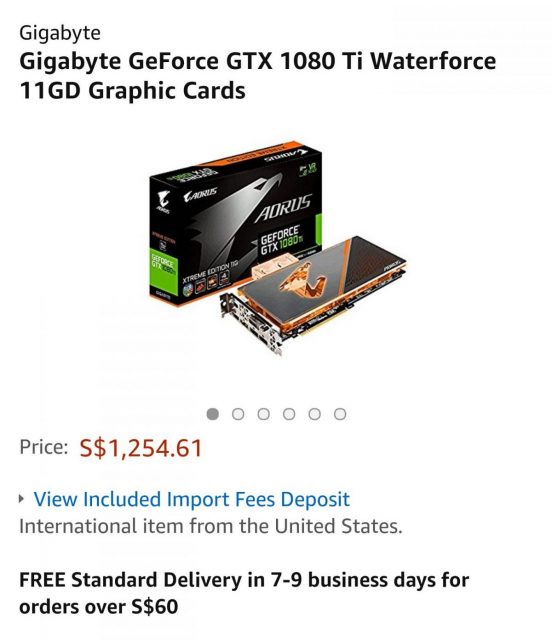 For the GTX 1080 Ti from Gigaforce, we found it to be cheaper than what we could see online via Sim Lim. At S$1254.61, the graphics card beats the local price of S$1499. While we could argue that going down to Sim Lim and paying cash would probably result in slightly lower prices, we highly doubt that even the gurus of Sim Lim can fight Amazon on this.
Based on online prices alone, shipping in this card from Amazon would be cheaper. However, you would have to worry about warranty which is an important factor to consider.
---
PS4 Fallout 4 GOTY
This was a buy that was hard to find. Why? We're not even sure how we found it in the first place, as it wasn't listed under the video games section.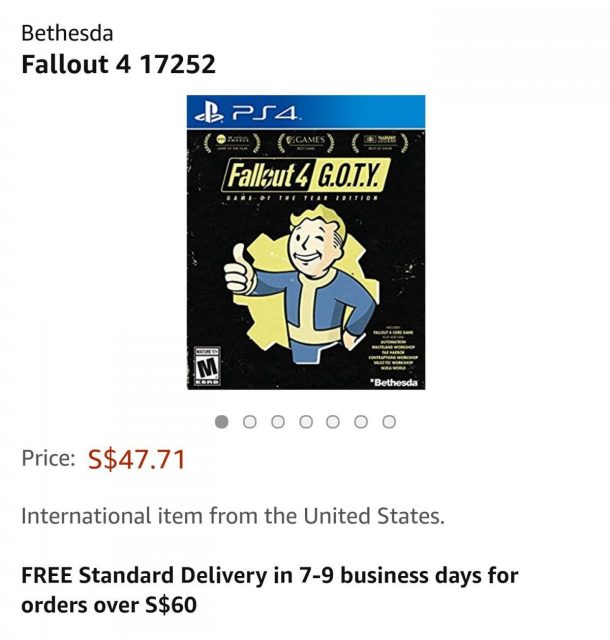 Compared to our favourite video game store in Singapore, Qisahn, Amazon has the better price for the GOTY edition for Fallout 4. Going for only S$47.71, it's not hard to pick up this title that is packed with all the existing DLC into one neat package.
The real upside? Amazon SG has stock for the PipBoy edition for Fallout 4. If you're looking to cosplay as a vault dweller, there's no better reason to pick this up right now!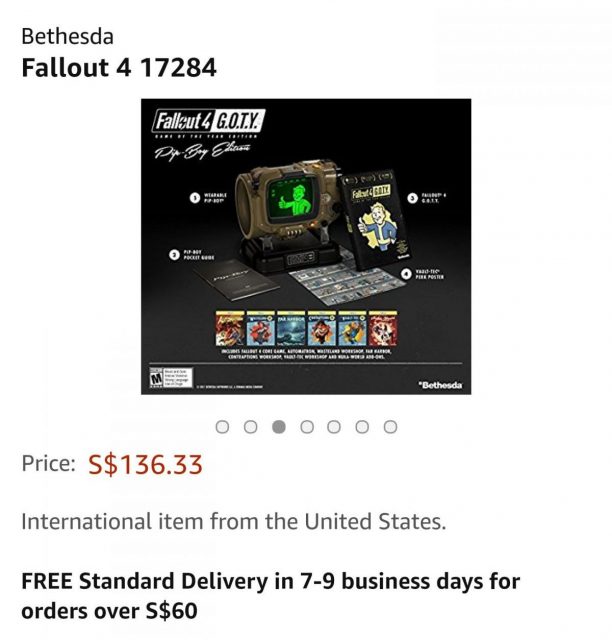 ---
If you've made it far down this far, this is where it gets really sweet for a particular geek – the board game geek. If you're an avid board gamer, Amazon SG had a great selection, and it has gotten even better in terms of both price and variety.
Getting ripped off at local board game stores? This is where you can build up your own personal collection at a fraction of the price!
Ticket to Ride
It would be unfair to compare prices against local board game stores but there's a rich ecosystem of resellers over at Carousell. Compared to the lowest available price, S$53 is the price to beat on Carousell.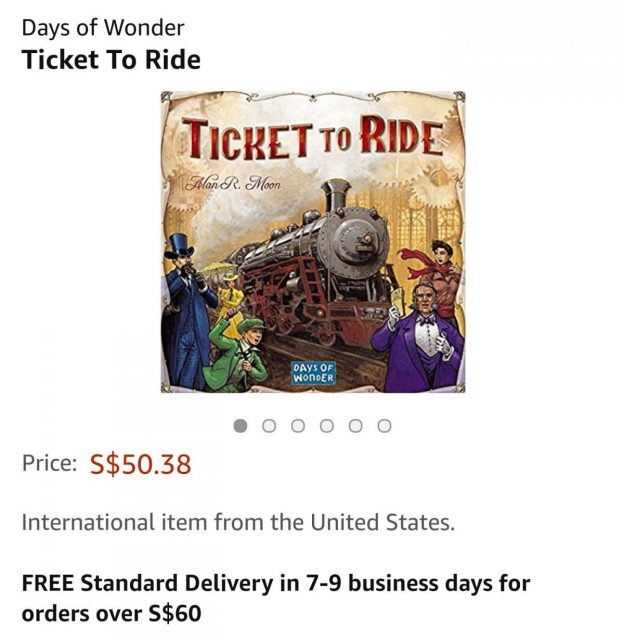 Compared to Amazon SG, the base Ticket to Ride game can be bought for S$50.38. It's not the biggest of savings, but you know that this set is authentic, and if you scroll down further, you would discover a good amount of expansion sets available as well!
From here it gets better.
---
Tomb of Annihilation Board Game
Trust us, Dungeons & Dragons is back in a big way. And the best part of it all, you're able to grab them in nicely contained box sets, like this!.
Locally, this set would go for over S$120, but this awesome set can be bought from Amazon SG for only S$80.65!!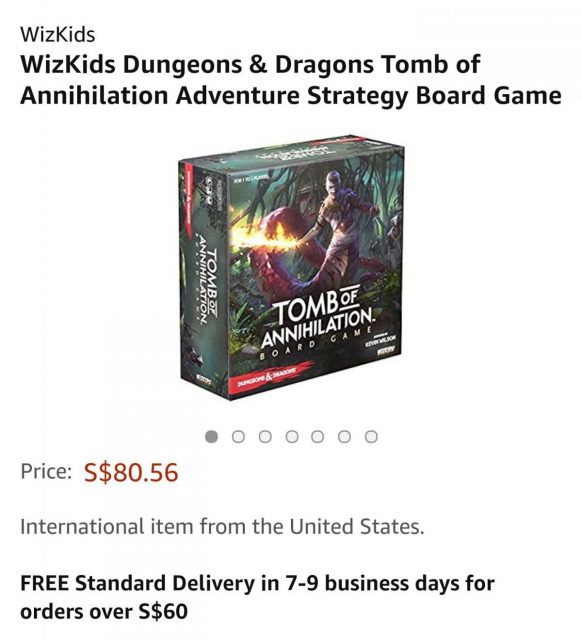 Compared to the original listing on Amazon US, we noticed that board games are priced at a direct currency conversion, as the site listed the board game at US$83 after factoring in shipping costs.
By getting this game via the local app is a no-brainer, and instantly unlocks free shipping to Singapore!
Btw, the Tomb of Annihilation Adventure Strategy Board Game is great (or so I've been advised by Dirty8)
---
Love Letter
Another great title to add to any fledging collection, Love Letter is a great, light game which can be explained and played in a matter of minutes. While the game can be purchased cheaper as a standalone set, the premium version comes nicely boxed and with cubes to help you track bids.
Compared to prices found on Carousell once again, the going rate for the cheapest brand new set is S$18. When you're able to get the same set for S$11.44, it's a no-brainer. Add this together with Ticket to Ride, and you're all set for the next game session with free shipping!
---
Terraforming Mars
While the games we've recommended above might seem rather dated, we found Terraforming Mars nestled deep under the generic search term of "Board Games".
Released in 2016, Terraforming Mars has gone on to win numerous awards. This is a great title to pick up if you're looking to upgrade from more lighter board game fare.
Trading at about S$90 on Carousell, Terraforming Mars can be picked up for S$68.17 on Amazon Prime Now SG, instantly earning you free shipping, saving you time meeting a seller at the MRT.
While you're at it, pick up the expansion at S$17.72 as well!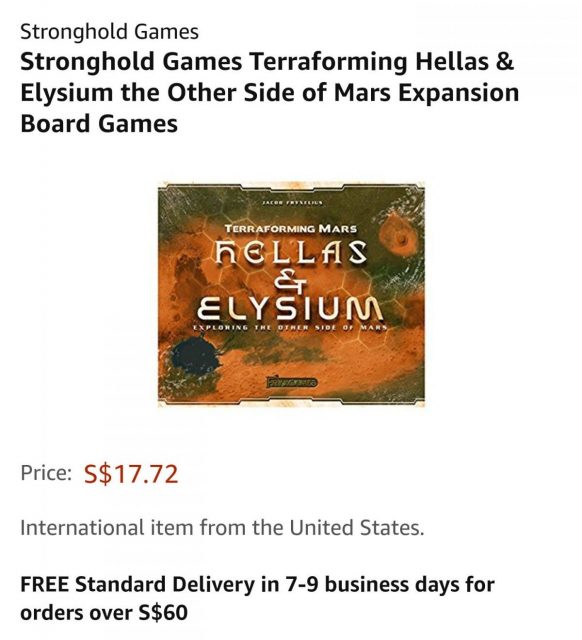 ---
Fallout S.P.E.C.I.A.L Operation
While we could always play the boring vanilla Operation, this Fallout version is made for us geeks.
While we definitely could not find a local equivalent in stores locally, the appearance of this listing cements the fact we do have access to certain niche products via Amazon Prime Now SG.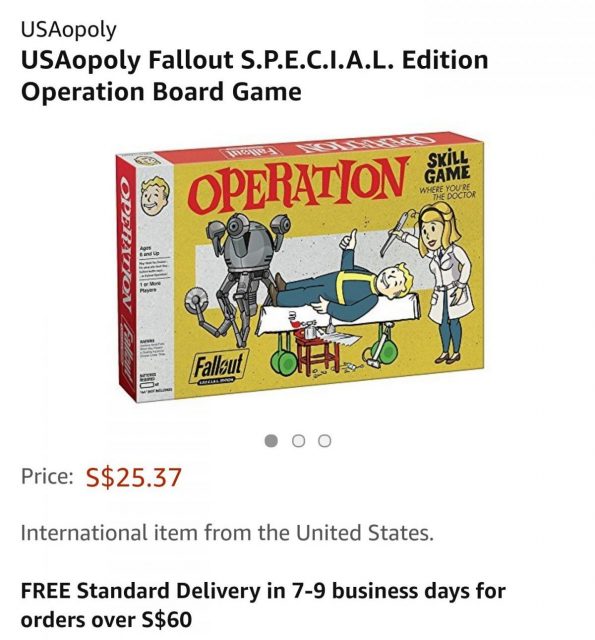 Compared to the official pricing found on the Bethesda store of US$35, this special edition Fallout-themed Operation can be snagged for only S$25.37.
In fact, this was the item that made me use Amazon SG for the very first time. Combining my purchase with, Terraforming Mars, I spent S$150 simply by researching for this piece.
Well played Amazon.
---
While we still stand by the fact that Amazon Singapore could have been launched way better, the new international store access does have its benefits. Through the process of researching this article, many more hidden gems were waiting to be uncovered. However, owing to the poor UI, it may lead to many potential shoppers dropping out before a deal is found and secured.
One thing is definitely clear, if you're a video or board game geek, Amazon Singapore is perhaps the greatest thing to happen to the community. If Amazon is able to expand their offerings soon, we'll probably see the collapse of the local Carousell market.
If you're patient enough, you may never need to walk into a board game store in Singapore ever again.
Gerald currently straddles between his love of video games and board gaming. There's nothing that interests him more than trying out the newest and fanciest gadget in town as well. He dreams of publishing a board game sometime in the future!
---

Drop a Facebook comment below!

---