You must have heard it now, American e-commerce giant Amazon has officially launched the Prime Now service here in Singapore, albeit only in app form for both iOS and Android. Prime Now is primarily considered an express grocery service with delivery windows of two hours (free for orders above $40/S$5.99) and one hour (S$9.99), with deliveries made from 10 am to 10 pm every day of the week.
The launch in Singapore does not require users to be a Prime member currently, but this will definitely change as Amazon makes more of its services available in the country. Hopefully.
Other than providing groceries for purchase, you can order electronics, toys, stationery, beauty products, and more importantly to us, games! No, not video games, as Prime Now has zero video game titles. Instead, think table top board games and card games. And it's more than just your Risk, Monopoly and Snakes & Ladders!
While it is prudent to note that this is definitely not the full range of products Amazon provides in other established regions, the selection now for board games here, along with the low prices, are more than satisfactory.
A search for Pandemic's Reign of Cthulu on the US Amazon website turned up a price of US$35.95/S$51.74, add in shipping and it costs US$47.94/S$69.00. Using Prime Now, we get: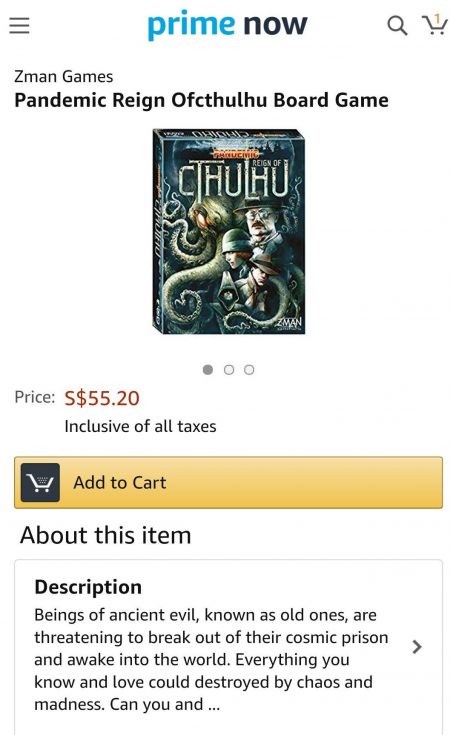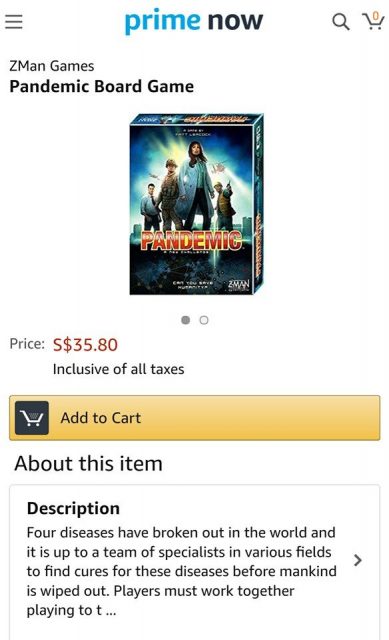 And you should check out the other games in the Pandemic series as well. Pandemic Legacy Red Board game is going for $78.60 (Amazon US$33.18), while Pandemic State of Emergency is retailing at $37.40 (Amazon US$30.70). The original Pandemic is priced at a low $35.80 (Amazon US$21.49), but locally, two online retailers are selling them for $79.90 and $65.90.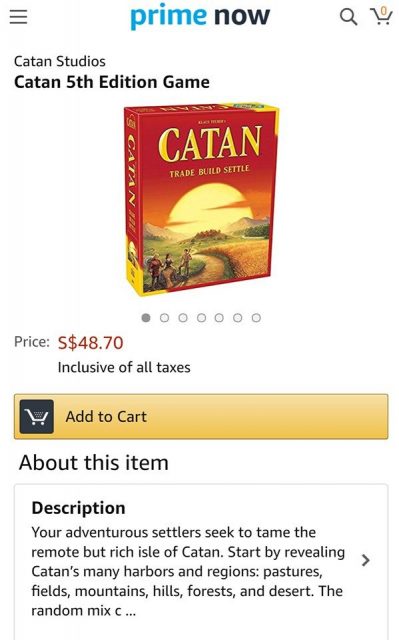 If you're looking at picking up Catan aka Settlers of Catan, Prime Now is selling it at $48.70 (Amazon US$28.99). Meanwhile, local online game retailers are pricing theirs at a "sale" price of $74.90 or $59.90. Yikes!
And if you're into collecting special edition Monopoly sets, Prime Now has you covered. Monopoly Fallout ($42.30)? What about that hard to find Zelda edition ($42.60)? Or Pokemon ($44)? How about The Big Bang Theory ($45) set? World of Warcraft (38.30)? Supernatural ($54.70)? These sets are not readily available in shops, and specialty game shops tend to put a premium on them, but not Amazon!
A similar search for Monopoly: Game of Thrones Collector's Edition Board Game showed a price of US$43.94/S$63.24, and shipping will bump it up to US$56.86/S$81.83, but using Prime Now will yield a result of just S$65.60.
And because the system is new, there are some bugs but you can use them to your advantage.
If you're gunning for the Supernatural Monopoly set, you won't find it if you search Monopoly, because it's listed as Monopoly: Supernatural. Search Supernatural instead. The listings are correct for the other special edition Monopoly sets.
And if you are a fan of Ticket To Ride, you won't find it in the board games section either. Do a manual search and the 1912 Expansion is going for $29.20 (Amazon US$19.99), while Ticket To Ride Europe is going for $49.60 (Amazon US$29.99). Locally, you have to pay the "sale" price of $69.90 or $73.90!
And for a limited time, use the promotional code right now for VISA20, and you can get a further S$20 off by paying with your Visa credit card! Of course, the more you buy, the cheaper it will be, and with shipping costs at a minimal, board game enthusiasts should really check their most wanted games off their wishlist now!
We are excited that Amazon has finally reached our shores (other than Amazon Prime Video), and we cannot wait to see how the e-commerce titan will duke it out with local contemporaries like Lazada and Qoo10!
---

Drop a Facebook comment below!