Whether you're on the side of the Empire or the Rebellion, you know you'd want to ride in a TIE Fighter if given the chance. One Star Wars fan has decided to turn that dream into reality, and brought the iconic vehicle to life in his home workshop by constructing a remote-controlled, 1/3 scale rideable TIE Fighter of his own.
The working electric model was built by Allan Carver from Nova Scotia, Canada. Using electric wheelchair motors and RC controllers, the TIE Fighter can travel at up to 6 miles per hour, large enough for one person to sit in it for a ride. The vehicle is sturdily built with a steel tube frame covered with two types of sturdy foam on the body and wings.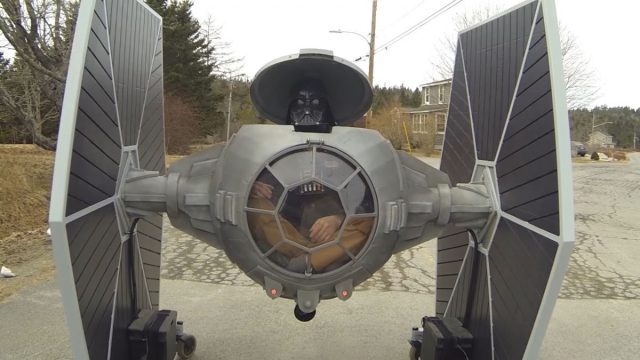 Carver used the original 1970s Kenner TIE Fighter toy as a reference for his build to help him design the wings and get the scale right. The front hatch opens for you to climb inside, and the top hatch opens as well. It even comes with TIE Fighter sound effects, through an audioboard linked with a 30 watt amplifier.
It might not be the speediest ride in the galaxy, but it sure is the coolest way to travel around your block.
Now to build that lightsaber!
Joyce is a language nerd whose idea of a good time includes speed-solving Rubik's cubes and binging Netflix, all fuelled by drinking many, many mugs of tea.
---

Drop a Facebook comment below!
---