Geek Culture recently had the opportunity to attend the Xbox Showcase 2016 event in Singapore. It was such a treat, with early hands-on experience with a number of upcoming Xbox One games. But the real gem was the delectable Xbox One S Gears of War 4 Console that was shown at the private event. Yes, we also saw the new Xbox One S console and we're deciding which one to get. Here's a round-up of six things that has gotten me all pumped up, to spend some quality time with my Xbox One and PC.
---
[1] Xbox One S Gears of War 4 Limited Edition 2TB Bundle
We all saw the sexy new Xbox One S revealed at E3 2016, and wondered when it would land in Singapore. The bad news? Xbox Singapore does not have a launch date and price for it here. But instead of the white console, we'll be getting the Xbox One S Gears of War 4 Limited Edition 2TB Bundle instead, on 25 November, priced at S$699.
(In the US, the GoW4 Xbox One S is priced at US$449, while the regular, special 2TB Xbox One S is US$399, so we can safely estimate that when the regular Xbox One S is launched here, it should be priced at S$599)
This bundle will consist of a gorgeous battle-weathered custom console with a 2TB hard disk, a GOW4 Crimson Omen LE Wireless Controller, a digital download of Gears of War 4: Ultimate Edition for both Xbox One and Windows 10, a GOW4 Season Pass and 8 additional Gear Packs!
As a longtime Gears fan, I'm seriously contemplating on this upgrade. If anything, I just want to have a console that's 40% smaller and the ability to stand vertically with the rest of my gaming consoles (finally!).
Though we have to wait until November to get our hands on the Limited Edition console bundle, we can at least get our hands on the Crimson Omen Controller (above) and the JD Fenix Limited Edition Controller (below) in October, alongside the game's release. The JD Fenix Controller features a laser-etched design based on his armour, with sexy metallic blue accents. The controller even comes with a unique multiplayer lobby banner and three Gears packs for special in-game items.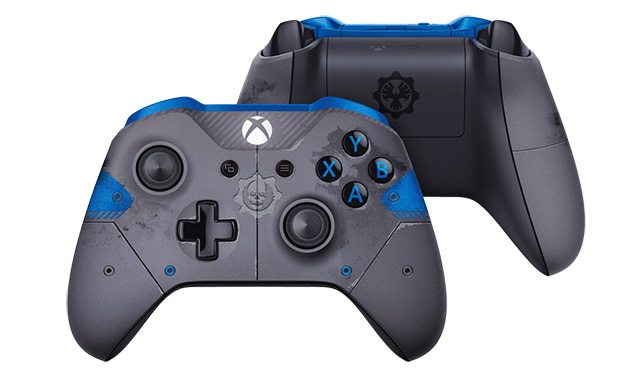 ---
[2] Xbox Play Anywhere
Buy it once, play it anywhere. I can't love this feature enough. Now, thanks to Xbox Play Anywhere, you can buy a new release on Xbox One, and get the PC version at no additional cost. Just imagine, having played through a game's campaign mode at home on your TV console setup, then continuing in in your study room or office, via your PC, with your game progress synced. Not only that, but both Xbox One and PC gamers will get to play together, across both platforms, seamlessly.
Not convinced how awesome it is? Or how it works? Watch this video:
https://www.youtube.com/watch?v=KDtOEvxjnG0
One thing to note though, that this feature isn't applicable to all upcoming game releases on the Xbox One. It seems to be catered more for the first-party console-exclusive titles. I don't have a problem with that, especially since the next 4 reasons below are "Xbox Play Anywhere" titles.
---
[3] ReCore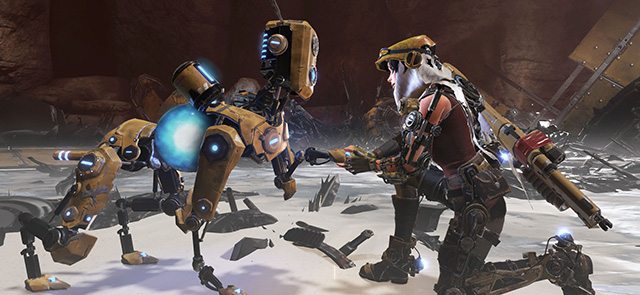 Coming to Xbox One and PC on 13 September, ReCore is a unique action adventure game from the legendary creator Keiji Inafune (of Mega Man fame), and makers of the highly successful Metroid Prime series. The game takes place on a planet ruled by robots bent on wiping out humans. Enter Joule Adams, one of the last remaining humans and protagonist in the game, who teams up with a group of robot companions with unique abilities and powers, to save mankind.
From my brief time with the demo, I got to take down wave after wave of robot enemies, and swapping between two different robot companions. The auto-aim/target feature seems to make gameplay all too easy though, but that's probably to allow the player to experience the platform play and puzzle solving, rather then to fret over fumbling with manual aiming. Overall, the game gave me a strong vibe and familiarity akin to the Ratchet and Clank series, which I totally adore. So this is definitely on my playlist this month.
---
[4] Forza Horizon 3
Coming to Xbox One and PC on 27 September, Forza Horizon 3 is probably the best looking driving game I've ever set my eyes on. The attention to detail on the cars is simply astounding! I have to admit though that I'm not all that into cars, but the visuals and silky smooth gameplay had me intrigued. I mean, just look at that sexy Lamborghini above, that alone was enough for me.
On the flip side, what's with the dumbed down controls Microsoft? I've seen players who can barely make a turn in the game without crashing into a barrier or coughing up some dirt, but the demo made gameplay see more like Need For Speed. The appeal of Forza is not just with the cars, but with the realistic driving experience. I can only hope that this demo was made to appeal to a general audience.
With 350 of the world's greatest cars to choose from, and ability to customise EVERTHING, plus an open world double the size of Forza Horizon 2, what's not to love? Oh, and it even features cross-platform play, so Xbox One and PC gamers will get to co-op and compete with one another. Glorious! Come on keyboard warriors. Let's race.
---
[5] Gears of War 4
Coming to Xbox One and PC on 11 October, Gears of War 4 takes place 25 years after the last installment, and this time, the game's protagonist is Marcus Fenix's son, J.D. Fenix (voiced by Liam McIntyre of Spartacus fame). As a huge fan of the series, I remember spending days on end on the multiplayer modes and Horde mode. The Gears of War series has, in my opinion, featured the best two-player co-op campaign in my years of gaming, and this one looks to keep it that way. It's also an Xbox exclusive and a damn good reason to pick up the console.
The hands-on demo build of Gears of War 4 was a sneak peek at the campaign mode, and it was pretty much standard fair, albeit prettier with next gen visuals. I immediately felt right at home when I took control of J.D. Fenix, wielding my all-time fave Lancer Assault Rifle. The familiar sound when revving the chainsaw bayonet gave me goosebumps, and I couldn't resist running up to every enemy to slice and dice them in half. Though the campaign mode runs at 30fps, the multiplayer modes will apparently run at 60fps and on dedicated servers (Yes!).
Horde 3.0 looks to be where I'll be spending most of my time, after having completed the campaign mode first of course. Nothing beats having a 5-player co-op, battling 50 waves of enemies, and boss fights every 10 waves. And yes, PC and Xbox One gamers can enjoy cross-platform multiplayer on day 1!
What I really want to know now is if we're going to get this Gears of War 4 Collector's Edition, which includes the GOW 4 Ultimate Edition SteelBook (Physical Disc) + Season Pass, a JD Fenix on COG Bike Premium Statue by TriForce (19 Inches in Length, 11 Inches in Height), a Frag Grenade Keychain (6 Inches in Length) & Exclusive Lithograph by TriForce, In-Game Bonus Content: Includes 3 Gears Crates, all in a Premium Packaging Box.
There's even an Amazon Exclusive "Outsider Variant" of the set if you're interested. Both are available only for Xbox One.
---
[6] Dead Rising 4
Just in time for the X'mas holidays, Dead Rising 4 arrives on the Xbox One and PC on 6 December! There's just no stopping Capcom from churning out yet another sequel to their mass-zombie-killing franchise. This is one of my personal favourites and the reason why I bought the Xbox 360 in 2005, to get my hands bloody in zombie blood with the first Dead Rising game.
Fast forward to 2014, and Dead Rising 3 was a key motivator in my acquisition of the Xbox One. In this 4th instalment, Frank West, the badass protagonist from the first game is back, and he's deadlier than ever.
From my short run through of the demo build at the event, I got to try out creating combo weapons on-the-fly. That's right, unlike previous games, Frank no longer needs to get to a work bench to combine items to create combo weapons. Yay! Also, you can apparently combo up vehicles now too, which is new to the series. Unfortunately though, it was not showcased in the demo build.
But I did get to try out Frank's new Exo-suit, which takes zombie bashing to a whole new level. Once Frank is equipped with an Exo-suit, he can pick up a bevy of heavy duty weapons lying around, and unleash zombie-apocalyptic mayhem! But even without it, the inclusion of mythical, magical weapons gives this game a musou feel to it, and not just another round of boring old zombie slicing. Another nice touch to the game is how it is taking place during the Christmas season, which is perfectly apt for the festive season.
---
BONUS: Win an Unforgettable Trip of a Lifetime
Xbox Singapore will be sending 1 lucky winner in Singapore on an unforgettable trip of a lifetime to Sydney, Australia for an epic week of Xbox activities! From what we gather, the week will consist of a Forza Horizon launch event, a Gears of War 4 experience at Sydney's iconic Bondi Beach and many more first hands on play with upcoming games. All you have to do is to watch the live stream below, and leave a comment on the post below before 12 September.
Good luck, and remember to use the hashtag #ShowcaseTrip!
For those that missed Xbox Showcase LIVE, here you go!!! Stand to win an unforgettable trip of a lifetime to Sydney, Australia to participate in an epic week of Xbox activities!(1) Tell us on the bottom comment section – what you love best about our live stream and what you wish to see more of, so we can make Xbox Showcase even better next year, (2) Include your Gamertag and (3) Hashtag #ShowcaseTrip to stand to win! Contest ends 12 September, 11:59PM.

Posted by Xbox Singapore on Friday, September 2, 2016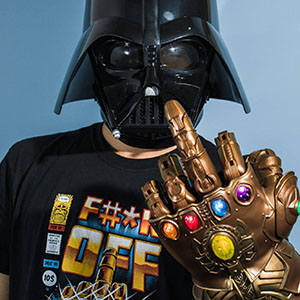 Yonk is a geek who is fortunate enough to have an equally geeky Star Wars fan for a wife, who owns a LEGO Millennium Falcon encased in a glass coffee table as their home's centre-piece.
---

Drop a Facebook comment below!