Welcome to the first edition of iGaming Culture on the Go for Geek Culture. On my first foray i'm going to introduce you to some mobile games that you may not have had the pleasure of enjoying.
---
1. Super Monsters Ate My Condo!
iOS and Android: Free (with in-game purchases)
Developer: [adult swim] and Pik Pok
This is the second outing for this intense and psychotic matching game. It takes the endless frantic craziness of the first one and gives you only 2 minutes to combo big on this one. Extra points for super Japanese culture references to gigantic monsters.
You swipe odd condos either left or right to feed the 2 matching colored beasts. The remaining condos fall to create match-3 combos that cascade into more combo chains that causes even more insanity all over your screen. It also offers the usual freemium style boosts and currency for power-ups, not that you really need them.
Summary: It's free, and it got a 5-star rating from TouchArcade. No excuse.
Also See: The original Monsters Ate My Condo for the endless version. It's currently priced at US$0.99, and probably won't go free again, as the last time that happened was in 2012.
2. Canabalt
iOS and Android: US$2.99 (Last on sale at US$0.99 on July 23, 2014)
Developer: Last Chance Media, LLC.
The original. This is the horizontal runner that spawned all others. It was originally made overnight in 24 hours as part of a contest and that fact makes it even more epic than many others that tried to clone it. Together with a epic soundtrack make that a double epic score.
Simple premise. Run. Along the way you jump from one building to another or jump to avoid boxes that slow you down. As the speed increases these boxes might actually save you from going out of control. Add in some crumbling buildings and bombs dropping from the sky and this makes for a real challenging run. Forget Flappy Bird.
Summary: Alas, this game has never been free, but it has gone on sale 3 times since its birth in 2009. Either way, it's worth it.
Also See: Monster Dash, Halfbricks' less successful cousin of Jetpack Joyride.
3. Pilot's Path
iOS: US$3.99 (Last went free on May 13, 2015)
Developer: Happymagenta
Guys that know me know what pixel art means to me. This is the one of the first games i've seen that respects that art form with retina scale pixel art. There is none of that scaling nonsense, or any of those double or triple pixel cheating going on. This makes for a eye popping, beautifully detailed feast.
In each game, players spawn on random maps and fly their Huey around, to run flying missions for criminal bosses. This is also one of the few mobile games that gives players a true cross device experience. Use an iPad, or sync it to your TV, and use your iPhone as the game controller. That's right, this game gives you the full console experience, without the tactile buttons of course.
Summary: Wait for it to go free again and experience what pixel art is SUPPOSED to look like. No offence Nimblebit.
Also see: Any other Happymagenta game, because those guys nailed the free, high quality and challenging mobile game experience.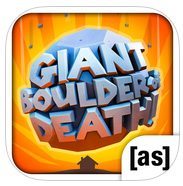 4. Giant Boulder of Death
iOS and Android: Free
Developer: [adult swim] and Pik Pok
It always helps when great gameplay is setup by a great story. You play a pissed off boulder that wants to exact revenge on a town for demolishing your girlfriend to make a statue. Makes total sense. The colourful cubic graphics also make for a nice visual experience that makes you wonder if they lifted it from Katamari.
This is one of the few times tilt control has actually worked very well as you guide your boulder forwards trying to smash and avoid all sorts of eccentric objects and structures. C'mon, you know when a game says to destroy everything. How awesome must it be?
Summary: Also free, no excuse. But its worth getting the fun themes.
Also See: In Clay Jam, you also play a boulder, but this time, everything within the game is made out of clay, much like the classic BBC character Morph from Aardman Animations.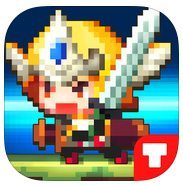 5. Crusaders Quest
iOS and Android: Free
Developer: NHN Entertainment Corp.
Have you ever sat there at night long ago thinking to yourself "Man, Final Fantasy would be so much better without all the walking around waiting to run into random monsters…." Well, at least these guys got rid of the walking around part. It takes one of the best parts of RPGs (character evolving) and makes you put together different strategic teams to overcome different quests and PVP challenges.
So it's not turn-based, like Final Fantasy, but it definitely borrows from many other aspects. You build your team of 3 characters and smash your way to the boss at the far right through multiple waves of mobs by unleashing combos of skill blocks. Nice bite sized fun for gaming on the go.
Summary: It may seem daunting at first with all the options laid out before you, but once you grasp the mechanics it is actually more fun than most of those "Chinese" style character games.
Also See: Final Fantasy Record Keeper, these guys (of course) retain the turn-based battle format, and use official Square Enix characters, but overall, it doesn't feel quite as fun.
---
That's it. Hopefully, you will find some new fun with these games. Check back with Geek Culture often, for my next list when I try to bring you something different from the other guys.
L8!
Wondering what the games look like? Browse this screenshot gallery:
---

Drop a Facebook comment below!