While it may be 11 years since the final Harry Potter book hit shelves, and 7 years since the last film in the series graced the big screen, love for Harry Potter is still going as strong as ever.
This is due in part to Fantastic Beasts and Where to Find Them, the successful spin off prequel in 2016 that explores a whole new side to the magic community.
Along with the mobile game Harry Potter: Hogwarts Mystery, Harry Potter fans have plenty to keep themselves immersed in the magical universe.
Say you've got a loved one who's a massive Potterhead, but they've already got the works – a wand, and scarf and uniform of their Hogwarts house – what else can you get them? If you're looking for more unique Potter-themed gifts, then look no further, as we have some ideas for you.
---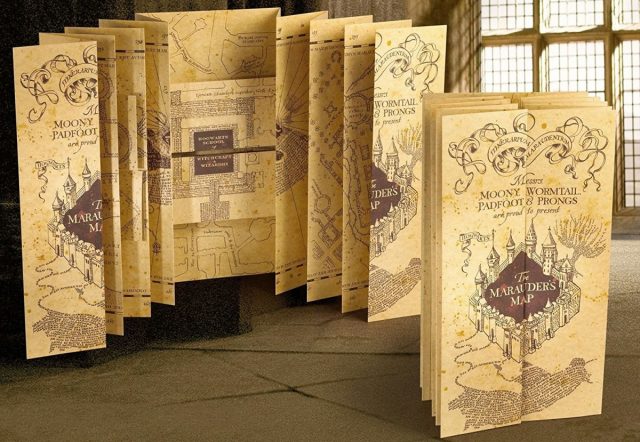 This Marauder's Map may not really be able to tell you the precise location of everyone in Hogwarts, but it is full-sized and incredibly detailed.
Measuring at 15.5 by 72 inches when fully opened, the layout of Hogwarts is printed out onto parchment paper and looks just like the map in the movie. Just don't forget to say "Mischief managed!"
---
Fancy yourself an aspiring Quidditch player? This unique keepsake is a replica of the box used to house the quintessential Quidditch set – a Quaffle, 2 Bludgers, and of course, the Snitch.
The box isn't life-sized, but is a small scale replica (9" x 4.5" x 4.5") that would fit nicely on your shelf. Alternatively, the Quidditch balls can be removed, and the box can be used as stylish storage container for all your wands and potion ingredients!
---

The 7 novels in the Harry Potter series aren't the only books penned by J.K. Rowling about the School of Witchcraft and Wizardry. This Hogwarts Library book set contains 3 books from the great library of Hogwarts which appeared in the Harry Potter books – Fantastic Beasts and Where to Find Them by Newt Scamander, Quidditch Through the Ages, and The Tales of Beedle the Bard.
The books are filled with doodles and annotations by characters, and are a must-have for the collection of Potterheads.
---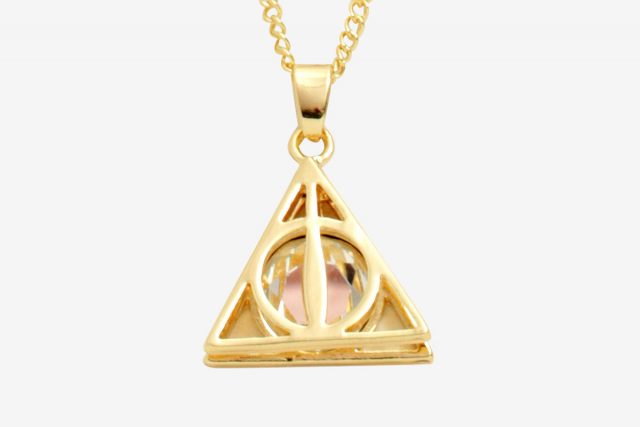 The Elder Wand, the Resurrection Stone, and the Cloak of Invisibility. These were the ingredients chosen to create the perfect little girls…oh wait, no. The Deathly Hallows symbol has become emblematic of Harry Potter, and this golden necklace will add a bit of bling to any outfit.
---
This one might not function as a portkey, but it'll light up your room! The highly coveted prize of the Triwizard Tournament can now illuminate your desk or bedside, giving you a magical glow for your late night reading.
---

There are hoodies, t-shirts, and sweaters for Hogwarts houses in the market, but a denim jacket? That's pretty rare, and pretty unique. Take your Hogwarts look up a notch with this trendy black denim jacket emblazoned with the house crest, and represent your house with pride.
Gryffindor is pictured, but the same jacket is available for all the houses – Ravenclaw, Hufflepuff, and Slytherin.
---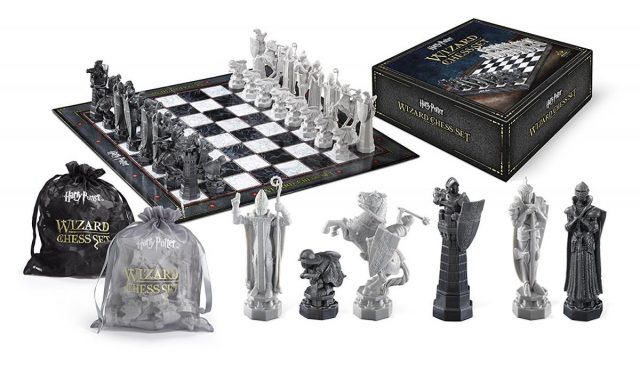 "That's totally barbaric!" "No, that's wizard's chess." Just like in Harry Potter and the Philosopher's Stone, this wizard's chess set features intricately detailed chess pieces identical to how they appear in the movie. Now if only they would bash one another up when captured too…
---
With its gorgeous gold details, this classy 10-ounce mug is perfect for a good cuppa, letting you start your day off right.
---
This is no cheap plastic knockoff of Hermione's time turner necklace, it's actually plated in 24-carat gold! At the centre is a functioning mini hourglass with turnable rings, and the necklace comes with a display case should you wish to not wear it. Don't spin the rings too much though! Who knows where you might end up in time.
---
This set looks like it came straight out of Flourish and Blotts, a perfect gift for any first-year student to write home with. It comes with 6 gilded and embossed Hogwarts notecards, 6 envelopes with the Hogwarts crest, a red wax stick and wax seal stamp, a feather quill ballpoint pen, and a velvet pouch to hold it all.
---
Hopefully you've got enough Galleons saved up in Gringotts for these delightful Harry Potter gifts!
Joyce is a language nerd whose idea of a good time includes speed-solving Rubik's cubes and binging Netflix, all fuelled by drinking many, many mugs of tea.
---

Drop a Facebook comment below!

---