It's not every day that you see a zombie horde chasing down a free-runner through the streets of Singapore, but that is precisely what happens in the above clip!
Created to promote the local launch of the upcoming zombie-slasher game Dying Light (due later this month on the 27th of February), this video was scripted, shot, and had it's post-production done entirely in Singapore. Local gamers will know that game publishers rarely make the effort to create promotional material specifically for this part of the world, so the fact that this video even exists is quite the pleasant surprise.
Some locations featured in the video might be instantly recognizable to viewers, while others may be a little more obscure. I wasn't even aware there were abandoned buildings that looked like that in Singapore, but it seems like these guys knew exactly where to shoot a zombie flick. And I'm sure at least some local gamers out there would recognize a well-known gaming hotspot shown right at the end.
Dying Light is developed by Techland, the makers of Dead Island – another well-known zombie-themed game, and can be considered to be a spiritual successor of sorts. The game features a large, sprawling urban landscape not unlike Singapore that is well-suited for free-running, so making a zombie/free-running video to promote the game makes perfect sense.
#DyingLightSG Contest
To celebrate the launch of Dying Light, Ingram Micro Games (the local distributor for Warner Bros. Games) will also be running an exclusive contest on their Facebook page for fans in Singapore. They have commissioned local artist Benjamin Quek to create a piece of zombie-themed 3D anamorphic floor art at the ground floor of The Cathay, and fans are encouraged to pop by and take some photos of themselves escaping from the ravenous hordes!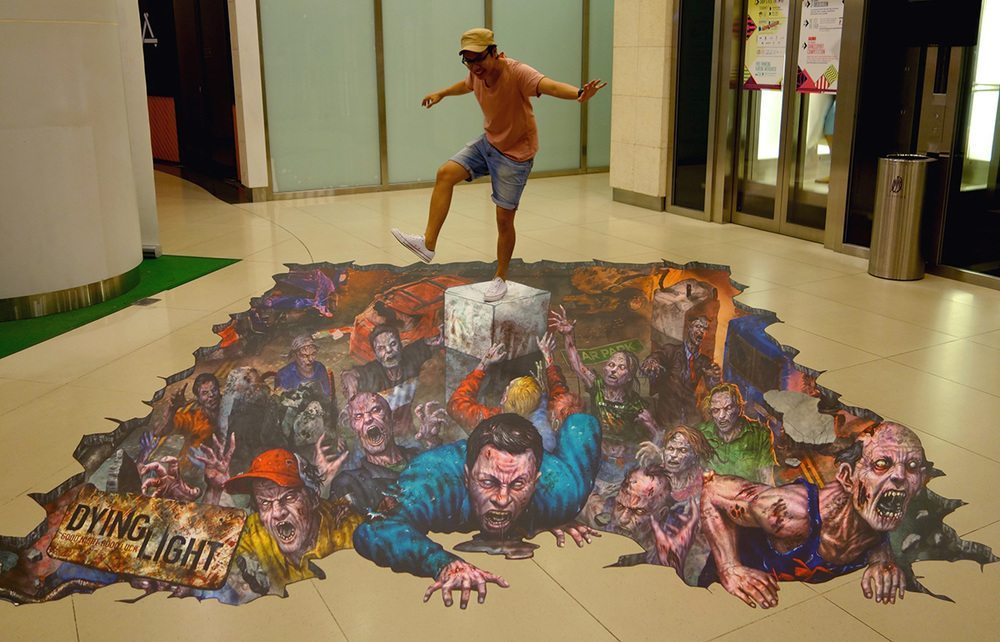 Have a particularly creative or funny shot?
Here's how to participate:
By Facebook, head to this link to submit your photo entry.
By Instagram or Twitter, simply post up your photo (make sure its public) with the hashtag #DyingLightSG.
5 participants will be picked from the Top 10 Most Voted shots to each win a Dying Light Game (choose from PS4 or Xbox One) and a "Dying Faith" L-size T-shirt designed by Xmashed Gear!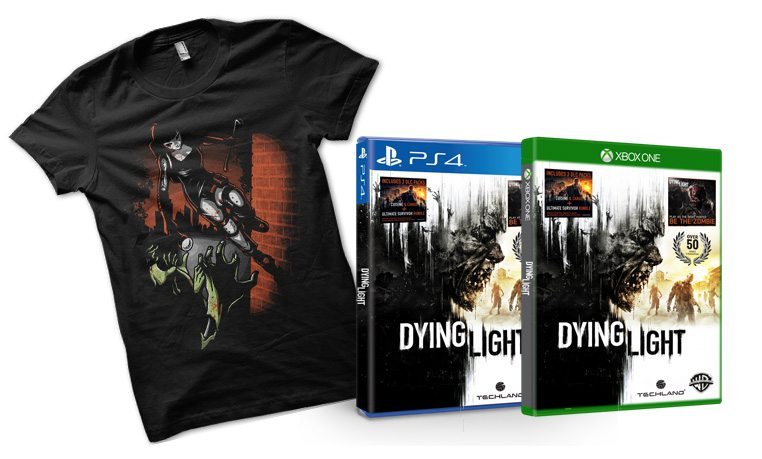 Contest ends 13 March 2015, so be sure to submit your entries early and start gathering votes. Who knows, you might even be featured on their Facebook page!
[UPDATE] We've just reviewed the game!
Head here for the lowdown
.
Brian loves video games, gadgets, and comic books – in other words, all things geeky. Obsessed with lifting things up and putting them down repeatedly, he also loves ice cream, putting things together, and the occasional good book.
---

Drop a Facebook comment below!