It's a given that the most exciting aspect of any theme park, second only to the rides themselves, are the souvenirs that you can choose to bring home. The same can be said for Disney's upcoming Star Wars: Galaxy's Edge, set to open at Disneyland next week.
Disney has finally revealed the prices for the items that guests can buy within the new Star Wars land and what has Star Wars fans all over most excited is the chance to build your very own lightsaber – for a (steep) price of course. Now you no longer have to come from a galaxy far far away or join the Jedi or Sith to own your very own lightsaber.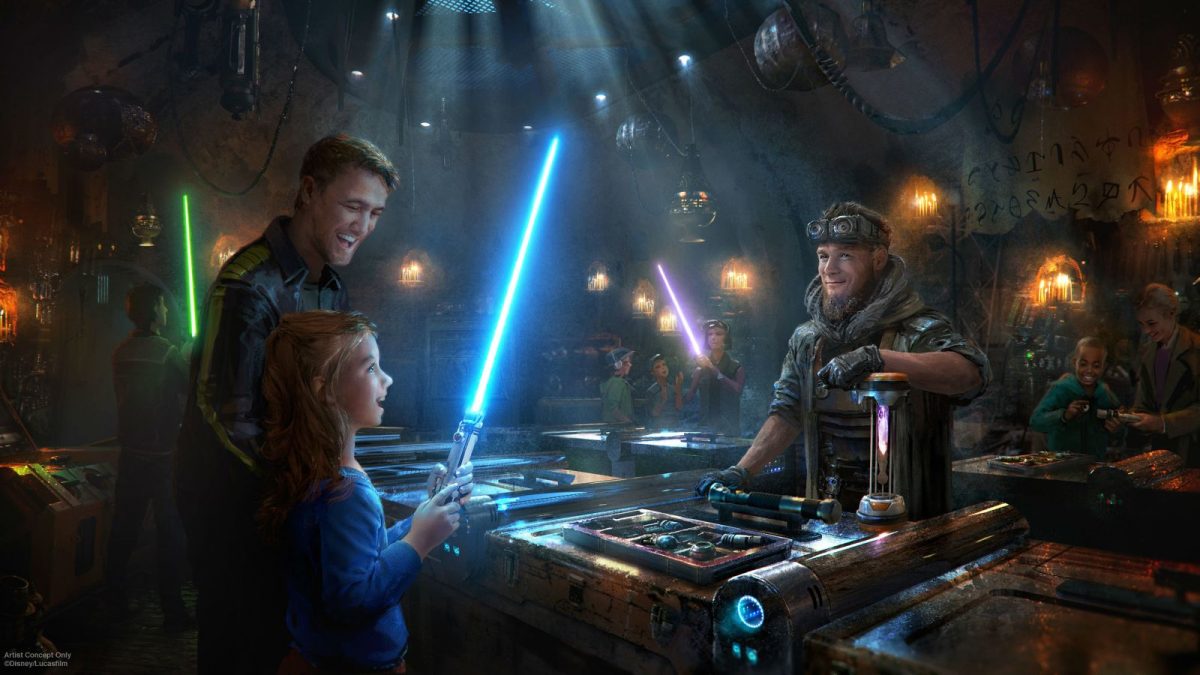 For US$199.99, fans will be able to build their own lightsabers in an interactive, immersive experience at Savi's Workshop in Star Wars: Galaxy's Edge. As Disney has always been known for crafting one-of-a-kind experiences for guests, it is little surprise that this level of detail and attention has extended to the souvenir-buying experience as well.
According to the official website, here is what guest can expect from the lightsaber experience,
Travel to Black Spire Outpost, where a group known as the "Gatherers" ushers you into a covert workshop packed with unusual parts, whimsical pieces and miscellaneous memorabilia collected from the far reaches of the galaxy.

Under their guidance, you can construct your very own lightsaber and bring it to life through the power of kyber crystals. Builders beware—you must protect the shop's secrecy to avoid being discovered by the First Order!

Once your lightsaber is complete (purchase required!), you'll be ready to embark on incredible new adventures—from the far reaches of Wild Space to Star Wars: Galaxy's Edge!
Guests will be able to choose from one of four available hilt themes and receive a pin to identify their selection. Themes available include:
Peace and Justice: Salvaged scraps from fallen Jedi temples and crashed starships in these Republic-era designs honor the galaxy's former guardians.
Power and Control: Originally forged by dark side warriors, this style features rumoured remnants from the Sith homeworld and abandoned temples.
Elemental Nature: This theme embodies the Force—an energy created by all living things, like Brylark trees, Cartusion whale bones and Rancor teeth.
Protection and Defense: Hilt materials bear mysterious motifs and inscriptions that reconnect users with the ancient wellspring of the Force.
Including the metal hilt, each purchase of the lightsaber will include,
A metal hilt with the guest's chosen theme
A "kyber crystal" chosen from four different colours
A 36-inch lightsaber blade
A carrying case
Further customisation options will be available for purchase should the guests wish to improve on their lightsaber.
From what we are hearing so far, it sounds like this lightsaber building experience will be worth the US$199.99 price tag.
For more photos of the lightsabers and the packaging, head on over to Polygon's coverage.
---

Drop a Facebook comment below!