For a laptop brand to successfully etch its name in the market, it can't just be built to perform, but it also has to last through the years. There is, after all, little point in investing in a top-performing laptop by a brand, only for it to encounter issues after the first few months of use. ASUS, a notable veteran in the tech industry, understands this, which is why it has rolled out the ASUS TUF Dash F15 (FX516), a powerful and portable laptop that looks to revolutionise the portable gaming market.
The 15.6-inch ASUS TUF Dash F15 (FX516) is a lightweight 2kg gaming laptop with a slim 19.9mm chassis that'll fit right in your backpack for everyday travel. Designed as the ideal travel gaming companion, it carries more than just performance and portability, by offering military-grade protection against blunders as well. Remember when you dropped your laptop, and discovered that the machine never felt or worked the same after? Well, this laptop is built to eliminate that, so that you'll never have to experience the pain again.
The first hint of that ruggedness is reflected in the bold "TUF" mantle that it flaunts across a gunmetal finish. Of course, there's no denying that the name, when spoken, sounds like "tough". It's not just an empty marketing line though, as to bear the "TUF" handle, the laptop have to pass military-grade MIL-STD-810H official tests, which include shock damage, extreme temperature handling capabilities, and humidity resistance.
This military-certified protection makes it handy for those who travel with their laptops often, as accidents, such as knocking them off the table or having a heavy object land on them, are always around the corner. Durability and assurance will, thus, come greatly into play here.
The laptop is also resistant to extreme temperatures as low as -32 degrees, heat up to 49 degrees, and can handle humidity exceptionally well if you're exposed to a tropical climate, where humidity is constantly at an all-time high (yes, we know how that feels).
The TUF Dash F15 doesn't just possess a remarkable exterior as it also packs a punch in terms of performance. Rocking the latest 11th Gen Intel i7-11370H Tiger Lake CPU and NVIDIA GeForce RTX GPU (up to 3070), the compact laptop will power through all your latest games without a sweat.
The 15.6-inch FHD (1920 x 1080) display offers a 144Hz refresh rate and 3ms refresh rate to guarantee you a competitive edge and visually immersive gaming experience for CPU-intensive titles including The Witcher 3, Rise of the Tomb Raider or even Doom Eternal. The unquestionable durability and performance of the laptop will ensure your mission to eliminate big bosses, such as Konstantin in Rise of Tomb Raiders, or the Gladiator in Doom Eternal, a breeze. For a sweeter taste of victory, remember to remind them of your dominance by tea-bagging their dead bodies.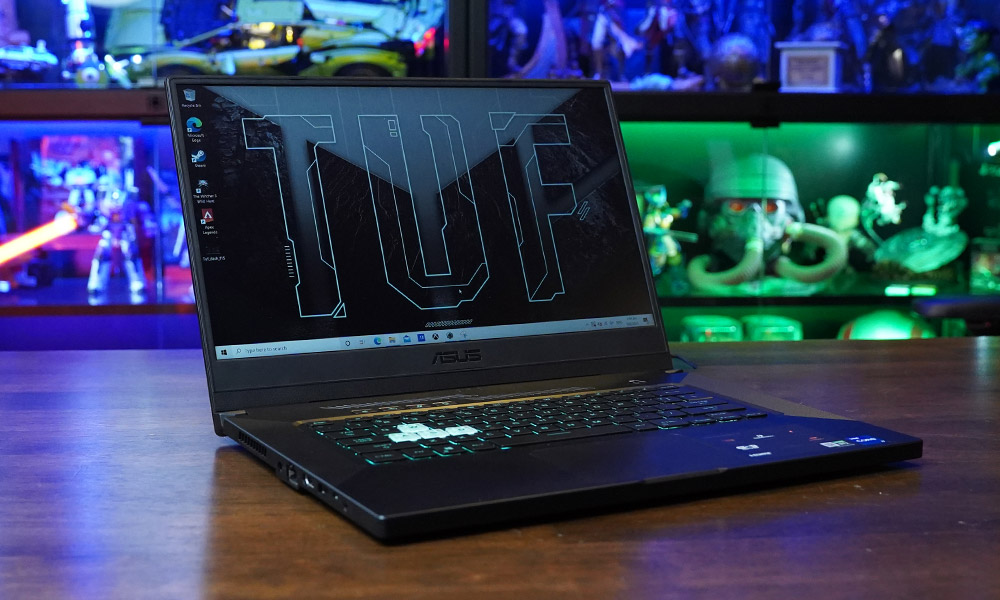 The gaming experience can be further enhanced with the laptop's diverse port selection. The TUF Dash F15 is decked out with plenty of ports as well, including three USB-A ports, an audio combo jack and an RJ-45 LAN port to allow for reliable connection with your favourite peripherals. There's also a Thunderbolt 4 with DisplayPort 1.4 and power delivery to double up on an external display if you ever want to take your set-up to the next level.
Whether its functionality or portability, the TUF Dash F15 is an all-rounded laptop that packs plenty of heat for gaming, with the durability to survive unforeseen woes you might find along the way during your portable gaming journey.
The ASUS TUF Dash F15 is available from S$1,998. Read our full review of the TUF Dash F15 as well to help assess if this is the right gaming laptop for you.