Once thought to be a secondary option compared to their desktop counterparts, gaming brands have since reversed the playing field for laptops, by offering the same kind of performance gamers once only saw in desktops. This has allowed powerful laptops to go a long way, with many gaming brands vying to push their portable laptop's limits even further.
That said, technological superiority isn't the only component gaming brand ASUS is gunning for with the ASUS TUF series, a range of gaming laptops that boasts durability as its unique selling point, and the latest ASUS TUF Dash F15 (FX516).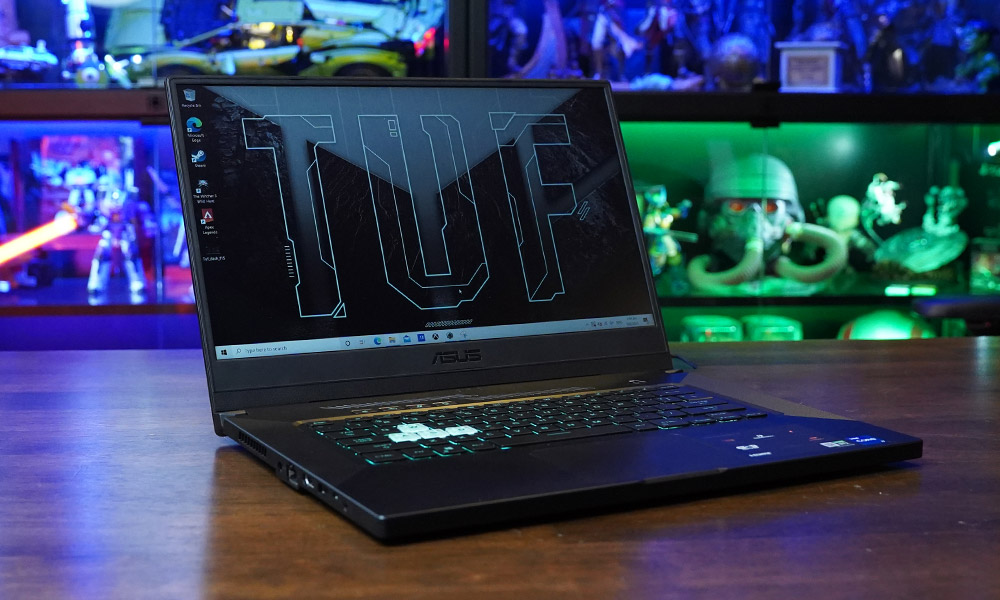 Out of the package, the ASUS TUF Dash F15 appears to live up to its 'tough' mantle as the 15.6-inch chassis spots a gunmetal/silver finish and shows off a loud attitude thanks to the attention-grabbing bold 'TUF' font and logo. If you prefer a more minimal and softer outlook, the TUF Dash F15 might not be for you.
Besides its appearance, you can tell right off the bat by handling the laptop that it's built differently from how sturdy and solid it feels. To earn its TUF gaming name, ASUS has to put the laptops through military-grade MIL-STD-810H official tests, which covers several rigorous assessments against drops, shakes and even extreme temperatures. This means the TUF Dash F15 is capable of withstanding damages against drops, knocks and the weather.
While most of us tend to avoid putting our laptops through such vigorous conditions, it's comforting to know your human blunders are no longer a big deal – up to a point of course. To answer the question that has been boggling your mind, we tried dropping the laptop under a metre several times and gave it a few good shakes in our backpacks when it's on, and it still works perfectly fine.
Compared to other laptops in the market, the display of the TUF Dash F15 exhibited greater resistance when we tried to give it a little flex and pressing down on the entire chassis generally feels way more compact and solid.
Still, a few drops here and there doesn't really say much, so feel free to check out the video ASUS made regarding the exact procedures and test conditions they put the laptop through.
The TUF Dash F15 can also withstand temperatures as low as -32 degrees and as hot as 49 degrees, so if you're thinking of bringing a laptop out to trek in the heat or go tanning at the beach, the TUF Dash F15 might be the way to go.
However, even the best hardware protection cannot escape fingerprints, which is a familiar issue faced by most machines with a brush or glossy metal exterior, or offering metallic or silver finishes. The TUF Dash F15 is the king of fingerprints and the only solution to this problem? Tissue and wet wipes, and lots of it.
Outfitted with the latest 11th Gen Intel i7-11370H Tiger Lake CPU, our review unit came with the latest NVIDIA GeForce 3050-TI, but there are options for you to upgrade to the RTX 3050, and all the way up to RTX 3070, if you're looking to play more graphic-intensive games.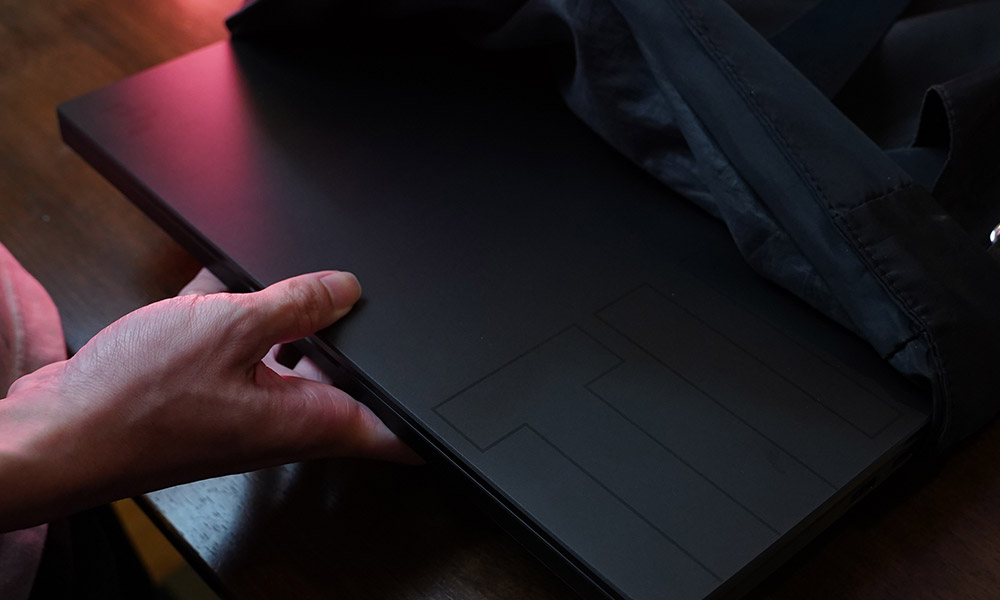 All that power and performance is packed into an incredibly lightweight 2kg chassis measuring 14.17-inch by 9.92-inch, combined with its 'TUF' mantle, the Dash F15's portability is one of its greatest edge over other performance-driven laptops, so don't mistake its sturdy build for an overheavy machine.
The slim 19.9mm chassis comes with a super-narrow bezel, and an FHD (1920 x 1080p) adaptive-sync display which provides an optimal balance between portability and visual quality. While it doesn't have the display prowess of a 4K screen, the 100% sRGB colour space and adaptive sync still offered picture-perfect fidelity and vibrant colours when we were watching Disney's latest Cruella and Army of the Dead on Netflix.
The 144Hz refresh rate can also take your competitive gaming experiences to the next level and when it came to FPS games such as Apex Legends or Valorant, everything looked buttery smooth. If you have a little more spending power, the NVIDIA GeForce RTX 3070 option will turn the TUF Dash F15 into an ultimate portable gaming system to be reckoned with.
The laptop is coated with a black finish on the inside and comes fitted with a 78-key RGB keyboard stylized with transparent WASD keys. Each key offers soft and silent tactile feedback and would prove useful if you're looking for a quiet office set-up. Upon hours of use, the typing experience has given us quite a great and smooth experience thanks to its spaced-out keys.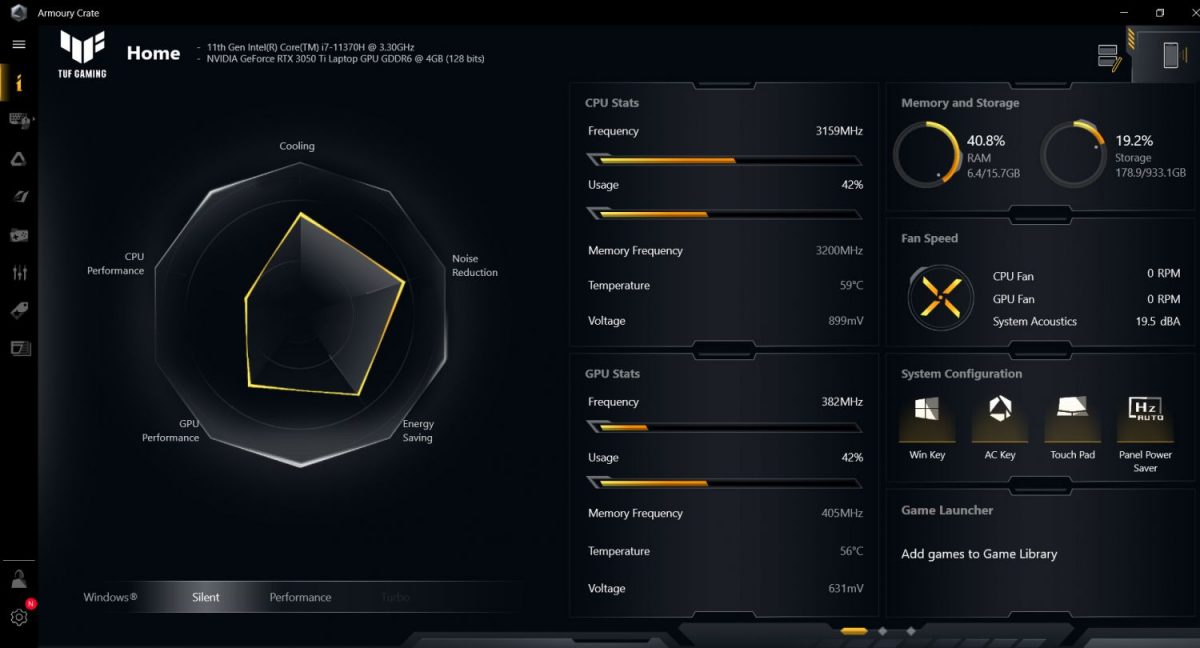 On top of the 78 keys, the keyboard features four additional keys, two for volume, one for mic and the last a shortcut to boot up the ASUS Armoury Crate. The Armoury Crate is ASUS's dedicated software to display the laptop's current performance, information and includes many other customization and functionality features for game graphics and devices.
We launched The Witcher 3 to test out the performance at max settings, and the game generally hovered around 35-40 FPS, and at high settings, it hovered around 55 FPS. This gives us a good idea of how the slim chassis is already a great gaming machine with only the 3050-ti and can probably do so much more if you choose to upgrade the graphic option. With FPS like Apex Legends, the game stabled around 60 FPS even when we're in the heat of the battle.
When we were running the games, the temperature and heat output of the system went up to 68 degrees with very minimal fan sound. While you can feel a little bit of heat, it generally didn't make our gameplay experience uncomfortable thanks to its cooling capabilities.
The TUF Dash F15 has four fan outlets to dissipate its heat effectively, two at the rear and two on each side of the laptop, which you might have to take note of because the dissipation of the right outlet might make things a bit more uncomfortable if you're using your mouse too close to the laptop.
The laptop comes with 16GB DDR4 3200Mhz RAM, with options to upgrade it up to 32GB, alongside an expandable 512 GB M.2 NVme SSD storage that can go up to 1TB. Thanks to its easy-upgrade design, unscrewing their pop-open screws will push the bottom of the chassis away from the body, to make lifting its panel a breeze for your RAM or storage upgrade. 
The two speakers located above the keyboard that features the DTS:X audio system offer quite an immersive sound for a chassis so small, alongside the virtual 7.1 channel, it is a great complement for spatial awareness if you're playing more competitive FPS games. Besides that, it also features two-way AI noise cancellation to remove unwanted background noise for better voice quality and communication whether on Zoom calls or Discord.
Functionality wise, the TUF Dash F15 has Wi-Fi-6 and all the basics needed to uphold satisfactory portable gaming or productivity experience, from a 3.5mm audio jack, to three USB ports for your peripherals, an HDMI port and an RJ-45 LAN port for connectivity.
In terms of battery life, the TUF Dash F15 has a 76Whr battery that lasted us about eight hours on YouTube before the battery life went down to 15%, and it gave us slightly over an hour of gaming while unplugged.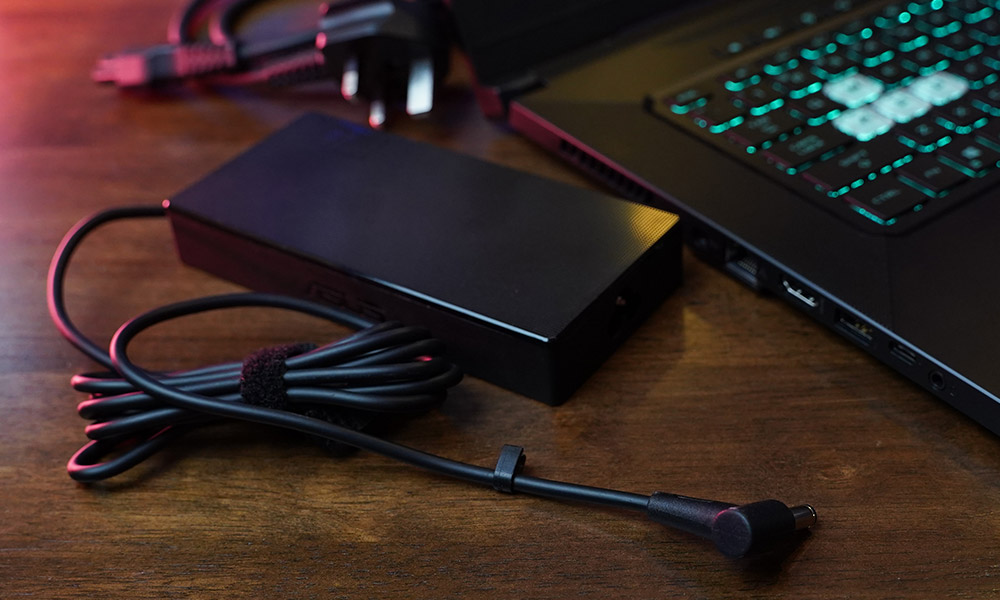 While the laptop features a Thunderbolt 4 port that can act as an external display port and provide type-c fast charging, it doesn't come bundled with the fast charging adapter (purchased separately) and comes with the default 200W AC power adapter for power instead. It is weird ASUS did not include the fast-charging adaptor as an optional add-on for the package. With its AC power adapter, however, the laptop took about 1 hour 40 minutes to charge from 0% to full.
All in all, the TUF Dash F15 has an extreme portability superiority over its competitor's thanks to its durability, performance and lightweight design. If there was one portable system you need as a travelling companion, the TUF Dash F15 is no doubt one of the market's best options right now.
The ASUS TUF Dash F15 is available from S$2,198.
GEEK REVIEW SCORE
Summary
The TUF Dash F15 is an extremely durable laptop made to survive human blunders and will make for a great travel companion for those who seek a portable powerful gaming experience.
Aesthetics -

7.5/10

Build Quality -

9.5/10

Performance -

8/10

Value -

8/10

Geek Satisfaction -

8/10