Some might say podcasts are a thing of the past, after all, the very name itself is comes from a combination of the long-standing Apple music player 'iPod' and 'broadcast'. But if you haven't hopped onto the podcast-listening bandwagon yourself, you're missing out! There are tons of podcasts out there covering every genre imaginable, from news and politics to comedy and educational.
On your daily commute to-and-fro work or school, sometimes you're too tired to read that book, and sometimes listening to music gets boring. What better way to make your travel time more interesting than listening to a podcast episode? Make sure you don't miss your stop as you dive into rich fantasy roleplaying worlds or keep up to date on the latest gaming news.
Here's our collection of the best geeky podcasts to check out!
---
D&D / GAMING
Big fan of Dungeons and Dragons? Or new to roleplaying in general and interested in learning more? The McElroy brothers, a trio of podcast aficionados, along with their dad Clint, take turns at being the dungeon master and bring listeners on adventurous campaigns filled with laughs, quirky characters, and unpredictable choices.
Along with longer campaigns, they've also been doing short story arcs about 5 episodes long which are easier to keep up with. No worries if you are unfamiliar with D&D, as the format is easy to pick up and it feels like you're listening to a fantasy story unfold.
The brothers and their dad were equally new to the game at the very first episode, so start there if you'd like to experience their first foray into fantasy roleplaying fiction, or delve right into their latest campaign Dust, set in the Wild West-inspired town of Dry River.
---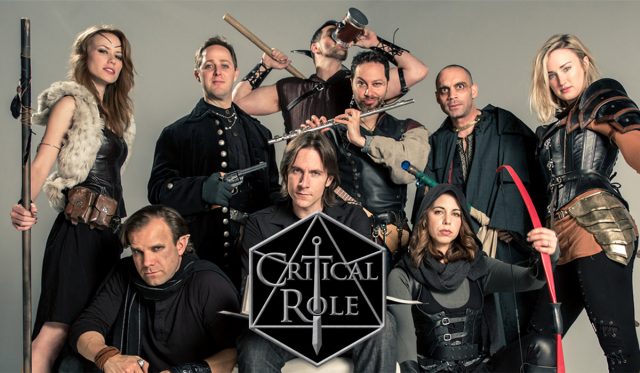 You can't talk about Dungeons and Dragons without mentioning Critical Role, a show featuring Matthew Mercer as dungeon master leading a group of voice actors on expansive campaigns. The web series started by Geek and Sundry is broadcast weekly live on Twitch, and the show is available as VODs on their YouTube channel and in podcast form as well.
A gathering of voice actors for a D&D show just sounds like a recipe for success. You might recognize Mercer's voice in works such as McCree in Overwatch, the Fire Emblem series, and in English dubs of Japanese animes. Characters are brought to life with a variety of brilliant voices, and even NPCs encountered along the way are given rich personalities by Mercer, such as fan favourite Victor the Black Powder Merchant.
It is a good idea to start at the first episode of campaigns to stay on track. If there's too many to choose from, why not start at their newest Campaign 2 which began in January 2018, now with thematic background music from The Witcher 3.
---
Kinda Funny was started by a group of former IGN editors and producers, dedicated to delivering videos on gaming and pop culture. The Kinda Funny Gamescast spawned not long after, with hosts Tim Gettys, Greg Miller, and Jared Petty bringing listeners weekly discussions of the hottest topics in the gaming industry, and reviews of games they have played.
If you prefer getting your gaming news on a daily basis, there's also the Kinda Funny Games Daily podcast every weekday, also hosted by Greg Miller, along with industry veterans Andrea Rene, Tim Gettys, Jared Petty, and Gary Whitta. Stay on top of all the latest news about your favourite games and enjoy conversations about more current topics with this daily podcast dose.
---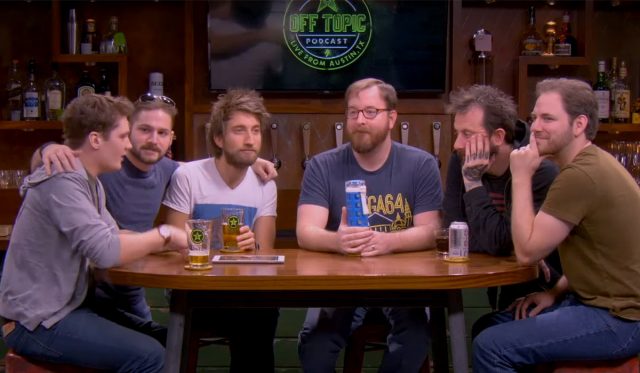 Off Topic is a weekly podcast about everything, and nothing. It's hosted by a rotating cast of members including Gavin Free, Michael Jones, and Jack Pattillo from Achievement Hunter, the gaming division of Rooster Teeth. As the title suggests, the members often bounce around from topic to topic, ranging from video games and movies to funny happenings in their lives.
Video recordings of episodes are uploaded to their YouTube channel, where you can see the guys chilling around a table, often accompanied by pints of beer. The podcast consists of casual yet funny conversation among friends, filled with silly shenanigans that lets you turn your brain off on your commute.
---
POP CULTURE / COMEDY
Previously known as The Nerdist, this podcast was rebranded to ID10T by host Chris Hardwick after ending its affiliation with Nerdist Industries. Apart from the name change, the show retains its celebrity guest interview format and all-round celebration of nerd culture, giving you insight into the minds and lives of actors and entertainers.
There are currently 300 episodes with celebrity guests such as Daniel Radcliffe, Anna Kendrick, Neil deGrasse Tyson, Sir Patrick Stewart, and Mark Hamill, just to name a few. A great thing about this podcast is that there's no need to follow episode sequences or keep up with a narrative. Just pick an episode featuring a star you're a fan of, and off you go!
---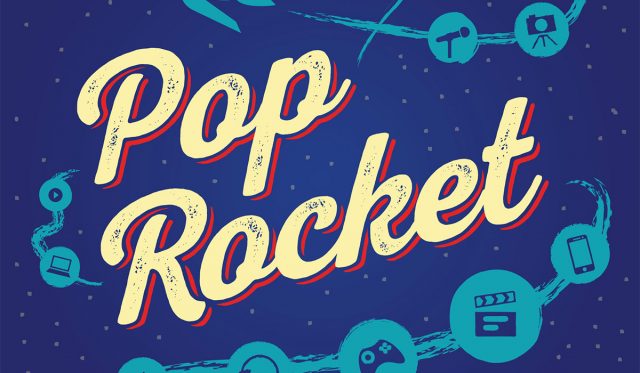 Pop Rocket will give you your weekly dose of entertainment news and bring you discussions of all things pop culture. Host Guy Branum is joined by panelists Wynter Mitchell, Karen Tongson, and Margaret Wappler, and their diverse backgrounds in journalism, academia, and digital media provide interesting insights into pop culture.
A great recent episode was #164 – Wakanda Forever with Tavia Nyong'o, where they discuss the impact of the music in Black Panther, and the use of afro-futurism in storytelling. Your commute will be filled with thought-provoking yet funny pop culture conversations from diverse viewpoints, and keep you up-to-date on the hottest news in TV, movies, and music.
---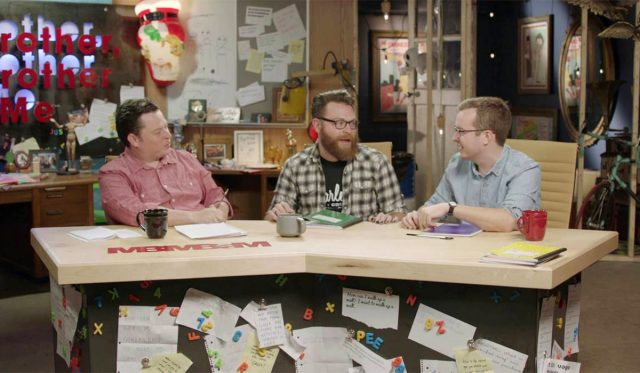 My Brother, My Brother, and Me is an advice show for the modern era, from the same trio behind The Adventure Zone. Justin, Travis, and Griffin McElroy answer questions submitted by listeners or sourced from Yahoo! Answers, offering rather questionable yet humorous advice.
The brothers have a fantastic dynamic, and the podcast is comedy gold. It might not be the geekiest podcast per se, but sometimes you just need to destress with a bit of funny. Listening to this on your journey will put a smile on your face, just try not to burst out laughing on public transport!
---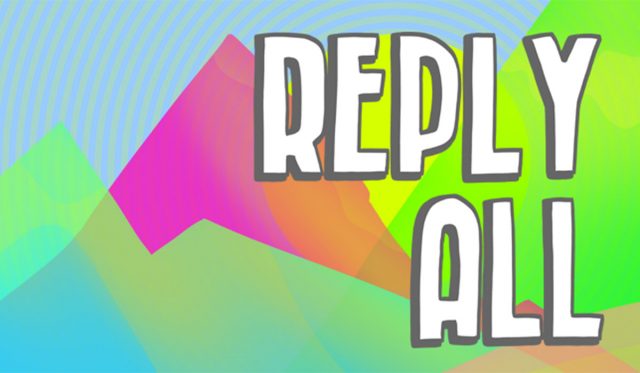 Hosted by PJ Vogt and Alex Goldman, Reply All is a podcast by Gimlet Media all about the internet and its culture. In their endeavour to answer questions about the internet, the hosts end up uncovering amazing human stories and solve mysterious cases presented to them by listeners.
For example, one of their best episodes is #104 – The Case of the Phantom Caller, where they puzzle out why a New Jersey woman had been receiving the weirdest phone calls, almost like she was eavesdropping into the lives of unsuspecting strangers.
Other episodes sent PJ and Alex deep into the dangerous world of scammy Indian call centres (#102 – Long Distance), and discovering the connection between Girl Guides and concentration camps (#28 – Shipped to Timbuktu). Every episode investigates a new and often mind-boggling issue, leaving you amazed at modern technology and the interconnectedness of it all.
---
STORYTELLING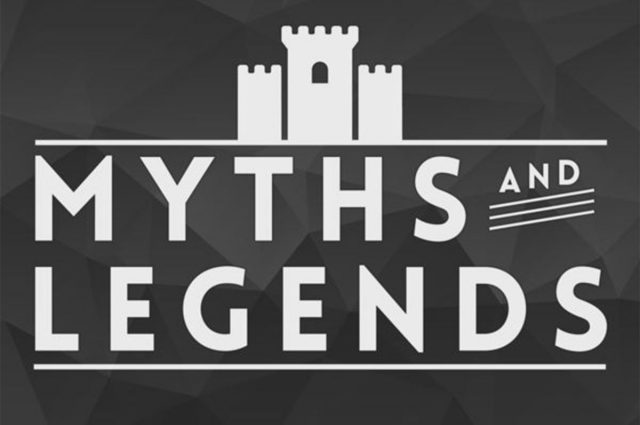 Ever wondered about the real origins of popular characters such as Thor, Odin, and Wonder Woman? So much of today's pop culture has been shaped by myths, legends, and folklore, from comic book heroes and Disney princesses to the knights and monsters of the fantasy genre.
Host Jason Weiser tells stories from Greek, Asian, and Norse mythology, urban legends, fairy tales, and more. Sweet, innocent Disney princesses are often based on surprisingly disturbing original stories, and there are ridiculous tales of Thor and Loki that would never make it into the Marvel films.
Listening to Myths and Legends is akin to listening to an audio book. Escape from that mundane traffic jam and lose yourself in fascinating worlds with dragons, wizards, Vikings, and kings.
---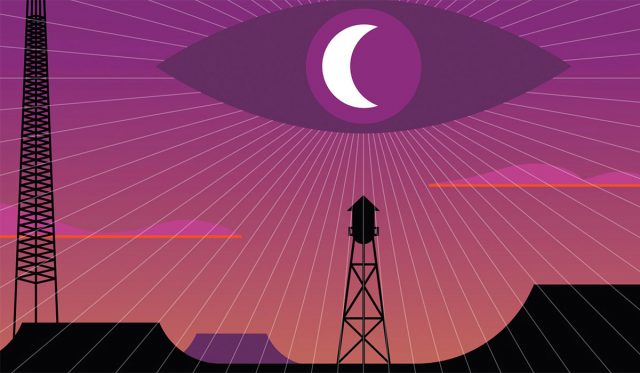 Welcome to the Night Vale is a podcast like no other. Bi-monthly episodes are presented as a radio show providing community updates for the mysterious, fictional town of Night Vale. Local weather, and news are narrated with the calming baritone voice of Cecil Baldwin playing the role of radio host Cecil Gershwin Palmer.
With Stephen King and Neil Gaiman vibes, this podcast can give you major goosebumps. Strange events continuously plague the desert town – mysterious lights in the sky, herds of mute children, and The Glow Cloud (all hail).
Being faced with over 100 past episodes may seem intimidating, but the overarching plot advances slowly as most episodes are standalone narratives, with occasional running jokes and recurring characters. Best episodes to check out include #19A and #19B – The Sandstorm, #42 – Numbers, and #71 – The Registry of Middle School Crushes.
---
You can listen to these podcasts via iTunes and Google Play Music, any podcast mobile app such as Overcast, Stitcher Radio, and Podcast Addict, or on the podcasts' respective websites.
Apart from Critical Role, all podcasts mentioned are also available on Spotify.
Happy commuting!
---

Drop a Facebook comment below!