The Razer Blade laptops are a series of premium and luxurious gaming devices that have gained a reputation as one of the best-looking gaming laptops in the market, especially for those looking for a powerful Windows system with superior build quality.
The good news is that Razer, the leading lifestyle brand for gamers, has upgraded the entire series for 2021 with a makeover, producing a fresh line-up that will level up your entire laptop experience, whether it's for work or play. But how do you tell the machines apart, to find the best fit for your needs? Given that there are different profiles of players and users in the market, we've crafted three different conditions that might suit your needs, should you need help in deciding which Razer Blade machine to go for.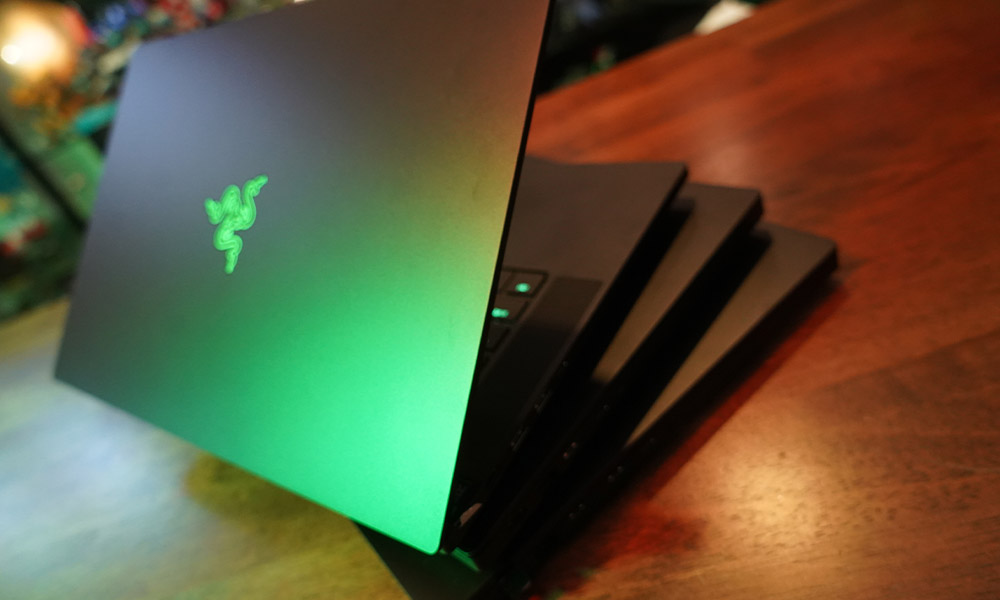 ---
The Best Bang for Buck
(For those who want the best, but are budget conscious)
For those on a budget seeking the best performance, the Razer Blade 15 Base Model is the ideal machine for students and casual gamers who want a reliable machine for work and to game on in their free time. 
A mighty machine that was already regarded as the best gaming laptop by many before the refresh, the all-new Razer Blade 15 Base Model is now decked out with the latest NVIDIA GeForce RTX 3060 graphics card, and the 6-Core 10th Gen Intel Core i7-10750H processor.
But if you can stretch your wallet a little more, Razer offers the option to upgrade the Razer Blade 15 Base Model with the RTX 3060 or the RTX 3070 with maximum graphics power up to 95W. You also have the choice of picking between two immersive displays – a 144Hz full HD 8ms display with razor-thin 4.9mm bezels, or opt for the 165Hz QHD display if you're looking for a more visually pleasing resolution.
Of course, we tried cosying up with the QHD display on the couch and it's second to none whether it's watching Netflix shows or for gaming. The QHD gives you the perfect eye-popping visual imagery if you're a movie fanatic looking for a portable cinematic experience or someone looking for astounding details in games like The Witcher 3: Wild Hunt or Cyberpunk 2077.
And don't worry about investing in a laptop that could be obsolete in a few months or years as the days of non-upgradable laptops are long gone. The Razer Blade 15 and other new Razer Blade devices, all support expandable memory and data storage slots. For the Razer Blade 15, owners can expand the 16GB dual-channel DDR4-2933MHz RAM to up to 64GB, and the 512GB PCIe SSD internal memory up to 4TB once you have the cash to spare.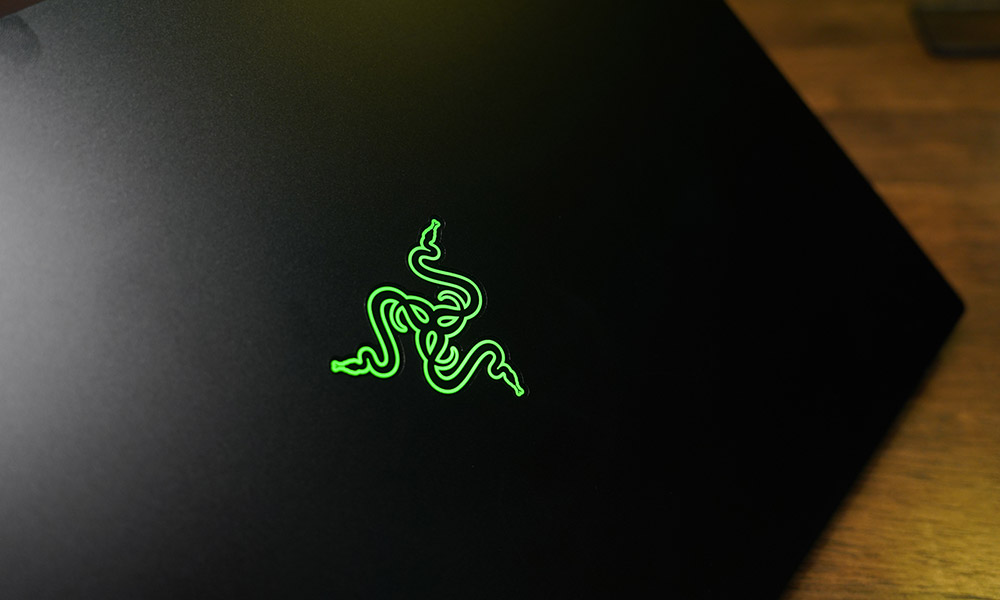 Design-wise, those who love using dark mode on their display will love the external design here, as the laptop comes in a black chassis, embellished by its iconic green logo – carrying the Razer Blade around will definitely catch some attention. Along with the HD 720p webcams, every new machine in the Razer Blade series will also be using the Thunderbolt 3 Port for fast charge.
And before you ask, yes, the King of gaming RGB isn't letting owners leave the store without some colour in their lives, as the Razer Blade 15 comes with the Razer Chroma Keyboard, offering the best price and performance.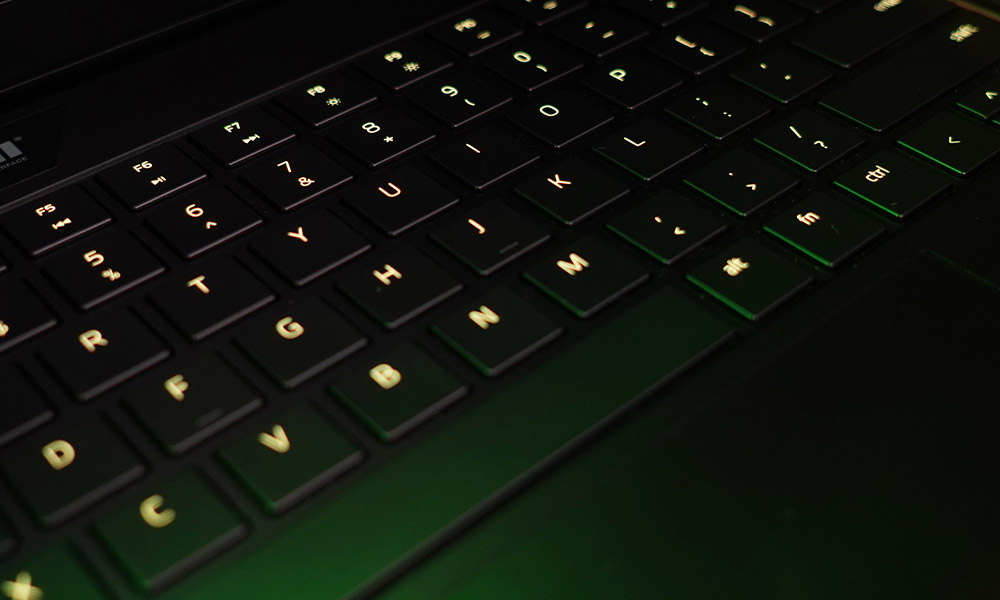 With all that's packed into this slim 15-inch laptop, you can get it from S$2,549 on Razer as well as on authorised retailers including Shopee and Lazada.
---
Ultimate Performance for the Work & Play Whiz
(For those who know what they want, and want the best of everything)
Razer is not just catering to gamers only. Regardless of your scenario, whether you're a hardcore gamer, content creator or productivity enthusiast, the Razer Blade 15 Advanced Model is for those seeking pure power and performance.
Rigged with even more display and graphics card options, go down to the nitty-gritty details in terms of specifications, to fit your own ultimate performance.
Like the Razer Blade 15 Base Model, the Advanced rendition sports the same slim 15-inch chassis and offers multiple display configurations upon checkout. For the first time ever in Razer's Advanced Model, pick from three different displays – 360Hz FHD, 240Hz QHD or 60Hz OLED 4K. How many brand name PC makers out there will furnish such options? Talk about having choices.
Along with 100% DCI-P3, whichever selection you decide is still ideal for gamers and creatives looking for true visual clarity and accuracy. Compared to the Razer Blade 15 Base Model's thickness of 19.99mm, the Razer Blade 15 Advanced Model measures a mere 16.99mm. Carrying a compact laptop without sacrificing productivity is what we all want and the Razer Blade 15 Advanced is astonishingly thin considering such a huge display upgrade from the Blade 15 Base Model.
The Razer Blade 15 Advanced Model also runs on either the NVIDIA GeForce RTX 3070 or RTX 3080 option, powered by the robust 8-Core 10th Gen Intel Core i7-10875H processor. Among the three laptops introduced in this list, this laptop version also offers the best 80Wh built-in battery, which can last you up to 7 hours of use and takes approximately 70 minutes to charge from 5% to 91%. 
For creators, Razer has also made the effort to add in an SD Card Reader to save users the aggravating trouble of buying and carrying an additional SD card reader and this is extremely convenient for photographer's who are always on the go. If you're looking to utilize the laptop for content-heavy work like animation or rendering, you have the option to upgrade the RTX 3080's GDDR6 VRAM to 16GB (On OLED 4K Edition only) from 8GB.
Since we have one of the 360Hz FHD machines packed with the GeForce RTX 3080 in the office, we decided to give it a go with Apex Legends and The Witcher 3: Wild Hunt. While running both games at the best settings, the frame rates peaked at 120 FPS and remained stable around 100-110 FPS for The Witcher 3 and remained steady around 145 FPS for Apex Legends. The games were buttery-smooth throughout both games, and saw only slight 5-15 frame rate dips during big fights, especially for Apex Legends.
That's a whole lot of performance packed into an incredibly thin and compact portable station that has little to no problems gaming on the best settings even for graphic-intensive games. We might have found the perfect working laptop that will have no qualms when the desire to game strikes. This is the same Razer Blade 15 you know, evolved into something more by pure performance and power.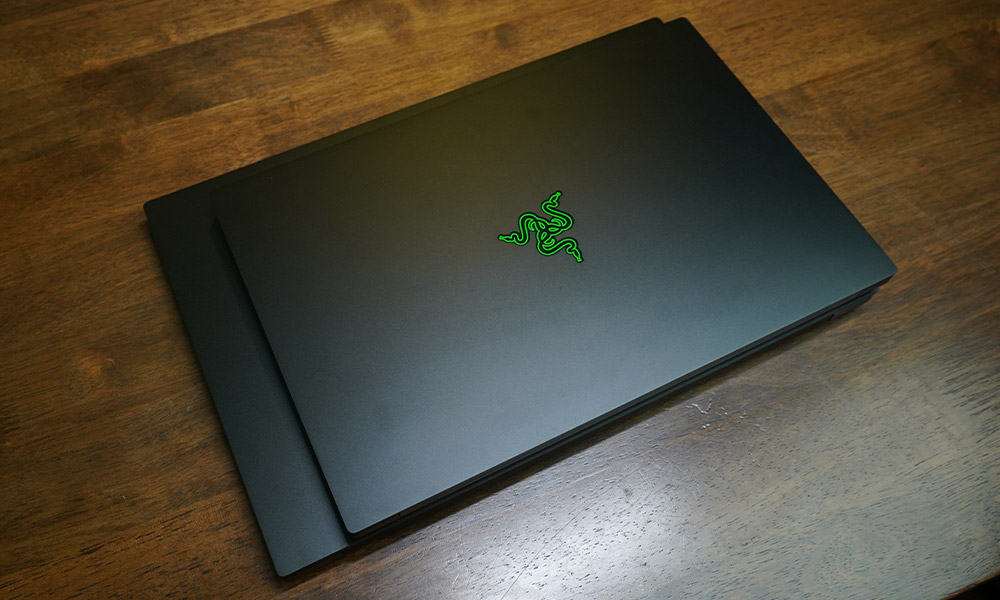 The Razer Blade 15 Advanced is available from S$4,199 on Razer as well as on selected retailers including Shopee and Lazada.
---
Esports Expert
(For gamers who need high frame rates, Wi-Fi 6 and best-in-class performance)
If you're not one to care about size and have an appetite for the best visuals and frame rates, bask in the glory of the Razer Blade Pro 17. This is the ultimate gaming laptop for the gaming aficionados amongst us.
An elegant machine that shares the same look and feels as the Razer Blade 15 Advanced Model, the Razer Blade Pro 17 is catered towards those who are more serious about gaming or just big screens in general. With a bigger chassis to support the 17.3-inch display, this beautiful beast offers three different displays to pick from. Go ultra-fast 360Hz full HD for the best refresh rate, 165Hz QHD for a middle ground, or go all out with the 120Hz OLED 4K screen, allowing players the thrill of gaming with a sharper screen at higher refresh rates. It might be twice as easy to spot and frag enemies from now onwards.
The Razer Blade Pro 17 also runs on the 8-core 10th Gen Intel Core i7-10875H processor and NVIDIA GeForce RTX 3060, with the option to upgrade it with the RTX 3070 and RTX 3080. Likewise, the storage and memory slots are also expandable. With these options, gaming on AAA titles or keeping up with new demanding games are a breeze. The Razer Blade Pro 17 breaks free from being a typical desktop set-up and lets you take your hardcore competitive gaming literally anywhere.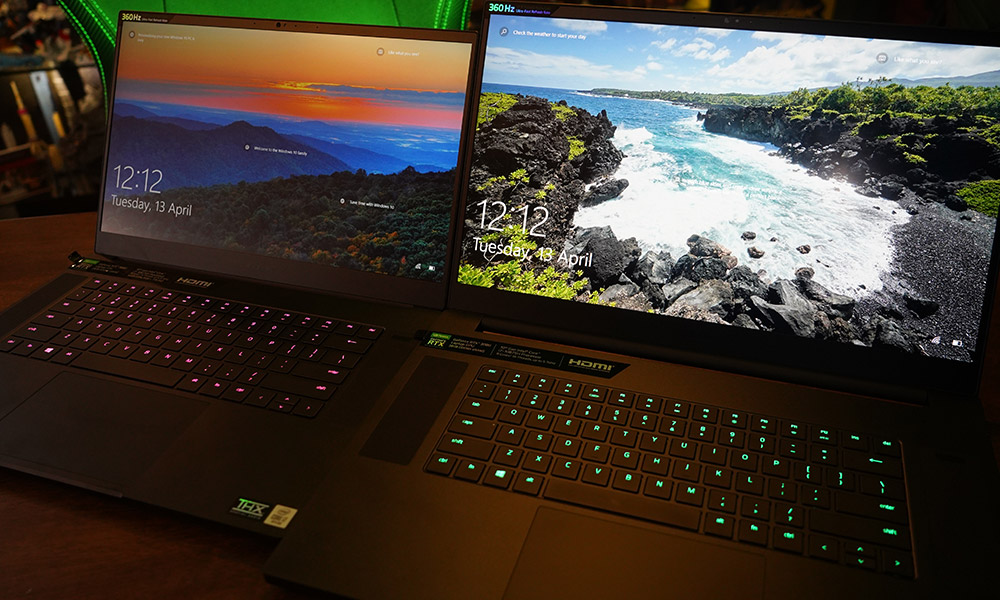 The larger frame of the laptop is unmistakable the first time you pull it out of the box even though the 2-inch difference in size might seem minuscule in number, it has a serious distinction when you're holding it. Gaming on this machine almost feels like you're playing on an actual monitor so you don't feel the strain on the eyes too much if you're playing through the night.
The Razer Blade Pro 17 uses the Vapor Chamber Cooling and its larger surface area for better cooling to maintain top gaming performances. Putting long hours into the grind is the least of your worries now, so better get that competitive form into shape.
As Razer's top-of-the-line model, expect the best hardware, as this come equipped with the latest Wifi 6E (Intel AX210) wireless connection, Bluetooth 5.2 and even includes an RJ45 2.5GB ethernet port to double up on that connectivity assurance, because while wireless is convenient, nothing beats the pure speeds of a wired connection and you don't want to be losing your connection during a competitive game.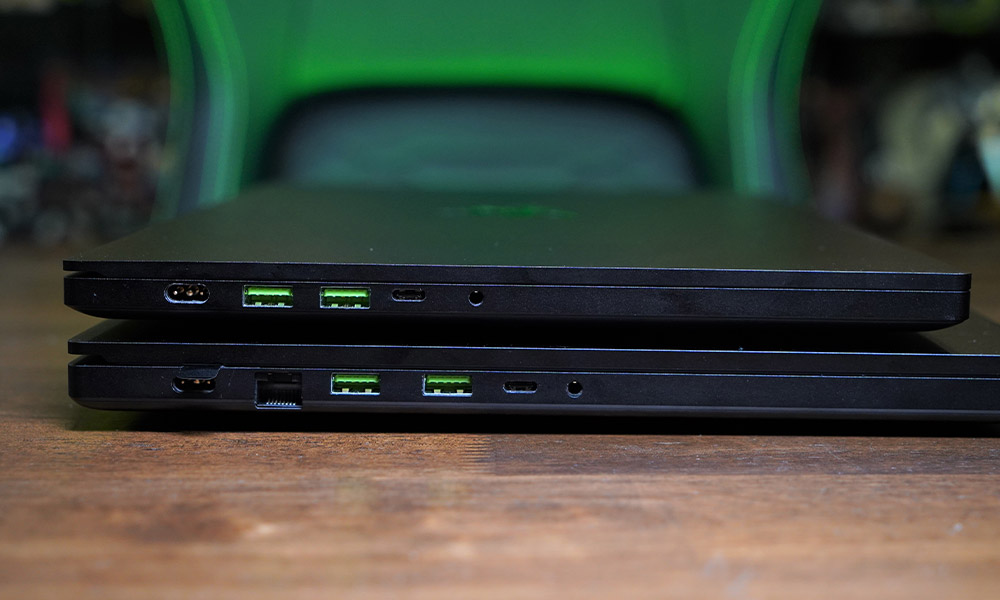 On top of all that, the Razer Blade Pro 17 is the only laptop that has the most options for you to pick across three different graphic cards and depending on which graphic card you go for, you'll have at least two different display options. 
There might be a lot of 17-inch laptops in the market, but there aren't that many that are carrying top of the line processors and graphic cards. With the Razer Blade Pro 17, you can stay connected and experience the best refresh rates on either the QHD or 4K screen to make sure you get the best of both visuals and competitive edge.
The Razer Blade Pro 17 is available from S$3,849 on Razer and authorised retailers like Shopee and Lazada.
---
Razer has made sure to upgrade and supply each of their new models with the latest technology to stay ahead in the market so much that every laptop is a dedicated system that can cater to every type of user.
Whether you're in for the portable visual experience, the content creation or the competitive games – Razer made sure they've thought it out with their extensive selection of Razer Blades you can pick from.