Fans already can't wait to feast their eyes on the upcoming Black Panther movie, but in the meantime, Marvel has joined forces with Puma and BAIT to create two black sneaker designs inspired by the highly anticipated film. Having previously collaborated with many other franchises such as Transformers and Jurassic Park, BAIT's most recent Marvel partnership has resulted in these two classy Black Panther-themed shoes – the Tsugi BOG and the Monstro Mid.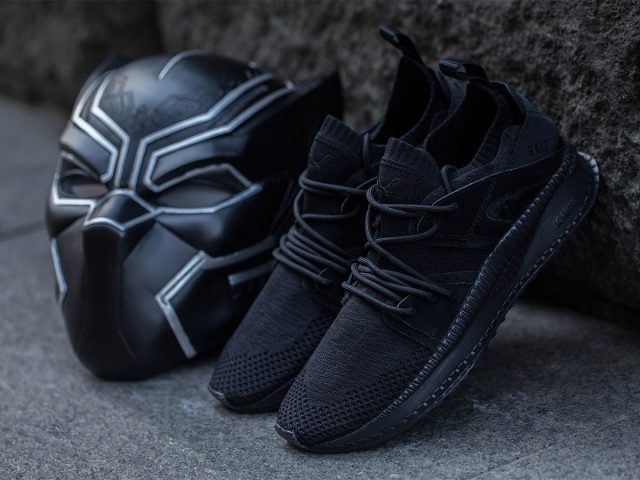 The Tsugi BOG is created with a combination of black pony hair, suede, and Puma evoKNIT uppers for both comfort and style, and comes with black rope laces.
In contrast, the Monstro Mid opts for a special elastic strap instead of laces, and utilises stretch textile throughout the shoe for comfort and superior running performance.
Black Panther branding is kept subtle across both designs, with Marvel and Black Panther printed insoles, numbered based on their limited production quantities.
Only 300 pairs of the Tsugi BOG at US$150 are available, and 100 pairs of the Monstro Mid at US$160. Every purchase even comes with a free reprint copy of the very first Black Panther comic issue. Purchase was only available through an online raffle, which unfortunately has already been closed to submissions due to the overwhelming demand for these stylish shoes. Won't be surprised if these designs appear on Ebay sometime soon for a small premium. The next best thing BAIT could do is release another wave of shoes to thwart the scalpers and reward the true fans.

But fear not, BAIT and Puma's creations aren't the only Black Panther-inspired shoes on the market, as the movie seems to have drummed up quite the shoe-storm. If you still want to get your hands on other Black Panther shoes, check out their collaboration with New Balance, which seeks to emulate the look of the Wakandan warrior's Vibranium suit with rugged leather, metallic tones of black and silver, and debossed tribal print. New Balance's Black Panther collection comes in two designs – the New Balance 574 Sport pictured above, and the New Balance 990v4 as seen here:

The shoes have been released exclusively through American shoe retailer Jimmy Jazz. The 574 Sport retails at US$130, and the 990v4 retails at US$200. Express your admiration for the true king with these unique Black Panther-inspired sneakers!
Catch Black Panther in Korean and Singaporean theatres on February 14, 2018, with a global release date of February 16, 2018.
---

Drop a Facebook comment below!