[Updated] Oops. It looks like a mutation has occurred and the content on the site and newsletter has been revised. The entire mention of the Marvel Cinematic Universe has been removed. It's probably a typo on Disney's part, but it was a nice moment to enjoy.
[Original story below]
X marks the spot for Josh Boone's The New Mutants as Disney has confirmed that the cursed mutant/horror movie will be part of the larger Marvel Cinematic Universe.
The final X-Men movie from 20th Century Fox, The New Mutants, which stars Maisie Williams as Rahne Sinclair/Wolfsbane, Charlie Heaton as Sam Guthrie/Cannonball, Anya Taylor-Joy as Illyana Rasputin/Magik, Henry Zaga as Roberto da Costa/Sunspot, Blu Hunt as Danielle Moonstar/Mirage and Alice Braga as Dr. Cecilia Reyes, was originally slated to premiere two years ago under the Fox banner in April 2018.
Complications with the acquisition of Fox by Disney delayed the release of the movie, but it did result in the rights of the Marvel Comics X-Men characters fall under Disney, allowing Marvel Studios to eventually include its popular library of mutant heroes into its prized Marvel Cinematic Universe. The film is slated to open on April 3, 2020.
According to Disney's D23 newsletter, which highlighted the release of the latest trailer for the horror film, "There's a seriously electrifying new addition to the Marvel Cinematic Universe, and it comes in the form of the latest from Twentieth Century Fox and Marvel Entertainment…"
The New Mutants is an original horror thriller set in an isolated hospital, where a group of young mutants is being held for psychiatric monitoring. When strange occurrences begin to take place, both their new mutant abilities and their friendships will be tested as they battle to try and make it out alive.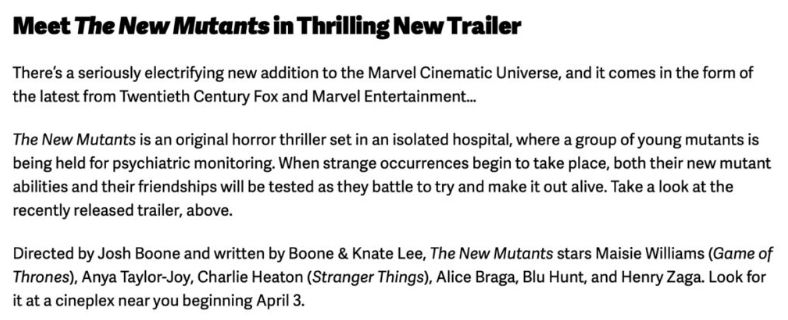 A departure from the spandex-clad characters from Fox's X-Men movies, The New Mutants was developed as a horror film from Boone, who directed the romantic drama, The Fault In Our Stars (2014).
---

Drop a Facebook comment below!