We've simply seen way too many amazing PlayStation Pro models in 2018 alone! From the Monster Hunter Rathalos Edition, to the Dad of Boy Edition, and the upcoming Marvel' Spider-Man PS4 Pro, gamers are indeed spoilt for choice.
That is until we laid our eyes upon the 500 Million Limited Edition PS4 Pro.
What we have here is a 2TB dark blue console and matching translucent DualShock 4 wireless controller, PlayStation Camera, Vertical Stand and mono headset. All that is missing now is a PSVR to complete the package.
This is the console that is pretty much the upgrader's dream. If you've been holding out for an upgrade, do not hesitate as there are only 50,000 (FIFTY THOUSAND) units available worldwide.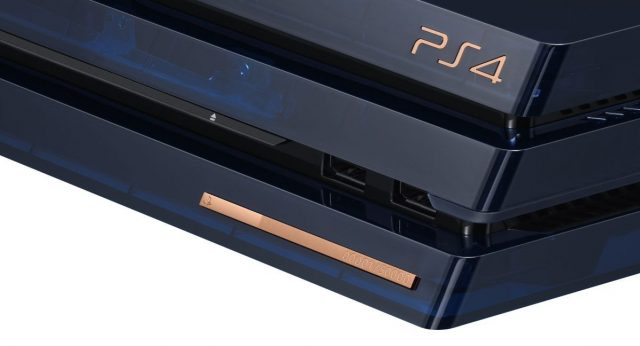 As collectors of items of many geek forms, PlayStation's has made theirs the most thoughtful. Owners of the 500 Million Limited Edition PS4 Pro with have a commemorative copper plate on its front with the serial number etched on. No more silly certificates to mess with. If you're Chinese (or Asia), we're pretty sure the ones with 8, 88, 888, and the like would be one of the hottest properties to be snapped up and flipped many times over.
The entire bundle for the 500 Million Limited Edition PS4 Pro will retail for US$499.99 and preorders will start from 24 August 2018.
If an entire console is too much to handle the 500 Million Limited Edition DualShock 4 will also be available as a standalone for US$64.99. There will also be a 500 Million Limited Edition Gold Wireless Headset featuring the same dark blue translucent design with copper detailing available separately at US$99.99. We folks in Singapore will be waiting eagerly for local prices and hopefully, there will be sufficient stock to go around.
If you're from Singapore, like us, the local price for the entire 500 Million Limited Edition PS4 Pro bundle will be sold for S$719 with the release date slated for 24 August 2018. The controller will be sold standalone at S$84.90. Good luck hunting!
There's only so much we can go on about how amazing this PS4 Pro console looks thus here's an entire gallery of the console for you to drool over –
Asia regional prices? The cheapest bundle can be found in Hong Kong.
Gerald currently straddles between his love of video games and board gaming. There's nothing that interests him more than trying out the newest and fanciest gadget in town as well. He dreams of publishing a board game sometime in the future!
---

Drop a Facebook comment below!