Despite its resemblance to a well-known and hard-as-nails game (*cough* Dark Souls *cough*), Code Vein looks to be carving out its own place in the history of unforgiving games. The premise of vampires gone wild and a world torn asunder already differentiates it significantly to what we are used to, but Code Vein throws a twist into the formula with a helpful NPC.
As we saw in the TGS 2017 demo, Code Vein is meant to be played with an AI companion, such as the gun toting Mia. She was taking on enemies and buffing our main character. NPCs can be revived at the next checkpoint if she/he perishes, and could also be brought back using items. I guess you do not have to face the evils of the world alone after all.
Gamers looking to craft their own story would be happy to know that you can customize your protagonist, choose from different genders, looks, armour, and even weapons. Crafting is essential to getting new toys to play with, and with each battle comes experience, which grants you Blood Code, a currency used to purchase new skills.
What makes Code Vein even more enticing is the lack of a defined difficulty level setting, even the producer was not spared during his demo. This is good news for anyone looking for a challenge, and Code Vein is definitely on our radar from now till its release in 2018.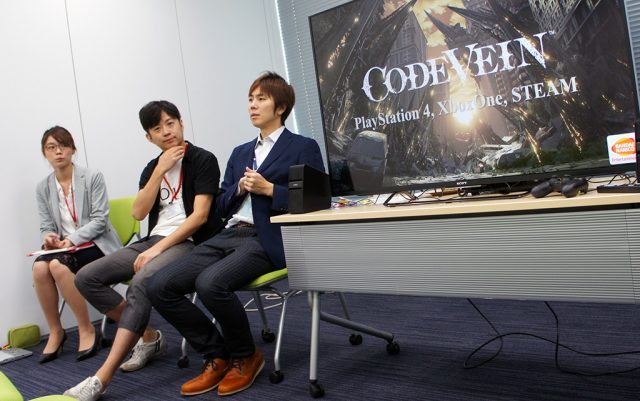 Yonk is a geek who is fortunate enough to have an equally geeky Star Wars fan for a wife, who owns a LEGO Millennium Falcon encased in a glass coffee table as their home's centre-piece.
---

Drop a Facebook comment below!

---