With Diablo IV getting a 6 June release date in 2023, fans of the acclaimed action-RPG series need not wait that long to join the fight against Lilith and her hordes of demons. However, before you gear up, it is best to fill up your energy with some grub, and for those in Japan, Burger King has got you covered with the Lilith Spicy Tomato Double Whopper with Cheese in partnership with Diablo IV.
This collaboration follows a similar one for Diablo Immortal a few months again, with the Lilith burger being the third of such devilish treats.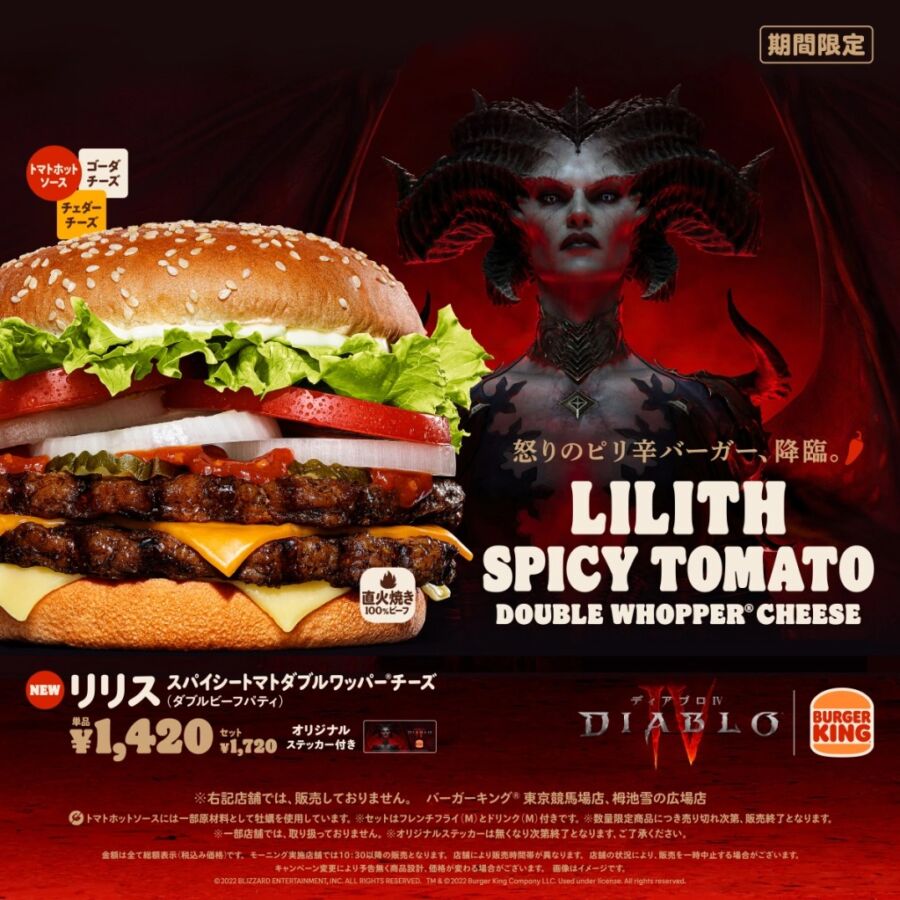 The Lilith burger is "inspired by the 'anger' of Lilith, who descended to Sanctuary after a long exile following a blood ritual". With two beef patties grilled directly over an open flame, two slices of rich cheddar cheese, two slices of gouda and a newly developed "tomato hot sauce" made with chilli peppers and garlic, the Lilith Spicy Tomato Double Whopper with Cheese is not one to be trifled with.
Aside from this new addition through the partnership with Diablo IV, Burger King Japan is also home to the previously mentioned Butcher Double Meat BBQ Cheese Burger and Diablo Garlic Double Cheeseburger. Needless to say, the warriors of Sanctuary have plenty to choose from when fueling up.
The Lilith Spicy Tomato Double Whopper Cheese will be making its grand debut at Burger King stores around the country (excluding the Tokyo Racecourse and Tsugaike Yukino Hiroba branches) in limited quantities starting from 16 December.