As one of the OG fighting game series in the history of video games, Capcom's Street Fighter needs no introduction. While it has certainly welcomed many guest characters over the years, it is a little harder to find brand collaborations. One of those happened to be with Japanese confectionary brand Glico back in 2019, and now, the partnership is making a comeback with the Street Fighter II Pocky Edition in 2022 for fans in Japan.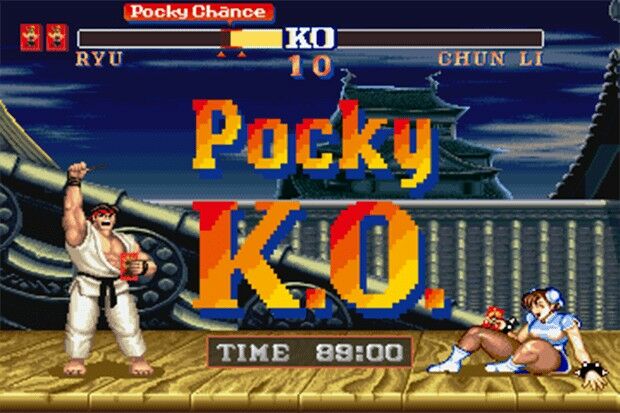 In short, customers who purchase any specially branded Street Fighter II Pocky packets will be able to gain access to Street Fighter II Pocky Edition, available online via their computer or smartphone.
Similar to the 2019 edition, the aim of each fight is to get the health gauge of your opponents down to a point where it resembles the iconic Pocky stick. The depleted health portion will represent the chocolate, whereas the remaining health is meant to look like the biscuit stick not coated in the sweet goodness.
This will then give you a Pocky Chance to score a Pocky K.O, which results in a special ending in the Street Fighter II Pocky Edition. Nothing like seeing Ryu or Chun-Li coming out victorious and celebrating with a packet of the biscuit.
The collaboration will go live today, with the specially dedicated site going online at the same time. Glico did mention that there will be some interesting content that can be found on the microsite, and the tease of a corresponding arcade machine is sure to drive the fans wild.
Although this event is likely to stay within Japan for now, you will have until 30 June to join in the fun. Here's hoping that Glico makes a similar move for other markets around the world. After all, they did do that in 2019, and having more happy fans is always a good thing.