Everyone wants to get in on the streaming media business, and StarHub has just announced another streaming product for the market.
The new StarHub Go Streaming Box is the telco/cable provider's all-in-one entertainment destination device that combines its content catalogue with the Google Play store. The new set-top box is powered by the Android TV operating system, and running on Orea. All you need is a fiber and you can watch streaming content in your home – wait, that sounds familiar….
The good news is that this set-top box is compatible with any wireless broadband connection, so you don't need to be a StarHub fiber customer to enjoy it. It comes preloaded with a Go Family subscription, which is included for 24 months when customers sign up for the StarHub Go Streaming Box, together with StarHub 1 Gbps Fibre Broadband bundle, or a 6-month subscription if you just sign up for the box alone.
The box is integrated into the StarHub Go ecosystem, which lets customers easily switch between watching on their smart devices to their TV set.
The StarHub Go Streaming Box is the first in the world to run the Operator Tier of the Android TV Oreo. The Operator Tier lets operators provide a customised user interface for their customers and the user interface will aggregate titles from StarHub Go packs, and park the under a 'Discover' tab, and also categorise them according to genre.
Over 50 channels of StarHub Go can be viewed on this device, and that's not all. The box supports Ultra HD content (though you do need a UHD TV), and comes with Google Assistant voice search built into the remote. Customers can also stream video content directly from their smart devices through the built-in Google Chromecast feature within. It also comes preinstalled with YouTube, Google Play Movies, Google Play Games and supports the Google Play store, though we're not exactly sure what types of games or apps are supported by the box or if anyone would even want to play games on the box.
The box does come with a Go Family subscription, which includes over 50 live TV and catch-up channels, and this can always be upsized with the addition of other subscription packs. For more TV shows like Game of Thrones, Chicago Fire, or Legend of Fuyao, customers can add on the Go Select packs. Sports fans should add the Go Sports pack for access to live coverage of events like La Liga, ATP tour and WWE.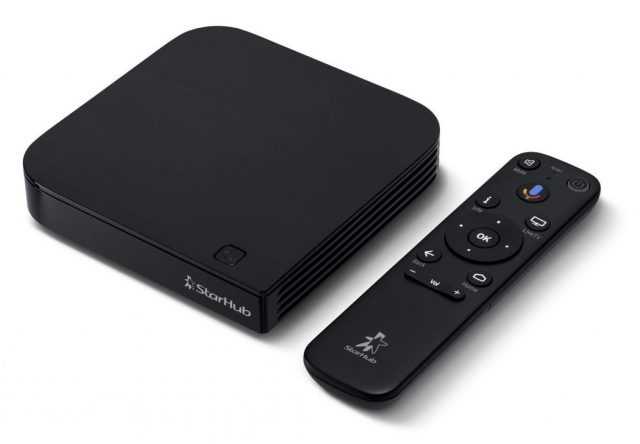 Go Disney gives customers access to series from Disney Channel, Disney Junior and Disney XD, which is perfect for Disney fans of any age. Movie buffs can get the Catchplay Unlimited for access to a variety of movies. HBO gets its own special package with HBO GO on StarHub Go. If that's not enough, customers can also subscribe to third-party apps like FOX+.
The seamlessness of the StarHub Go ecosystem can only be accessed by creating a Hub iD, which will keep track of customers' purchases and viewing history, allowing users to move from one device to another, without losing their viewing spot on the movie or TV show they were viewing. Imagine coming home after a long commute while watching the latest episode of Arrow, and be able to easily switch to watching it on the TV set at home using the StarHub Go Streaming Box. StarHub, you have not failed this city-state!
Customers can start signing up for the service from September 5, 2018, at the StarHub Online store or any StarHub Shops. Customers can get the StarHub Go Streaming Box at $14.90 per month, along with StarHub 1Gbps Fibre Broadband at $39.90 per month (for a total of $54.80 per month) for a 24-month contract. This sign up will also include a Linksys EA8100 router at no additional cost.
If you already have your own broadband service, the box itself is available as a stand-alone product at an introductory price of $199 (U.P. $249), and comes with a complimentary Go Family subscription for 6 months. After the six months, the Go Family pack will cost $14.90 per month. The StarHub Go Streaming Box comes with a one-year warranty.
StarHub will be having a launch promotion for customers who purchase either the StarHub Go Streaming Box with 1Gbps Fibre Broadband, or the stand-alone box from September 5 to October 31, 2018. They will be receiving a complimentary Go Select subscription for six months, in which after that the pack will cost $9.90 per month.
During COMEX 2018, StarHub will have an exclusive promotion that will only be available during the tech show. What that promotion is, we don't know. If you're interested, head to the StarHub booth at COMEX 2018 on September 6-9, 2018.
More information on the StarHub Go Streaming Box can be found on their site.
Dea wishes she could play the latest Tomb Raider or Uncharted, but she can't, so instead she reads and watches other people play. On her down time, you can probably find her re-reading Captain Marvel. The Carol Danvers one.
---

Drop a Facebook comment below!